HyperX has launched a new lineup of next-generation gaming accessories in Australia and New Zealand. The new lineup includes the Pulsefire Haste 2 wired and wireless gaming mouse, the Clutch Gladiate wired controller for Xbox, and the ChargePlay Quad 2 charging station for Nintendo Switch.
The Pulsefire Haste 2 gaming mouse, weighs just 53g, is designed for fast sweeping movements and offers enhanced control with its grip tape, super-flexible paracord cable, and virgin PTFE skates, providing low friction and high responsiveness.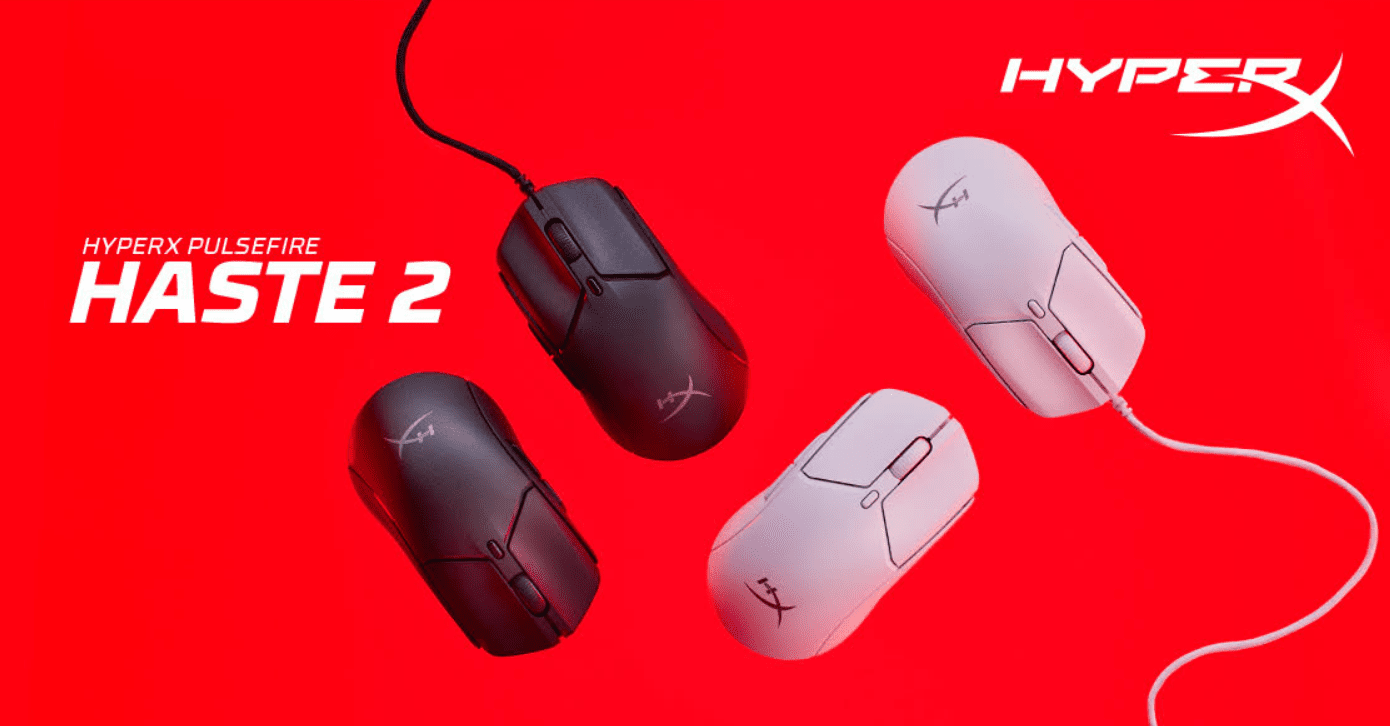 The mouse has an impressive 8000Hz polling rate, making it ideal for FPS games and competitive gameplay. It can be fully customised with the HyperX NGENUITY Software, allowing users to create macros for programmable buttons, customise DPI settings, and personalise RGB lighting. It retails for AUD $99.
The wireless version weighs a bit more (at 61 grams) and offers the convenience of dual-mode wireless connectivity, allowing users to switch between 2.4GHz wireless and Bluetooth connections. This second generation Pulsefire Haste wireless mouse offers up to a 100-hour battery life. The Pulsefire Haste 2 wireless retails for $149.
The Clutch Gladiate wired controller for Xbox features dual trigger locks and remappable rear buttons, allowing users to customise their gaming experience. The two-position trigger lock allows users to switch between a short trigger pull and a long trigger press. The controller is also equipped with powerful dual rumble motors that enhance immersive gaming and provide intuitive force feedback cues, as well as textured grips for a secure hold and a 3.5mm stereo jack for easy wired headset connection. The Clutch Gladiate is Licensed under Designed for Xbox and fully compatible with Xbox One, Xbox Series X|S, and PC, ensuring seamless use across all platforms. It retails for AUD $69.
The ChargePlay Quad 2 Joy-Con charging station is designed specifically for the Nintendo Switch and can charge up to four Joy-Con controllers simultaneously in less than four hours. The charging station features LED light battery indicators that display charge status, enabling users to easily monitor the charge status of each Joy-Con controller. The rubber weighted base securely holds all four controllers in place and offers easy-glide docking, making attaching and detaching controllers effortless. The charging station retails for AUD $59.