Lavazza Desea Review – Fancy an espresso, cappuccino, or a latte? This coffee capsule machine from Lavazza can do them all. Simply select from the 5 milk-based recipes or 4 different coffee sizes with just a touch.
Compared to machines where you usually need to select a few different things while making your favourite coffee, Lavazza Desea keeps it simple and it also makes your coffee quietly (not that noise matters much here, to be honest).
Lavazza Desea Review – Packaging Contents
Lavazza Desea Review – Design & Features
Lavazza Desea is designed to be compact and doesn't take much space on the kitchen bench. A capsule machine that can do milk usually is wider than usual, to house the milk frother. The Desea can get away from this by having its own Lavazza glass mug with a steam wand and beater lid to warm and froth the milk. Both the coffee and milk will be poured/mixed into the glass mug during the process.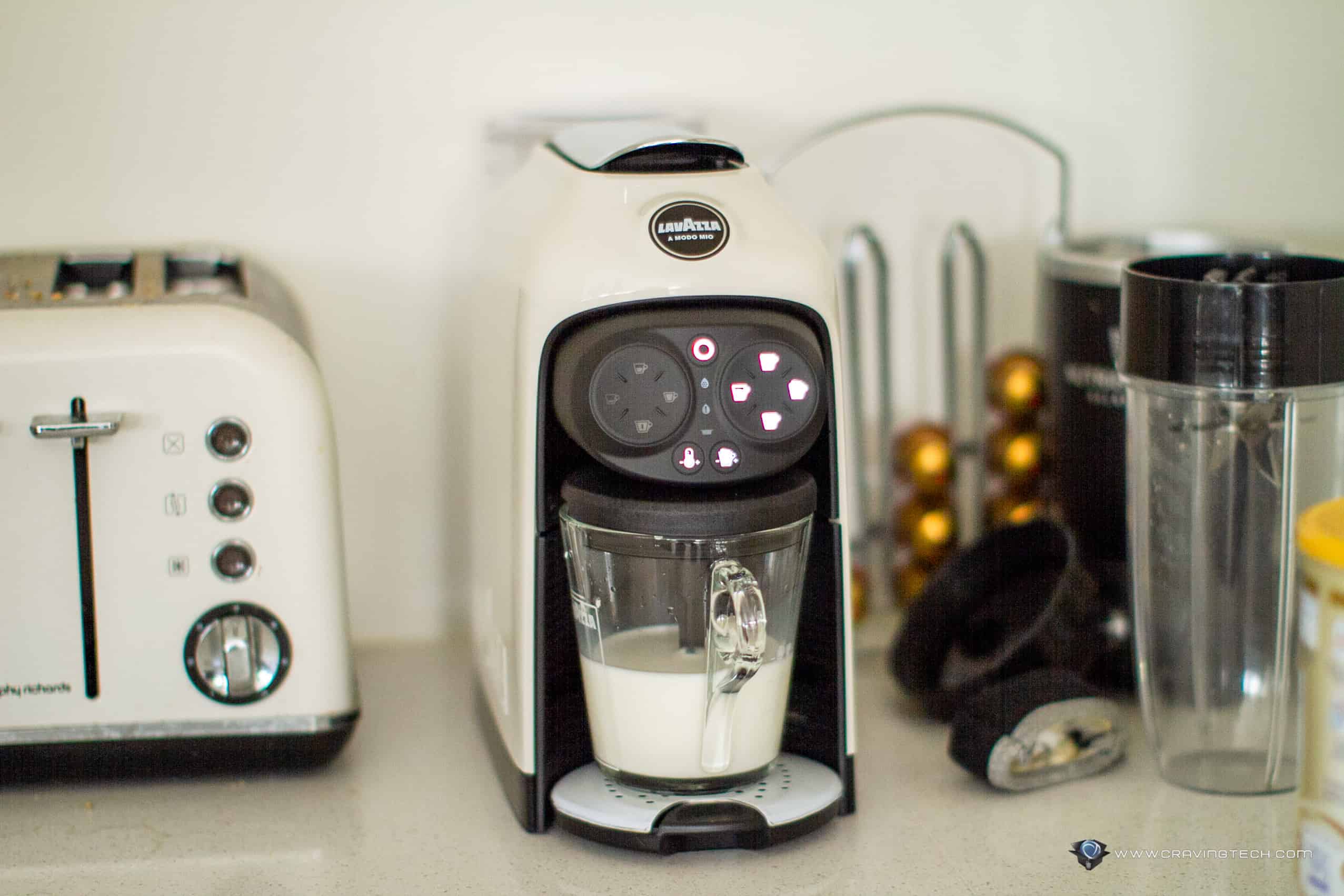 You can make a Cappuccino, Large Cappuccino, Latte Macchiato, Hot Whipped Milk, or even a Cold Whipped Milk. There is also an option if you want more foam (which I usually opt for) and a hotter milk for your coffee.
What I really like about Lavazza Desea with the glass mug is that you can just take the lid off, grab the mug, and start drinking the coffee. There is no need to get a cup out of the cupboard and you also have less things to wash.
One thing I never really like about capsule machines that can do milk-based coffees were the little things we have to take out and wash after. Lavazza Desea makes it really simple to clean and there are no little components you need to take out one by one (and put back!).
Once your coffee is ready, you then drink it straight from the glass mug. You can technically pour it to another cup or glass (to be served to others while you make another), but it is a bit of a challenge to pour it without having spills. This is because there is no spout on the mug to pour it easily (though having a spout would make it awkward to drink from). It's the only thing that I wish can be improved somewhat.
As for the coffee taste itself, my wife and Italian work colleagues swear that Lavazza coffees are better than Nespresso ones. Sure, Nespresso has more varieties of "flavour" and I guess, a full-on marketing budget compared to Lavazza. But Lavazza's coffee taste more like, coffee (or so my colleagues say). I personally would always prefer a Barista-made coffee every morning, but don't mind having a booster in the afternoon.
For this very reason, and also that the Desea is easier to clean, we've actually decided to replace our more-expensive Nespresso Lattissima Touch coffee machine at home with Lavazza Desea. If this is your first time buying a Lavazza machine and not sure which Modo Mio Capsules to try, I'd recommend going for either Passionale or Divino. But the better buy is to get the variety pack first so you can try all the flavours to confirm which ones you like.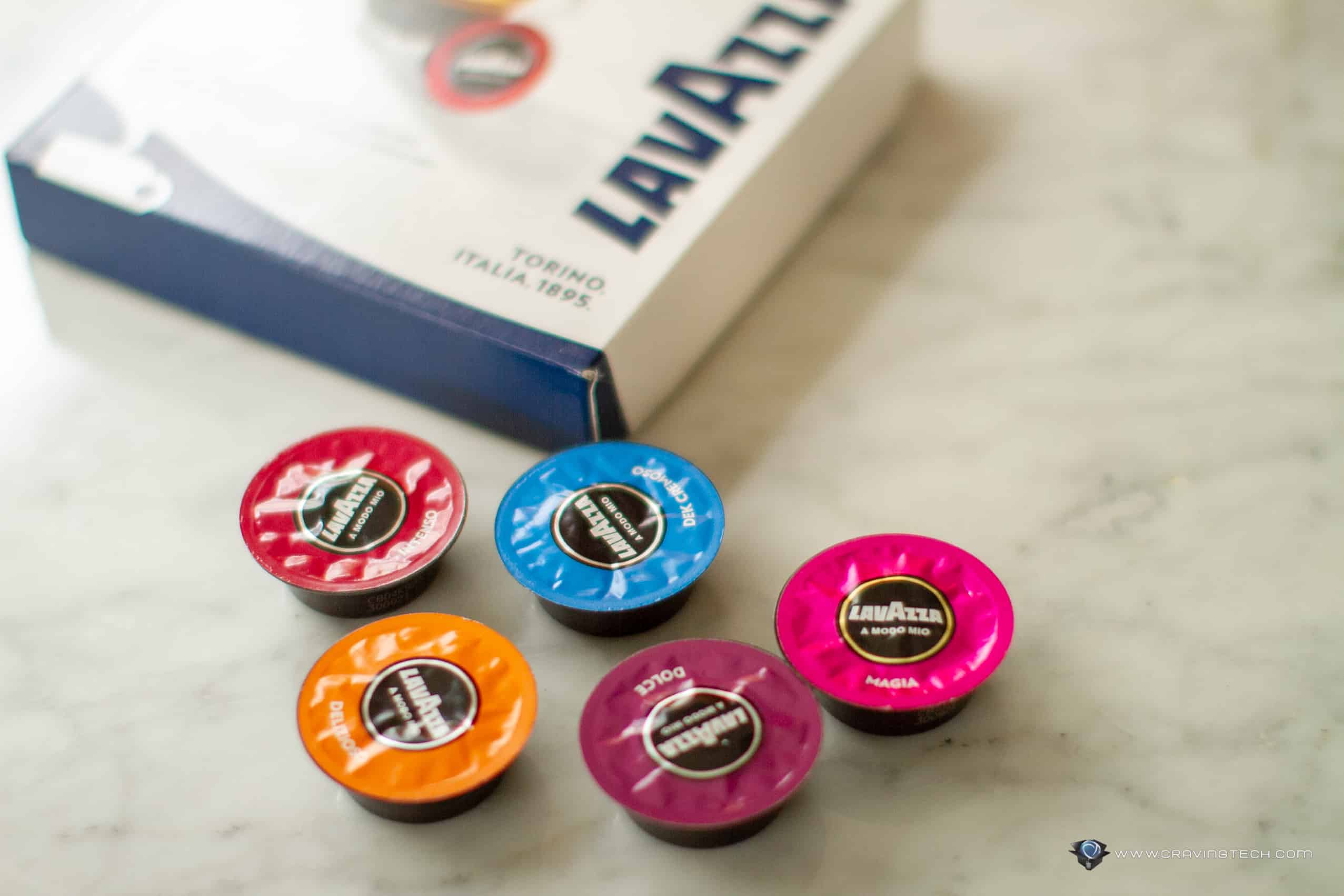 Lavazza Desea Review Conclusion
Lavazza Desea is a compact, simple yet intuitive, Lavazza's coffee capsule machine. With the included Lavazza glass mug, you can make a perfect cup (mug?) of coffee and drink it straight afterwards.
There is a variety of options to make, like Espresso, Cappuccino, or even for just a hot, whipped milk. With just a press of a button, your coffee will be ready within minutes without any intervention and the machine is also quieter than the other ones I used before at home and the office.
And best of all is that there's no tedious work of cleaning small components apart, or trying to wipe that milk layer sticking at the bottom of a standalone milk frother (always hate that part).
However, it's probably not for an office environment as it is a challenge to pour the coffee into your own mug/glass without spilling. Unless of course if everyone has their own Lavazza mug. Plus, there aren't many coffee pods selection with Lavazza and it seems that almost everyone else is making coffee pods that are "Nespresso-compatible". However, the official Lavazza ones are great but if you like to experiment or expand the horizon, than it can be a bit of a challenge.
The coffee tastes great and I can also have more foam in my coffee with an extra button press. We've replaced our Nespresso Lattissima Touch machine with the Lavazza Desea as we find the coffee tastes better and it's just easier to clean.
Lavazza Desea retails for just A$299 which is really surprising (compared to our Nespresso Lattissima Touch which we bought for around $450 when it was on sale). It's available now from Lavazza website and retailers around Australia.
Disclosure: Lavazza Desea review sample was supplied for reviewing
Lavazza Desesa Review
Summary
An elegant, modern coffee capsule machine that can make good coffee and has an integrated milk-frother. 
Pros
Compact and elegant design
Really good, creamy coffee
Easy to use with just one button touch
Five milk based recipes, four different coffee sizes
Integrated milk-frother, very easy to wash
Coffee and milk are all processed within one mug, and you can drink it straight after
Quieter than any other machine I've come across
Cons
Not ideal for sharing with multiple people. Must be done one at a time and it's a challenge to pour the coffee/milk to another cup/mug/glass without spilling
Limited selection of coffee pods compared to Nespresso (and those "Nespresso-compatible" pods from other brands)