Nespresso Vertuo Creatista Review – I know I'm in trouble when I try to compare a coffee made by an automatic capsule machine to one made by a barista, but so be it. You can berate me or frown at me for all I care. However, Nespresso's latest "flagship" coffee machine— if such a term exists for coffee machines— features a built-in, automatic steam wand like those in professional espresso machines.
Why is this important? Because it allows you to perfectly heat and texturise your milk, providing the ideal froth for your milk-based coffees. I previously stated that the Vertuo Lattissima, which I reviewed earlier, offers the best milk froth. I retract that claim. This is akin to saving those design or essay files as "final" only to realise later that they're not. The Vertuo Creatista surpasses the Lattissima thanks to its superior steam wand, which operates differently from conventional milk frothers. Plus, the wand offers options to customise your milk's temperature and texture.
NESPRESSO VERTUO CREATISTA REVIEW – PACKAGING CONTENTS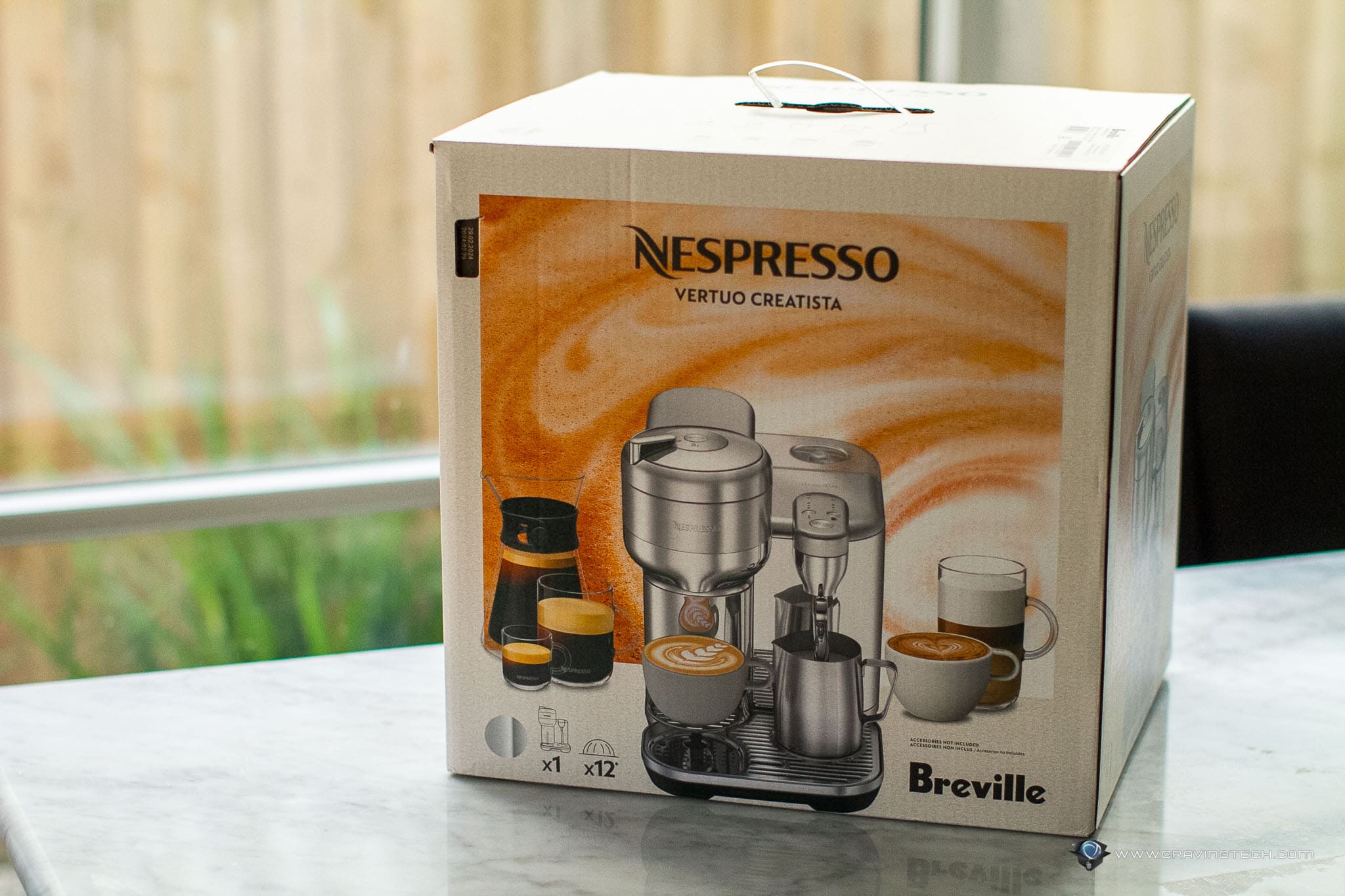 NESPRESSO VERTUO CREATISTA REVIEW – DESIGN AND FEATURES
The Nespresso Vertuo Creatista's stainless steel body adds a touch of luxury to any kitchen bench. It is sleek and modern while remaining somewhat compact.
When first asked to review the machine by Nespresso, its appearance intimidated me. Gazing at the steam wand and stainless steel milk jug, I thought, "Oh my, I'm not a barista. Will I struggle with this machine? Do I need special skills?" Only after learning more about the product did I realise it is still an automatic coffee capsule machine, like all other Nespresso models.
While the machine does feature a built-in steam wand akin to those in manual, high-end espresso machines, its operation remains automated. Insert a coffee pod, press a few buttons, and wait less than a minute for your coffee or milk-based coffees.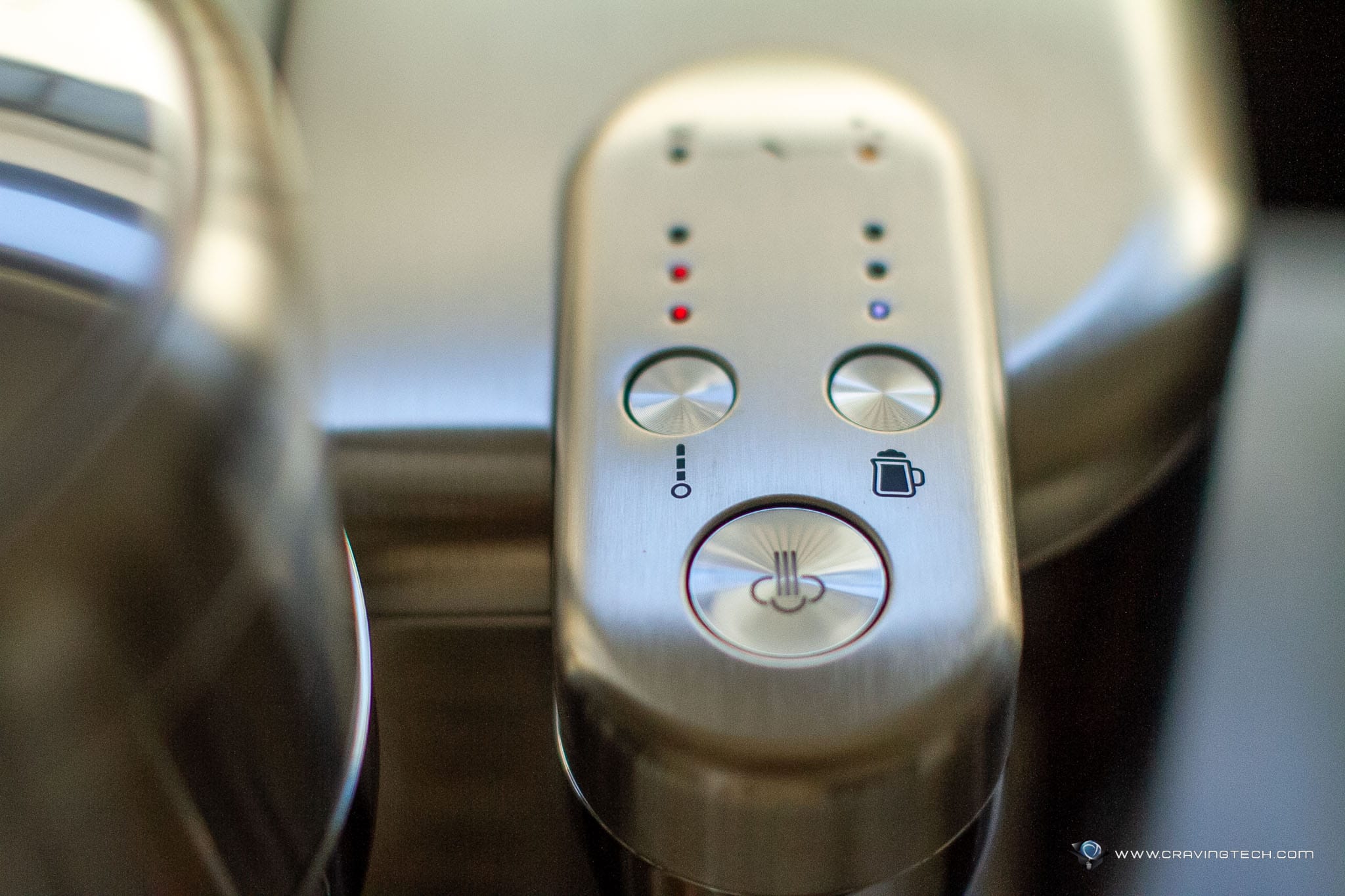 The machine offers six automated cup sizes (Espresso: 40ml, Double Espresso: 80ml, Gran Lungo: 150ml, Mug: 230ml, Cold Brew: 355ml, and Carafe: 535ml). For milk-based drinks, it can make a Latte, Cappuccino, and Flat White. You can also use the machine to make hot milk or frothed milk for Matcha Lattes or hot chocolate.
Like the Vertuo Lattissima, this machine reads the barcode on the coffee pod you've inserted and adjusts settings automatically. Rare for an automatic coffee machine, it allows you to modify milk temperature and texture. While it doesn't grant complete freedom (you can choose only between three options), it simplifies the process for users.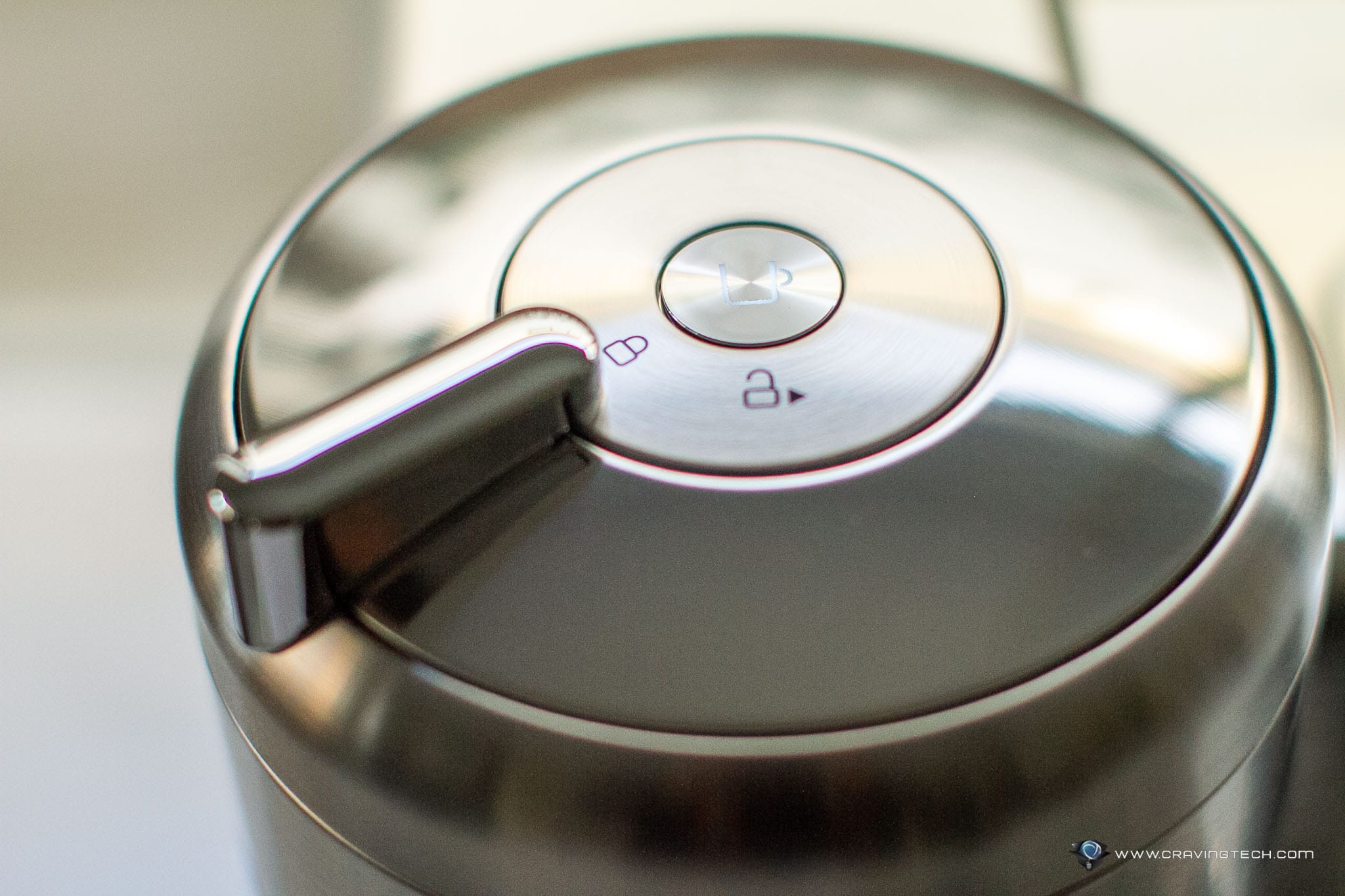 The milk jug includes measurement indicators, and the manual offers recommendations for creating various types of milk-based coffees, including milk temperature and texture settings. However, you're free to experiment, which is part of the machine's appeal. As the steam wand froths your milk, you can prepare the machine for coffee extraction, which won't begin until frothing is complete.
After removing the milk jug, you'll need to wipe the steam wand clean. When the steam wand is returned to its default position, the wand auto-rinses, simplifying the cleaning process compared to machines with separate milk froth containers (where you normally have to take things apart and clean them separately under the water tap).
Periodic thorough cleaning is necessary but only requires a couple of button presses and a glass of water. Also, note that the drip tray doesn't hold much water, so you'll need to empty it regularly. A warning label appears when it's nearly full— a useful feature.
Thanks to its powerful steam wand, this machine enables you to be as creative as a barista, even allowing for latte art. It's great when you have guests coming to your house and you are making milk-based coffees with this machine. There are video instructions all around the web for creating fancy latte arts and Nespresso has one too specifically for this machine. While my attempts at latte art have so far been unsuccessful, I plan to experiment with different milk brands and practice more.
The coffee tastes excellent and emits a strong aroma that I appreciate. Friends who visited last week also complimented the machine after sampling a latte with the Nespresso Vertuo Creatista.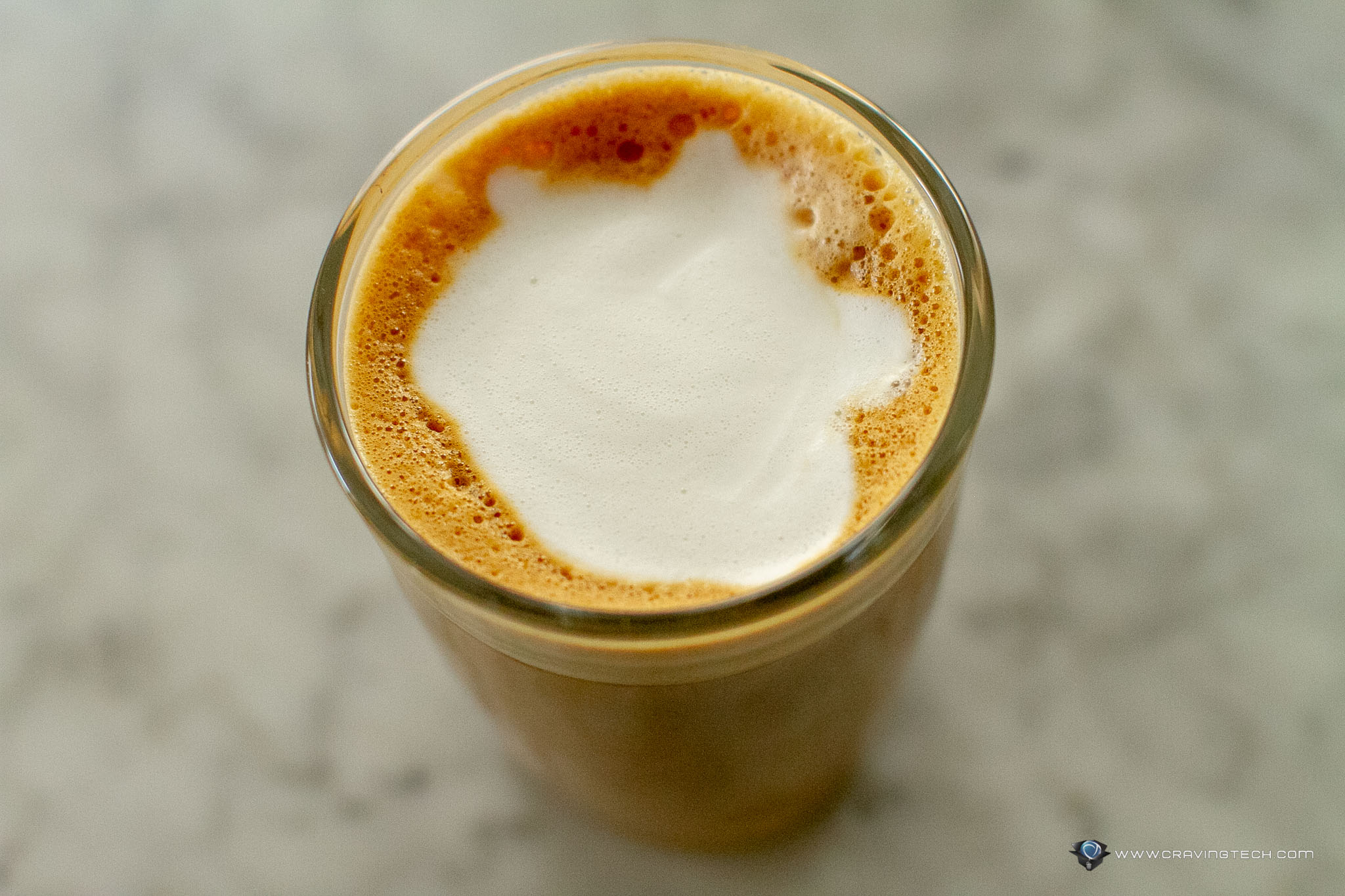 While Bluetooth and Wi-Fi connectivity are included, they're primarily intended for support and maintenance. If you wish to use Alexa for coffee-making, consider the Lavazza Voicy instead.
NESPRESSO VERTUO CREATISTA REVIEW CONCLUSION
The Nespresso Vertuo Creatista brings us a step closer to mimicking a barista's artistry at home, but even if you're not interested in latte art, you'll be pleased with its performance as it can create that perfect coffee or milk-based coffee that you want.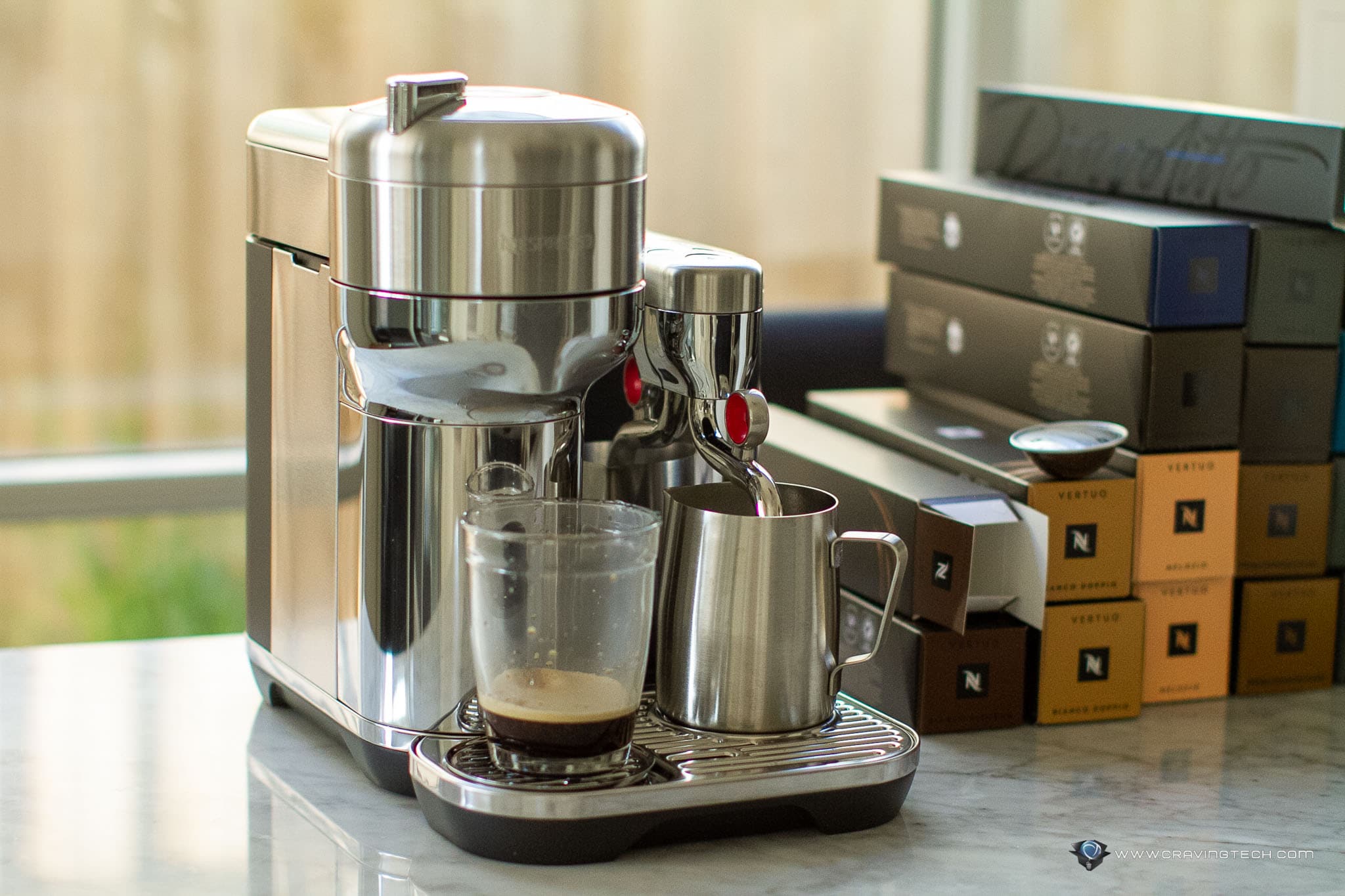 The machine offers enough customisation options to satisfy most users. Like your milk to be hotter? You can. Like to have more texture or milk froth in your milk coffee? You can. While the machine doesn't give you complete freedom, it offers enough variety of options where you can just pick and choose.
My usual gripe with other automatic machines was that they couldn't make my latte hot enough, but this machine offers that option and more.
I also like that this machine doesn't require a lot of maintenance after each coffee making session, unlike other machines with milk frother components that you'll have to take apart and wash properly.
Sure, Nespresso Vertuo Creatista doesn't come cheap. It retails for A$1,099 and comes with 2 years warranty. The machine may not be for everyone but if you have the money and are looking for that perfect automatic coffee capsule machines that is easy to use, has customisation options, and offers the closest thing to what a barista can offer, this is it. There is no skill required and you really let the machine to do its own tricks and calculations behind the scene (how much water to use for the coffee extraction, how long should the steam wand froth your milk, etc) to always make that perfect coffee or milk coffee for you.
Saying this, sure, you still can't beat a real barista making your favourite coffee at the local cafe. But at home, this is as close as you can get with an automatic coffee capsule machine. If you are not drinking milk-based coffees though, you can definitely get out with something far cheaper and should stay away from this machine.
I personally love this machine (I only drink milk-based coffees) and now having second thoughts with my automatic coffee machines (that uses coffee beans) at home, as the Vertuo Creatista can make that perfect milk temperature and silky, smooth froth better. Definitely a third world problem here.
Disclosure: Nespresso Vertuo Creatista review sample was supplied for reviewing
Nespresso Vertuo Creatista Review
Summary
The Nespresso Vertuo Creatista brings us a step closer to mimicking a barista's artistry at home, but even if you're not interested in latte art, you'll be pleased with its performance, customisation options, and ease of use.
Pros
Stainless Steel build
Compact build with what you get
Built-in steam wand, stainless steel milk jug
Can customise milk temperature and texture
The steam wand auto cleans itself by spraying water, to make sure no milk gets clogged within
It's really simple to use, simple to clean
Milk-based coffees taste great with excellent milk froth
Milk jug has measurement so you never have to store unused milk back into the fridge
Cons
Price
Rinsing process (the coffee part) uses a lot of water