Philips 5400 Series Review – The Philips 2200 Series was my first fully automatic coffee machine with coffee beans, and it left a sweet taste in my mouth. Since then, I have constantly persuaded people who are still using Nespresso coffee pod machines to move up to the next tier.
What Philips has brought this time is a much more advanced and customisable machine compared to the one I reviewed before. The Philips 5400 can make 12 different coffees (such as Americano, Latte Macchiato, Flat White, Caffe Latte, Espresso Lungo, and more), allowing you to adjust the amount of milk and coffee through its interface, and even set different profiles so that each member of the household can have their own preferences saved and restored each time they make coffee.
Philips 5400 Series Review – Unboxing and Packaging Contents
Philips 5400 Series Review – Installation, Initial Set up
The machine pretty much comes assembled, so there isn't much to be done. A water filter needs to be installed (which is really easy) and there is also the initial process to test the water hardness, and then set it in the machine.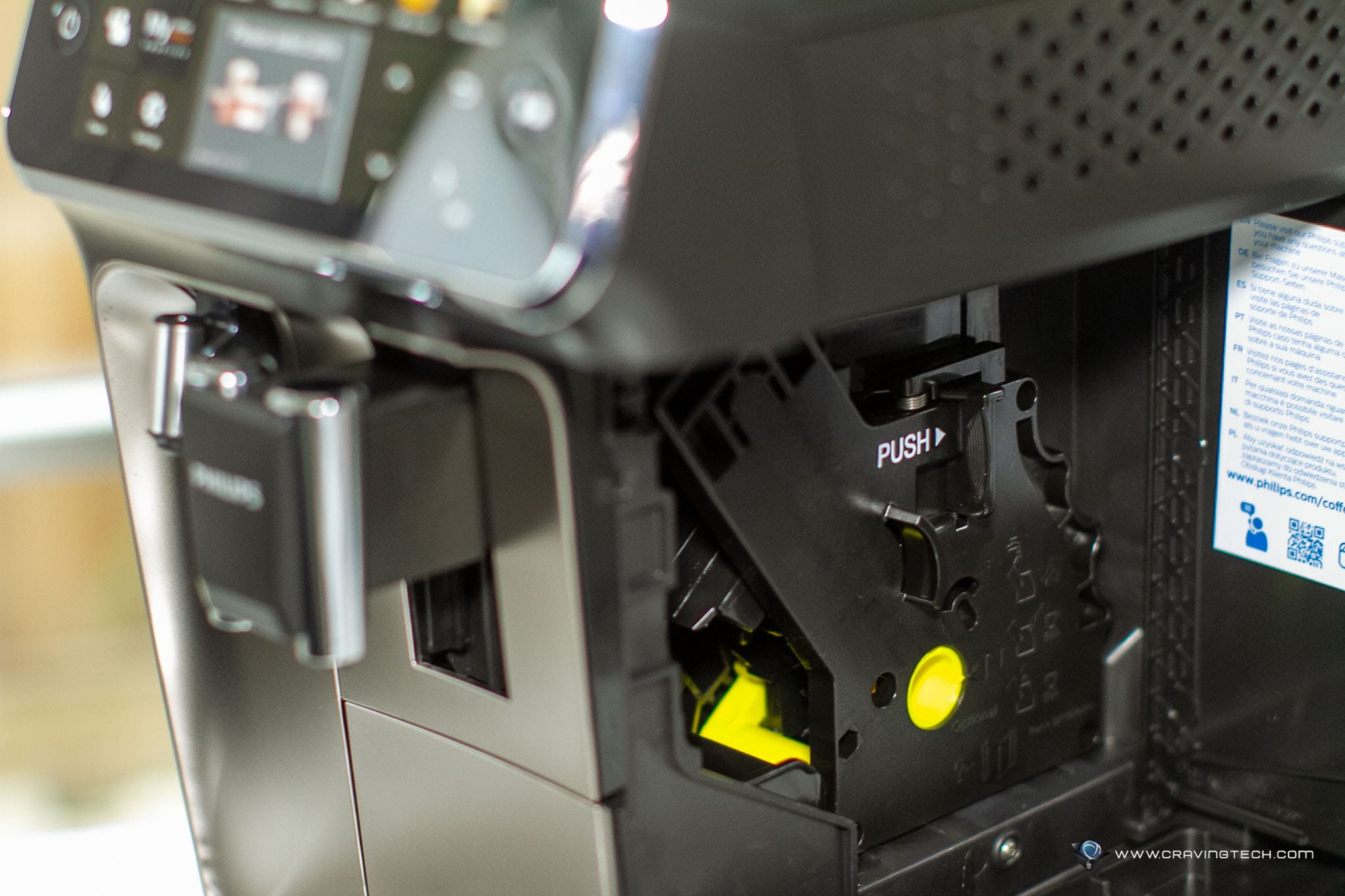 Philips 5400 Series Review – Design and Features
The Philips 5400 Series (EP5447/90) looks elegant and premium on the countertop, thanks to the mix of different materials and the silver panel at the front. However, I'm not much of a fan of the water tank as it's mostly made of plastic, but it is lighter to carry and the water tank is hidden from view. There are also two down lights that get triggered when it gets dark, adding a nice, luxurious feel.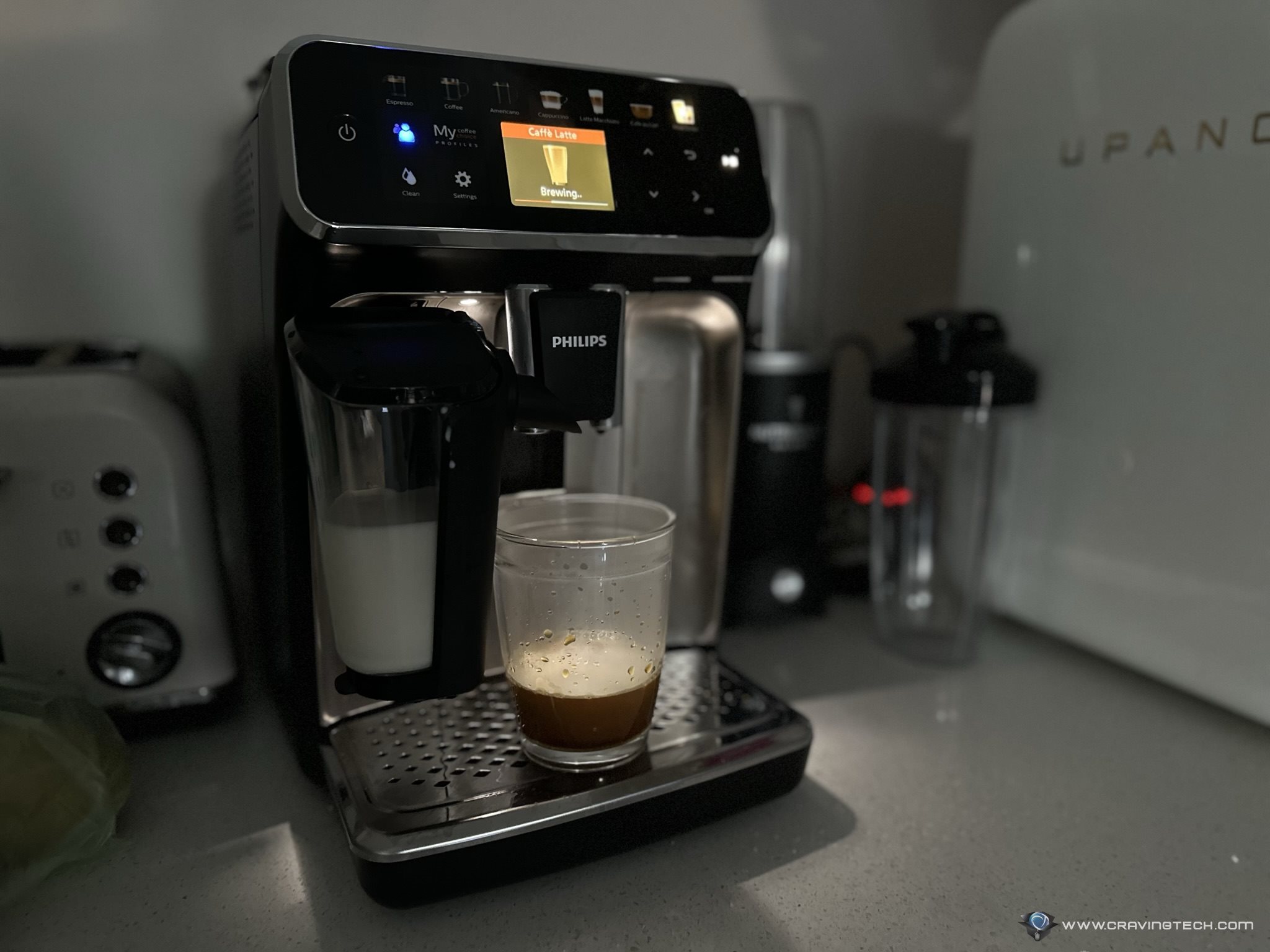 The coffee beans go into the top (where the coffee bean hopper is), and there is also an option to use pre-ground coffee, which may come in handy if you'd like to have a decaf coffee. With these types of machines, it's really good because you can experiment with different kinds of coffee beans. You can even get the same coffee beans that your favorite café uses and use them in this machine. For example, here in Melbourne, I've purchased all kinds of coffee beans like St. Marys, St. Ali, Maker, Patricia, Market Lane, and many more. You can even find some of these at your local supermarket.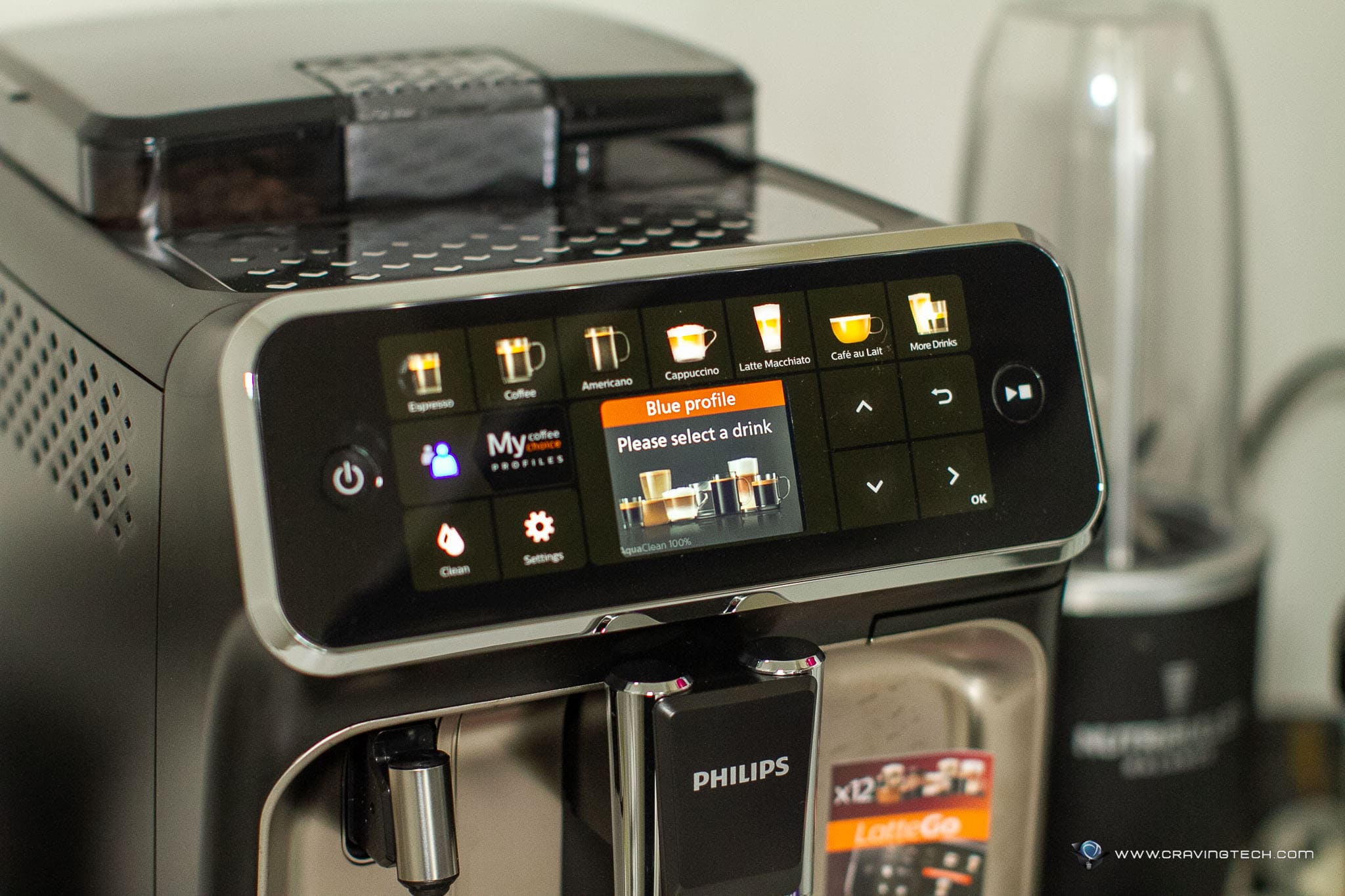 To operate the Philips 5400, you can use the front control panel that has clear labels and is pretty easy to use without the need for a manual. Initially, there is a selection of popular coffees to choose from, but you can access a few more through the "More Drinks" menu. While it would be cooler if you could touch the panel with your finger and scroll for more selections, the controls here are straightforward enough to use without it.
With just a few presses, you can already make yourself a nice cup or mug of coffee. After selecting the coffee type, you are also presented with further customisation options like the coffee aroma strength, amount of coffee, and amount of milk, all measured in ml. I asked a friend who's a barista, and he suggested going for 40ml of coffee + 125ml of milk for a small milk coffee (Cappuccino/Latte/Flat White) size and 80ml of coffee + 200ml of milk for a large one. While you cannot input an exact number on the machine, you can choose from the preset steps, and they work nicely.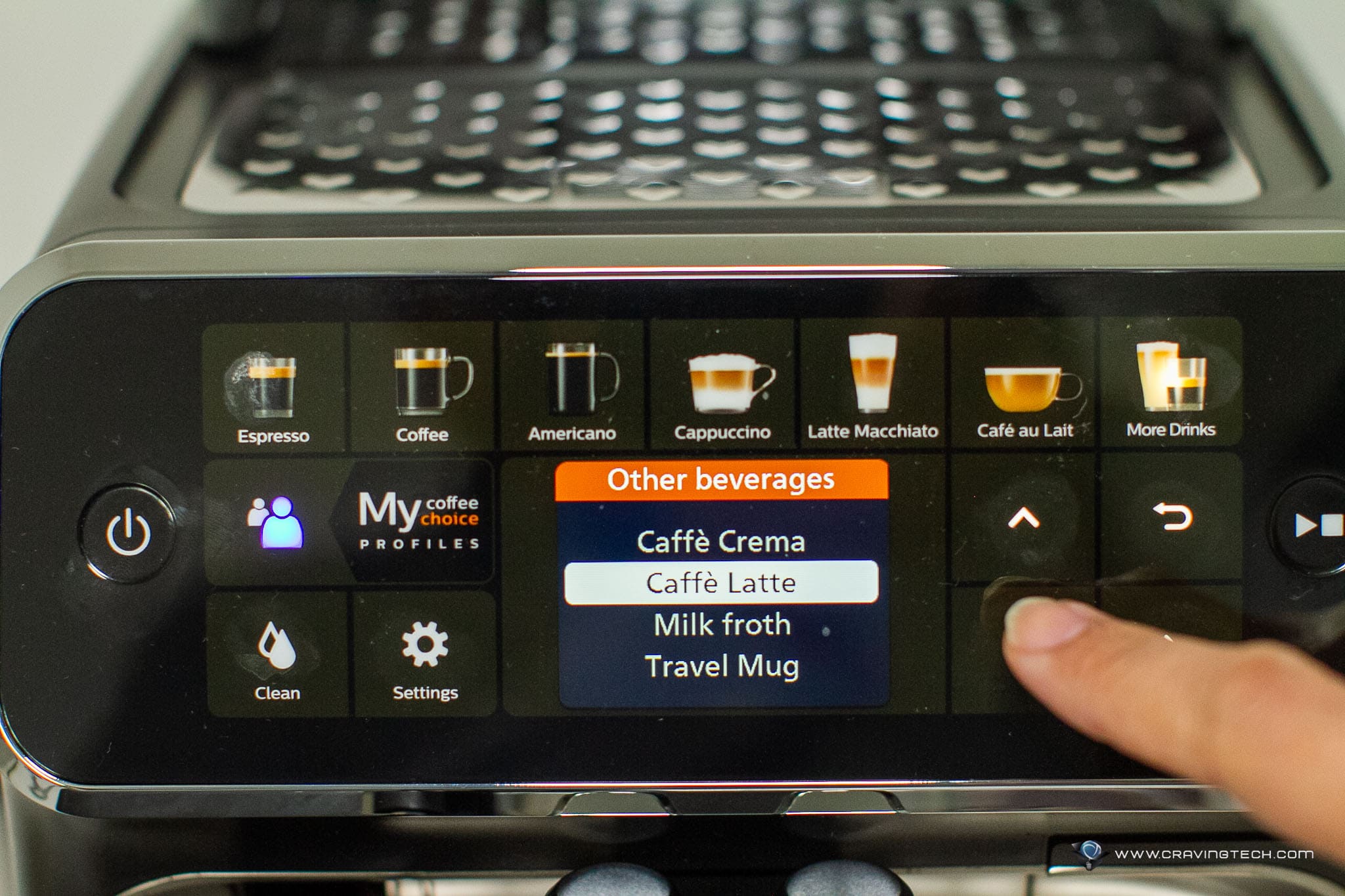 The milk goes into the milk container, which has markings to indicate how much you should pour if you want to make certain coffee types. However, the labels/markings are barely visible as they have the same colour as the container, so it's quite a challenge to check each time. Besides, you can customise how much milk you want in the coffee, so the markings are not that useful anyway. You can store any leftover milk with the milk container inside your fridge once you've made your coffee.
Once you press the start button, all your customisations for that particular coffee type will be saved under the current profile. Technically, once you are happy with the current coffee setting, you just need to press the Next button and start the next time you want to make the same coffee, saving you time. To switch between profiles, simply press the dedicated Profile button to cycle through the different profiles.
I like how the profiles are set in colours, which is clear to see and more practical. There is also a Guest profile to make sure you don't mess up with your family members' preferences!
So what does the coffee taste like?
It tastes great and as expected. You can play around with the coffee strength, and there is an option to add an extra shot too. Plus, the ceramic grinders can be adjusted in 12 steps (to make it more coarse or fine), and you can change the milk temperature to be hotter than the default one.
With the LatteGo solution, the froth is just okay, though. It's good and frothy, but don't expect the same froth quality and feel as your barista-made coffee. The foam feels airy as it has large pores and doesn't feel as creamy as I'd like it to be. Is it a bad froth? Yes and no, it's alright but if you are used to drinking barista-made coffee, then you'll feel the difference.
You can't actually change how much froth you'd like, but as there are varieties to choose from like Cappuccino, Latte, and Flat White, you can basically pick how much froth you like from those three. I usually go for Latte but find that the froth is a bit too much, so I either throw some away with a spoon or go for a Flat White on the Philips 5400 Series machine.
After using the machine, you can perform a Quick Clean on the LatteGo milk container, but you need to place an empty cup underneath, or it will make a mess since the spout is not directly positioned above the centre of the drip tray.
Philips 5400 Series Review – Conclusion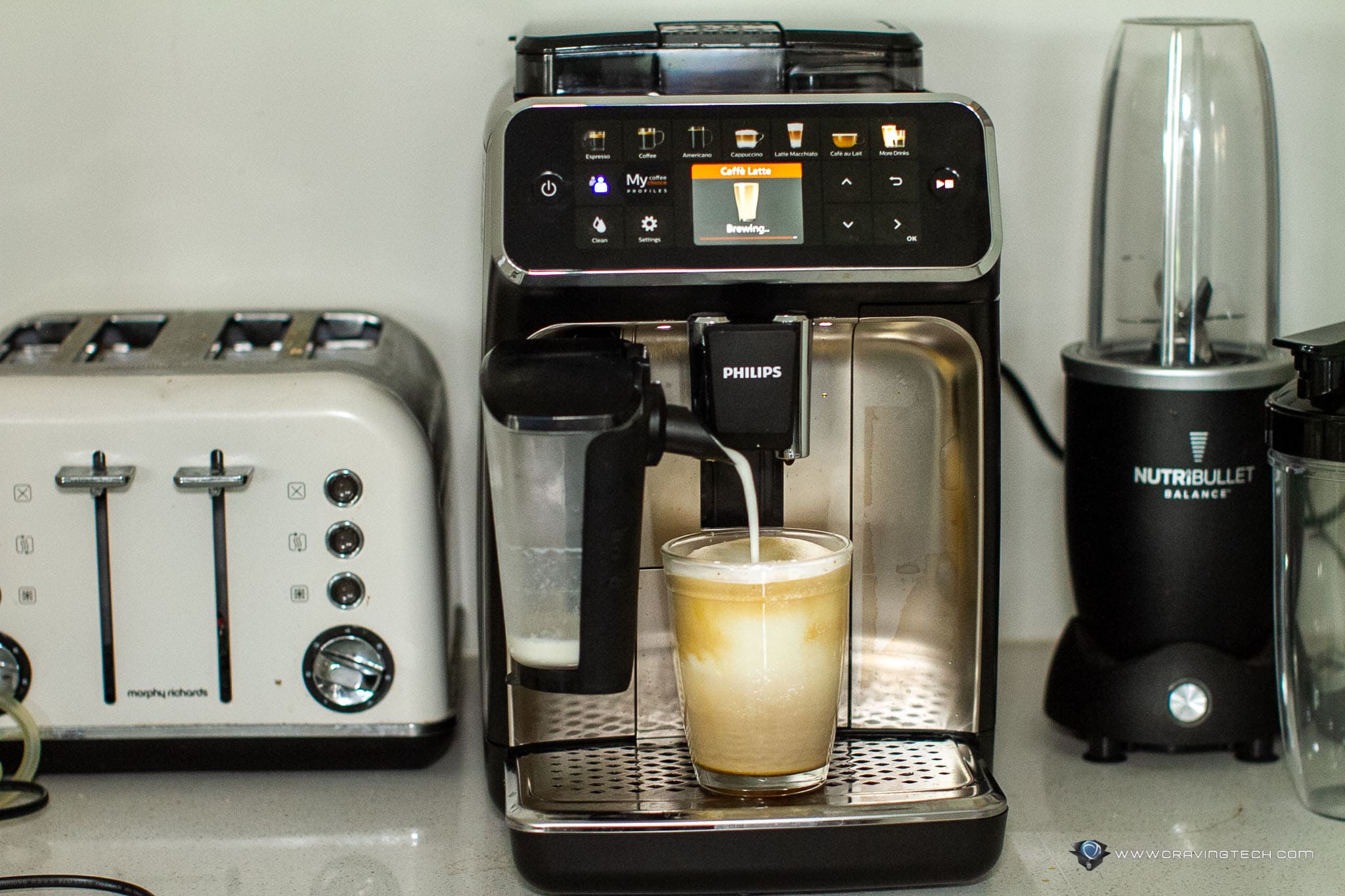 Philips 5400 takes what I liked about the predecessor, Philips 2200, and takes it up a few notches. The machine offers a lot more coffee varieties to make and still keeps it simple to use. You now have more customisation options on how to make your coffee, something that I truly appreciate from the machine. You can also experiment with different settings to find that perfect taste, quantity, aroma, etc.
And all these personalisations don't go to waste, thanks to the machine's Profile feature that auto-saves and restores your customisations in different profiles.
With the current inflation, I have comfortably stopped going to my favourite local café every morning in exchange for having my morning coffee made by the Philips 5400. Sure, I still grab a nice barista-made coffee every now and then (during weekends), but I have saved a lot, and I can also experiment with different coffee flavours and types, thanks to the Philips 5400.
Philips 5400 is available now for purchase at retailers around Australia like Harvey Norman and David Jones. It retails for A$1,399.
Disclosure: Philips 5400 Series review sample was supplied for reviewing
Philips 5400 Series Review
Summary
With just a few presses, you can make up to 12 different coffees and everything is easy: easy to set up, easy to use, and easy to clean
Pros
Looks stylish and modern
Easy to operate, easy to use interface
Have varieties of different coffees, including milk coffee
Easy to clean parts as there aren't many
Supports different profiles, perfect for home use with different family members
AquaClean filter means it will be a long time before you need to descale the machine
Cons
Froth quality is good, but not great (feels a bit airy due to the large pores)
Water tank looks and feels flimsy
Can't choose to finish the whole milk in the container, so you normally have to put the leftover back in the fridge