Have you completed Diablo IV yet? I have, with my level 53 Rogue and while there are more endgame stuff to do, nothing to motivate you even more with the upcoming Diablo IV Season 1, called Season of the Malignant. When is Diablo IV Season 1 coming out? That would be on 21st of July 2023 AEST or July 20 at 10 a.m. PDT in the U.S – which is just 2 weeks away!
And here are the Diablo IV Season 1 details.
According to Blizzard's Associate Game Director Joseph Piepiora, Lead Game Producer Timothy Ismay, and Associate Director of Community Adam Fletcher, there will be a fresh quest line, formidable foes, new powers, the Season Journey, and the Battle Pass for Season 1.
Players can experiment with unfamiliar classes and builds or pursue the season's challenges using their tried-and-true favourites. Levelling a new character doesn't mean starting from scratch; players retain the renown they've earned from exploring the map and the benefits acquired from the Altars of Lilith. Additionally, if you've unlocked a mount, it will be available immediately for your new character. At the conclusion of each season, all characters will be migrated to the Eternal Realm, where they can be accessed permanently.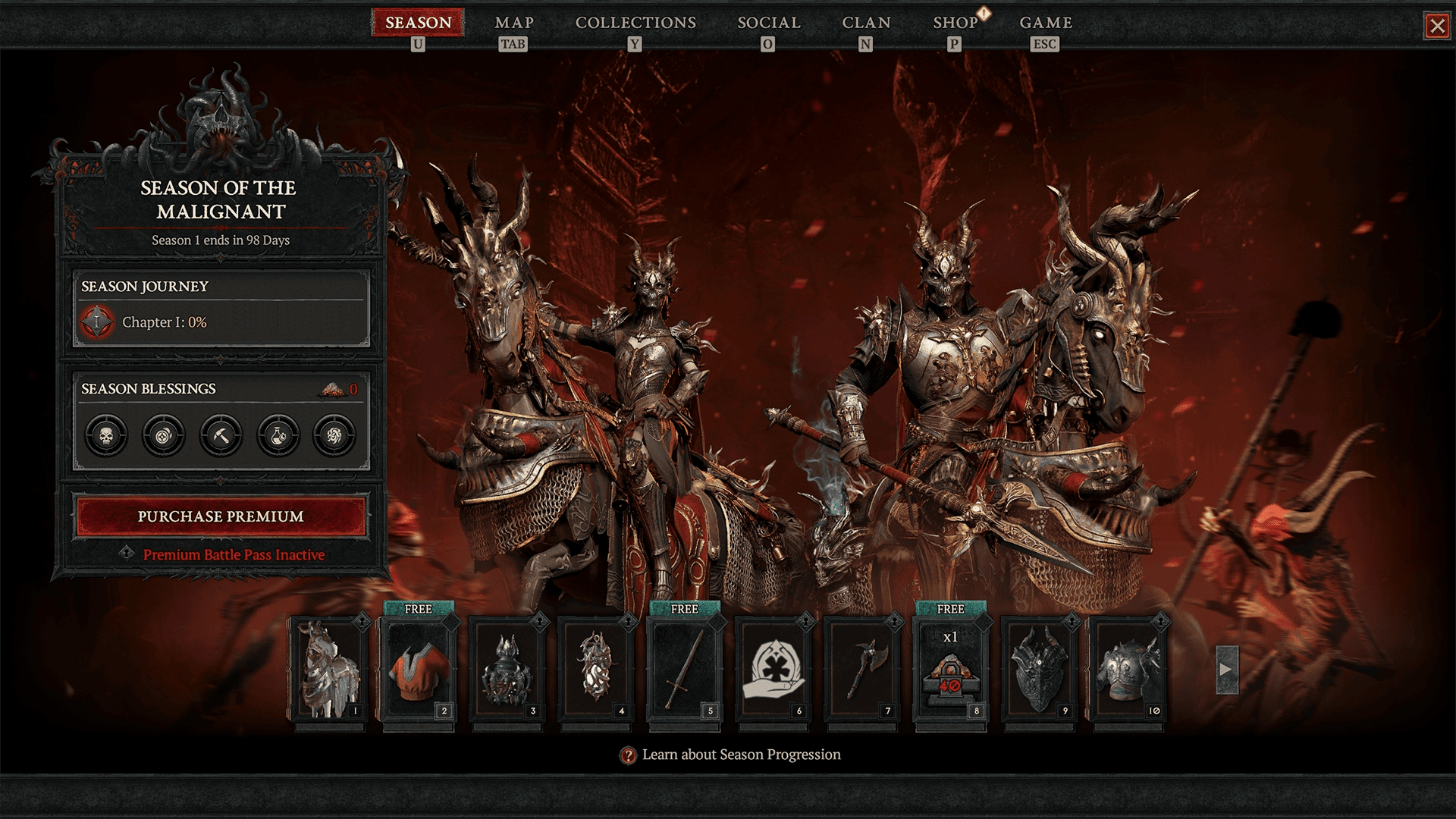 DIABLO IV SEASON 1 HIGHLIGHTS
A New Adventure Unfolds: Prepare to confront a perilous menace in the form of Malignant Monsters. Join forces with Cormond, a former priest, to halt the spread of this malignant presence at any cost.
Battle the Infestation: Defeat the Malignant Monsters by extracting their corruption and capturing their Malignant Hearts, which can be infused into Rings and Amulets.
New players can dive into seasonal realms and experience the main campaign while familiarising themselves with the game's fundamentals. They can seamlessly transition to the season content and new systems, progressing through parts of the season journey and battle pass. Hardcore players can create fresh characters and explore new builds or classes as they embark on the season journey. Seasons offer a fresh approach to character customisation and power progression in the face of endgame challenges.
Season Journey: This multi-chapter objective system rewards players as they complete each chapter, earning Favour and unlocking rewards that contribute to their Battle Pass progress.
Battle Pass: By earning Favour through regular gameplay or optional tier skips, players can unlock an array of rewards as they progress through Battle Pass tiers. The Battle Pass offers a free tier that allows everyone to earn Season Boosts for faster player progression. Players who choose to purchase the paid tier can also access exclusive Battle Pass cosmetics.
DIABLO IV SEASON 1 RELEASE DATE
As mentioned earlier, Diablo IV Season 1 release date will be the 21st of July 2023 AEST. Or July 20 at 10 a.m. PDT in the U.S.
For more information and updates, visit the official Diablo IV Season 1 announcement.