Philips LatteGo Series 2200 Review – We've seen tons of coffee capsule machines around and you probably even own one – either from Nespresso, Lavazza, Aldi, or many other brands. While it's convenient and the coffee tastes great, nothing can beat the freshness, taste, and smell of a freshly brewed coffee. Which is why many of us are still going to get our coffee hit from a cafe barista even while having a coffee capsule machine at home.
But things are different now. Philips LatteGo Series 2200 that I have here for a review, is a fully automatic coffee machine that will freshly ground coffee beans and give you a much better coffee, all with just a touch of a button (or a few buttons presses).
The coffee is fresh, smells great, and there is no limit to what brands of coffee you can have. You can even buy and use your favourite coffee beans like St. Mary's, Market Lane, St. Ali, Seven Seeds, and many more. The machine also has an option to use pre-ground coffee, which further expands your coffee indulgence options!
Philips LatteGo Series 2200 Review – Setup and Installation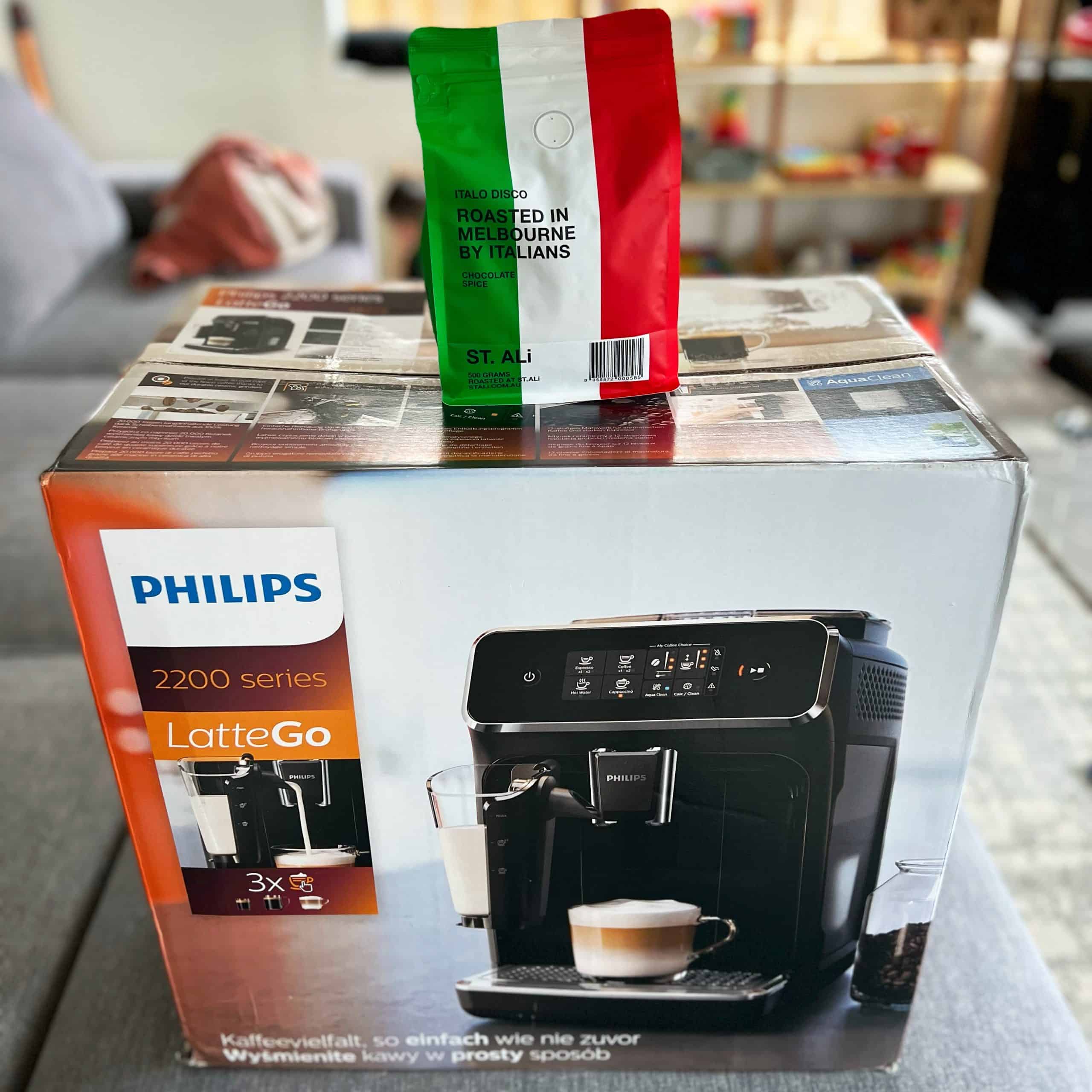 Installation is pretty easy as the machine pretty much comes assembled with everything. The packaging includes a way to test your water hardness and set it on the machine, and there is an initial setup to make sure everything is ready and clean. There is no coffee beans included so we got a St. Ali one from Woolies.
Philips LatteGo Series 2200 Review – Design & Features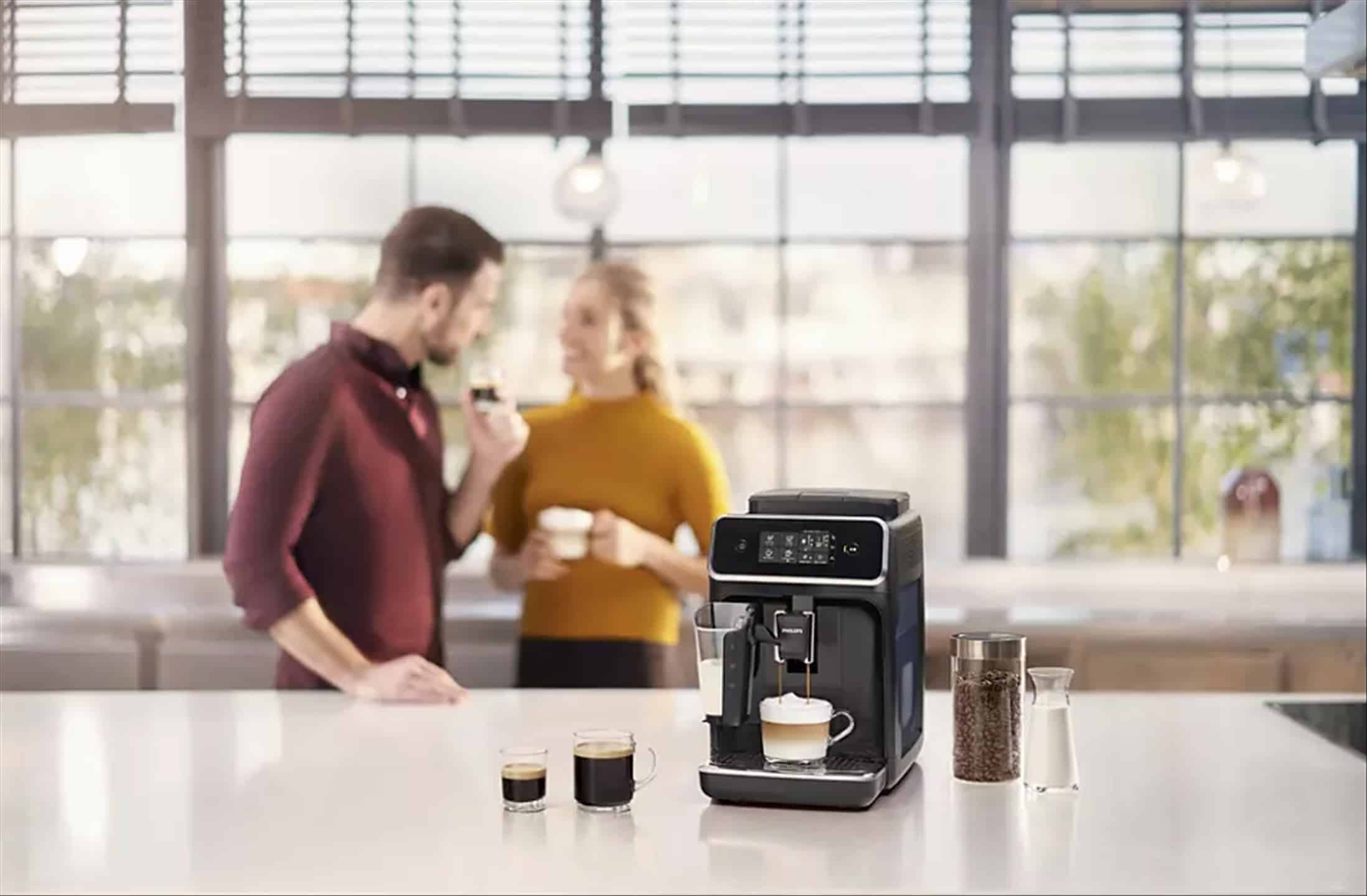 Philips LatteGo Series 2200 is a great looking machine. It's actually quite compact, modern, and sleek. It's perfect on modern homes' kitchen bench and its touch controls are quite easy to use. There are on-display notifications with clear icons so you know exactly when it's time to fill in the water tank, to clean, or perform a descaling.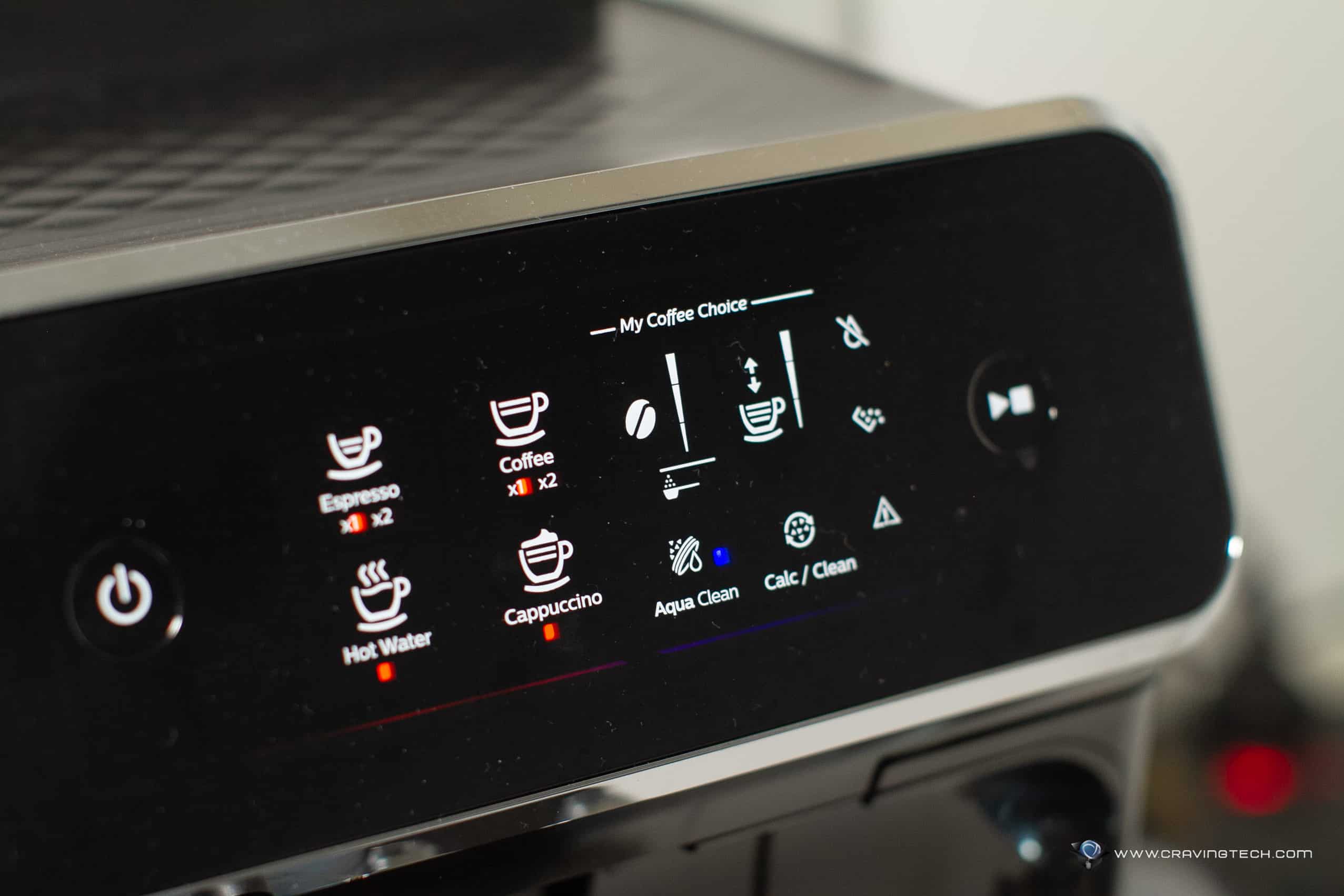 Speaking of descaling, isn't it the part that we all hate so much on our automated coffee machines? Not on this machine. Philips is utilising an "AquaClean" water filter that will actually filter the water in the water tank first before it goes into the machine. What this means for you is that you shouldn't need to descale the machine until about 5,000 cups of coffee.
That's right! Five thousands. So if you make coffee twice a day, say, you don't need to run a descaling program for another 6-7 years! This puts other brands coffee machine to shame, really. The AquaClean water filter can be replaced too and requires a few steps of instructions but pretty simple to follow.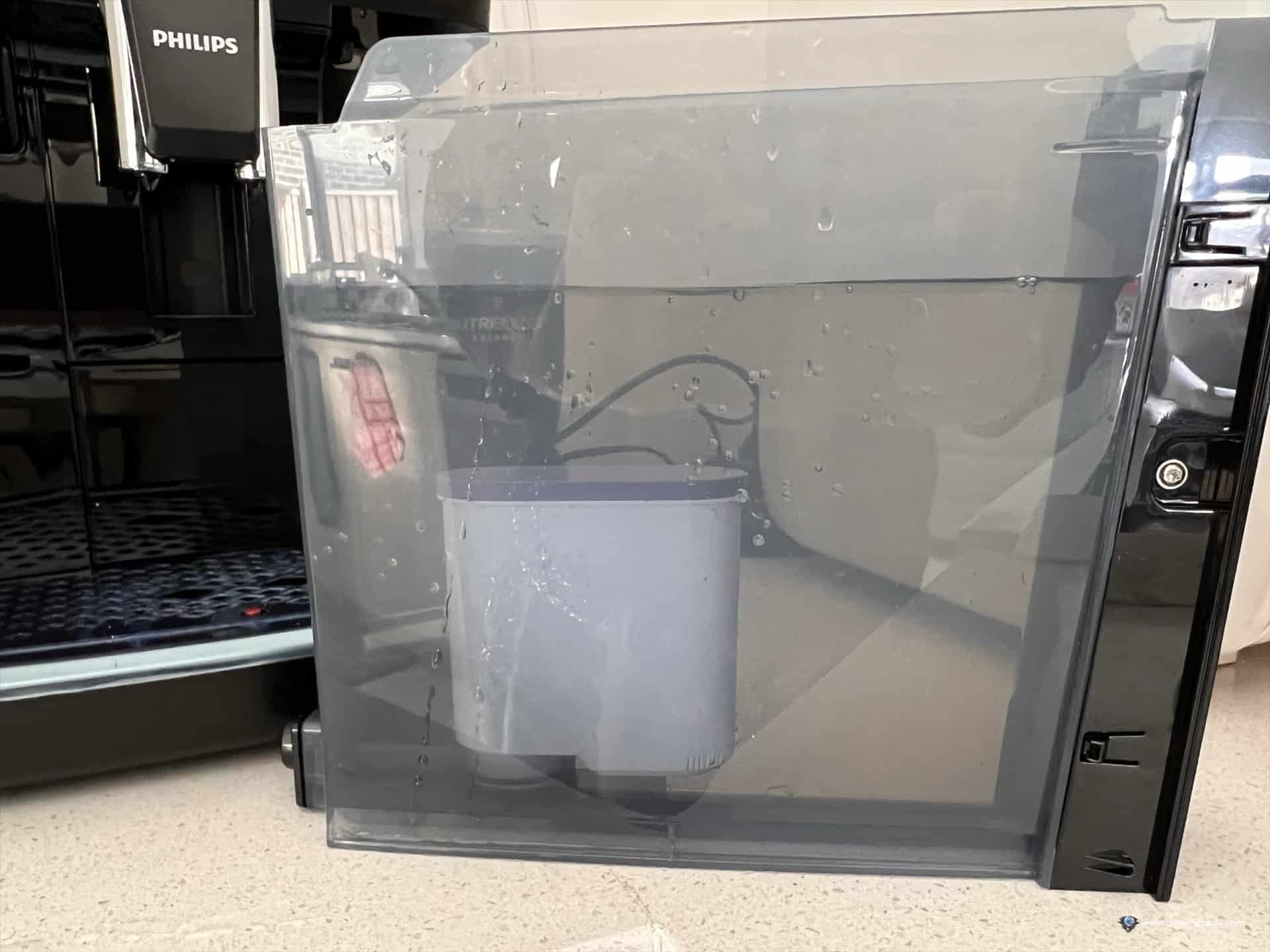 Another thing that we hate is cleaning the parts. Thankfully, it's pretty easy to clean too. The milk container, drip tray and grounds container which contains the used puck of coffee grinds can all be cleaned under the tap (or dishwasher) – and sure, there's an extra part to clean, which is the brewing unit. It's removable and thankfully easy to clean too (recommended to do it weekly). There is a recommendation to oil the parts once a month to keep things running smoothly. So yeah, more parts to clean in a sense but they are all thankfully easy and don't require any assembly.
The machine will also auto clean the coffee spout when the machine is turned on and off which is great as long as you remember not having a glass underneath the coffee spout as it will use a bit of hot water to clean and flush.
With LatteGo Series 2200, you can make Espresso, Black coffee, and Cappuccino. There is also hot water function if you want to make tea. You can adjust the aroma strength, volume quantity, and grind levels (from finest to coarsest, 12 levels). Unfortunately, there is no option to make a Latte (which is reserved on the higher-end model), change the milk temperature if you want hotter coffee, or even just having hot milk.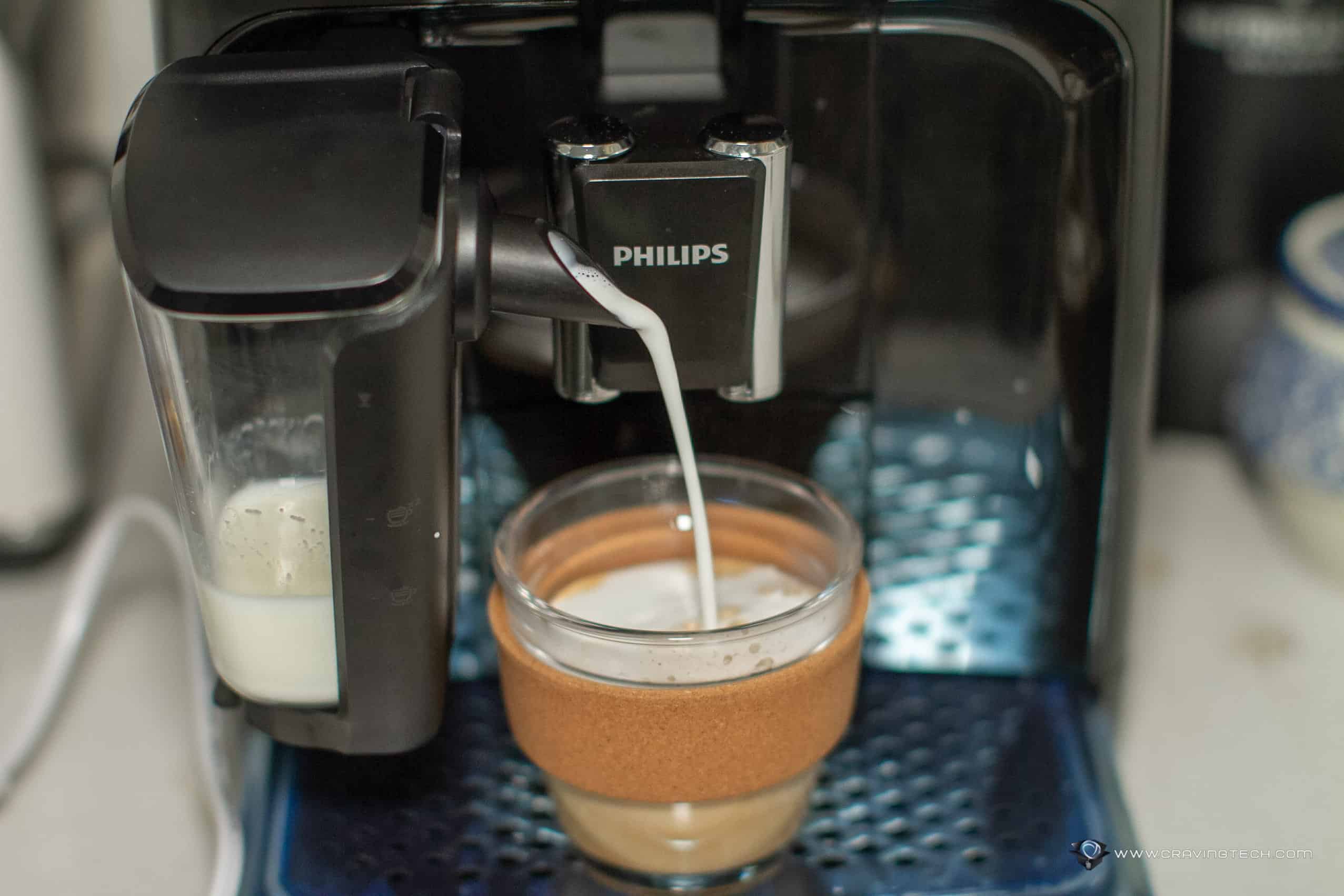 There is a trick/workaround to make the LatteGo 2200 giving you hot milk by choosing Cappuccino, and pressing + holding the aroma strength button for a few seconds (to make the machine use pre-ground coffee – but don't put any pre-ground coffee inside the compartment). This will give you just hot milk since you didn't put any pre-ground coffee in. After you are happy with the amount of milk, just stop the machine.
The volume quantity option does pour more milk but it also adds more water to the coffee (and I don't like weak/watery coffee), so I usually do a Cappuccino with the lowest volume quantity setting first, then use the trick to add more milk after. Obviously if you drink Latte all the time and can't be bothered with the hassle, you should opt for the higher-model, 4300 Series instead for a few hundred dollars extra.
Philips LatteGo Series 2200 Review – Coffee drinking experience
In short, the machine delivers. It's really simple and quick to make once you know what you want. Just press a button (assuming you don't need to change any of the current settings) and the coffee will make beautiful, aromatic coffee.
The coffee tastes and smells delicious, plus the milk is at a nice temperature that you can drink straight after.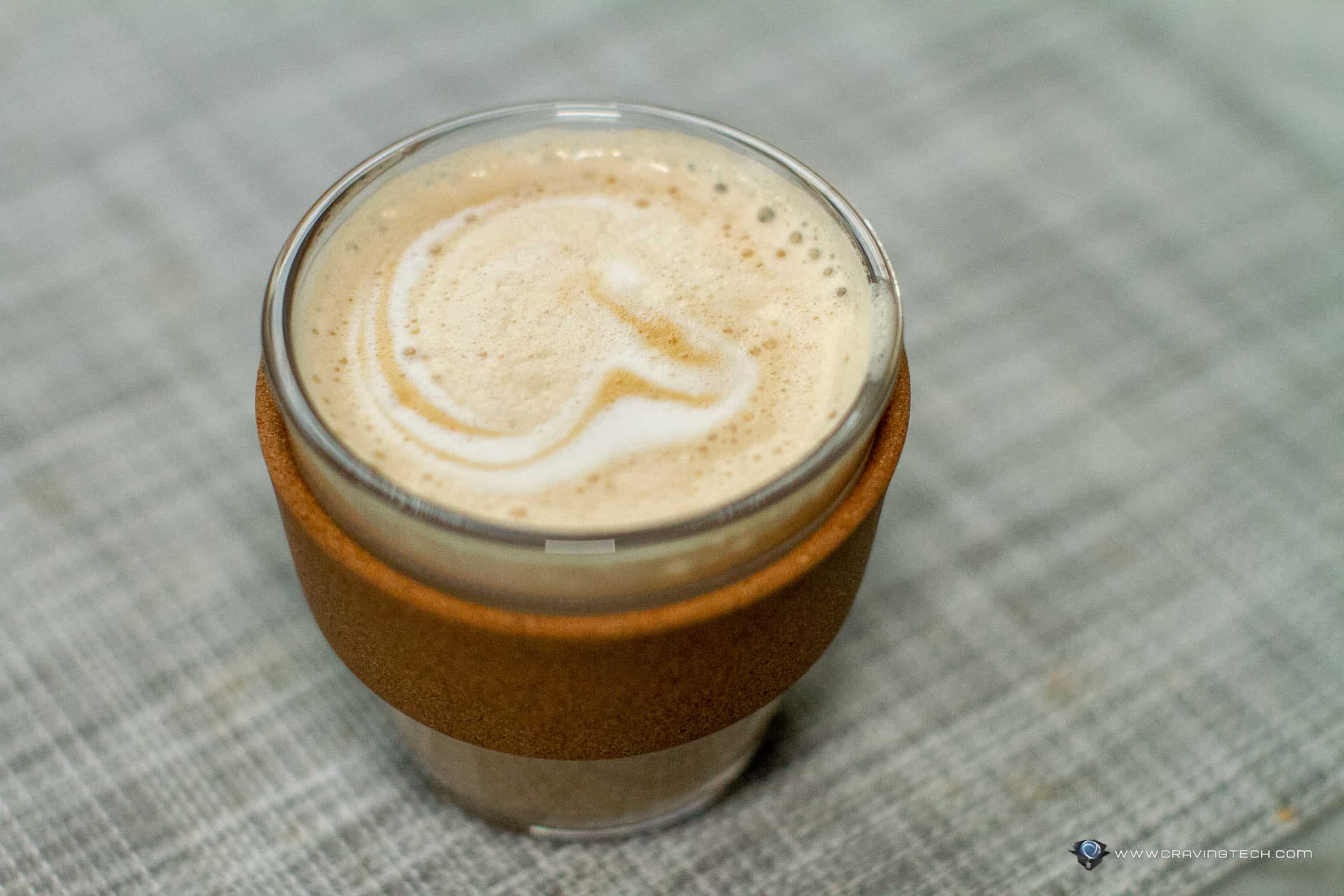 Thanks to its double ceramic grinders that can be fully adjusted up to 12 levels, you can get freshly ground coffee beans smell and taste everyday. The machine is pretty quick once you start it up, auto cleans the coffee spout on its own, and is easy to clean.
I love how I can now get and try different coffee beans from different brands and cafes, or try the pre-ground coffee every now and then. The coffee bean compartment is pretty big and it has a seal to preserve the coffee beans aroma over time, and reduce the grinding noise.
I feel that I can save more money compared to buying coffee capsules. After using this machine (my wife and I) a few times daily for around 2 weeks, we still have plenty of coffee beans left for the weeks to come.
Philips LatteGo Series 2200 Review – Short Video
Philips LatteGo Series 2200 Review Conclusion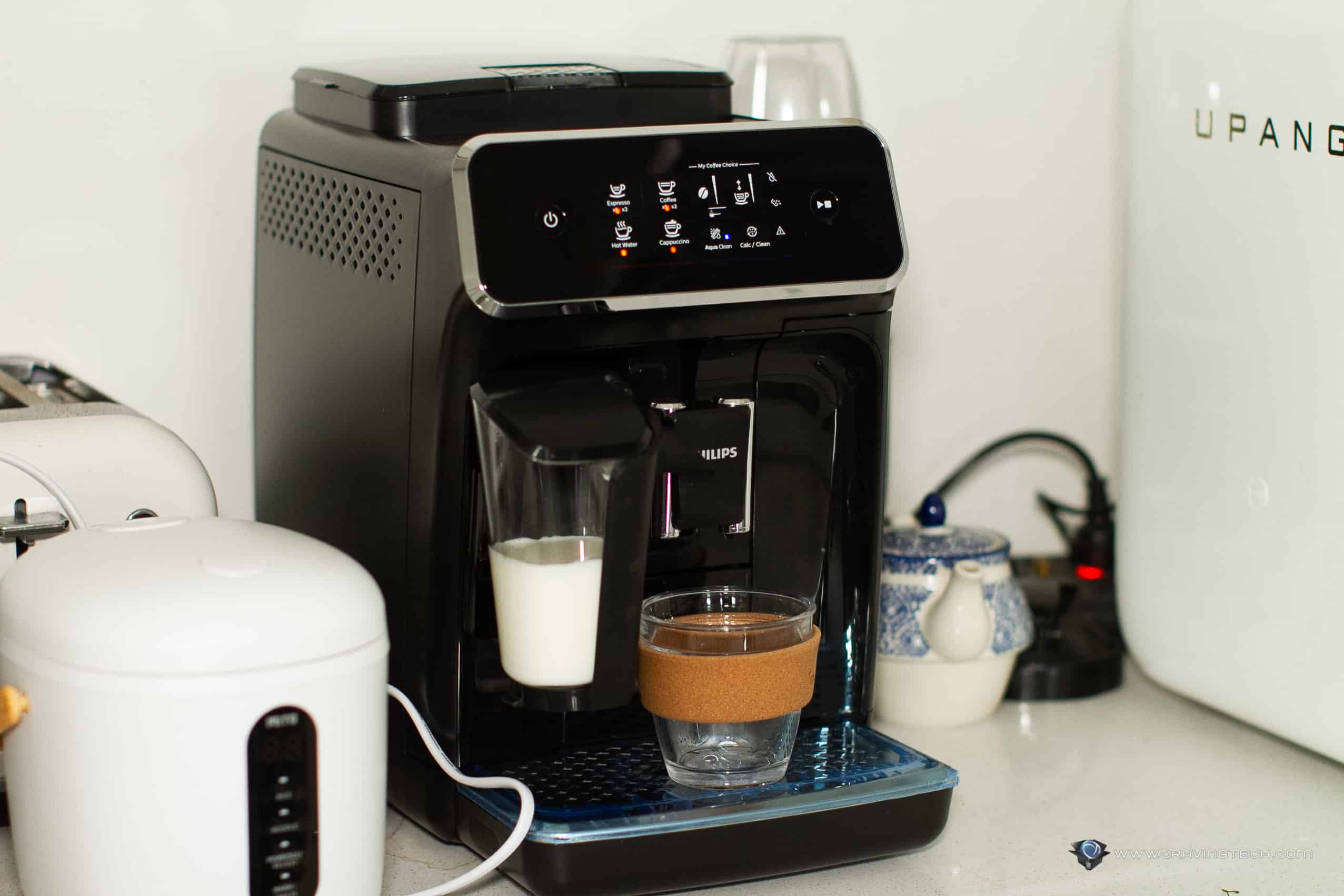 As good as coffee capsule machines are, you simply can't beat the smell and taste of freshly ground coffees. While there are traditional ways to make your perfect coffee, Philips LatteGo Series 2200 makes everything easy.
With just the touch of a button, the machine will grind the coffee beans of your choice perfectly with settings that you can adjust to your liking, and also has a milk frother that produces hot milk when you select the Cappuccino option. Not only that, there is an option to use a pre-ground coffee in a separate compartment (single use only).
I also find that we save a lot more money with the machine compared to buying coffee capsules as the coffee beans that we have on the machine are still aplenty even after two weeks of use (we make coffees 2-3 times a day). Not to mention there is no extra waste with empty capsules or having to carry them to a Nespresso shop to recycle.
Sure, not everything is shining with colours. The machine can't produce just hot milk without the crude workaround, you can't adjust the temperature of the milk (sometimes you want it hotter), there is no Latte option in this model, and you have to fill the water tank more frequently compared to other machines because the coffee spout auto-cleans itself (which is actually a good thing).
You probably still can't beat a very skilful barista at your favourite coffee place, but it's really, really close. I'm definitely looking forward in being able to try out the higher-end model, the Series 4300 one day. For now, Philips LatteGo Series 2200 is more than enough for our needs.
I'll never look at automated coffee machines the same way again! The LatteGo Series 2200 is available now for AU$899 RRP at retailers around Australia like Harvey Norman and, Bing Lee. Also available at Amazon.
Disclosure: Philips 2200 LatteGo fully automatic espresso coffee machine review unit was supplied for reviewing
Philips LatteGo Series 2200 Review
Summary
Brew freshly-ground coffee with just a button touch and also has a milk frother to make a Cappucino.
Pros
Make great coffees
Easy to use
Has double shot option, or if you want to make two Espressos in one go
Water tray located on the side front, easier than having it on the back (like most coffee capsule machines)
You save more money in the long run (coffee beans vs coffee capsules)
No annoying descaling procedure until you get to around 5,000 cups thanks to the AquaClean water filter
Quite easy to clean and dishwasher safe
Cons
Can't adjust the milk temperature
Can't do hot milk only (though there's a workaround for this)
You'll have to add more water frequently because the machine uses it to clean the machine on every start up and shutdown (but it's easy to do)
The milk measurement are hard to see