Lavazza A Modo Mio Voicy Review – "Alexa can do a lot of things, except making me coffee" – you said? Say no more, because from today, Alexa CAN make you coffee. This Alexa-enabled coffee maker from Lavazza is an automated coffee machine that can make you an Espresso or Long Espresso, with just using your voice.
The coffee machine is integrated with Amazon Alexa, which means it has its own built-in microphone and speaker. Not only the machine can make you coffee, but you can utilise it on the kitchen bench to check for news, set a timer up, listen to music or podcasts, control your smart home devices, and many more – just like an Amazon Echo smart device.
Lavazza A Modo Mio Voicy Review – Unboxing and Packaging Contents
Lavazza A Modo Mio Voicy Review – Design & Features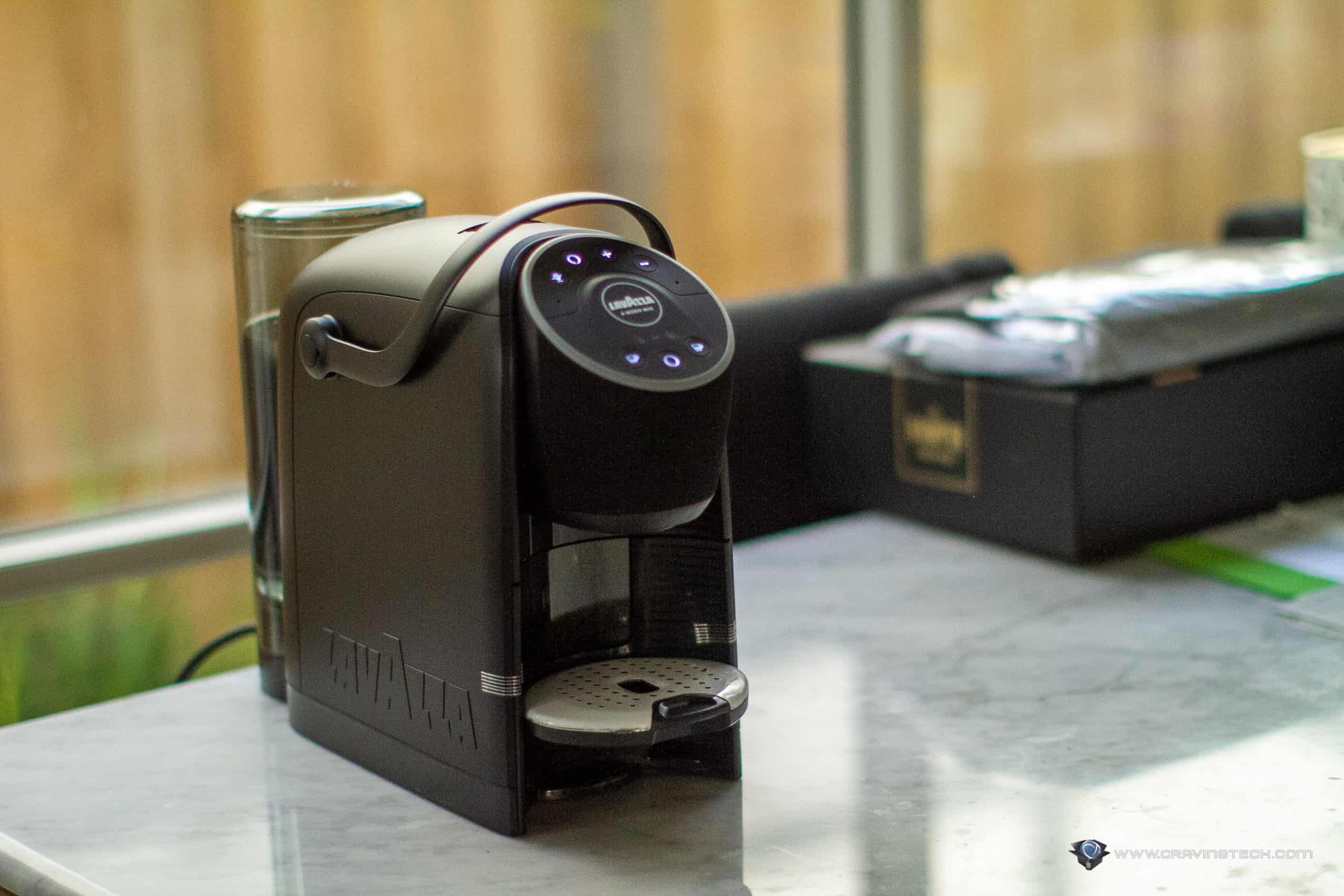 The A Modo Mio Voicy is a compact, Alexa-enabled coffee maker. It's only about 15 centimetres wide so it doesn't take up much space at all. The water tank is located at the back and can hold up to 1.1 litre of water.
Setting the machine up requires you to have a separate Piacere Lavazza app installed and connect it to your Amazon account. I was having trouble where all coffee-based voice commands didn't work on the Voicy but this was caused by connecting it to my Amazon U.S account. Once I tried an Amazon Australia account, the app could identify the right Alexa skills and activate all voice commands right away.
You can also let the app track (and Alexa) to how many coffee capsules you have left so you can remember to order more, which is quite handy and useful.
All controls are located on the top of the coffee machine and you can also see the speaker there if you look at the machine closely. Overall, it's a nice way to integrate the microphone, speaker, and coffee machine in a single unit. The Alexa's ring of blue light sits nicely around the machine console.
The speaker itself sounds decent and it's nice to have if you haven't had any Alexa smart speakers before at home or need to add one more in the kitchen area. It's a great space saver so you don't need to get an extra Echo speaker. I already have an Echo Show 8 on the kitchen bench so having the Voicy feels a bit redundant, but it is a coffee machine anyway.
All Alexa-related controls, including microphone mute and volume controls, are located on the top part of the console. The bottom part of the console focuses on Lavazza specific functions such as choosing between making an Espresso or Long Espresso. So yeah, you can thankfully just press on a button to make you coffees – like many other automatic coffee machines.
The promise of Alexa-enabled coffee maker is big but it falls short with this machine. Let me explain.
When you want to make coffees with Voicy, you have to insert a Lavazza coffee capsule into the capsule slot like all other Lavazza coffee capsule machines. Then, you can say "Alexa, make me a coffee" to let the machine start making Espresso. So, you need to manually insert a capsule into the machine first beforehand. It'd be nice if the machine can somehow hold 3-5 capsules inside the machine so you can ask Alexa to make coffees anytime you want, where ever you are in the house.
You can technically, insert a capsule to the machine each time and just let it sit inside with a cup ready underneath. This way, whenever you feel like a cup of coffee, you can just trigger Alexa anywhere within the house and your coffee will be ready for you. So I guess you can still utilise the machine this way, if you remember preparing it beforehand.
And to my surprise, Alexa voice command to make coffee is pretty powerful. You can get Alexa to make you a hotter coffee and even customise your coffee from the app (coffee length and temperature) and name that custom coffee. It's quite handy if you have a few family members with different coffee preferences.
Let's talk about the coffee though because hey, this is a coffee machine. Just like other Lavazza coffee capsule machines, Voicy makes good coffee though not as good as machines with fresh coffee beans that I reviewed recently. Voicy also can't do any milk-based coffee drinks like a Cappuccino or Latte though. For this, you need to get a separate milk frother.
Lavazza A Modo Mio Voicy Review – Conclusion
Lavazza A Modo Mio Voicy is the first coffee machine with Alexa built-in. Is it a gimmick?
The idea of waking up in the morning and you can just say "Alexa, make me a coffee" (or "Ask Lavazza to make me a coffee", to be exact, if you are not in front of the machine) has come true, or almost. You still have to insert a coffee capsule and place a mug underneath the machine beforehand. But if you remember to do this each time you pick up your coffee, then you can have your morning routine set smartly.
Plus, Voicy has a built-in microphone and speaker so it can also read you news, listen to your favourite music, control your smart lights, and more. I have over 20 smart home products around our home (mostly lights) so we've been turning on and off parts of our home with Alexa. If you have Alexa-supported smart products at home and don't have an automatic coffee machine yet, it's a good investment.
But if you really don't care just yet about asking Alexa to make you coffee and you are happy to just walk into the machine and press a button, then you can save the money and get a better coffee machine with milk frother to make Latte, Cappuccino, Macchiato, etc.
This Alexa-enabled coffee maker can be purchased at Amazon Australia for A$349 but it's currently listed at $279 during the Prime Day sale.
Disclosure: Lavazza A Modo Mio Voicy review sample was supplied for reviewing
Lavazza A Modo Mio Voicy Review
Summary
First Alexa-supported, automatic coffee machine where you can ask Alexa to make you a coffee
Pros
Compact design
Comes with built-in microphone and speaker, so can be used as an Alexa smart speaker
Has all controls on the coffee machine (both Alexa and coffee-making controls)
Can customise your coffee through your voice and/or the app
Lavazza coffee! 
Cons
Does not have built-in capsule holders so you have to manually insert a capsule each time
If you are okay with just pressing a button, you can use the money to get a better Lavazza machine
Decent speaker quality