Nespresso Vertuo Lattissima Review – After reviewing a few automatic coffee machines that take coffee beans rather than pods, I swore I would never go back to coffee pods again. I mean, the flexibility of choosing your own coffee beans and the smell of freshly-ground beans are something you probably can't get from capsule coffee machines like Nespresso's.
However, after trying out their new Nespresso Vertuo Lattissima, I have to say that it has totally restored my faith and opinions on capsule coffee machines. The coffee tastes and smells great, and this must have been the best milk froth I've ever seen in an automatic coffee machine. Yes, it is that good.
NESPRESSO VERTUO LATTISSIMA REVIEW – UNBOXING AND PACKAGING CONTENTS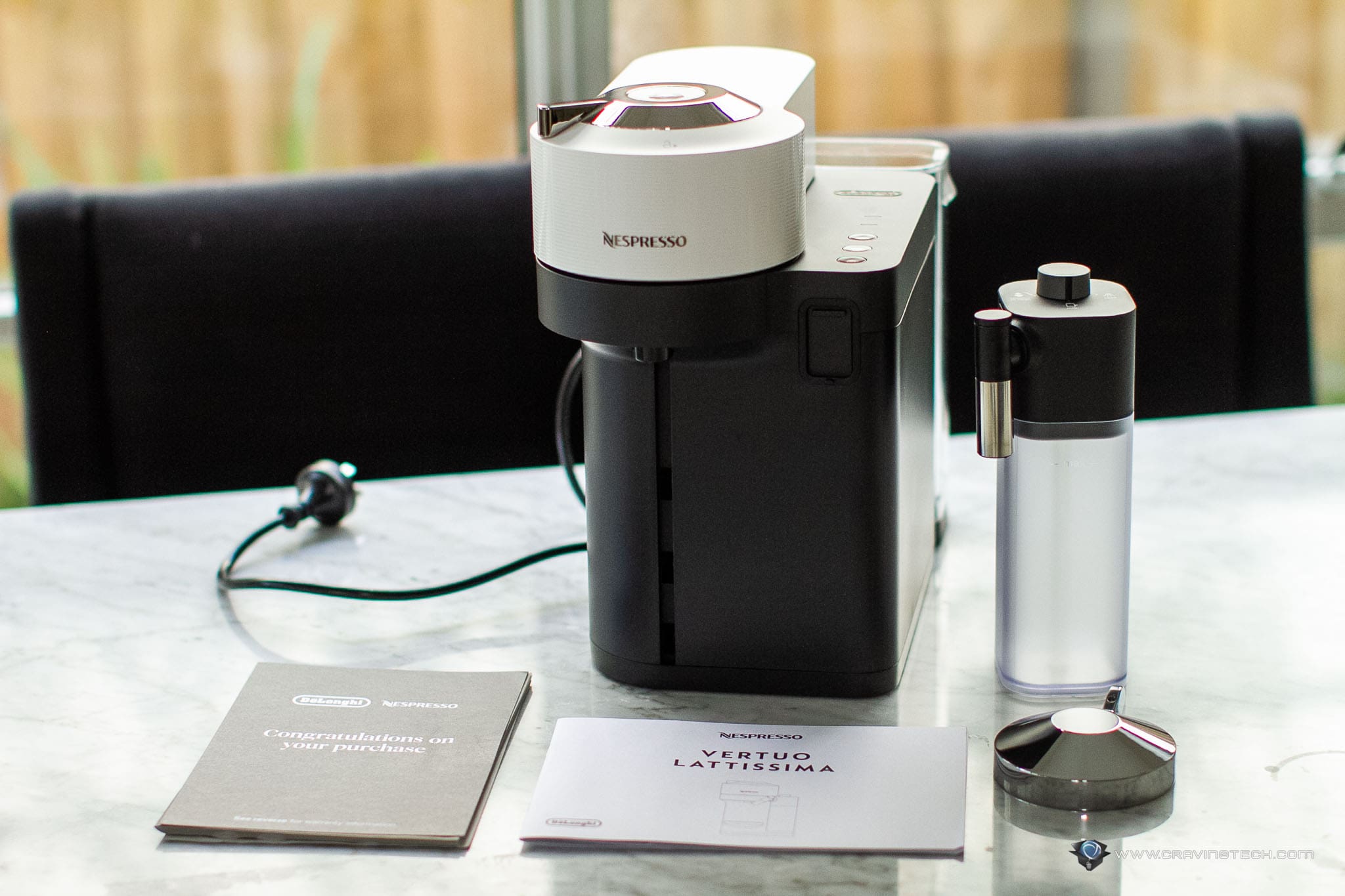 NESPRESSO VERTUO LATTISSIMA REVIEW – DESIGN AND FEATURES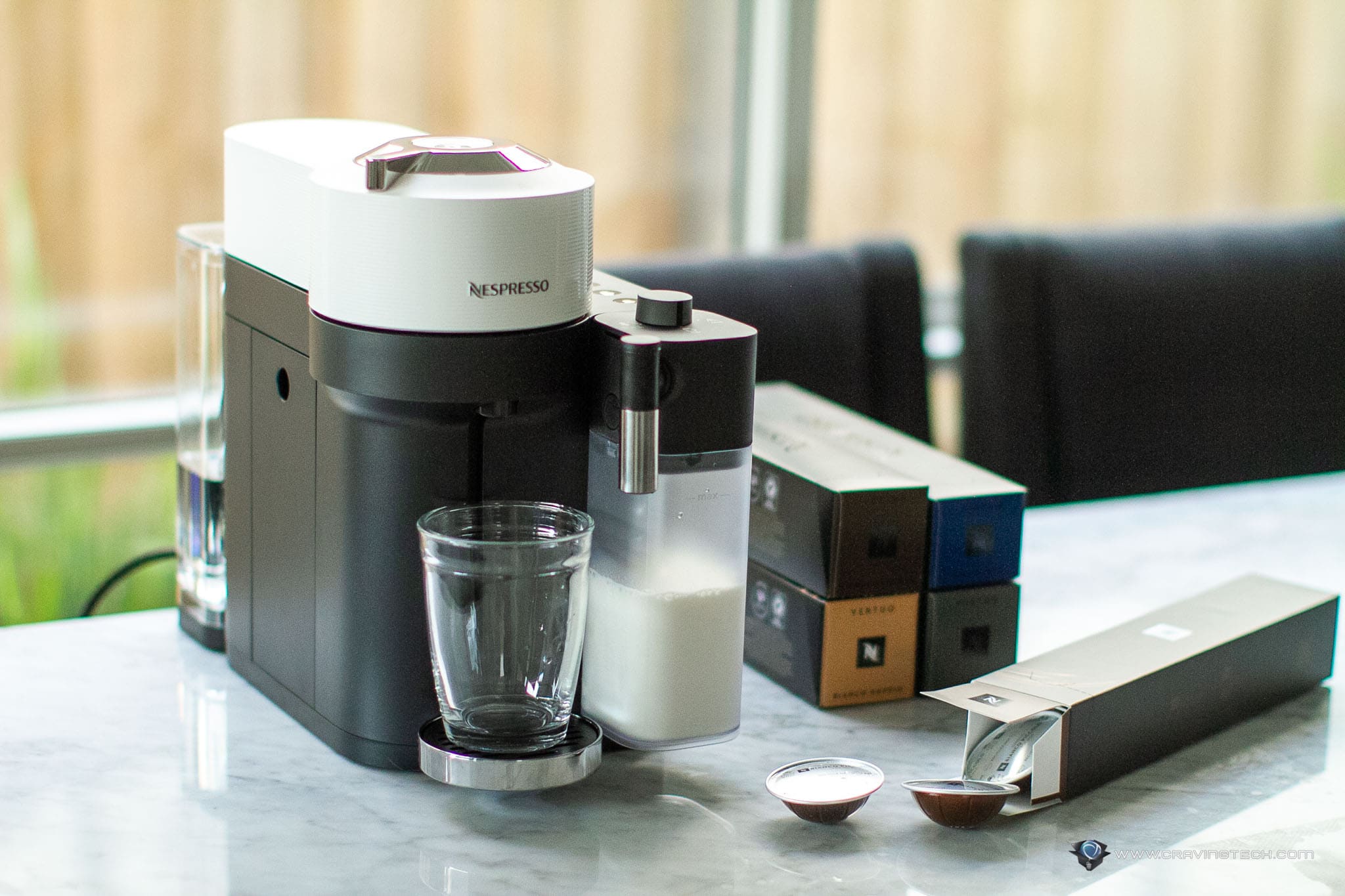 Compared to the other Nespresso machines I've had and reviewed, the new Vertuo Lattissima has the most premium look and feel. Everything with this machine screams premium, heck, even the drip tray and grid feel premium: its body materials, its milk carafe, the way you lock and unlock the coffee pods, even to the way it operates. And at AU$749, it has to (apart from having to be able to make great coffees).
Opening and closing the machine lever feels firm and accurate. The way it locks and punches holes at the same time to the Vertuo coffee pods sound and feel satisying. Opening the lever after it has finished making coffee is even more satisfying. When you unlock and open it, the used coffee pod slides quickly through the hole in precision and in a satisfying manner in front of your very eyes.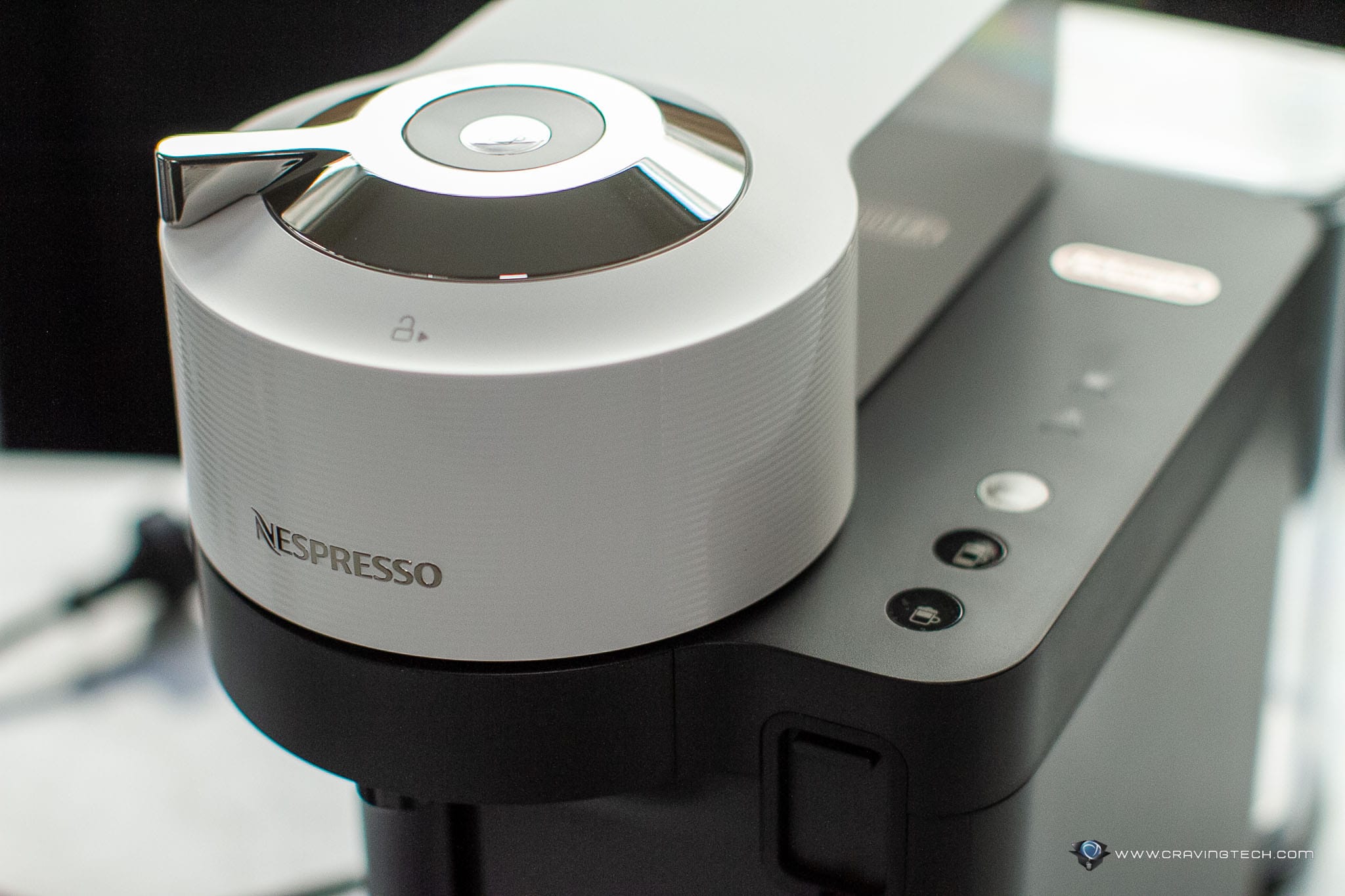 The milk carafe also feels premium and sturdy. Plus the lever on the top actually triggers things with the machine as you move between the options. Setting it to Rinse will trigger a rinsing operation and when you switch back to Milk, the machine will know and enable the Latte Macchiato & Cappuccino buttons (which lit on).
And I didn't realise this at first. But it seems that somehow the machine knows which Vertuo coffee pods I put in because it made me different volume of coffee and milk. Apparently, the machine even has an innovative barcode technology that reads the capsule barcode that you've inserted and adjust the settings automatically so you'll always get the perfect coffee and milk each time. That's pretty amazing, really.
The Vertuo Lattissima can make a wide varieties of coffees like Espresso (40ml), Double Espresso (80ml), Gran Lungo (150ml), Mug (230ml), Cold Brew (355ml), Carafe (535ml), and milk coffees like Cappuccino and Latte. You can even just ask it to make a hot milk froth – great if you want to make some hot chocolate before bed instead of coffee.
It's pretty much a one touch operation to make your coffee. There is a button on top to make coffees, and three dedicated buttons for the Latte, Cappuccino, and a Frothed Milk. It certainly can't get any easier than that. Sure, expert users who might want to change different settings like the milk temperature, amount of froth, or the coffee amount with their Latte and Cappuccino will be disappointed, but the machine honestly makes perfect amount of froth and temperature so far.
I've made between 10-20 milk coffees so far with the machine and I always love the consistency. I'm mostly amazed by how beautiful, creamy, and silky the froths are. It's definitely the best froth I've seen so far in all kinds of coffee machines I've used and reviewed so far here at Craving Tech.
Every coffee machine always claims that the coffee/milk coffee created by their machines is as good as what you get with a real Barista. However, not all of them is true. Thankfully, I can say yes here with the Nespresso Vertuo Lattissima (of course, you'll still get a fresher small with freshly ground coffee beans but eh, I can live with that).
The machine also has Bluetooth and Wi-Fi but no, you can't ask Alexa to make you coffees or do smart things with it. It's only used for software updates and assistance.
NESPRESSO VERTUO LATTISSIMA REVIEW CONCLUSION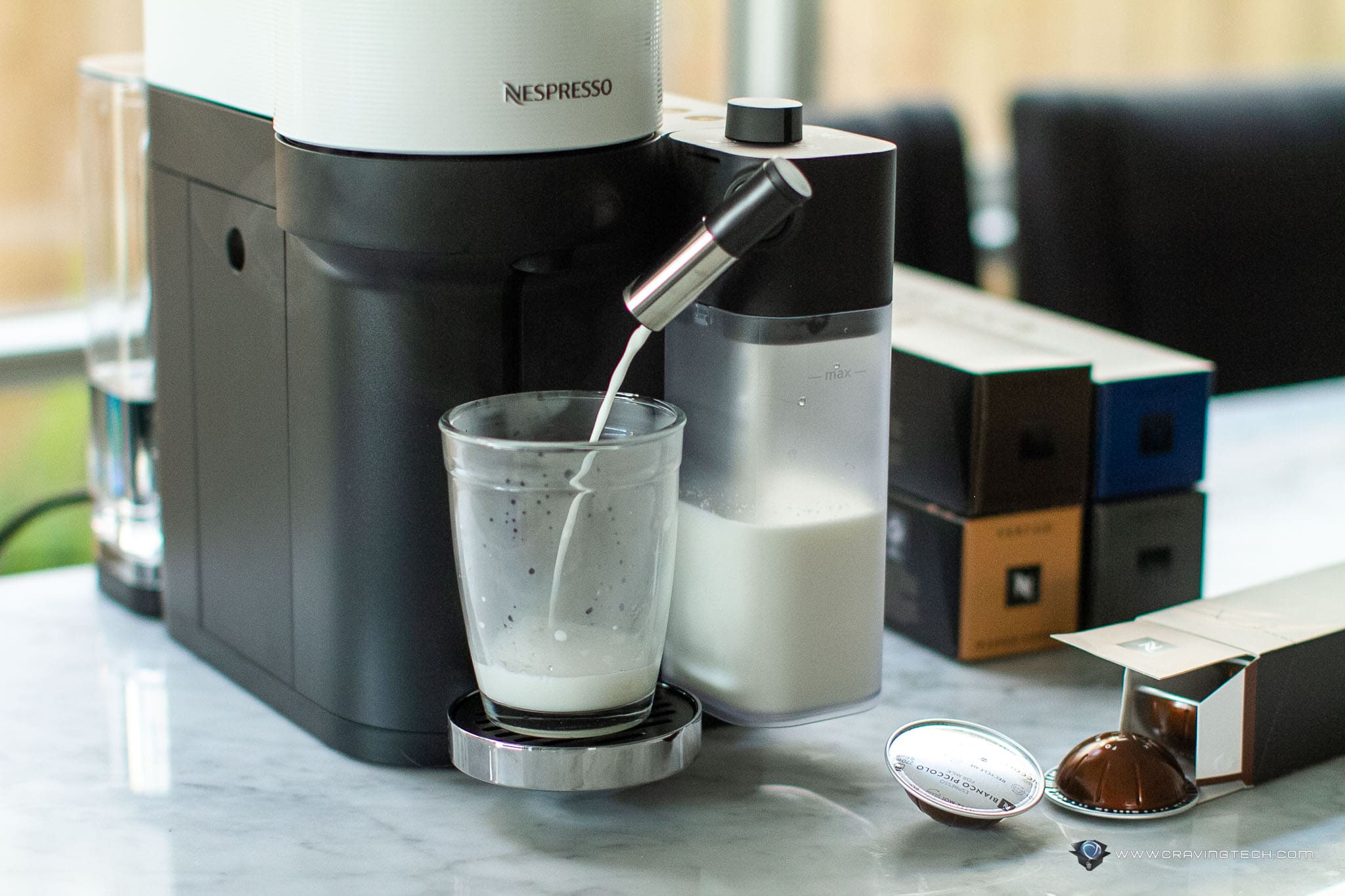 Nespresso Vertuo Lattissima retails for AU$749 so it is a premium coffee machine and not everyone might want to pay that much for one. However if you do, you'll be greeted with one of the best coffee capsule machines in the world right now. It looks and feels premium, precise operations while eliminating human errors and mess, makes great coffee, makes the best frothed milk so far, and an easy-to-use machine at the same time.
Nespresso Vertuo Lattissima is one of the best Nespresso machines so far and I can't even wait to review the Vertuo Creatista next. So stay tuned for that.
Nespresso Vertuo Lattissima is available now at Nespresso website and retail shops for AU$749 RRP. It comes in Black and White colour. Can be purchased through Nespresso retailers and also at Amazon.
Here's a short video I made with the machine:
Disclosure: Nespresso Vertuo Lattissima review sample was supplied for reviewing
Nespresso Vertuo Lattissima Review
Summary
A premium coffee machine by Nespresso that creates one of the best milk froth out there, and comes with many precision and innovative engineering
Pros
Premium look and feel, premium operational
Make great coffees and milk coffees
Easy to use
Satisfying operations (the locking mechanism, the auto rinsing of milk carafe, etc)
Ample amount of used coffee pods storage and water tank
Cons
Premium price
Many little things to wash with the milk carafe