Razer BlackWidow V3 Pro Review – When I reviewed the first few BlackWidow gaming keyboard from Razer, I tweeted and wondered if the company would ever release a wireless, mechanical BlackWidow. This was many years ago.
While it took a while for the wireless technology to pick up, the dream of many Razer fans has finally come true at the end of 2020.
Razer BlackWidow V3 Pro is Razer's first wireless, mechanical gaming keyboard and also the first BlackWidow ever going wireless. If you've been itching to hearing this news, then you can stop scratching now.
Razer BlackWidow V3 Pro – Packaging & Unboxing
An ergonomic wrist rest is included in the packaging if you prefer to using it while you type. Sadly, it's no longer magnetic – which I praised so heavily when I saw it on the BlackWidow V2 as having the best wrist rest design at that time.
Razer BlackWidow V3 Pro – Design & Features
The BlackWidow V3 Pro definitely has the Razer BlackWidow signature all over it. Surprisingly, it slightly looks different to the regular, wired BlackWidow V3 that I just recently reviewed (most notably, the multimedia buttons and volume dial control).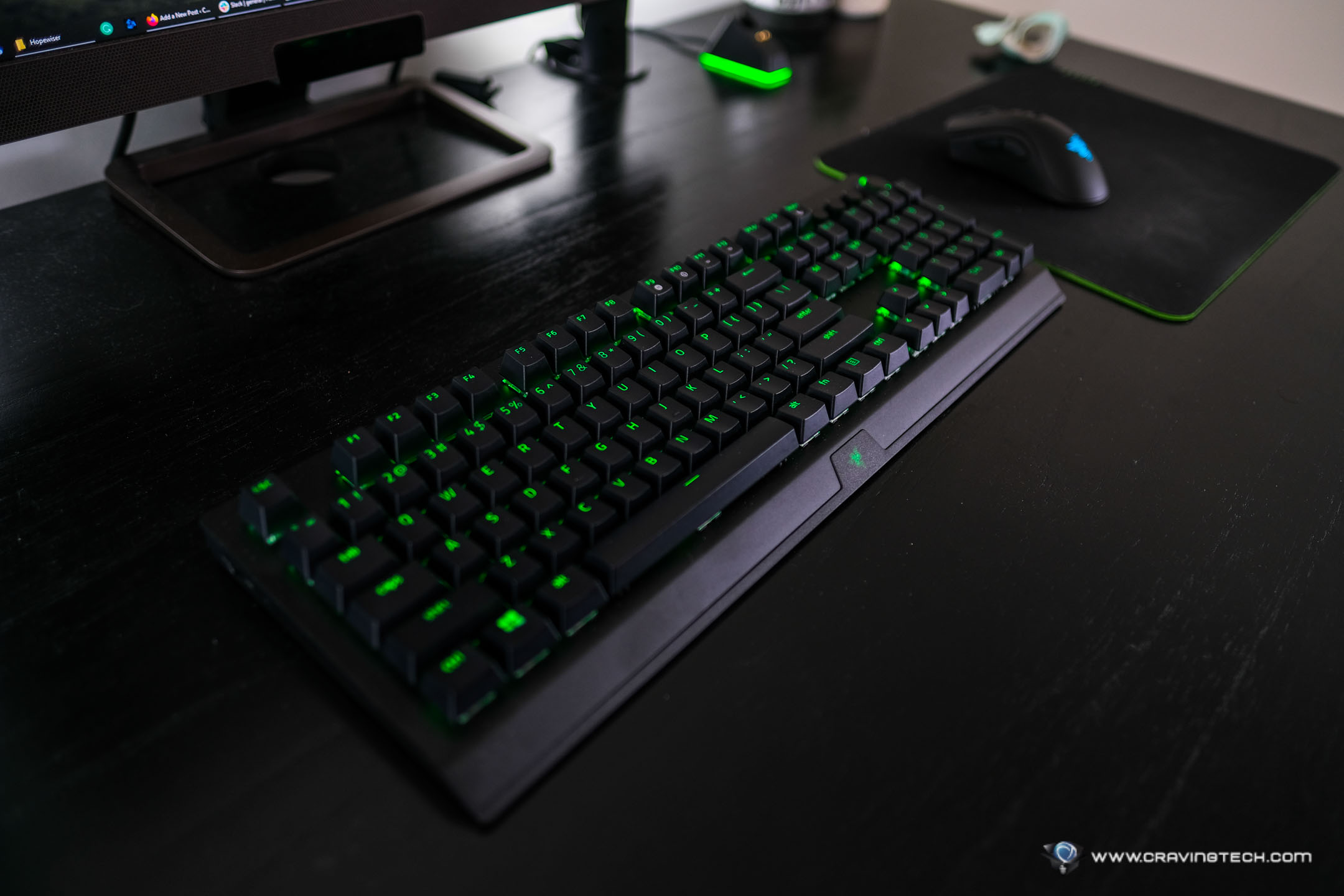 However, the rest has the same, latest Razer's manufacturing technology built into it: the Transparent Switch Housing, Doubleshot ABS Keycaps, Aluminium Construction, and Razer Mechanical Switches.
The Transparent Switch Housing offers brighter RGB lighting to be seen and gamers love RGB on their gaming peripherals. This sounds good on paper though, but being a wireless keyboard, you probably want to tone down that brightness to have more battery life – but more on this later.
Thanks to the doubleshot molding process, labelling on the keycaps will never wear off and the extra-thick walls offer more durability too for prolonged, repeated use. Unlike the Logitech G915, Razer's labelling can still be seen even when the backlighting is turned off – which is a plus.
And if you like to, ahem, abuse your keyboard somewhat while playing, the BlackWidow V3 Pro also has aluminium construction, making it really sturdy and tanky. Unfortunately, this makes the keyboard somewhat quite heavy so this comes at a price. If you are planning to carry the keyboard around with you, note that the BlackWidow V3 Pro weighs about 1.13 kg when I weighed it on the kitchen scale.
There are media controls on the keyboard with an extra multi-function digital dial. So far, this is probably the best dial I've ever used on a gaming keyboard. The feel of the dial as you rotate clockwise or anti-clockwise is just superb like you are rotating a crown of an expensive watch.
LED indicators for Caps Lock, Num Lock, etc are very bright too.
So let's talk about the main feature of this keyboard: wireless. Thanks to Razer Hyperspeed wireless technology, you'll get a stable connection with no noticeable latency. While testing the keyboard, I've never had any wireless signal lost or lag. Even when typing as fast as possible on the keyboard, all letters came up as if I was using a wired keyboard.
Razer also offers Bluetooth connection mode along with the 2.4GHz wireless mode. This makes it easy if you want to use the keyboard to reply messages on your phone, etc. The switch is located on the side of the keyboard but it is very stiff and I have to use my full force to move between different modes (2.4GHz, Wired, or Bluetooth). It's located far from the other keys and buttons, so I don't know why Razer makes it so stiff. There is also a battery low indicator here but honestly who's going to see that hidden away from sight?
According to Razer, the keyboard can last up to 200 hours when the RGB is switched off. While it feels sad for getting an RGB gaming keyboard but having to turn the lights off, there is another way. You can adjust the brightness of the backlighting on Razer Synapse and I find that I'm still quite happy with 10% brightness.
After using it for 9 days for about 2-3 hours a day for playing Overwatch (I'm using an ergonomic keyboard to work), Razer Synapse reports the battery life to be at 53% (with 10% brightness). If you crank the brightness to 100%, you'll only get around 10-15 hours of battery life.
Thankfully when it needs to be recharged, you can plug the included USB-C cable and use the keyboard to play at the same time.
This brings me to the ultimate question (that you probably have in mind already): do you really need the wireless bit? A keyboard is quite stationary and usually doesn't really hinder you from gaming (like a corded mouse does). The hassle of having to charge it every now and then depends on how bright you have your RGB and how often are you using the keyboard. To save battery life, you also won't find a USB passthrough here.
Razer doesn't make it easier as well as the USB wireless dongle has to be plugged to your PC's USB slot, and the charging cable on another (or swap the dongle). Razer can learn a thing or two from Logitech here who included a USB extension so that one end of the cable can be plugged to your PC and the wireless dongle on the other end. This way, whenever you need to charge the keyboard, the cable is always within reach on top of your desk.
But if you've been longing to have a proper wireless, mechanical, gaming keyboard for a super clean desktop setup, you won't be disappointed with the BlackWidow V3 Pro performance for sure. Plus, you can bring the keyboard to your charging station area somewhere else to charge, and then bring it back to your desk fully charged. This keeps your desktop area uncluttered.
Razer BlackWidow V3 Pro Review Conclusion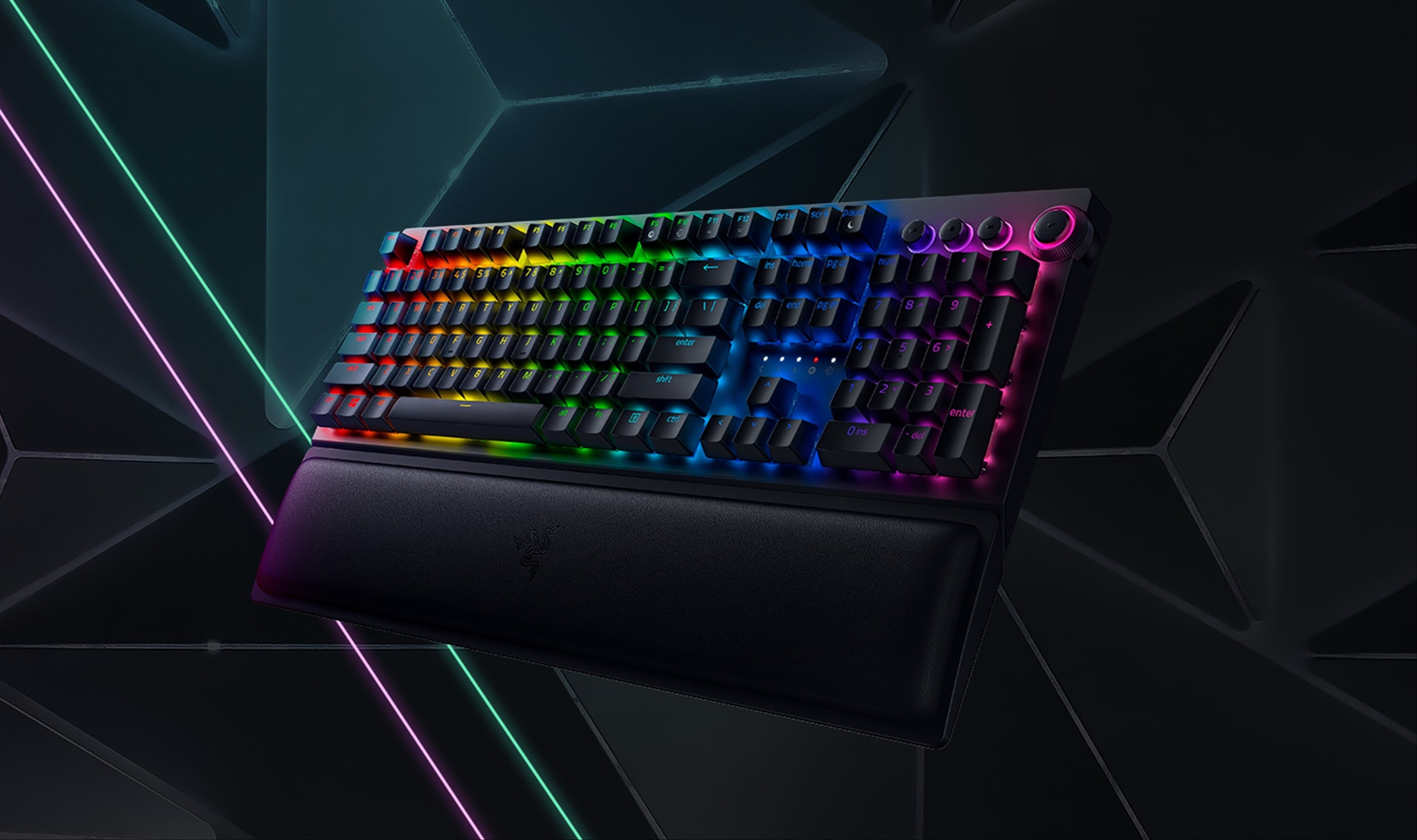 If you've been dreaming to have a wireless BlackWidow gaming keyboard, then your dream has come true. Razer BlackWidow V3 Pro has all the signature design and features of the iconic BlackWidow, with high, wireless performance on top.
It looks beautiful, it brings cleanliness to your desktop, and it performs as well as the BlackWidow V3. But do you actually need a wireless gaming keyboard where you have to plug to charge every now and then (plus paying extra for it)? Only you can answer that and if you are happy to pay for it, Razer BlackWidow V3 Pro retails at AU$389.95 and available now at Razer's website and retailers around Australia. If you are still hesitating, grab the BlackWidow V3, which is as good.
Disclosure: Razer BlackWidow V3 Pro Review sample was supplied for reviewing but all opinions are mine
Razer BlackWidow V3 Pro Review
Summary
Razer's iconic mechanical gaming keyboard goes wireless
Pros
Sturdy build, durable
Great design as always
Great wireless performance
Great battery life (depends on RGB brightness)
Looks good even at low brightness (to save battery)
Dedicated media controls + awesome digital dial
Bright Caps Lock, Num Lock indicators
USB-C
Cons
Quite heavy to be carried around
Super stiff wireless mode switch
Low battery indicator is on the side, away from sight
Wrist rest no longer magnetic like in V2
No USB extension for the wireless dongle