Razer BlackWidow V3 Review – The BlackWidow is Razer's legendary keyboard series that have resonated well through time. Make sure to check out our past BlackWidow 2019 and BlackWidow V2 reviews if you haven't yet.
And this time in 2020, Razer releases two new BlackWidow V3 series – the standard and the Pro. While we haven't received any review units of the BlackWidow V3 Pro yet (which is wireless), I've got the Razer BlackWidow V3 for you today.
Razer BlackWidow V3 Review – Packaging
Razer BlackWidow V3 Review – Design & Features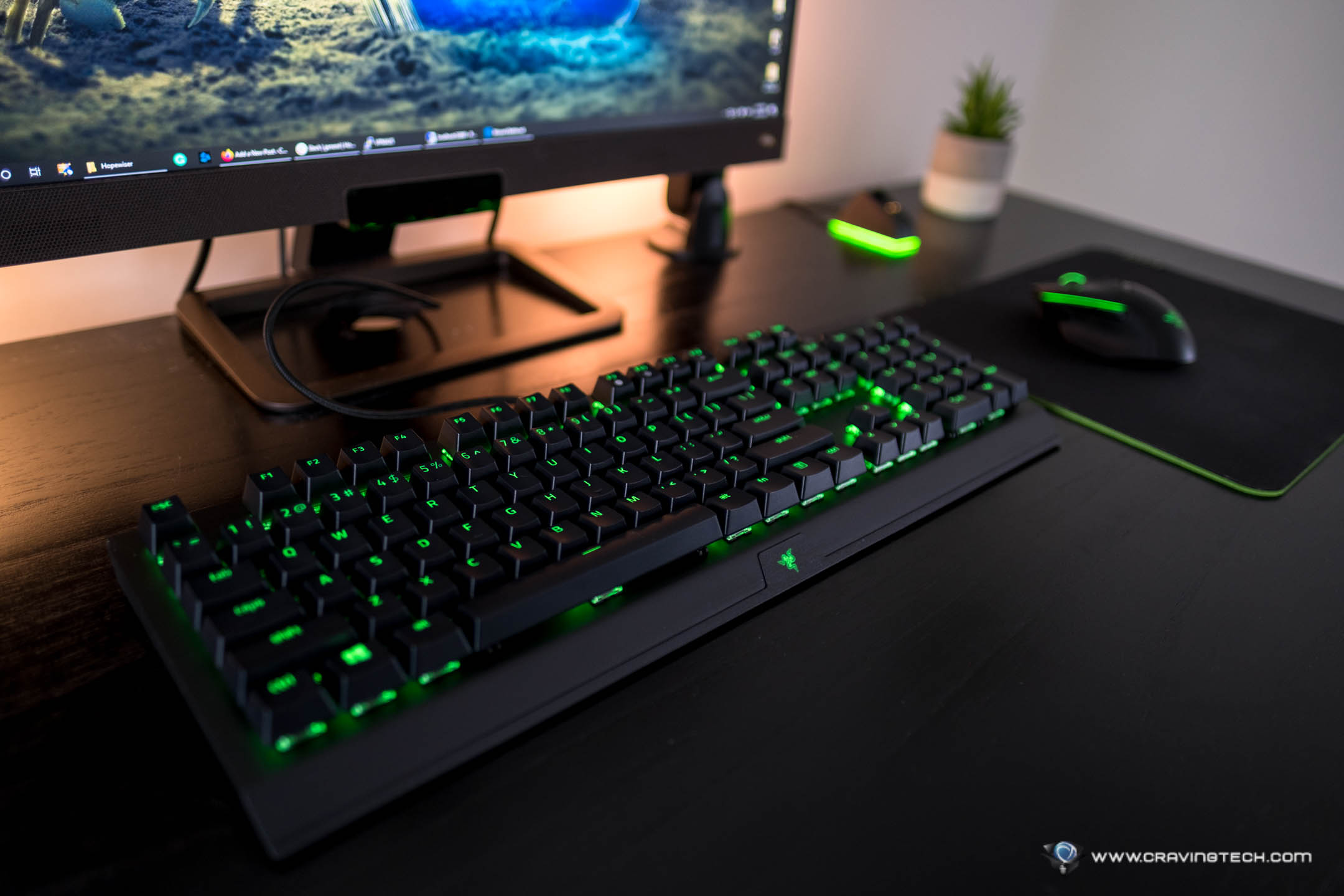 The BlackWidow V3 definitely has all the resemblance of the iconic, previous BlackWidow mechanical keyboard series. The new version does come with many improvements though such as improved key switches, Doubleshot ABS keycaps, multi-function roller wheel with a unique media control key, plus improved aluminium chassis.
The new Doubleshot ABS Keycaps means that the legends on the keys will never fade away, thanks to a new moulding process. The keycaps are also more durable this time, with 80 million keystroke lifespan.
Thanks to the transparent housing, RGB lights now also shine brighter even in daylight. And you'll love these nifty updates when you are playing games that support Chroma Integration like Overwatch.
Tougher keycaps, tougher aluminium chassis, this is definitely the BlackWidow version to get if you are worried about durability for the long term.
Razer BlackWidow V3 comes in two variants of mechanical switches: Razer Green and Razer Yellow. My review unit comes with Razer Green mechanical switches with clicky, tactile design:
Actuation Force: 50 G
Travel Distance: 4.0 mm
Actuation point: 1.9 mm
Actuation vs Reset Point: 0.4 mm
As expected, the clicky, tactile feedback means that they sound very loud and if you are sharing your room with a partner or roommate, they will hate you. I used mine in our Study area and my wife certainly got agitated with the sound and asked me why would people want to get these noisy switches. After explaining to her about APM (Action Per Minute), the importance of audio feedback while you play, and competitive RTS gaming, she finally understood.
But if you are also using the keyboard to work and like the idea of a more silent feedback, definitely go for the Razer Yellow switch variant. My old BlackWidow V2 had the Yellow switches and I loved them.
There is now a unique, round media control button next to the volume roller with different press actions and triggers. Rather than cluttering the keyboard with different physical controls, Razer condense them into a single, magical button and I like the cleaner look.
You can also attach/detach the ergonomic wrist rest, and there is a cable management to neatly tuck the cable.
Razer BlackWidow V3 Review Conclusion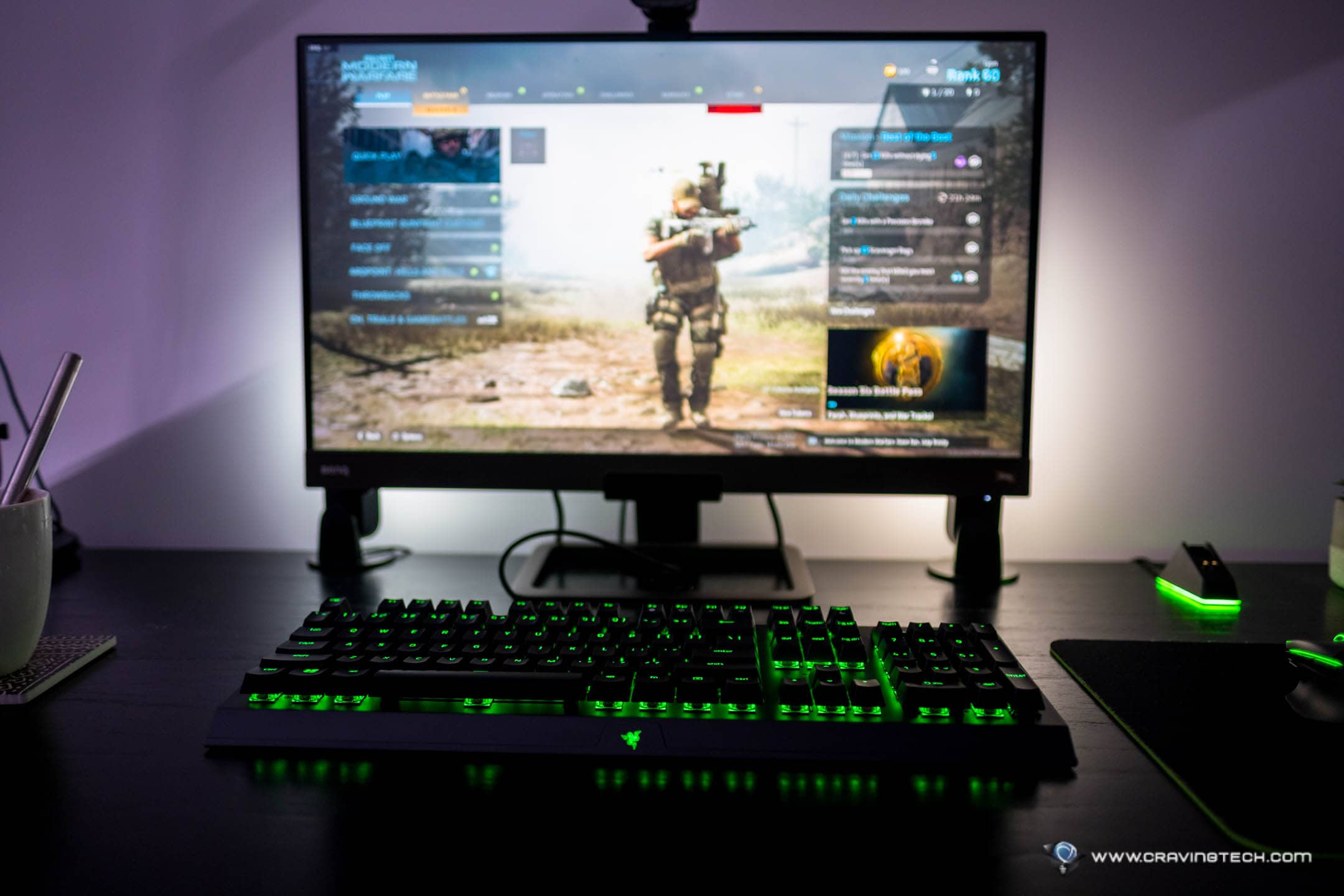 In a sense, there are no significant, groundbreaking upgrades on the Razer BlackWidow V3 if you already own the BlackWidow V2 and it's still working great. The new model, however, is more durable (both chassis and keycaps), has brighter RGB backlighting, and has a cleaner look with the volume roller and dedicated media control button.
If you are looking for a good mechanical gaming keyboard that can withstand months of heavy use, this is definitely it. Razer BlackWidow V3 retails for AU$239.95 and available now at Razer's website and retailers around Australia.
Disclosure: Razer BlackWidow V3 review sample was supplied for reviewing but all opinions are mine
Razer BlackWidow V3 Review
Summary
Razer's new BlackWidow gets plenty of durability and a few other updates
Pros
Razer's best line of wired, mechanical gaming keyboard
Brighter RGB backlighting
New aluminium chassis for extra durability
New tougher keycaps design and moulding process
Detachable wrist rest
Tenkeyless option
Cons
HyperX's pudding keycaps have brighter backlighting
Doesn't have that "Wow" factor