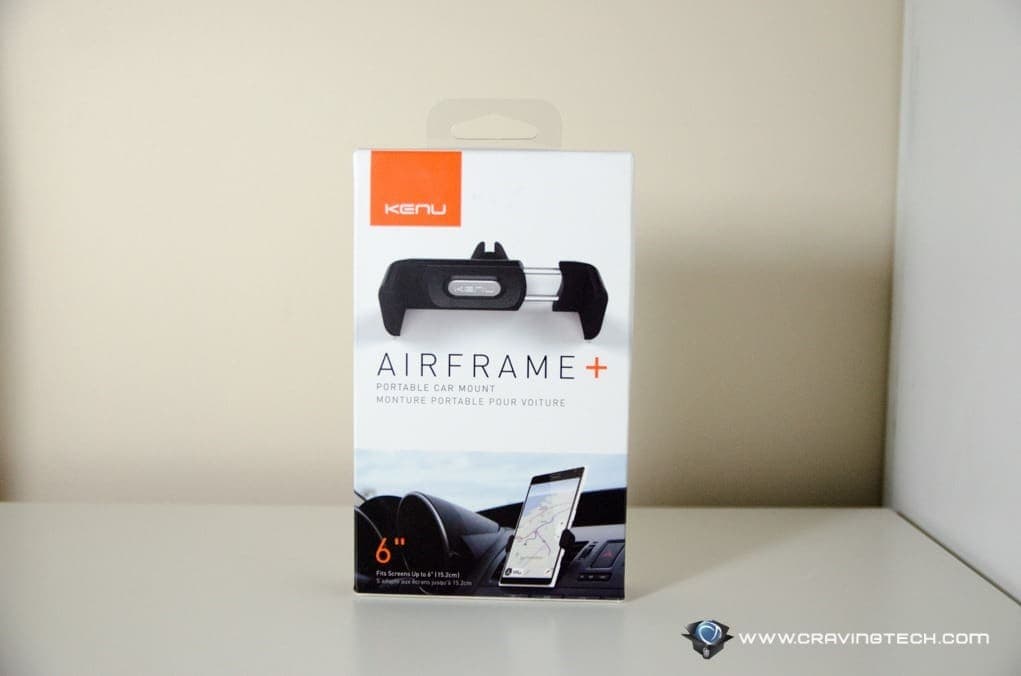 Kenu Airframe+ Portable In-Car Mount & Stand Review – There are lots of smartphone mounts or holders for the car out there and some even come with cool bonuses. For example, there is one that amplifies your phone signal while you charge your phone, or some that also acts as an FM transmitting kit.
Kenu Airframe+ from MobileZap doesn't do all that and that's okay, because it's a really simple, low-profile smartphone holder that works and still maintains your car's interior clean look.
It can fit any smartphone like my iPhone 6s and even larger ones like the Huawei Ascend Mate 7, OPPO Find 7, or a Samsung Galaxy Note. This is possible due to Kenu Airframe+'s spring loaded stainless steel mechanism.
You can pull the spring to extend the reach to fit any smartphone with having a width of 60mm up to 86mm (or a screen size of up to 152mm). The design means that even if you don't have a big phone (yet), you'll be happy to know that your investment to purchase the Airframe+ will not be in vain. Should you change your mind and get a huge phone in the future, you don't need to purchase a new phone holder.
You don't plug the Airframe+ to the cigarette slot like most smartphone holders, but instead, clip it onto an air vent. Thanks to a rotating-clip design, you can attach it to any type of air vent in any car (vertical, horizontal, or angled).
The clip attaches sturdily on a vent and even when I need to extend the spring to fit my phone in, the Airframe+ still can sturdily hold the pressure without falling off (which most cheap knockoffs will). Kenu Airframe+ holds the phone well on every ride and also has soft rubber material to ensure that it will not scratch my phone and (also important), my car's air vents.
I can now easily clip my iPhone 6s onto the Airframe+ and charge the phone at same time, having it ready to play my Spotify playlist or respond to useful Siri commands. I can just shout "Hey, Siri" to make calls, navigate via Apple Maps, and many other useful functions.
When my phone is not on the holder, it still maintains a low profile and doesn't feel like it is on your face, like many other mounting solutions.
If you really want to, you can carry it around in a pocket and treats it as a stand. Thanks to the rotating clip, you can view the phone in portrait or landscape orientation to watch movies and stuffs. Honestly, this is not what I think people buy the Airframe+ for, but nevertheless, it's good to know that there is this "bonus" for having it around.
Overall, I'm very pleased with Kenu Airframe+. It's sturdy when attached to the car's air vent, does not make the car's interior feel cluttered, and doesn't come off when you take your phone in/out of the holder. Highly recommended to have on every car you own.
MobileZap also has other similar holders on their iPhone 6s accessories section if you want to see a similar design from other manufacturers, but I'm really pleased with the Kenu's solution.
Disclosure: Sample was sponsored for reviewing. All opinions are mine.
[AMAZONPRODUCTS asin="B00LU5LWQK"]