Huawei Ascend Mate7 Review – Not many Australians know about Huawei (or even how to pronounce it correctly), but all that will change soon enough. Huawei smartphones are becoming popular now in Australia and if you haven't seen one before, you definitely will. For just $99, you can grab yourself a pretty good Android phone from Huawei. You can view the coverage here.
Their flagship phone, the Huawei Ascend Mate7, is pretty much on par with the other brands' flagship phones in terms of screen quality, design, power, cameras, and features.

Huawei Ascend Mate7 Design
The smartphone features a huge 6″ FHD In-cell LTPS Display with very thin bezel. There are no physical buttons to be seen either, definitely to maximise the screen real estate. The traditional Android Home and Back buttons are soft buttons, which can disappear in certain apps (like Google Play Books app) to give you a bigger viewing area. It's pretty nifty.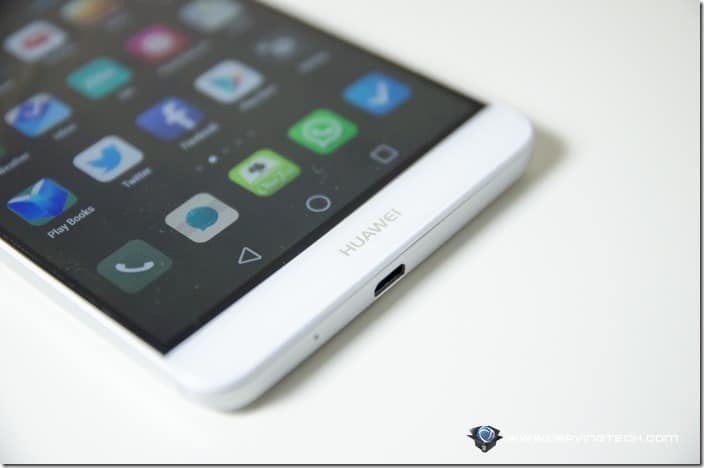 The 6″ screen offers a "fuller" experience when watching movies or playing games. I wasn't a fan of a big phone before but that view is definitely changing. I really enjoyed watching YouTube videos on it. I also enjoyed reading my e-books, news, tweets, and Facebook news feed on that huge screen. In fact, when I had to go back to my iPhone 6 to check on a note I wrote before, I was shocked to see how tiny its screen is.
Sure, larger doesn't mean better. It is almost impossible to type with a single hand and most operations on the phone have to be done with both hands, except for reading and scrolling screens over (which can be done with one hand, but the thinner bezel gave me some accidental touches every now and then). In the end, large phones are not for everyone but if you like them, you'll love the Mate7.
Compared to my iPhone 6, the Huawei Ascend Mate7 is easier to grip and does not feel slippery (despite the metal materials). The power button is located at an easy reach to the right thumb, eliminating awkward movements to turn the phone on/off. However, the volume buttons are located quite close to it, so I often pressed the "down volume" button accidentally – which changed my phone status from Vibrate to Silent.  This made me end up missing a few notifications until I got used to the phone.
Huawei Ascend Mate7 Features
Fingerprint sensor
Huawei is probably the only company at the moment besides Apple that can get it right. At the back of the Mate7, just under the camera lens, is a fingerprint sensor. Like Apple's TouchID, all you have to do is touch the sensor with your finger and leave it there for a bit. There is no upward or swipe motion needed. You don't even need to turn the phone on. When the phone detects your fingerprint, it will auto unlock and wake the phone up. Since the fingerprint sensor is located at the back, however, you can't unlock the phone with your fingerprint when it's lying on the desk. A bit of a pain, but thankfully, you can still do the traditional PIN unlock method.
The process of unlocking the phone is pretty seamless and I wasn't expecting that from Huawei, to be honest. Reading how other companies seem to fail in this area, I set a very low expectation when I got the Mate7. I was really surprised to find how good it actually is. Sure, there were times when the sensor couldn't seem to identify my fingerprint in one go or just took a good 3-5 seconds before it finally unlocked the phone but it still deserves a praise. Huawei Ascend Mate7's fingerprint unlock is not as smooth as Apple's TouchID, but the second best so far – from what I can tell. Fingerprint unlocking is definitely the future, guys.
Camera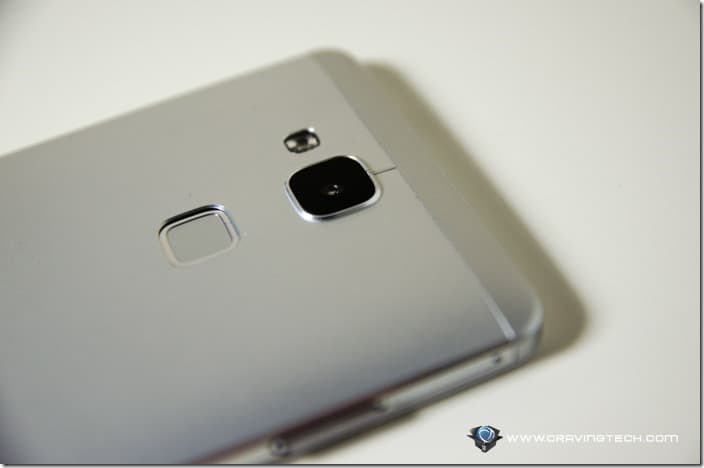 Huawei Ascend Mate7 is powered by a 13MP rear camera and a 5MP front camera. The rear camera takes good and fast shots, especially when there are good amount of lights. In low lit environment, however, it struggles a bit and sometimes takes longer to capture. I find that it captures more natural shots (without adding saturation or a lot of post-processing), so photos may not look as bright or colors are not as popping as some other smartphones. Do a bit of editing, however, and you are good to go. Overall, the results are pretty amazing but pictures are worth a thousand words, right?
Here are some photos taken by the Huawei Ascend Mate7 (resized, but no other editing):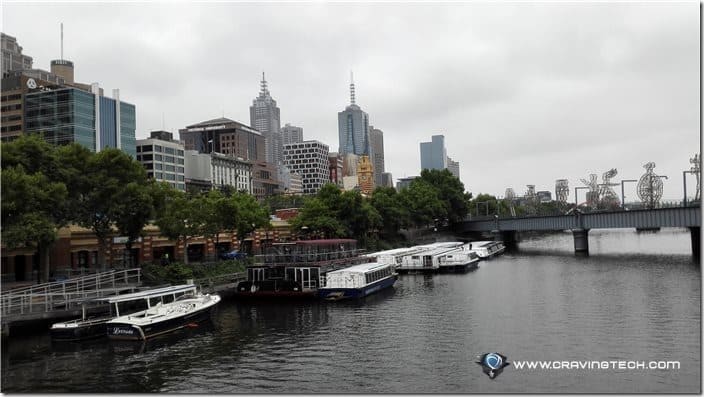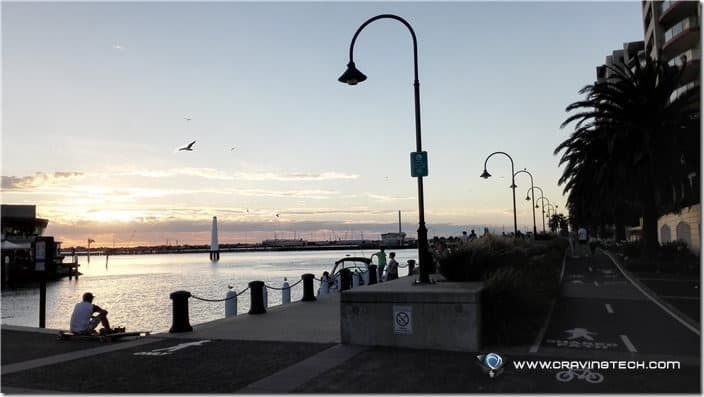 Battery Life
Battery life is pretty good, thanks to the 4,100 mAh lithium battery. In my daily experience from using the phone for about 2 weeks, I could get more than a day with the Mate7 (on regular usage) without having to recharge. I even had the option to enable the "Ultra power saving" mode for the tricky situations. However, I've never needed this so far as the battery already keeps the phone going well enough til I have to charge it again.
I keep my power saving at "Smart" mode, which lets the phone to adjust the CPU and network usage for balance performance. From the phone statistics, I can get 40 hours more by changing my mode from "Smart" to "Ultra".
From Huawei's product page:
Huawei Ascend Mate7 is the first smartphone powered by a super eight-core Kirin 925 SoC chipset, which uses intelligent switching to provide the perfect balance between performance and power. Ideal for the most important things, like multi-tasking or enjoying your favorite 3D games or videos for longer.
In short, the phone uses processors with lower performance (to save battery) for standard usage but switches intelligently to use the faster processor when you watch an HD video or play a game to give you the performance you need.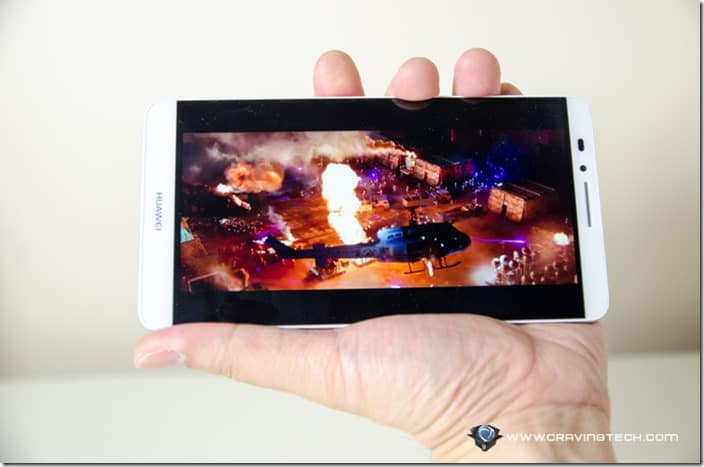 Huawei EMUI 3.0 interface
The Mate7 is running EMUI 3.0 (Huawei's own interface) on top of the Android layer and it's running smooth on the phone. The interface is mostly simpler and more modern to interact with. I personally like the Themes that instantly changes the standard icons, wallpapers, and overall looks on your Mate7. It keeps things fresh, especially when I got bored with my current set-up.
Alarms and everything else seem more intuitive than the stock Android (but of course, this is just my own opinion). To find out more about Huawei EMUI, check out its official page.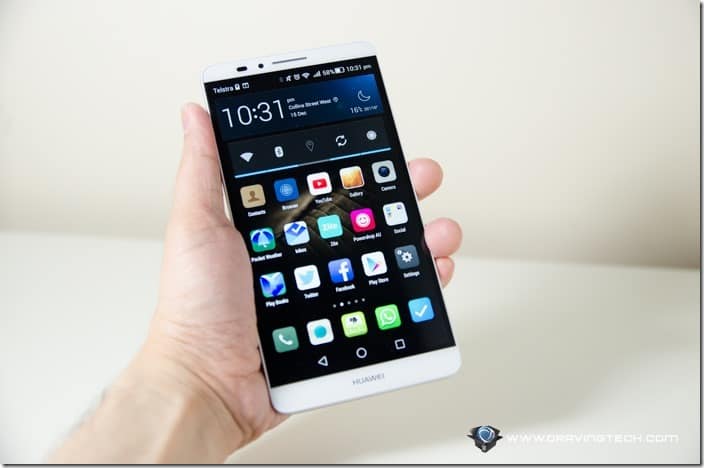 Huawei Mate7 Review Conclusion
Huawei Mate7 is a huge phone, made specifically for consuming content at the best way possible. Thanks to its 6″ screen display, watching videos, reading books, checking on stats, and playing games simply look and feel better. The phone itself looks luxurious, thanks to its metal materials, yet feels solid in hand. It's not slippery like the iPhone 6 and 6 Plus and its slim profile helps to reduce the bulk when I place the phone inside my pants' pocket.
The camera does not take the best shots but when there are plenty of lights, it takes quite a decent shot (look at my photo samples above if you haven't).
Overall, the Huawei Ascend Mate7 is a sleek looking smartphone with great battery life and smooth performance. It also doesn't cost a fortune and it runs a simpler, sleeker interface than a stock Android, which should keep non Android-stock-hardcore fans excited.
Disclosure: Review sample was sponsored for the review but all opinions are 100% mine
[AMAZONPRODUCTS asin="B00PQZMKNY"]