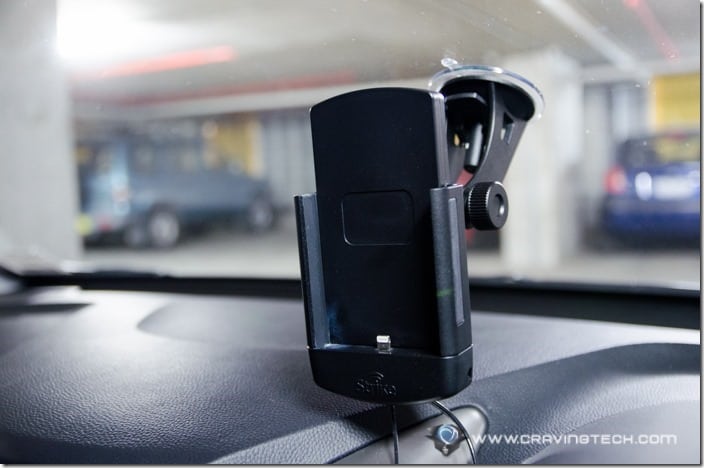 Now that the iPhone 6 and 6 Plus are out, the team over at Strike has updated their popular Strike Alpha Cradles to support these new Apple devices. Strike Alpha Cradles are quite unique compared to your ordinary cradles, because they are made with a built-in passive antenna to boost your phone's signal while in place. If that is not good enough for you, it also comes with an FME male for external antenna connection.
It also has a voltage spike protection for an added safety to you and your smartphone.
The review sample I have here is the DIY version (the one where you can simply mount on your car's windscreen). There is also the other version that requires a more professional installation that integrates nicely on your dashboard. The DIY version comes with a charger that uses the car's cigarette lighter to charge your device and the professional installation includes an Installation Power Pack for a dash mount and hardwired charging solution.
Mounting the Strike Alpha is fairly simple and straight forward. It also gives plenty of flexibilities to the mounting angle – where ever you prefer the mount to sit on (above your head? at the bottom corner of the windscreen? and so on).
It sticks solidly on the windscreen, can also be set and removed easily, unlike the Logitech case+drive.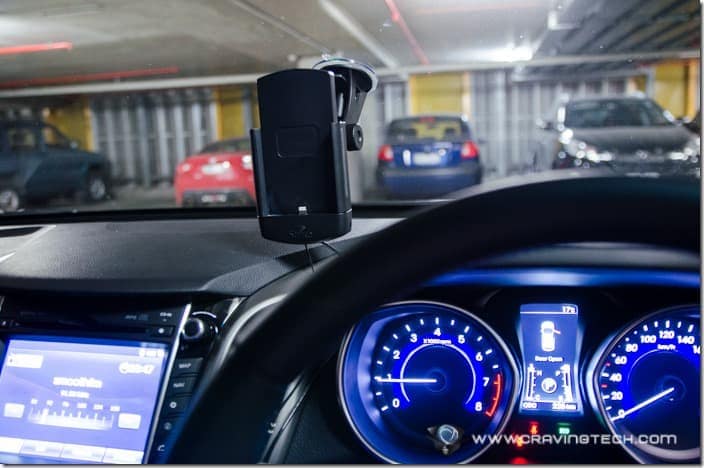 The packaging comes with an adhesive disc so you can stick it on the windshield or your dashboard if you want to. I feel a bit reluctant to use this though (don't want the possibility of damaging my dashboard), so I opt to just mount it on the windshield, which already works really well.
My iPhone 6 also sits still when it's on the Strike Alpha cradle (you slide the iPhone in from the top to the Lightning adapter on the cradle). The inner sides of the cradle are also covered by rubber materials to ensure that your smartphone does not get scratched. It feels a bit stiff though, but so far it hasn't left a scar or scratch on my iPhone 6, so looks like it's soft enough.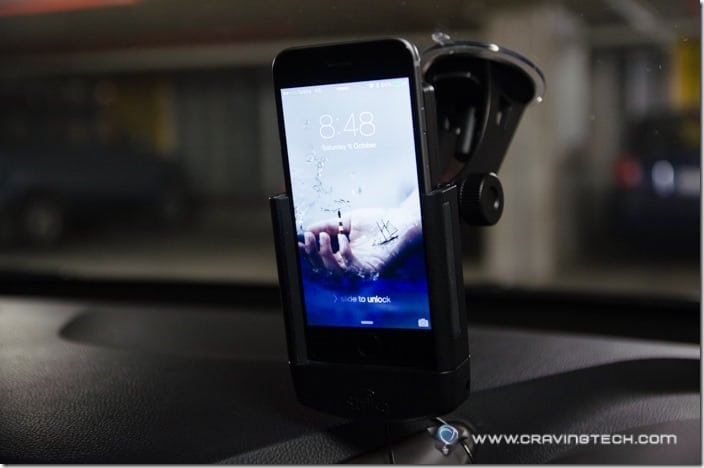 Due to the design to secure the iPhone in position, however, it takes some jiggling to get the iPhone 6 out of the cradle (which includes pressing the buttons accidentally while I was doing this). I wish the back of the cradle was not designed to be too high (especially since you will be doing this very frequently).
The cradle definitely makes it easier for you to interact and navigate the road with Google Maps on  (or any navigation app of your choice). I could make and receive calls via Bluetooth (to my car's sound system) without any interference and everything else seems to work well too. I rarely drive to rural areas however, so unfortunately I haven't tested the signal booster at this stage.
Charging also works well and it's great to know that your device will be safe from a voltage spike, should that occur at some point.
Strike Alpha Cradle Official Video:
Strike Alpha Apple iPhone 6 Cradle DIY Review Conclusion
The Strike Alpha Cradle for the iPhone 6 is not just another car cradle. The iPhone 6 sits still in place for a safe charge, thanks to Strike Alpha's spike voltage protection, while its signal is also boosted at the same time. It makes receiving and taking calls in rural areas (or suburbs with bad radio signal) a breeze.
If you really love the cradle, you should pick the professionally mounted version. It looks cleaner (with no cables dangling around) and feels like an integrated part of your car. If you are just an average Joe like me, the DIY version is already good enough to use.
Strike Alpha Apple iPhone 6 Cradle DIY Pros
+ Sturdy, solid build
+ Can be mounted easily on the windscreen
+ Surge protection
+ Antenna booster
+ External antenna connection support
Strike Alpha Apple iPhone 6 Cradle DIY Cons
– Pricier than a standard cradle
– FME male for external antenna connection cannot be detached (if you are not going to use it)
Disclosure: Review sample was sponsored for the review, but all opinions are 100% mine