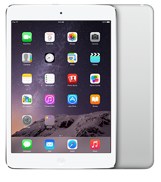 Hey guys, this is the moment that you've been waiting for! Thanks to Bitdefender, we have been sponsored an iPad mini for a giveaway here at Craving Tech!
I'm sure I don't need to explain to you what an iPad mini is, so let's just get to the chase and find out how to win yourself an iPad mini!
How to win an iPad mini at Craving Tech
Visit Bitdefender and Craving Tech Facebook fan page if you haven't
Upload a picture of you with your "mini me" (since iPad mini is an iPad "mini me" version with the same specs). This can be anything, as far as your creativity goes. Some ideas (feel free to have your own interpretation of "mini me"):
– A photo of you and your child (or pet, or anything) look a like (make sure it's a fun shot)
– A photo of you and a cool drawing of your "mini me" next to you
– A photo of you and an edited photo of yourself that defines the "mini me" version (there are some fun mobile apps that can take different photos and collage it into 1 photo, be creative)
– Surprise me!
Obviously, the winner is the one with the most fun, or cool, or funny, or creative photo!
Instructions (please read carefully):
Please use the widget below this post to register your entry so that I can validate your entries and can notify you if you win.
Submit your photo (1 only, per participant) to either Instagram, Twitter, Facebook, Google+, or anything (as long as I can view it). Post the photo URL on the same widget. You can also use imgur.com or any other free online image sharing website to upload your photo to.
Terms and Conditions:
Eligibility: Australia (if you can supply an Australian address to ship the prize to if you win)
Giveaway period: 13 October 2014, 6PM AEST – 13 November 2014, 6PM AEST.
The winner will be announced on this same post after the period is over (your photo entry may be shown to the others to see, but I will ask you before then to ensure you are okay with that).
The prize is the 16GB Wi-Fi only iPad mini (non-Retina display) with Silver color, valued at $349.
Prize cannot be exchanged or redeemed for cash.
I will not use your email address for anything else except for announcing when the winner has been selected. If you don't reply the email within 72 hours, a new winner will be picked instead.
Widget: