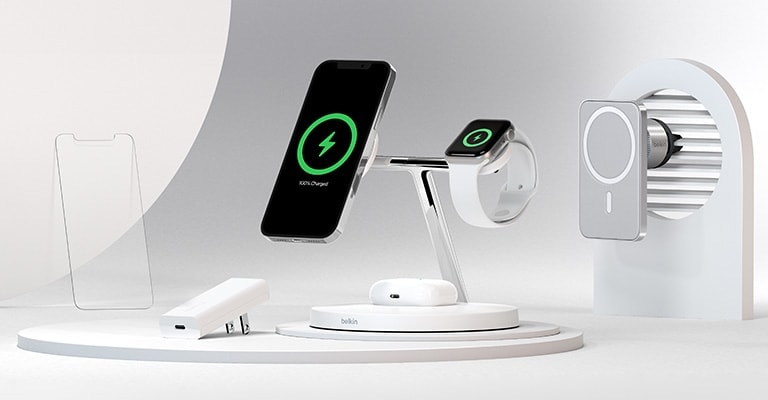 The new iPhone 12 line-ups have the new MagSafe feature, which lets iPhone accessories to all snap into place magnetically to the back of the iPhone 12. Wireless charging has been made easy especially when you are trying to place your iPhone at the center of a wireless charging pad perfectly.
Belkin accessories are one of the first iPhone 12 MagSafe accessories available out there and they are announcing four new MagSafe accessories products at once, hopefully ready for you to grab before your iPhone 12 gets delivered.
BOOST CHARGE PRO MagSafe 3-in-1 Wireless Charger
Have an iPhone 12 (or going to), Apple Watch, and AirPods? Quite an Apple fan, aren't you. You are in luck, because Belkin's new MagSafe 3-in-1 Wireless Charger means you can charge all your devices in the same charger fast and safe.
The charger can deliver up to 15-watts for that sweet fast charging and thanks to MagSafe, you can either place your iPhone 12 vertically or horizontally (i.e Portrait and Landscape).
It looks good too aesthetically on the desk and have 2-year warranty with $2,500 connected equipment warranty. It will retail for A$219.95.
Belkin MagSafe Car Vent Mount PRO
Placing an iPhone magnetically on a car vent normally requires specific solutions from the manufacturers, i.e they require you to use their specific magnetic case, along with the car vent product – like these iPhone accessories from XVIDA.
But this time, you don't really need an extra case so you can use your own favourite case – assuming it's not too thick for the wireless charging to kick in.
Belkin MagSafe Car Vent Mount PRO also looks sturdy from the pictures so hopefully, it won't fall off like cheap ones normally do. But we'll have to wait for our review unit to arrive before confirming this.
It will retail for A$54.95.
Belkin UltraGlass Screen Protector
Okay, so maybe this last one is not exactly MagSafe-enabled, considering only the back of the iPhone 12 is magnetised. And you might be wondering if iPhone 12's new ceramic shield is already good enough to protect its screen. Well perhaps, but the new ceramic shield doesn't prevent the screen from getting cracked. It only offers better protection and more durability, but screen can still get cracked.
I've always had a screen protector on my iPhone and I don't know how many times it protected me from having a cracked iPhone screen. Check my previous review on the Belkin ScreenForce® InvisiGlass™ Ultra Screen Protection.
The UltraGlass screen protector for iPhone 12 offers extra protection with German-engineered lithium aluminosilicate (LAS) glass and 2x stronger than tempered glass. It has impact and scratch protection with an ultra-slim design.
The UltraGlass screen protector is first-to-market with use of LAS materials in screen protection and with UltraGlass Privacy Screen Protector, you can also enjoy two-way privacy filters to protect your screen content from prying eyes.
It will retail for A$29.95-$49.95 depending on your iPhone 12 model and will be available on the same day as iPhone on-shelf in Australia.