BlueAnt X3 Review – When you think of portable speakers, they are normally these compact & lightweight speakers that you can put in your bag or carry around easily. For example, the WONDERBOOM 2 from Ultimate Ears is pretty compact and can fit in the palm of your hand. But we all know that the smaller it gets, the less power it can output.
There are times where you really want to rock the outdoor party with a portable speaker but you don't mind it being heavier or bulkier. At around 1.1kg, BlueAnt X3 is no lightweight speaker but still can be carried around easily (maybe not so much on interstate flights). But man, this 30-Watt speaker is crazy powerful.
Packaging
Design & Features
BlueAnt X3 is powered by two 57mm drivers and two passive Radiators with 30W Maximum Power Output. It's loud but can still maintain audio clarity even at a higher volume.
The speaker can be positioned horizontally or vertically, and it has big, physical media control buttons that are easily reachable any time in different orientations.
You can tap and hold the Play button to activate your phone's voice assistant, or tap and hold the volume buttons to go to the next/previous track. I wish that the speaker's built-in voice indicators (like "Powering down", "Bluetooth" etc) would follow the Bluetooth volume you've set though. There are times where I just want to listen to music quietly but the X3 decided to shout out loud each time I turn the speaker on and off.
Connection can be done via Bluetooth 5.0, but there is also an option to hook a 3.5mm audio cable.
Interestingly, BlueAnt X3 has a huge battery (well, 3 battery cells in a pack) capacity of 9,600mAh to power the speaker, but you can also use it to charge your devices like a portable battery charger. There is a USB slot on the X3 to plug your phone while having the music playing in the background simultaneously. Unfortunately, it only provides a 5V, 1A output so charging is a bit slower than current standards.
The portable speaker has an IP67 Waterproof rating which means it can be submersible in the water up to one metre for half an hour. This means that it is waterproof enough to be used outdoor and even near water like a swimming pool or the beaches. You can clearly see how thick the water seal is to protect the ports.
BlueAnt X3 has around 15 hours of playtime at 50% volume, and 4-5 hours at 100% volume. You'd rarely want to go 100% though, believe me – unless you are at an outdoor pool party, I guess.
It has a built-in microphone too so you can use the X3 for calls or video conferencing. With these isolations here in Melbourne, catching up with workmates and friends through Zoom gets better.
Sound-wise, oh boy, this thing is loud, yet surprisingly clear and room-filling. It advertises powerful Bass and there is no short of it – there's even a Bass Boost dedicated button if you think you need more oomph. The Bass feels deeply satisfying and not over the top like other portable speakers who are doing it too much that you can hear distortions all over.
BlueAnt X3 Bass is not thumping and rattling, but more like deep and powerful.
BlueAnt X3 Review Conclusion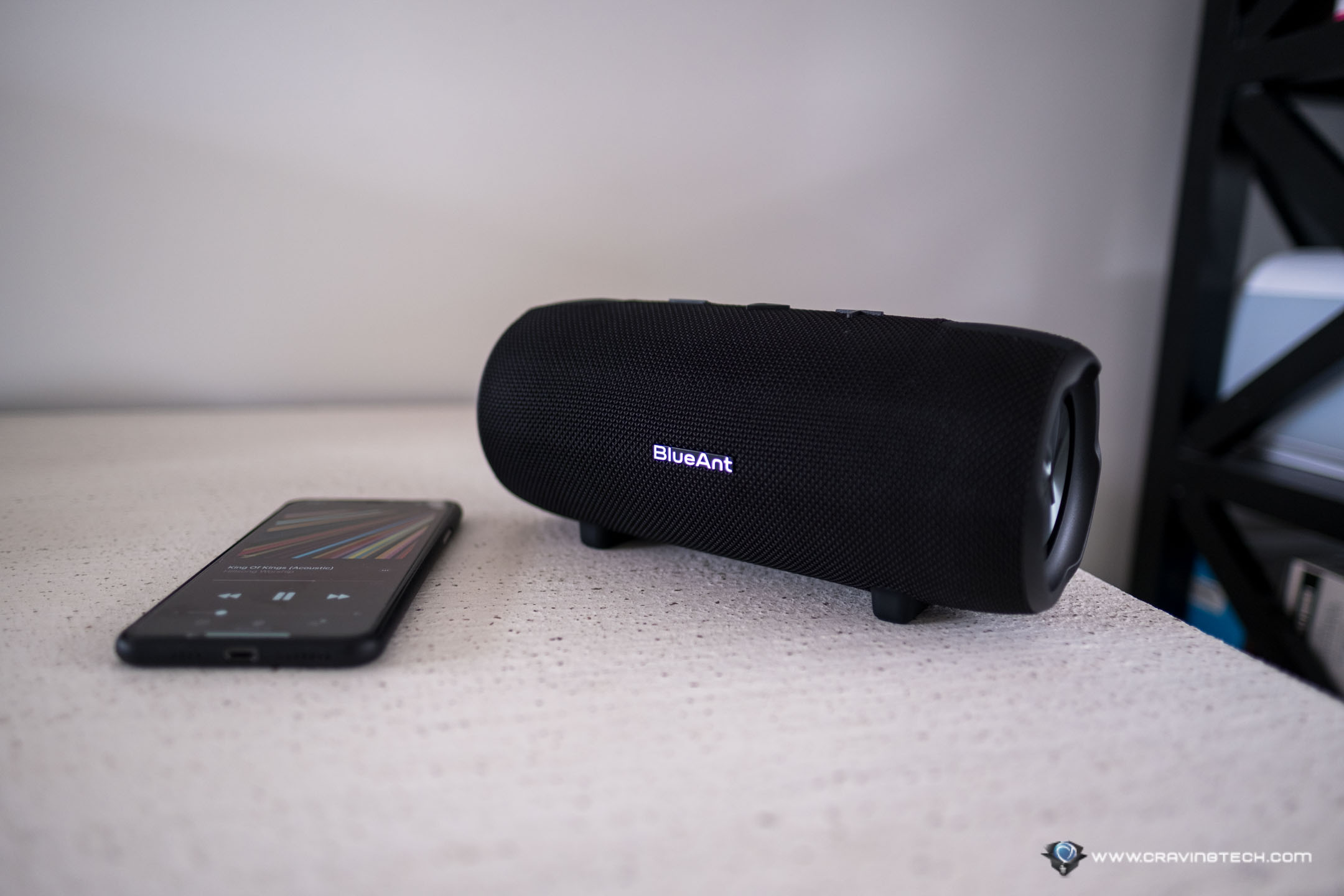 BlueAnt X3 Portable Bluetooth Speaker has impressive sound, even at a louder volume. The sound is clear as if you are listening from powered speakers and the bass is satisfying without pushing it too far.
While it's not exactly portable at around 1.1kg, you can still carry it around the house or even to an outdoor party. For the weight, you get a really good and clear sound, plus big battery cells to thump the music longer but at the same time, can also be used to charge your phone.
BlueAnt X3 retails for A$239.95 and available now at BlueAnt website and retailers around Australia.
Disclosure: BlueAnt X3 review sample was supplied for reviewing but all opinions are mine and not paid
BlueAnt X3 Review
Summary
Portable Bluetooth speaker with big sound and oomph
Pros
100% Australian owned and designed
Big, clear sound
Room filling sound
Deep, satisfying Bass
Great battery life
Can be used as a portable battery charger
Can be setup to stereo mode if you have another X3
IP67 Waterproof
USB-C Charging
Accessible controls
Bluetooth 5.0
Cons
Not exactly that portable, size & weight wise
Only 5V, 1A output for charging phones
Loud start-up and shutdown volume