Strike Alpha Apple iPhone X Wireless Charging Car Cradle (DIY) Review – There are times when I got frustrated with placing my iPhone to a wonky car cradle mounted on the car's air vent. Sometimes, the phone would fall off from the cradle (and sometimes with the cradle itself!).
The Strike Alpha car cardle has been around for many years and each time I reviewed the cradle (for iPhone 6/6s, iPhone 7 Plus), I couldn't help but feeling satisfied. The cradle is very sturdy and has never let me down.
This time, the Strike Alpha Apple iPhone X Wireless Charging Car Cradle is no different.
The car cradle comes with good mounting solutions though I opt for placing it on my windscreen. Sure, it's not as compact and tiny as a car cradle that you mount onto your air vent, but Strike Alpha's cradle is far sturdier. And thankfully, you can adjust the angle around so you can place it without blocking your vision.
During my tests with it, the cradle has never fallen off the car's windscreen and it's indeed a good sign. I didn't even find the need to wipe clean my windscreen upon installation and unmounting the cradle is also very easy to do. If you want, you can check out the professionally-installed version.
Like the other Strike Alpha Car Cradle, the iPhone X version comes with an FME male connector to be connected to an external antenna (to improve your mobile signal – perfect if you live in rural areas). It also has a voltage spike protection, and up to 3 years warranty. And, once you connect the supplied car charger into your car's cigarette lighter charger, you can charge your iPhone X while using it for car navigation.
But, rather than having to plug your Lightning cable like the previous models, the Strike Alpha for iPhone X supports wireless charging – which is awesome. You can just leave your Lightning cable at home (rather than having to buy an extra one for the car) and charging is more seamless while your phone sits on the cradle.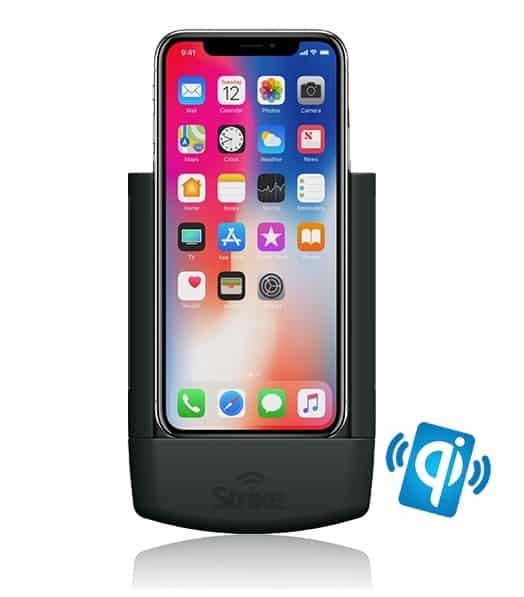 I found that I could still mount my iPhone X on the cradle while it's still on the Caudabe The Veil XT slim case (and charge). It's quite tight and a bit of challenge to get it into/out of the cradle, but doable. However, it's definitely more recommended to use the cradle without using a case on this model.
Overall, Strike Alpha Apple iPhone X Wireless Charging Car Cradle (DIY) does not disappoint if you are looking for a sturdy iPhone X car cradle with wireless charging support and a mobile signal boost feature (the external antennas are sold separately though). However, if you like to change cases every now and then, it'll be tricky to use with the Strike Alpha because of it's inflexibility (in exchange for a tighter grip). There's a version that supports cases too but it depends on what kind of cases you are using and how thick they are.
Disclosure: Review sample was supplied for reviewing but all opinions are mine and not paid