Ring Spotlight Cam Pro Battery Review – I have a variety of Ring security cameras around our house, such as the Ring Video Doorbell Pro 2, Ring Floodlight Cam Wired Pro, Ring Stick Up Cam Battery, and Ring Spotlight Cam Battery. So, where does the Pro sit between all of these?
But first, let's talk about what it does and what features Ring has put into this new security camera.
The Spotlight Cam Pro is the priciest among the other Spotlight Cam cameras (thanks to the 3D Motion Detection feature, Birds Eye View, and Dual-Band support), and within the Pro itself, there are four variants: Spotlight Cam Pro Battery (which comes with swappable batteries), Spotlight Cam Pro Plug-In (which has swappable batteries but comes with a power adapter to plug it in), Spotlight Cam Pro Wired (running solely with hardwiring), and Spotlight Cam Pro Solar (which comes with swappable batteries but also a Solar Panel to charge the batteries inside).
The Spotlight Cam Pro Battery (the review unit I have here) retails for A$329 and can be powered by up to two batteries inside (it uses one until the battery runs out and switches to the other) – so you can practically charge one battery and let the other run the show. The package comes with a single battery, but you can purchase another one from the shops.
Ring Spotlight Cam Pro Battery Review – Unboxing and Packaging Contents
If you already have a Ring Chime Pro installed on the premise, you can set it so that the Cam Pro Battery connects to it or your router, whichever is closer. Installation is pretty easy as the app will guide you step by step, and you'll have the camera running in no time.
Now, it doesn't have a desk mount, so you'll have to use the included tools to mount it on a wall, ceiling, or fence. You can't just place the camera on a flat surface. All the screws and bolts are included, though, so all you need is a drill. I'm not a big fan of the ball-mount type of installation, but it's probably just me.
Ring Spotlight Cam Pro Battery Review – Design and Features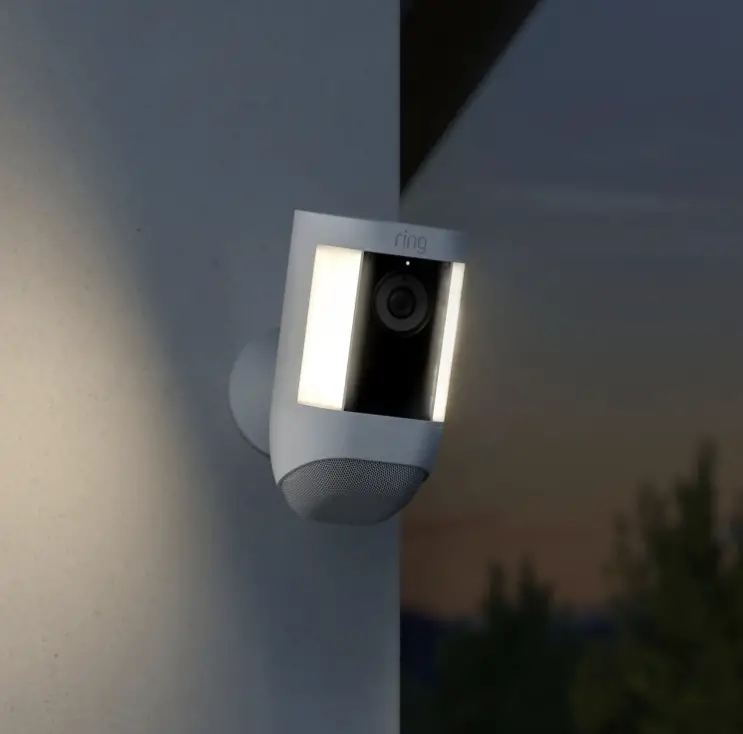 The Spotlight Cam Pro has the latest and greatest that Ring has to offer, especially their newest features of 3D Motion Detection and Bird's Eye View (I first saw this when I was reviewing their Video Doorbell Pro 2). It also has the newer Audio+, which comes with enhanced sound and echo cancellation.
If your wireless router is set up nearby and you can utilize the 5GHz channel, that's great too, as you can connect to the Cam Pro Battery much faster than the oversaturated 2.4GHz channel. But make sure you get a solid wireless connection because the signal can't transfer that far.
The camera itself can record 1080p video, supports Colour Night Vision, built-in microphone + siren + speaker, and has 2 LED Spotlights. The spotlights will light up during the evening when it detects motion, and it's bright enough to light the scene up or more importantly, scare the intruders away.
Batteries can be pulled out easily through the bottom of the unit, and you can charge them individually with a micro USB cable. You can also just plug a USB-C cable directly into the camera when the batteries are inside (without having to open the battery compartment). Why the different connectors though? It's because all Ring batteries are standard and have been around for years, so I guess if you already bought a spare, it'd be the same battery powering them all.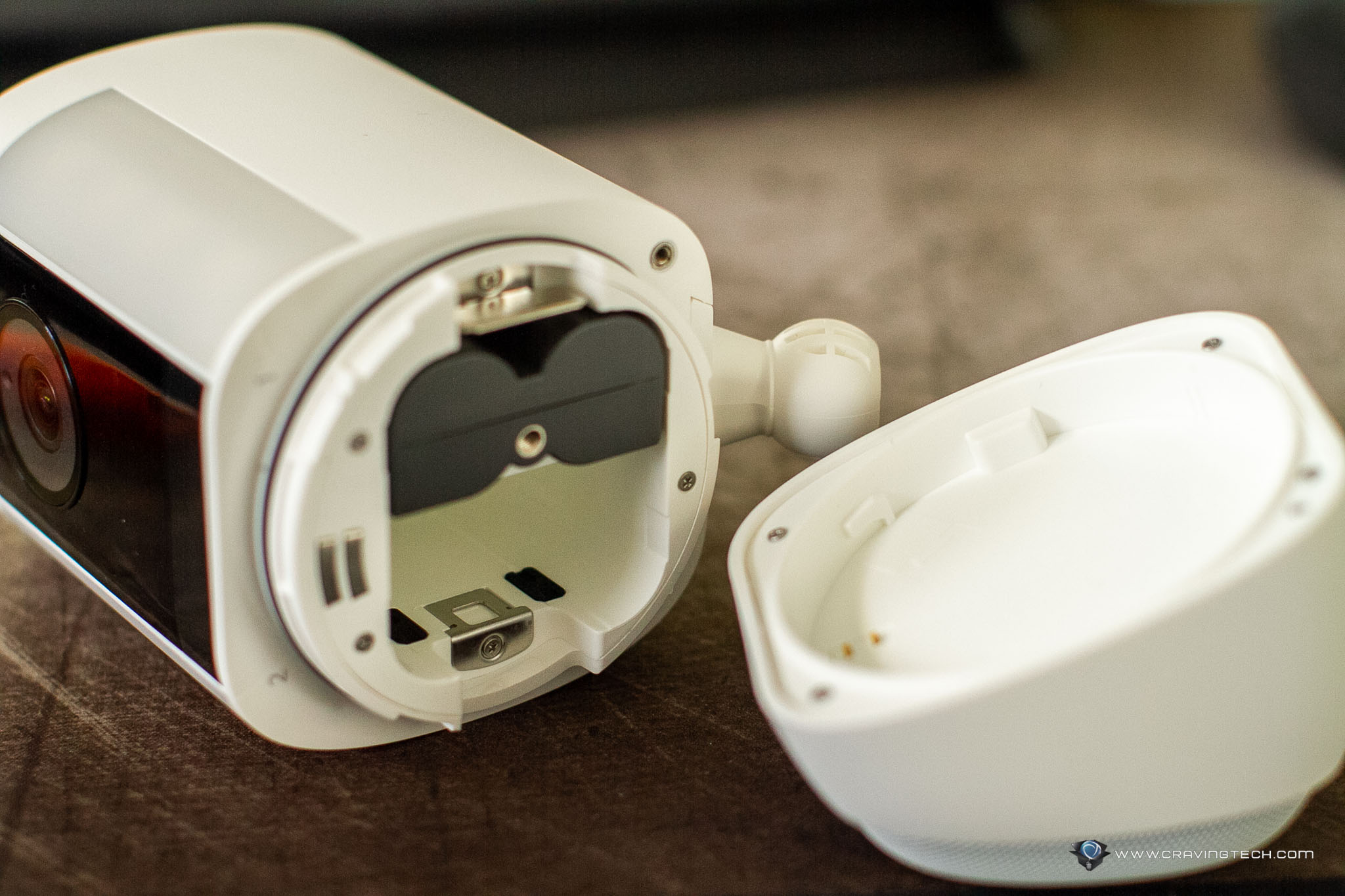 To save batteries, there are many options you can tweak within the app, like how long to take snapshots between motion events, how often the device should check for motion after a motion is triggered, and how long the camera should record a video when there's an event. There are also ways to reduce battery consumption even further, such as setting up the motion zones so the camera only triggers motions that matter.
For example, here I excluded our house window (and whatever is happening inside) so it only monitors our perimeter but ignores if we move around the house within the frame.
The Ring Spotlight Cam Battery works great, like all the other Ring devices I have at home. It manages to capture motions that matter, sends an alert to my phone, and has a nice, wide viewing angle too.
Ring Spotlight Cam Battery Review – Conclusion
If you already have a Ring security camera (or more) and subscribe to its subscription model, it's a no-brainer to add the Spotlight Cam Battery into the mix. It's battery-powered, so you can install it anywhere around the perimeter of your house and from any angle you want.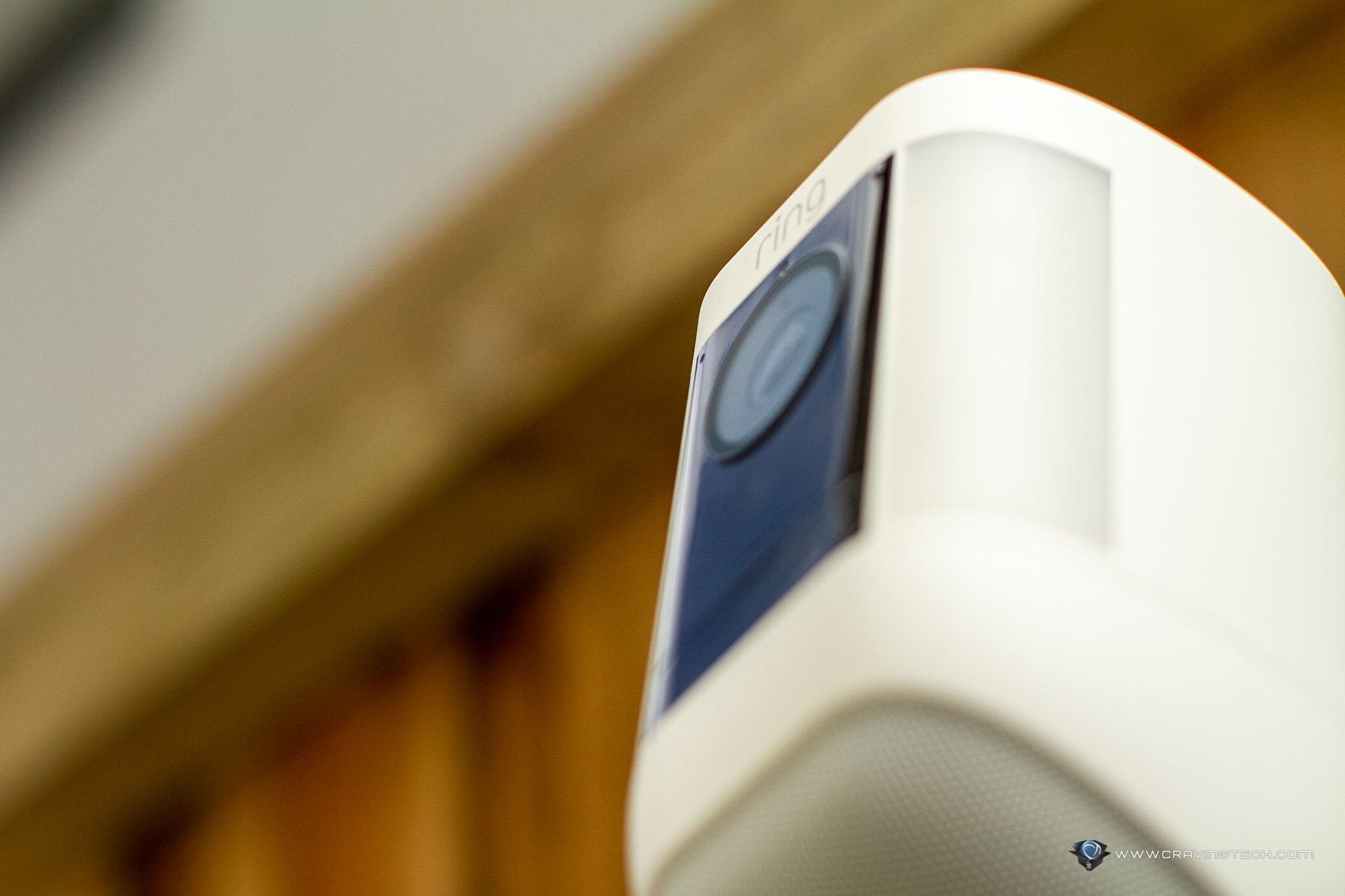 It can house two batteries too so when one runs out (you can check in the app), the other kicks in to take over and you can then take one out to charge. You can also purchase the Solar or Power Adapter should you want to keep the batteries charged for monitoring high-traffic area.
If you don't need the latest and greatest though, you should compare the features to the older generation model like the Spotlight Cam Plus. You'll be surprised at how good they already are and you probably don't need those newer and cooler features like the Bird's Eye View.
Ring Spotlight Cam Battery retails for A$329 and available at Ring's website, retailers around Australia, and also Amazon.
Disclosure: Ring Spotlight Cam Battery review sample was supplied for reviewing
Ring Spotlight Cam Pro Battery Review
Summary
Ring has included all their latest tech into their latest, battery-powered security camera
Pros
Similar but great design like the other Ring cameras
3D Motion Detection, Bird's Eye View
Supports dual-band (2.4GHz and 5GHz)
Can easily change the batteries, and it houses two batteries at once
Built-in microphone, speaker, siren, and lights
Has the option to expand (you can later get the Solar unit or power adapter)
Easy to understand app and its settings
Cons
You may not need all the latest features (like Bird's Eye View) and can save money by getting the other, lesser models
Spotlight is not that bright (though understandable as it's running on battery)
Requires Ring subscription to be truly useful