Ring Video Doorbell Pro 2 Review – We love our Ring Video Doorbell Pro and it has been our main video doorbell since we had it since 2018. But after reviewing the Arlo Video Doorbell, I felt that an update is urgently needed to keep Ring ahead in the video doorbell cameras game.
Without further ado, let's check out Ring's latest and greatest Video Doorbell Pro 2.
Ring Video Doorbell Pro 2 Packaging Contents
This time, Ring includes a Corner Kit which is an optional mounting accessory to get a better view and more accurate motion detection (that you can also purchase separately for the other Ring Video Doorbell models). It works great for ours as I install the doorbell next to our front door. With the new Corner Kit, I definitely get a better angle.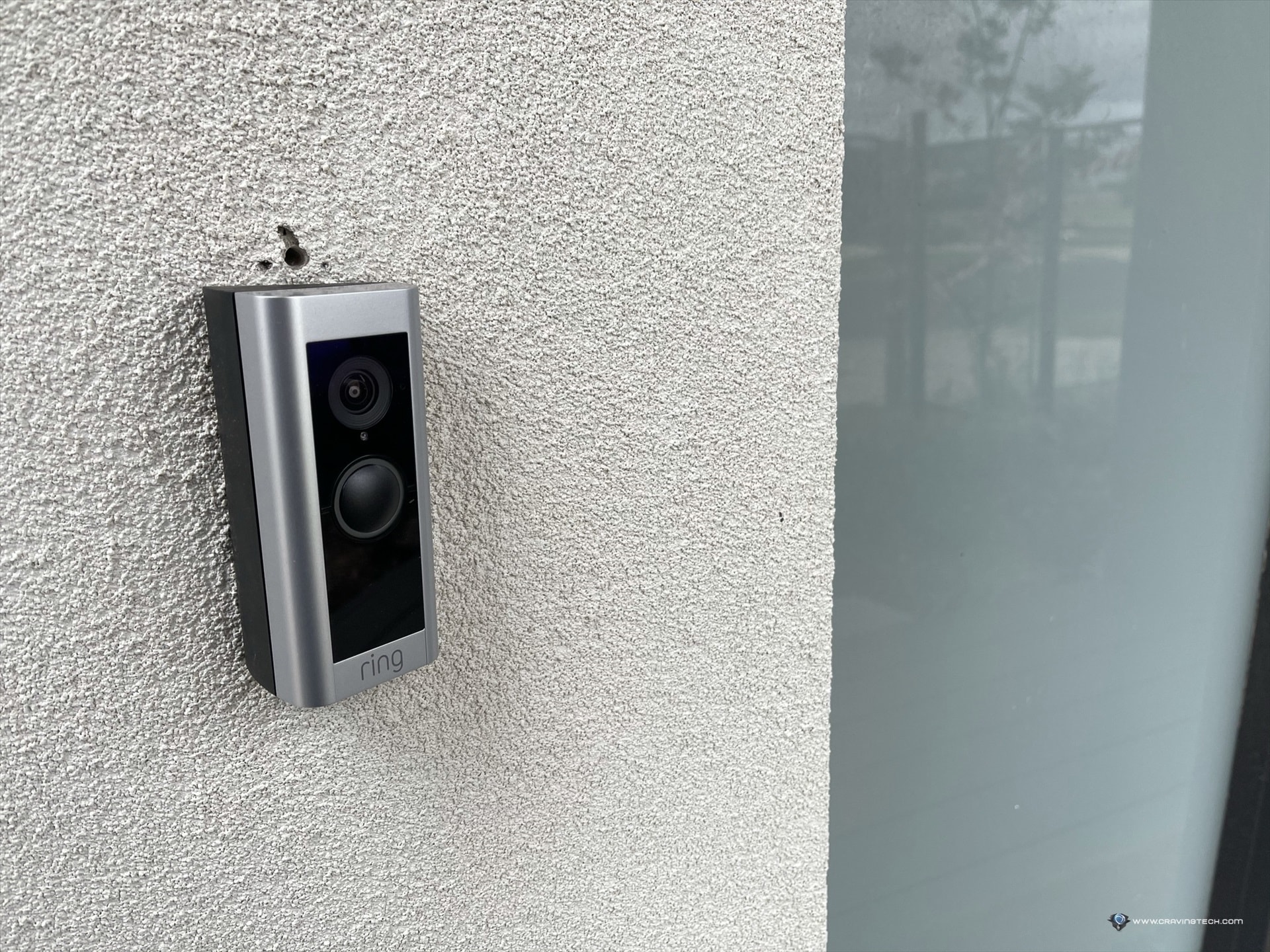 The packaging also includes a Plug-In Adapter for those who don't have a doorbell hardwiring installation. This is a great offer from Ring and will please many house owners. You can use the Plug-in Adapter to wire the Video Doorbell Pro 2 to a wall socket.
Ring Video Doorbell Pro 2 Review – Design & Features
The new Doorbell Pro 2 has a similar design to the previous Doorbell Pro. However, it's the inside that matters.
For a start, Ring Video Doorbell Pro 2 now has an enhanced 1536p HD video resolution and compared to the original Video Doorbell Pro, you can clearly see the difference in quality (original Video Doorbell Pro on the top vs the new Video Doorbell Pro 2 below it).
It certainly has more detail on the mulch, plants, and the driveway's exposed aggregate. Plus, it's clearer and has a better contrast with sharper texture.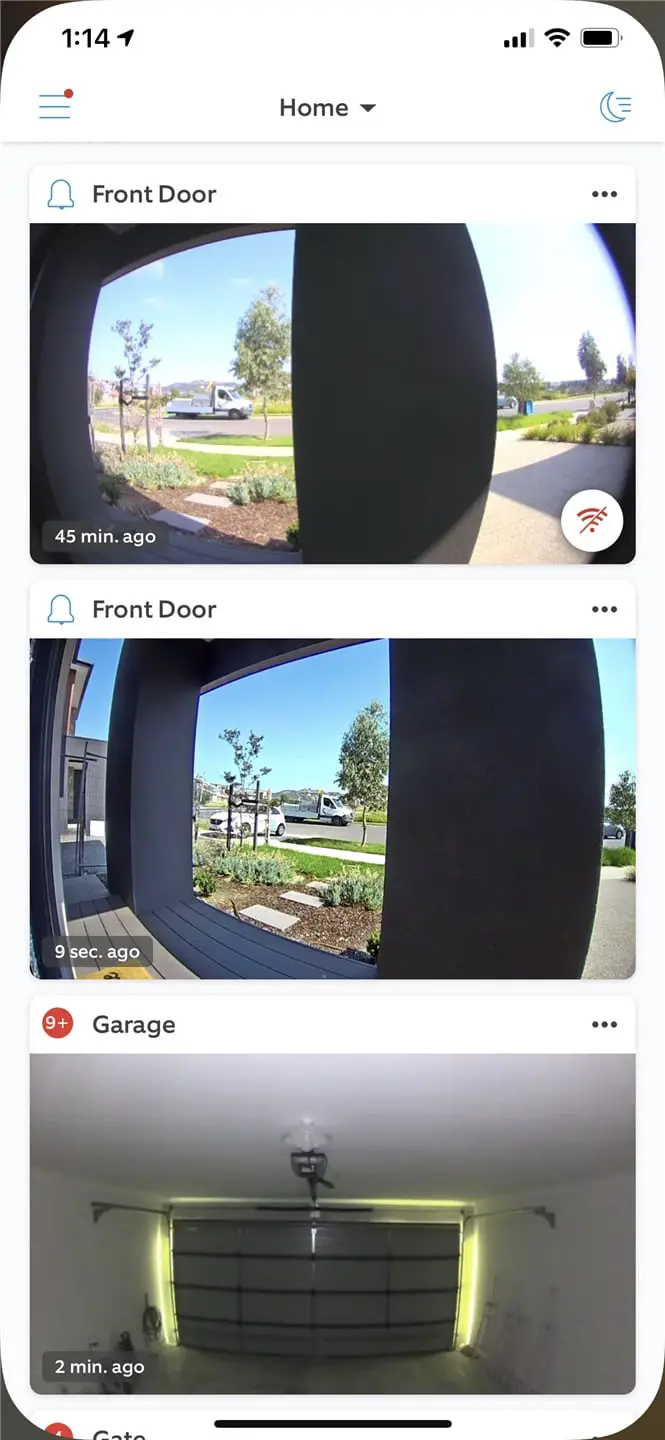 The camera now has an expanded Head to Toe view, which means you can see the whole body of your visitor and most importantly, if a courier has left a package in front of the door. On the original Video Doorbell Pro, I usually had to switch to my IP camera installed on the ceiling to be able to see it.
Like the original, you can set multiple motion zones to ensure that the device only monitors area that matters (i.e to reduce unwanted motion notifications and for privacy reasons), however it now also has 3D Motion Detection which utilises radar technology with accurate distancing. For example, you probably don't need the device to monitor and alert you whenever someone walks along the opposite side of the road.
And with the new Bird's Eye View, you can see where the visitors went before they rang and it certainly gives context to every motion detection that the device captures.
I do find that Motion Zones are already good enough to exactly cover the area I want it to cover, but 3D Motion Detection is still cool nevertheless.
You'll also get other rich and advanced features like real-time, rich app notifications (I can do a quick press to see a snapshot of who's at the door), enable People only mode, HDR, colour night vision, cloud recording, etc.
Note that some of the features I mentioned on this post requires a monthly subscription plan (A$4 per month for a single device).
Unfortunately, the new Smart Responses feature is only rolling out for the U.S at the moment. We're not sure if it ever makes it to Australia or when.
Ring Video Doorbell Pro 2 Review Conclusion

The new Ring Video Doorbell Pro 2 comes with numerous number of improvements, including increased resolution which makes the image clearer and better, a head-to-toe field of view, new radar technology that powers 3D Motion Detection (including Bird's Eye View), and other bells and whistles.
Plus it now includes a Mount kit for a better viewing angle and even a Plug-In Adapter for many who don't have an existing doorbell wiring.
It's definitely Ring's most powerful and advanced Video Doorbell yet. Ring Video Doorbell Pro 2 is available now for AU$399 at Ring's website and retailers around Australia. Also available at Amazon.
Disclosure: Ring Video Doorbell Pro 2 review sample was supplied for reviewing
Ring Video Doorbell Pro 2 Review
Summary
Ring Video Doorbell Pro 2 is Ring's latest and greatest video doorbell camera with numerous improvements both in packaging contents and features
Pros
High quality 1536p resolution
Head to toe view
Includes Mount Kit & Plug In Adapter
Easy setup
HDR, Night Vision
3D Motion Detection with radar technology
Cons
No Alexa Smart Responses yet in Australia
While cool, do you really need the 3D Motion Detection? If you don't, there are cheaper Ring video doorbell alternatives