Motorola Moto 360 2nd Gen Review  – The original Moto 360 shook the world with its first round and beautiful smartwatch back in the early days of Android Wear. Motorola then announced the availability of the 2nd generation months later.
The Moto 360 2nd Generation is a refinement from the first generation and it still offers one of the stylish smartwatches you can get this year.
Though the competition is harsh for smartwatches at the moment, I can clearly say that the Motorola Moto 360 2nd clearly has its place to be the Android Wear watch that you should grab for your wrist.
Moto 360 2nd Generation Review – Packaging
Moto 360 2nd Generation Review – Design & Features
With just one look, you can see clearly how good and stylish the Moto 360 2nd Gen is. In fact, most people (including my friends) won't even notice that it's actually a smartwatch. Back in the days, smartwatches look geeky, bulky, and honestly ugly or unproportional.
In contrast, the Moto 360 2nd Gen looks really, really good on the wrist. Sure, at 11.4mm high, the watch looks kind of clunky compared to a traditional watch, but that doesn't really take away the elegance much.
The one I have to review here from MobileZap is the 46mm version with Cognac Leather. You can also grab a smaller 42mm version and pick a band that you like. The bands are varied, with different types of materials and also feel – which in turns, transforming the Moto 360 2nd Gen into a sport watch, or a luxurious one for a formal event. Mix and match a band with a new watch face, and it feels like you just have an entirely new watch! Even on the Cognac Leather option, I've received plenty of praises and amazements from the people near me.
The screen is bright and detailed, but unfortunately not 100% round. You can see this tiny black surface at the bottom of the watch where the ambient light sensor lies. To those who have a high attention to detail, this may make you cringe at certain times.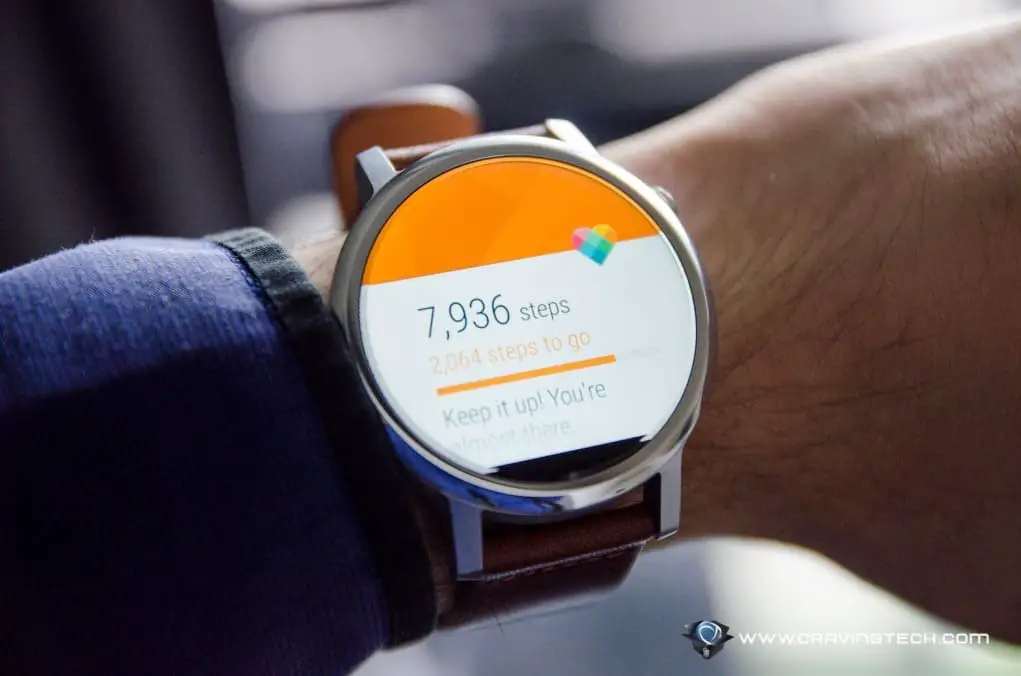 The touch interaction is pretty smooth except when Android Wear starts crashing. It gets really laggy and best is to do a restart and everything will be snappy once more. The last Android Wear update I had yesterday seemed to fix these frequent crashes and it is much more stable now than before.
There are different kinds of watch faces you can install and also supported third-party apps, such as Shazam where you can use the Moto 360 2nd Gen to listen to the currently playing music. Or my Powershop app to see my current Electricity stats. Or a Rewardle barcode of my favorite restaurant so I can just wave my Moto 360 at the counter to gain points. There are other apps to try on over at the dedicated Android Wear Store. These are on Android only. You'll also get notifications too from apps, calls, and also Google Now (traffic condition to work, etc).
It takes some time to remember which swipe direction does what in Android Wear, but it's a good experience overall. Notifications can be blocked per app to prevent you from going crazy with constant buzzes on the wrist.
The watch itself is packed with other sensors, including a heartbeat rate sensor and pedometer. With the help of Moto Body app, you can get motivated to stay healthy with the activity trackers.  At any time, you can also get a reading on your heart rate, which is pretty useful to track and maintain your progress.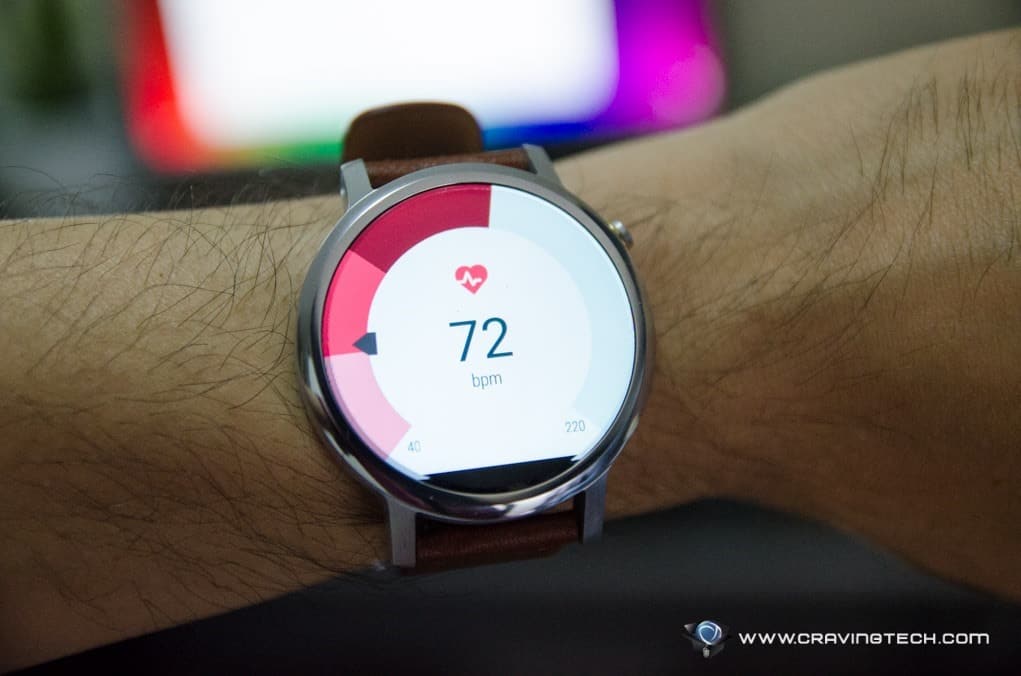 There is no sleep tracking sensor but probably for a good thing, because you'd want to do a charge on the Moto 360 2nd Gen while you sleep.
Speaking of charging, the Moto 360 2nd Gen 46mm houses 400 mAh battery (compared to the 300 mAh on the 42mm), which will last you a day or two (more like a day and a bit). There is an "Always On" screen mode, which goes to Dim if you are not interacting with the watch, but I could only get around 28% battery left by 6 pm before the battery went completely flat around midnight.
With the "Always On" screen feature turned off, I could get around 60-80%% battery left at 6pm, which makes quite a difference. Of course, this also depends on how many notifications you have during the day, or how often you play around with the watch.
I love how easy it is to charge the Moto 360 2nd Gen, though. The included charging cradle is simple and it's a wireless charging. Simply place the watch on it, and it charges instantaneously without having to fiddle with cables. I also quite like the charging screen.
Don't mind charging every night if the experience is this good @Moto_Australia #Moto360 from @MobileZap pic.twitter.com/wLfmGAtkir

— Michael Aulia ?? (@michaelaulia) March 8, 2016
On the iPhone 6s that I tested it with, the Moto 360 2nd Gen works well but very limited:
You only have access to certain watch faces that you can download
No third party apps can be installed (only Weather, Moto Body, and Flashlight).
You can receive notifications, but can only view, dismiss, or block it
You can interact with currently playing music, such as playing/pausing, and skipping tracks
You can use limited voice commands (I could do an "OK, Google" during my tests, but cannot reply my messages with voice).
On the OPPO R7s (or any Android phone for that matter), I have much more freedom and functionalities, the way experiencing Android Wear should be. You can reply to texts, do voice commands, and many more stuffs.
Moto 360 2nd Generation Review Conclusion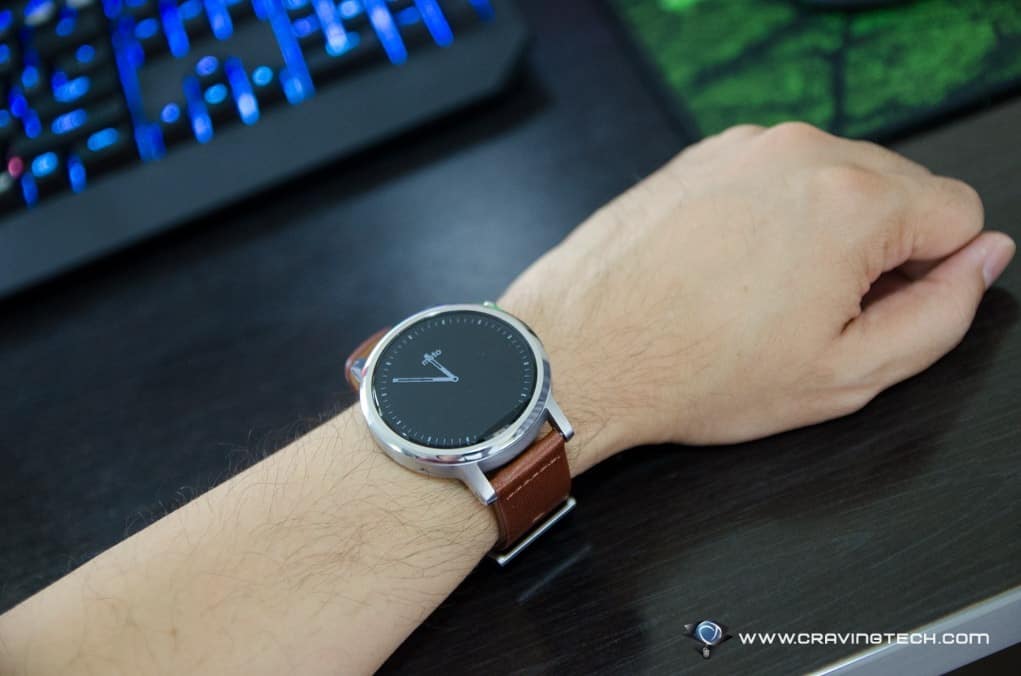 The Motorola Moto 360 2nd Generation is a beautiful, elegant smartwatch that supports both Android and iOS (limited). It has a really nice, striking design that makes you want to wear it every day. It looks good, fashionable, and stylish. The band can also easily be switched to match on any different occasion you can think of – parties, casual, sport activity, or even formal events like a wedding reception.
Apps can be a hit and miss, but as Android Wear gets more updates and more apps give their support for Android Wear, the future with the Moto 360 2nd Generation is safe.
Motorola Moto 360 2nd Gen Pros
Stylish, nice design
Interchangeable bands
Lost of great watch faces to suit different occasion
Easy wireless charging
Water resistant
Motorola Moto 360 2nd Gen Cons
Always-On eats battery life too much
Not using an OLED screen
Screen not 100% round, thanks to the Ambient Light sensor
Disclosure: Sample was supplied by MobileZap for the review but all opinions are mine. The Moto 360 2nd Gen will also work on the new Samsung Galaxy S7  Edge. If you own one, check out the other Samsung Galaxy S7 Edge Accessories at MobileZap.
[AMAZONPRODUCTS asin="B016CKGZJQ"]