Powershop Review – You've probably seen their ads everywhere around Victoria (or New South Wales) but you probably couldn't be bothered to explore or find out why you should switch from your current power/electricity provider.
After all, if it works, why bother? It's the kind of thought I had before I finally decided to give Powershop a go. And I'm thankful I did.
A little background on how you get power
A little bit info before we explore Powershop deeper, you should be aware that it does not matter which power/electricity company you are going for. Your area will always get the power supply from a single distributor. For example, if you live around Melbourne CBD, your power will always come from Citipower (find out who yours are, if you wish).
You can't get power directly from your distributor though. That's where these utility companies (Origin, Red, Lumo, AGL, etc) are for.
Don't always go for the "We offer you X% discounts!" marketing ploy. Every power company charges you a different daily flat fee & per kWh (kilowatt-hour) rate.
If you really want to go into details and find out which company is offering the cheapest, you need to read their brochures and do the calculations on your own. I did this back in November 2014 (you can see my rough "research" notes here) before I made the switch.
So, saying that, a power company who offers you a better discount does not necessarily mean cheaper. Each of them can mark up their pricing and offer different schemes/plans.
What makes Powershop different?
So why should you bother with Powershop? Oh, many. I'd say it's hard to say that Powershop is the cheapest power company out there, because it all depends on the deals you get from your current power company and your usage patterns.
What you should be focusing on, is the amount of control you have with Powershop:
You know exactly how much power you use per day (and even down to the hour!)
You know exactly how much you are paying on a given day (such as when you turned that air conditioner on for the whole night)
You know exactly what you are getting and what you are paying
To see how Powershop works, you can read all the FAQs at Powershop website. It's quite confusing at first because you are being introduced with the concept of pre-paying for your power (if you want to) and why it looks as if you are paying cheaper the more you use power.

The good news is, you don't really need to understand the mechanics fully (you can, if you want to. They list everything you need to know on their FAQs but you don't really need to).
Powershop in detail
What normally happens when you are with Powershop:
– You consume electricity as usual; nothing has changed
– You will be billed monthly (and you can always see full stats and how much you were charged daily from web access or a mobile app anytime).
You will be given a few days to:
Do nothing and your credit card will automatically be charged with the standard pricing (called Standard Saver). OR (and this is why you join Powershop):
Login and pay your bill with the discounted rate (called Online Saver).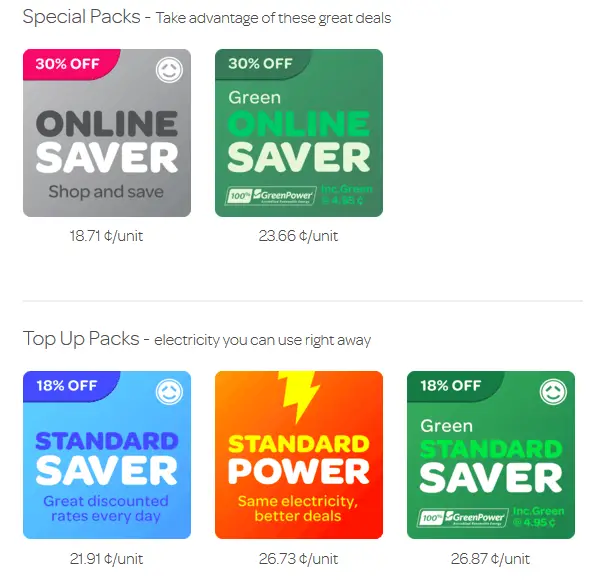 Though this may sound funny, Powershop basically wants you to be active on their platform and you will be rewarded for it with discounted rates.
– Once a while, they will have a special where you can buy X units of power (pre-paid electricity) at an even lower price. You SHOULD always grab this. If you have the mobile app installed, you will get a push notification.
If you stay active (by buying the specials and paying your monthly bills with the Online Saver plan), you can save quite a lot (like $8-15 a month in my case).
Here are my total savings at the moment (for around 5-6 months of being active):
Why I love Powershop
It's probably the only utility company with the best app design and functionality. App is also constantly being updated and even has Apple's TouchID support.
You can check your stats, browse for packs to buy, and pay directly through the app with a few taps.
You can really track how much power you use, so you can change your habits to save more. The best thing is, you can find out if your little change makes a difference the day after.
You can also track your power consumption on an hourly basis and put a label on it for future references/comparisons:
 Knowing how much power your property is using and how much it costs on any single day makes it easier to share bills. If you have a housemate and you are going away for a holiday, you'll know who's responsible for the shocking bills.
It's one of the few Australian utility companies that doesn't charge you with a surcharge by paying with a credit card. Best of all, it also supports American Express cards (more reward points to earn!)
Their support is really helpful and know their stuffs.
They actively support the Renewable Energy Target (a policy that aims to ensure 20% of Australia's electricity comes from renewable sources by 2020) and you can support by buying renewable power every now and then. Powershop was ranked number one in Australia by the new Green Electricity Guide from Greenpeace Australia.
You are not in a contract, so you can give Powershop a go and change to another provider if you don't like it.
Joining Powershop
Joining/trying Powershop is as easy as filling a form and you can just sit back and relax. In a couple of weeks or so, you'll be switched and there is nothing else you need to do, really.
If you are thinking of switching to Powershop, USE My Referral link. You will get a free $75 credit on your Powershop account (disclaimer: and so do I). That's free $75 worth of electricity.
Since there is no contract and commitment, you can always switch out from Powershop if you don't like it. Oh, and just be prepared to get a call from your current power company. They will be begging for you to return to them.