Next! is one of the productivity apps to manage your projects which normally involve having references, notes, goals, or actions (things to do list). Next! allows you to manage these in wonderfully looking UI.
Next! looks beautiful and the animation is smoothly done. Swiping your fingers to 4 different directions will lead you to Next! four main sections: Projects, Goals, Actions, and References. At anytime, anywhere, you can go to these different sections in an instant.
With big projects, you may have different goals within. Thanks to Next!, you can set-up goals within your projects. You can mark each completed goal by marking the tick box next to a goal. The concept is the same to every other section too.
You can add items to each section and do a few other things such as tagging/categorizing, assigning due dates, sorting (to display), or marking the items as completed (as explained earlier).
You can add and type your own notes in the References section and even read PDF files within the application (you can open a PDF file in an email attachment via Next!). You can also add images/photos from the Photo Library but unfortunately nothing happened when I tried to select one of the images. I may try to reinstall the app again to see if it will cure the issue.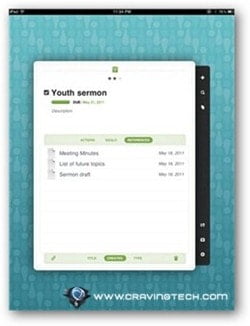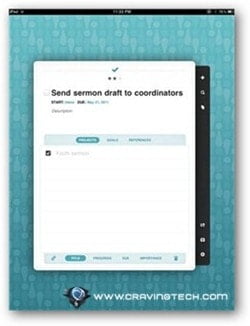 You can link all these different things altogether to make it easier to check all references, goals, and actions of a project, say. It was a bit confusing at first but once you get the hang of it, Next! package them nicely in a seamless interface.
Next! is promising and it's definitely a powerful app to manage multiple projects with multiple goals, multiple actions, and multiple references. Unfortunately, the learning curve is quite high and you definitely need to check the user guide (included) to get the most out of Next! Next! is definitely too complex for those who just want to manage a simple project with to-do tasks list. However, if you are looking to manage complex big projects with multiple goals, documents, and tasks, you might want to give Next! a try.
Note: License provided for the review
Next! for iPad Pros
+ Beautifully designed
+ Powerful
+ Manage complex projects with goals, tasks, references, due dates
+ Has built-in PDF viewer
+ Can create own notes and link them
Next! for iPad Cons
– Quite confusing to use at first
– App might be too complex for managing simple projects