Razer Ferox Review – Portable gaming does not always mean to include a portable gaming mouse, keyboard, or a headset only. In fact, a portable audio speaker-set has made it into the list of "portable gaming peripherals", thanks to Razer.
Razer Ferox is a pocket-sized speaker system specifically designed for mobile gamers around the world, to deliver exceptional sound for gaming and also for general use such as listening to music.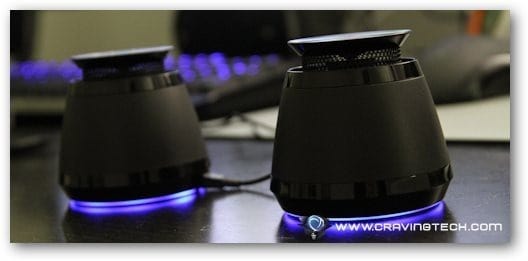 Unboxing Video
Design and overall impressions
Razer Ferox is tiny in size although it's still somewhat bigger than the X-mini speakers (X-mini HAPPY and X-mini MAX II) I reviewed some time ago: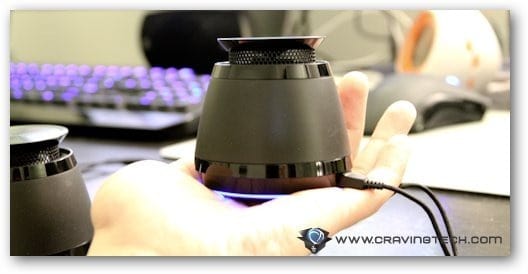 To let the sound out from the speakers, you press the top surface which will expand the resonance chamber slowly.
It's a really cool design and I was playing like a little kid for a while popping these chambers up and down in excitement.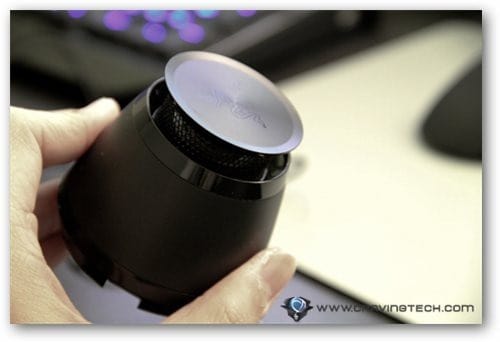 Once they get fully expanded, the Razer Ferox turns on, indicated by the cool Razer's trademark blue-ish color at the bottom of the speakers. The hidden resonance chambers are definitely to protect the speakers from dust and dirt alike. They get pushed down and hidden from outside when the Razer Ferox is turned off. Brilliant design!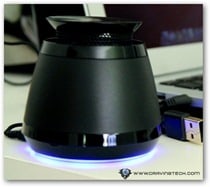 These LED indicators are not just being there for the show (although I wouldn't mind that). They serve as indicators for Razer Ferox's battery level (blinks when recharging, blue for good battery level, and red when it's low). According to the specification, Razer Ferox has a 470 mAh battery capacity and can last up to 12 hours non-stop! Now that's some serious gaming and there is no way you'll ever run out of battery when you game with Razer Ferox. Err, unless of course, if you game more than 12 hours non-stop.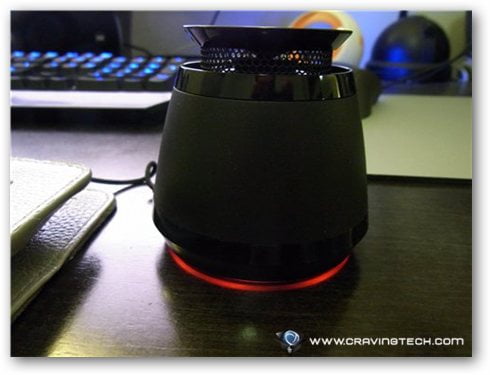 The Razer Ferox packaging includes a USB cable (to recharge the Ferox) and a 3.5mm audio jack to plug these tiny speakers into your laptop, MacBook, or even other media/portable devices that you have. The Razer Ferox can also be played while you recharge it at the same time.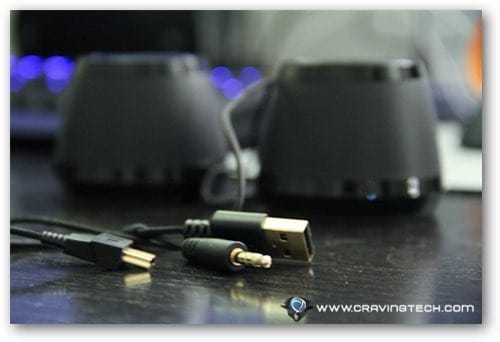 I tested the Razer Ferox on my MacBook Air, iPhone 4, and also on the iPad 2. All worked without any problems so you can actually use Razer Ferox to watch movies, listen to your music collection, or any non-gaming activities.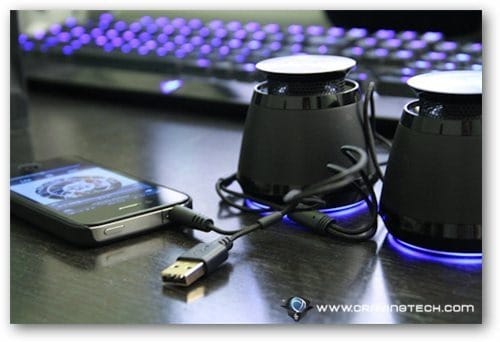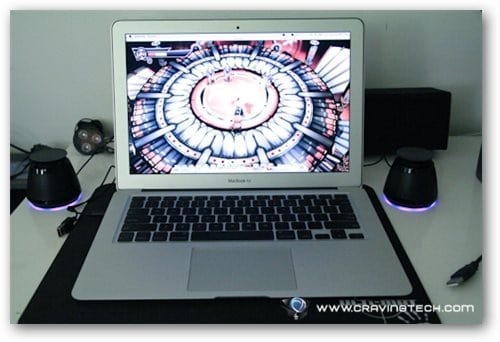 It is also possible to just use one Razer Ferox speaker out of the two in case you don't need both of them or if you want to use the speaker alternately (meaning you can get 2 * 12 hours = 24 hours of non-stop action without having to recharge it!). But again, you can always hook the USB up so it will always be powered.
The included carrying case is also a great addition. It fits Razer Ferox well and secured with a zipper. There is a small compartment to fit both the USB cable and the 3.5mm audio jack in.
Sound impressions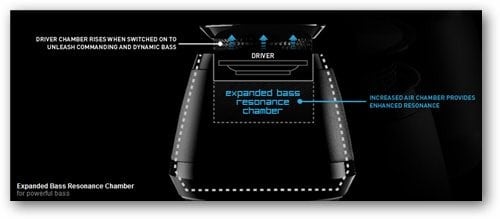 Razer Ferox has a frequency Response of 150Hz-20KHz and a 3 Watt output coming from each speaker. In general, Razer Ferox is loud. It's impressive how much sound it can produce, considering the size. If I compare it straight to the X-mini speakers I mentioned in my introductory paragraph, Razer Ferox beats them by far in terms of volume, audio quality, and clarity. The only drawback is the lack of Bass as I can barely hear them in my music and games (the X-mini speakers win in this department). Playing FPS (First Person Shooter) games (like Left 4 Dead 2) felt a bit shallow as fired shots sounded like coming from a default laptop speaker. Although louder and clearer, the lack of bass did not provide the extra oomph.
Listening to music feels better though but if you are a Bass lover, again you will be disappointed as you can barely hear the Bass. I do, however, like the clarity and quality of the mid and high frequencies coming from the Ferox.
Razer Ferox offers a 360° Omni-directional sound which covers the surroundings, offering wider range of spaces. It's perfect when you use Razer Ferox to listen to music while you are cooking in the kitchen, say. The sound fills the whole area and they sound great. It does not have a volume control so you have to control it from your device where Razer Ferox is hooked into, which is not really a big deal.
Conclusion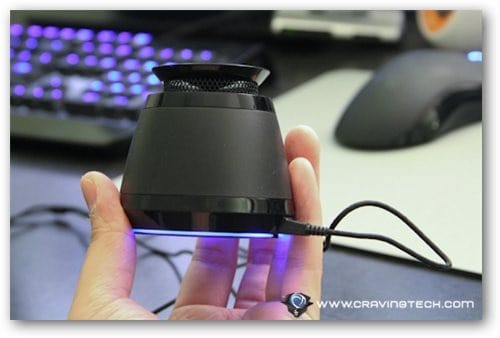 At the end of the day, don't expect the Razer Ferox to completely replace your 5.1 desktop speakers or a high-end gaming headset like the Razer Megalodon.
The lack of Bass reduces the gaming experience and excitement overall but the audio clarity and quality is good, considering the size of the Razer Ferox.
Razer Ferox is tiny and powerful, perfect for gamers who travel a lot and want to travel light. Simply recharge the Ferox for up to 12 hours of non-stop playback (or hook it into the USB for an unlimited gaming session), pack them into the included carrying case, and plug them into your gaming notebook or even portable media devices for some music listening goodness.
Razer Ferox is definitely one of the things that I'll bring whenever I have to travel for a few days (or more). I can enhance my gaming experience while using it to listen to my music at the same time. Whether it's in my hotel room or outdoor, I'd be happy to know that I would never need to carry my headset or use the crappy notebook built-in speaker no more.
Pros
+ Brilliant design, sleek looking
+ Tiny in size, yet powerful
+ Loud, clear, good audio quality
+ Up to 12 hours on-battery
+ Rechargeable battery
+ Can be used while recharged via USB
+ Carrying case included
+ Can be hooked to portable media devices
Cons
– Bass is not powerful despite of the tech spec
– Shouldn't be treated to replace your desktop system
Disclosure: Razer Ferox was sponsored by Razer for the review. All opinions are 100% mine