Pulse from Cipher Prime is mix of music and rhythm game. In simple terms, you press a few things on the screen when the background music hits a certain rhythm – just like playing Guitar Hero or games of similar genre. No buttons or cymbals to hit this time, though – they are all little circles (circular pulse) radiating on the iPad screens. Yup, Pulse is a rhythm game for the iPad only (at least for now).
Pulse is easy to understand and it wouldn't take long to figure out what you need to do during the tutorial session. Of course, at first, you would be wondering what the game is all about. Ten seconds later, you'll go "Ooooh! That's how it is!". I had fun playing Pulse and the interactions on an iPad make the game even more enjoyable and fun. Plug a nice headset or a good portable speaker and you'll get the most out of it.
The game starts simple (depends on the complexity of the music) and gets challenging afterwards. Unlike other games of similar genre, Pulse adds an extra challenge: the radiating pulse is moving on a circular path rather than being still. Adds a few more pulses on the same screen and your eyes will stick on the iPad screen without blinking. On harder difficulties, you'll then need a few fingers to get good scores. It's fun and the additional challenge often keeps you entertained than feeling frustrated.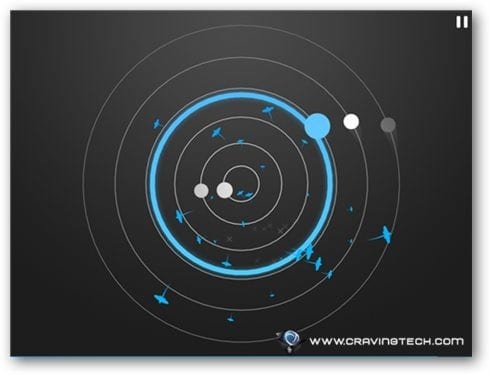 Cipher Prime's Pulse: Volume One Gameplay video
Pulse is a beautiful looking game even though there are not much 3D models to look at. The pulse's break-out effect is a beauty to look at when you touch one. There are only eight songs included in the first release (hence the name Pulse: Volume One) but they are top notch so far and fit the mood (from fun to mystical ones). Buyers of the app are promised for free songs updates every now and then but it would be good to know how long this can last.
Pulse is beautiful, fun, challenging, and a great stress reliever music-and-rhythm game for the iPad. A definite must have for the iPad owners especially for musical lovers out there.
Pulse : Volume One – Cipher Prime Studios
Note: License provided for the review
Cipher Prime's Pulse Pros
+ Fun
+ Beautiful in its own way
+ Great selection of music
+ Free music updates in future
+ Challenging
Cipher Prime's Pulse cons
– Might be too minimalist for others
– Not enough songs (only 8) when the app was released