If you were drooling when you saw the iPad 2's Smart Cover case video for the first time, then you are not alone. I found that it was one of the best innovative design ever made. It's really handy, practical, and simply cool. The only drawback is probably the protection on the back side of the iPad 2 – as there is none.
Mivizu Sense case for iPad 2 is an alternative for Apple's official Smart Cover and by adding an extra protection to the back of iPad 2.
Mivizu Sense is made of leather and also quite slim:
There is also an extra soft padding on the back for extra protection and a soft inner surface. The microfiber interior lining guards the screen when the case is closed.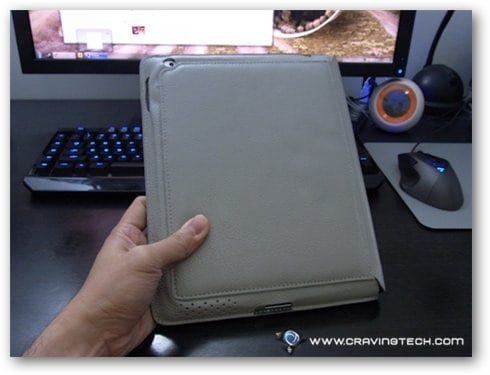 Mivizu Sense Cover does the same thing as Apple's official Smart Cover case – it wakes the iPad 2 up automatically when opened and sends the iPad 2 to sleep when closed.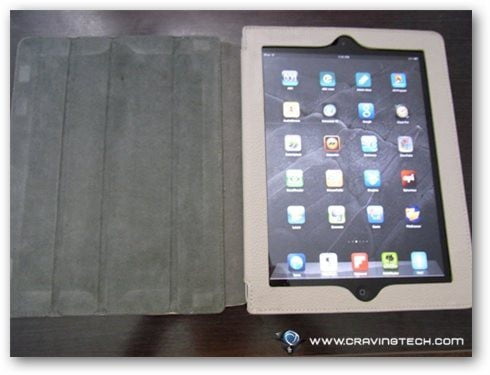 Unfortunately I find a minor issue with this case. I haven't got the official Apple's smart cover (or other cases with similar feature) so I cannot say whether this issue exists on every smart cover or just the Mivizu Sense. I find that the iPad 2 will go to sleep occasionally when the cover gets in contact, even if I already fold the cover all the way to the back. It's probably because the magnetic is too strong that it accidentally detects a touch on the cover. As such, my iPad 2 often goes to sleep when I wiggle it a bit.
Apart from that minor issue, Mivizu Sense is a nice case. It can be transformed into a flat stand to type or to watch a video:
Mivizu Sense has all the ports, buttons, and jacks accessible without having to drag the iPad 2 out of the case. You can recharge the iPad while in the case and take video/pictures with the front and back facing camera comfortably.
Overall, the Mivizu Sense looks pretty ordinary (it cannot be compared to a higher material quality case), but it's a good alternative to Apple's official Smart Cover if you require an extra protection to the back. Apart from the minor issue on the magnetic closure, Mivizu Sense is a great all around case with acceptable leather quality.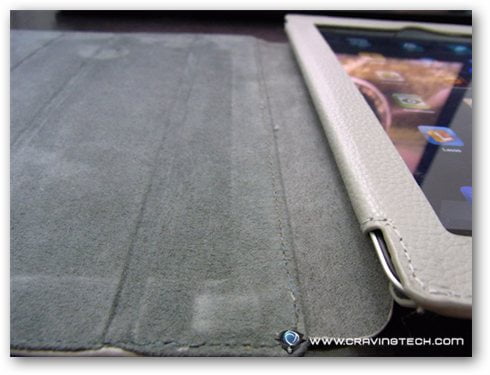 Note: Sample provided for the review
Mivizu Sense for iPad 2 Pros
+ Extra layer of protection on the back
+ Similar feature to Apple's official Smart Cover
+ Ports & Jacks cut-outs
+ Lightweight
Mivizu Sense for iPad 2 Cons
– Issue with the magnetic
– Medium quality material