NETGEAR Nighthawk X4S D7800 Review – NETGEAR Nighthawk X4S D7800 is an AC2600 modem router (supports VDSL/ADSL) with MU-MIMO and Quad Stream technology.
MU-MIMO is still somewhat new but the market has started to catch up and a few devices have started supporting it. This definitely is a future-proof router so you do not need to upgrade for a period of time.
I'll try to explain what MU-MIMO is briefly later and how it'll affect your network performance.
Shelling hundreds of dollars for a modem router is not an easy decision. Is the Nighthawk X4S worth buying?
NETGEAR Nighthawk X4S D7800 Review – Packaging
NETGEAR Nighthawk X4S D7800 Review – Introduction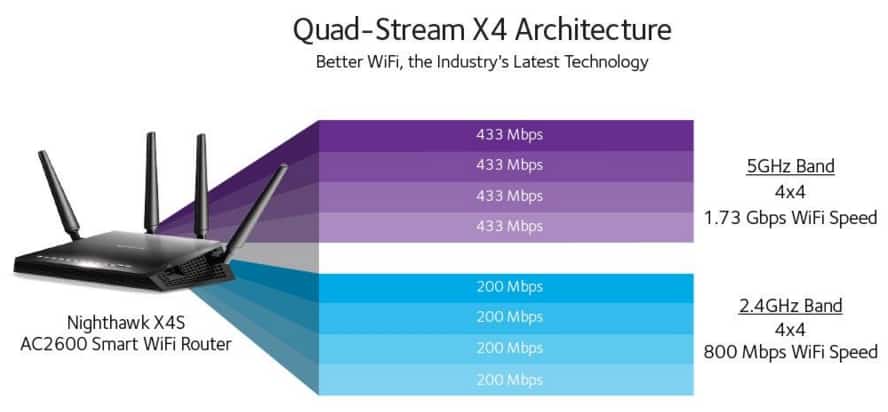 The Nighthawk X4S is an AC2600 modem router with Wi-Fi speeds of 2.53Gbps (800 Mbps on the 2.4GHz channel and 1733Mbps on the 5GHz channel). Or to be exact with the Quad-Stream Wave 2 Wi-Fi: 4x433Mbps (1733Mbps) on the 5GHz channel, and 4x200Mbps (800Mbps) on the 2.4GHz channel.
The first question is, should we spend this much on a wireless modem router? The answer is, it depends. If you are living on your own with a few wireless devices, then there might not be enough reasons to justify.
Unless you have a handful amount of wireless devices trying to communicate at the same time that transfers large amount of data, chance is that you won't probably ever need such power.
However, most people nowadays have tons of wireless devices that are not limited to smartphones and computers. For example, in my household, there can be around 15-25 wireless devices connected at the same time:
A few smartphones (a mixed of iPhones and Android devices)
A couple of iPads
A desktop and a laptop
Smart home devices like the Phillips Hue (3 light bulbs, including the Bridge and Tap), Arlo, D-Link Smart Plug and Sensor, Belkin Wemo, Samsung Smart TV in my living room etc
Wireless speakers: my SONOS PLAY:1, PLAY:3, and PLAY:5
Wi-Fi printer: Epson WorkForce WF-7620
Streaming gadgets like Telstra TV, 2x Google Chromecast
Consoles: Xbox One, Playstation 3
Can't think what else on top of my mind but other gadgets like smartwatches, smartbands, webcams, etc are all competing for data.
Sure, not every single device needs to transfer lots of data (and constantly), but you can see that there are more and more demands these days. Imagine streaming Netflix HD movies to 2 devices within the same network at the same time, while other devices would like to transfer something as well. Things can get crowded and they will. As a result, your old modem router may be struggling to its knees trying to cope with all these demands and you'll experience network lags, blaming it on your ISP instead.
NETGEAR Nighthawk X4S D7800 Review – Design & Features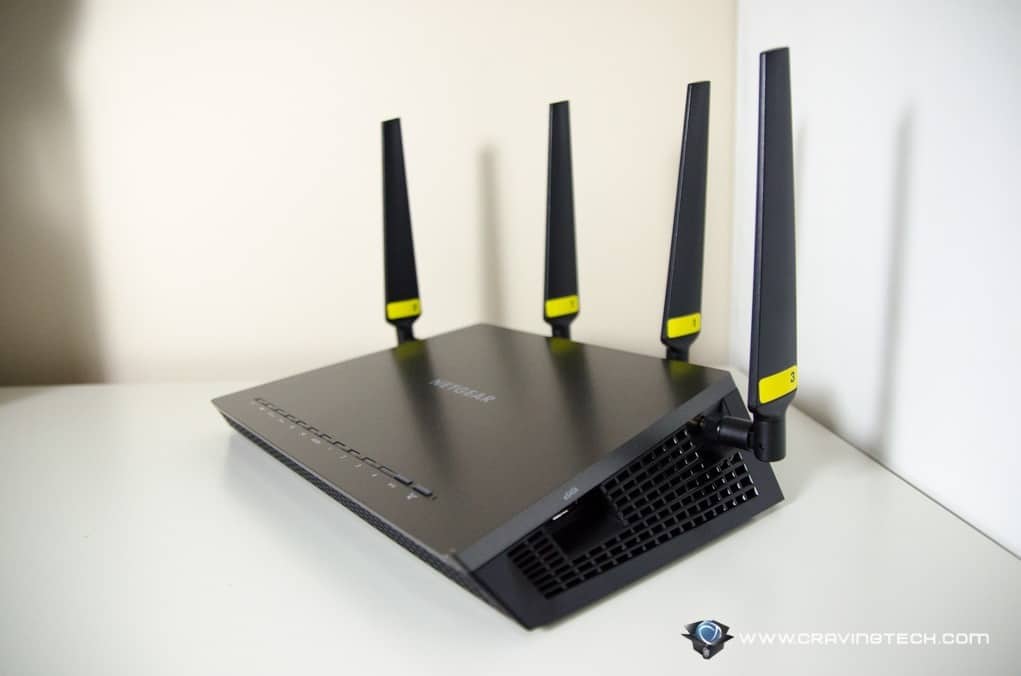 NETGEAR Nighthawk X4S comes in a futuristic black look, which you probably want to show off than hide away. It does require a good amount of space due to its size (which is similar to other routers with similar features). The antennas are not just for the show either, but the high-powered amplifiers + 4 antennas are there to further improve the signal strength and wireless range.
I'm not going into technical because all that matters is whether the modem router delivers and during my 2-week tests so far, it does.
I've never got any drop-outs or lags from any devices I use at home, even when the 3 of us are active – such as watching Netflix in HD while gaming online at the same time. Or even when we have apps updating in the background on my phone.
NETGEAR Nighthawk X4S Dynamic QoS (Quality of Service) certainly helps a lot here. Unlike other routers though, you cannot prioritise a certain device in the network (i.e allocating your desktop to have the Highest Priority, say). In fact, you actually do not need to.
Nighthawk X4S Dynamic QoS automatically recognises devices and activity types in the network, and adjusts the bandwidth and priority accordingly. Unfortunately, there is no degree of control here except for turning the Dynamic QoS on and off, but it's simpler and works.
For example, the Dynamic QoS balances buffering and bandwidth so Netflix viewers get more bandwidth than a YouTube viewer. Or when you are playing games and someone else is downloading/uploading files from Dropbox, you'll get the traffic priority.
Or those who stream a movie on a TV will get more priority than those watching on mobile devices (so you'll get the best resolution on the bigger screen).
It sounds really smart and you don't have to tinker with advanced settings. Note: these examples were based on the explanation from the Nighthawk X4S launch event in Australia.
In my own experience, the Dynamic QoS rocks. I was downloading 8GB of files to setup a dedicated server once on my laptop, while my brother in law was watching Netflix (in HD) on the TV. I was also playing an online competitive FPS game (Left 4 Dead 2) on my desktop at the same time. Surprisingly, there was no buffering and lag happening at all. Sure, I have to thank my FTTB internet connection, but I was expecting some sort of higher ping than usual. Yet, I could still get a constant 30-35ms ping for the whole gaming session.
Here is the NETGEAR Nighthawk X4S SpeedTest on my Wondercom FTTB VDSL connection:
Now, the Nighthawk X4S also supports a technology called Wave 2 MU-MIMO (Multi-User Multiple-Input Multiple-Output) Technology, but what is it exactly?
At the moment, when multiple devices are connected to a router, each device needs to take a turn to receive data from the router. Now, this happens very quickly that we normally don't see this happening. However, imagine multiple devices having the need to communicate at the same time and things can get quite frantic (I imagine it like seeing a casino dealer quickly dealing cards to many players with his hands).
With MU-MIMO, a router can deliver data simultaneously to multiple devices at the same time (rather than in turns). This definitely improves the overall network speed for all devices on the same network. Feel free to read more about MU-MIMO here: Digital Trends | TechHive
The bad news is, the client (i.e the wireless device) also has to support it and at the moment, there aren't that many. If you are on the desktop, you need to get a MU-MIMO wireless adapter. According to the info I got from NETGEAR, here is a list of MU-MIMO supported devices:
HTC One M8
Xiaomi Mii 3,4,5,7,9,11
Acer Aspire E Series laptops
Dell Alienware 13 and 15
I'm sure there will be more MU-MIMO devices coming and it seems to be the way to go. So, you may not be able to untap the potential with the Nighthawk X4S with the devices you have now, but you will soon, as MU-MIMO becomes more publicly available.
With 2x USB 3.0 ports and eSATA, you can also plug external storage devices  so you can stream your local media library (or share documents) to everyone in the house and even schedule backups.
NETGEAR Nighthawk X4S supports iTunes server over AirPlay and personal FTP server (access your files on the plugged USB over the net).
NETGEAR Nighthawk X4S D7800 Modem Router Review – Conclusion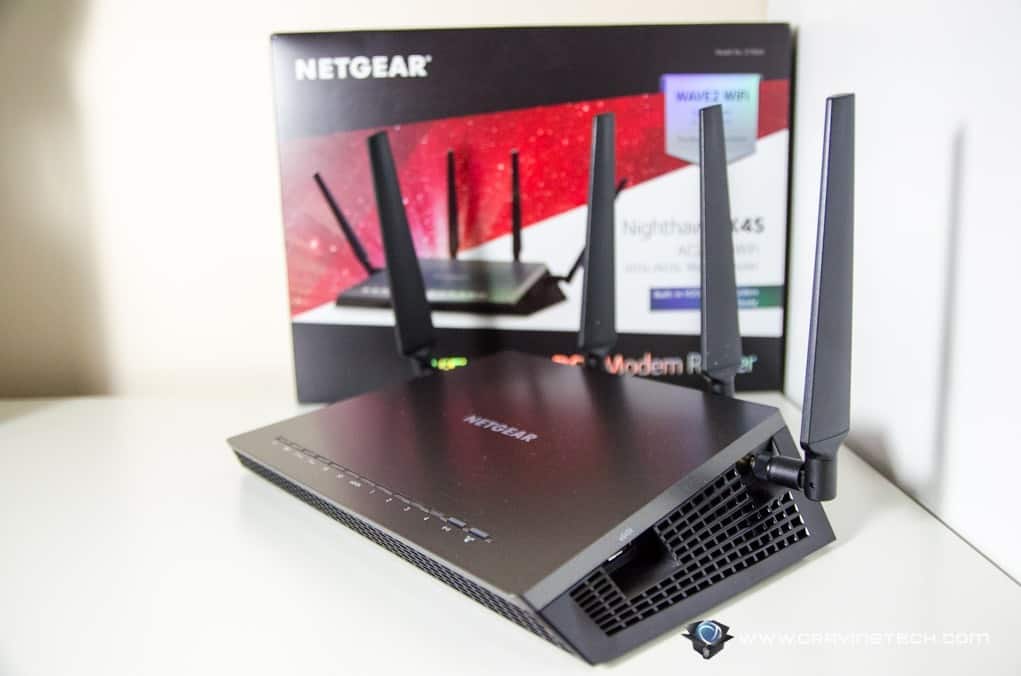 The NETGEAR Nighthawk X4S D7800 MU-MIMO Modem Router is a well-built modem router that was designed for the present and future. Its signal is strong, stable, and the Dynamic QoS service makes it simpler and has that "it just works" feel to prioritise activities and devices that need more bandwidth than the other in the network. This now replaces the D-Link TAIPAN as my primary modem router at home.
As more and more MU-MIMO supported client devices available, you will unlock the modem router's potential to its fullest – thanking you for the investment you've made.
The NETGEAR Nighthawk X4S D7800 AC2600 modem router is available at retail stores in Australia (like JB Hi-Fi, The Good Guys, Harvey Norman, etc) for around $499 by the time this review was written.
Disclosure: Sample was supplied for reviewing but all opinions are mine and not paid.
NETGEAR Nighthawk X4S Pros
+ Sleek looking, stylish
+ Easy to set up
+ MU-MIMO support
+ Lots of options to share media on the network, both locally and on the net
+ Great signal strength, stability
+ Dynamic QoS that just works
NETGEAR Nighthawk X4S Cons
– Router interface looks old and not too intuitive
– Might be an overkill to some for the price
[AMAZONPRODUCTS asin="B0192911RA"]