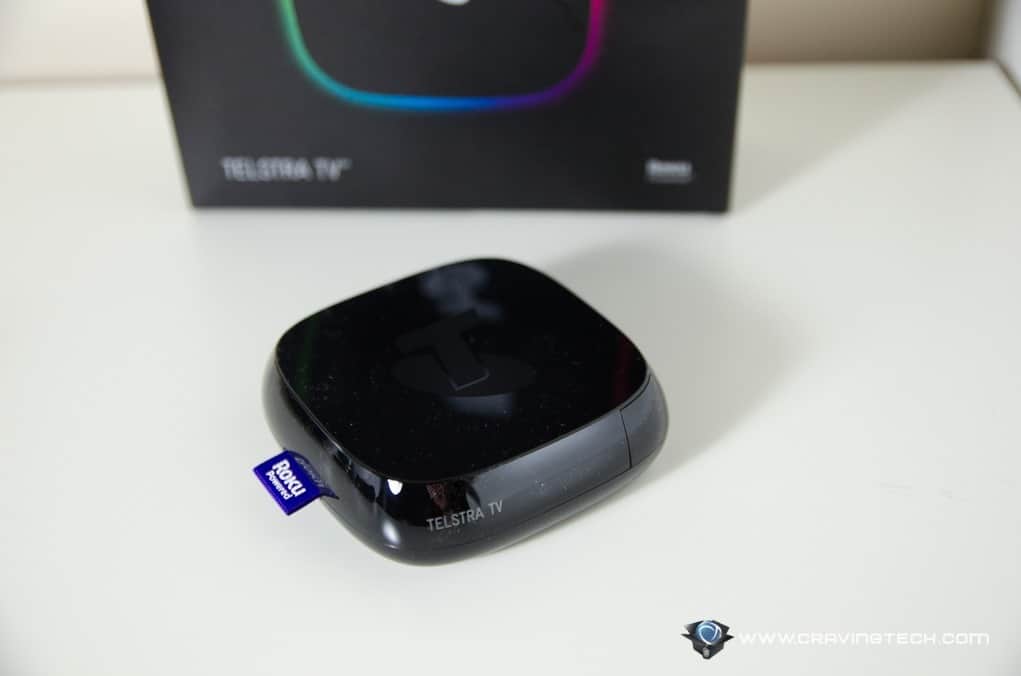 Telstra TV is an online streaming device that allows Telstra fixed broadband customers to watch movies and TV shows at the comfort of their home. It's a similar device like Apple TV, Chromecast, and many other you've probably heard of, but it has relevant content to Australians.
Telstra TV may not have 50 different channels or apps to select from (which you probably can't use here in Australia due to Geo-Restrictions), but it is simple to set-up and support Australia's free-to-air TV contents. At the moment, Telstra TV gives you access to Netflix, Presto, BigPond Movies, RedBull TV, and some catch-up free-to-air channels like 9 Jump In, Plus 7, and SBS On Demand (no ABC iView and Ten Play just yet, but will be added soon). There is also YouTube and others to add in like DailyMotion. Stan, another popular service here in Australia, is also coming really soon.
The device comes with an HDMI cable that you can simply plug into your TV. Just by switching your TV source to the HDMI slot you plug it to and following a few steps for activation, you are good to go watch some shows.
The box itself is quite small so it won't take much space on your living room. Everything is controlled by the remote, which is powered by 2x AAA batteries (included).
There is an option to connect Telstra TV (which is powered by Roku 2, updated on April 2015), to your wireless network or through wired connection (with a network cable). Channels are laid out clearly and easily selectable with the remote. Some channels like Netflix, Presto, and BigPond Movies will require a separate subscription or a once-off payment, however.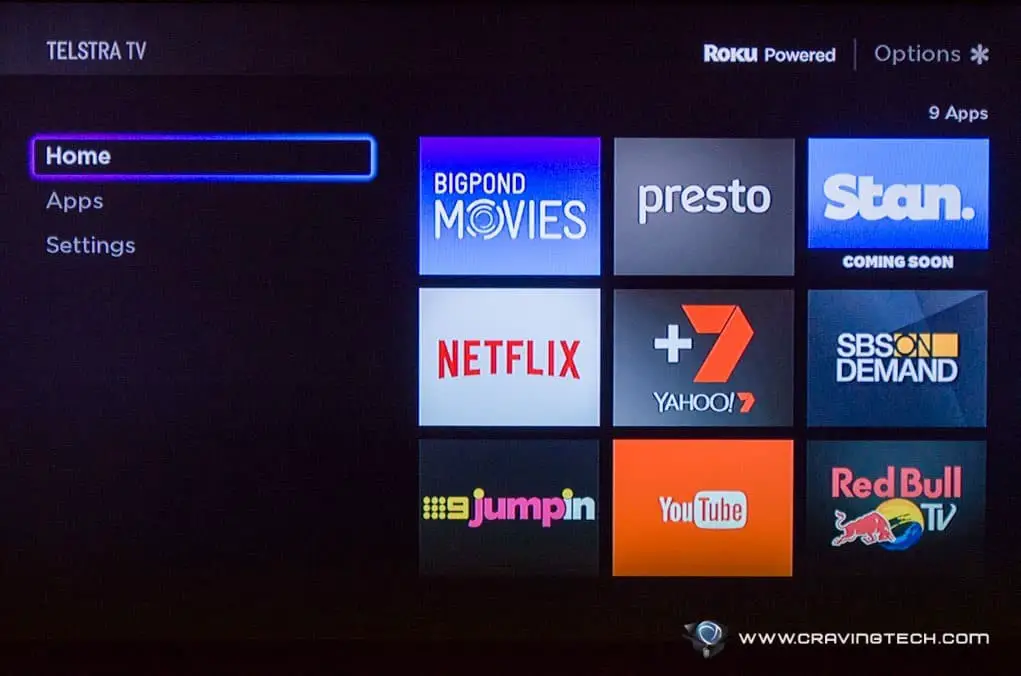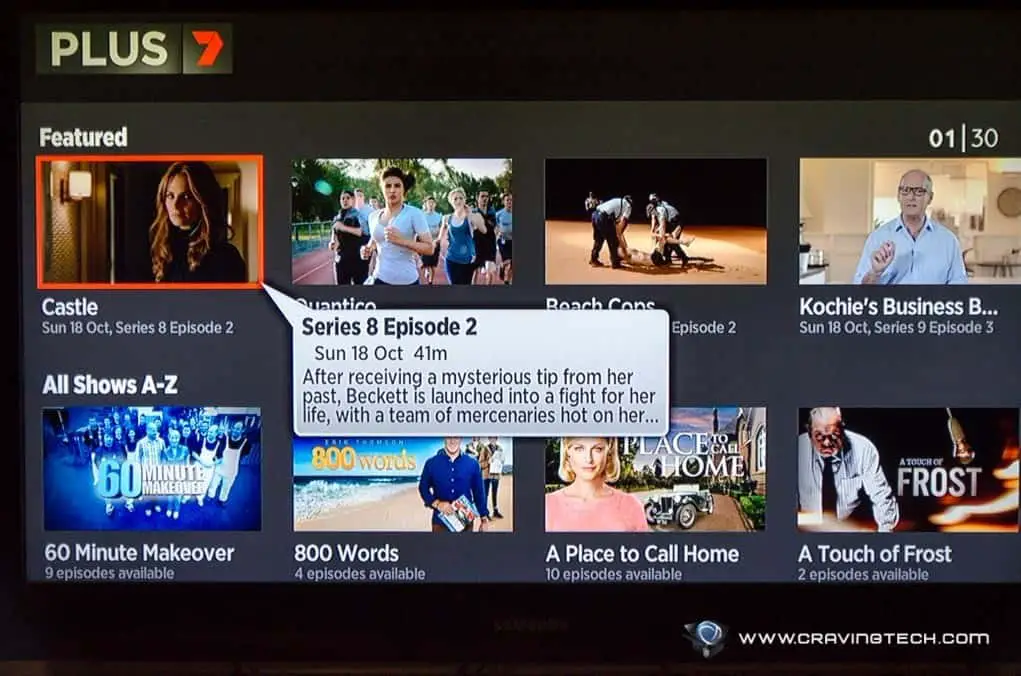 Some channels (like the free-to-air TV catch up channels) take a while to load but YouTube and Netflix are instantaneous. You can set the video quality to either 720p or 1080p (no 4K unfortunately).
At anywhere on the screen, you can press the Home button on the remote to go back to the home screen. There are also other handy playback controls like Replay, accessible anytime within reach.
You can also plug in a USB flash drive to play your own movie files in it, microSD to expand app storage, and do a mobile screen mirroring.
Why Telstra TV?
I got a lot of this question from my social media channels. In short, Telstra TV combines all the channels and services tailored for Australians with simplified interface and gives you access to everything in a single device.
Watching BigPond and Presto movies are unmetered on Telstra TV too so you can have a peace of mind for not blowing your data usage accidentally.
Rather than having apps on your smartphone or tablet, combined with your smartTV's apps, Telstra TV gets what you need and has them all in a single, easy to use device.
However if you already have an Apple TV or other streaming devices, you may not need a Telstra TV. Make sure to weigh in your pros and cons as I've explained earlier.
If you are longing to have everything in just one simple device with simplified interface, Telstra TV is definitely a game changer for you.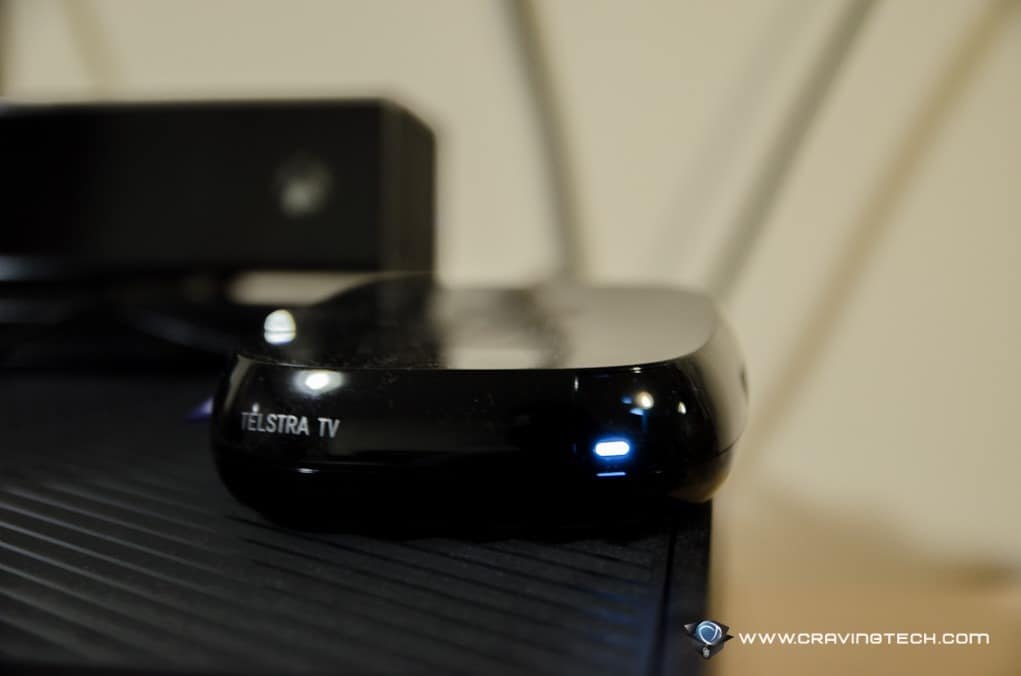 Telstra TV will officially launch on the 27th of October 2015 and available "on selected new and recontracting bundles as a Gift with Purchase". Telstra Home Broadband customers can also buy Telstra TV outright for $109.
Register your interest for Telstra TV.