Navman SmartGPS Review – Portable GPS navigation device manufacturers are working hard to ensure that we still need to have such a device in our cars. After all, with all these awesome navigation apps in our smartphones (both free and premium), some do not find the need to get such a device any longer.
Navman SmartGPS tries to break that mentality by making an in-car GPS navigation device more versatile, so that your computer, smartphone, and tablet can complement each other in harmony. For example, you can browse for multiple venues or destinations on the desktop, copy-paste the addresses, and send them all to your Navman SmartGPS in one go through a web browser –> the cloud –> your SmartGPS.
Packaging
Official Video
Design, Features, and Impressions
With a 5-inch screen, Navman SmartGPS has plenty to offer. That huge screen is utilised by Navman to give you dynamic information on its live tiles such as deals (from FourSquare and Yelp in Australia) and traffic alerts while you drive. At any point in time, if you see a good deal or recommended place you want to go, you can simply tap its tile and do a quick detour. You have a few options whether you don't need to see these tiles while you drive, or only a few of them.
The supplied windshield mount is sturdy and I like how you can slide the SmartGPS into the hook and the microUSB connector. It feels less messy and holds the device quite well.
You can feed addresses into the GPS unit without even touching it. This can be done through the free app on your iOS or Android device (synced via Bluetooth) or from the SmartEco website on a web browser (synced via Wi-Fi). Of course, you can go old school and enter an address into the Navman SmartGPS like you used to.

Address sent to SmartGPS from the iPhone app via Bluetooth
To set up the cloud solution, you need to first create an account at SmartEco, install a web browser plug-in, and plug your SmartGPS with the supplied USB cable.
Contents can be updated constantly to your SmartGPS through your home Wi-Fi connection (or a Wi-Fi hotspot from your phone). You can choose to sync only the necessary stuff and only if you want to (to reduce your mobile data usage). Assuming you live in a house and park your car in the garage, SmartGPS can be set to sync daily to your home Wi-Fi. If you live in an apartment or far from a Wi-Fi access point, then it can get a bit tricky.
The interface itself is quite responsive, possibly the most responsive that I've ever experienced from an in-car portable GPS device. Navman MY450LMT was great, but you need to press the screen slowly to interact, like most portable GPS devices. Navman SmartGPS interaction feels lighter and smoother. There is no address auto-prediction as you type like the MY450LMT, so you have to enter the address as a whole (or at least, parts of it and let the search do the trick). Normally, you'd have to enter the suburb first, street name, and so on. This is much simpler in my opinion (sadly, the free app does not follow this workflow).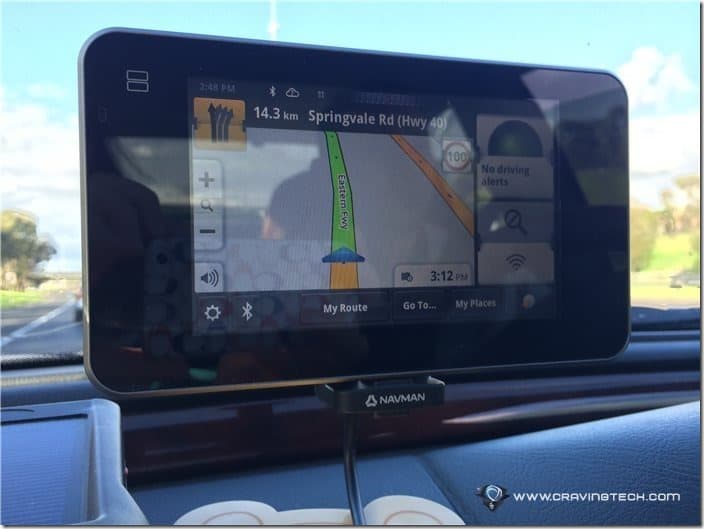 You can also save addresses to the Favorites section (called One Touch Favorites) or Wishlist, which is like a handy list of several destinations for the day. There is also a Contacts section but unfortunately it does not sync to your smartphone's address book. You have to enter the contacts one by one manually.
Why do we need Contacts stored in a portable GPS device? That's because Navman SmartGPS can be used as a Bluetooth handsfree kit too. Thanks to its built-in microphone, you can answer calls from it. It won't recognise the caller unless if you have added him/her on the device, however. My voice could be heard clearly when I tested this, but the caller did feel a bit annoyed when the voice navigation kicked in during a call.
I love how Navman SmartGPS will say things like "turn left before the church" or "after McDonalds" so I'll never need to wonder how far a 100 meter is. The speed camera alert will also let you know of the speed limit, so you can quickly do a glance at your dashboard just to be safe. So far, Navman has accurate speed limit information on all the roads I've been to, which is great.
I also love the Lane Guidance and 3D Junction Views, making sure that I never missed a freeway entrance or exit. Not to mention that I never needed to change lanes  at the last minute and made other motorists mad.
The points of interest icons can be filtered for a minimalist navigation screen and you can even pick a specific fuel to filter for (such as a Premium 98). In my test, this worked. Navman SmartGPS didn't recommend me the fuel station that I saw about a hundred meter ahead. Curious, I went in to find that the station indeed did not serve a Premium 98. Well done!
Navman SmartGPS Review Conclusion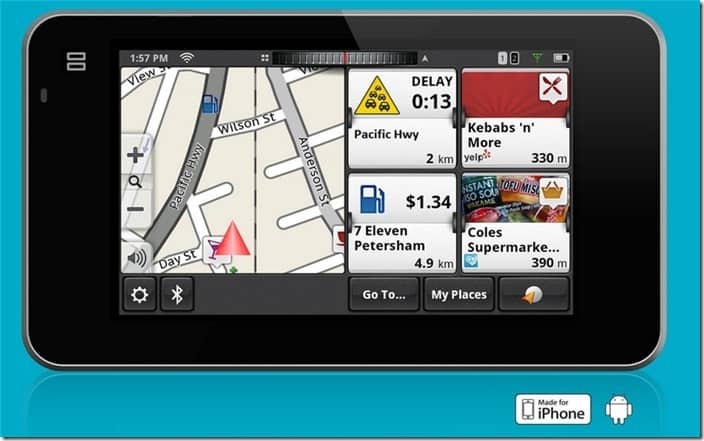 There are lots to love about Navman SmartGPS. Even as a portable navigation device itself, SmartGPS is already solid and well-made. This, is a portable GPS device on another level!
The interface is smooth and it has all the best features that Navman portable GPS devices have to offer: lane guidance, landmark guidance, speed limit alerts, and more.
And then, you get the extras. You can hook it up with a smartphone so you can pick up calls while you drive, stream updates for good deals around you, or send an address from your phone to it via Bluetooth. Your partner or boss can also feed you with new addresses to go for the day from a desktop's web browser through SmartGPS Eco website.
Navman takes all the best things to offer in a portable GPS navigation device, and then packs more with live and dynamic updates while you are on the road. You don't need to connect it to the cloud or pair it with your phone. It's already excellent on itself, but if you do, you can get more out of it.
In the end, do have a look at what SmartGPS has to offer. If you don't need all these goodies, the MY450LMT or the cheaper MOVE30 should serve you well enough on the road.
Disclosure: Review unit was sponsored by Navman for the review. All opinions are 100% mine and not paid.