Navman MY450LMT Review – The biggest complain of all times for having your own GPS navigation device (rather than using a smartphone app) is map updates. So here you are, having a nice fancy new car with a built-in GPS system on the dashboard. Or perhaps you just bought one of the best portable GPS navigation devices of all time.
A year later (or perhaps even sooner), you'll start to realise how expensive it is to get even a single map update on your GPS navigation system. Hundreds of dollars, at times.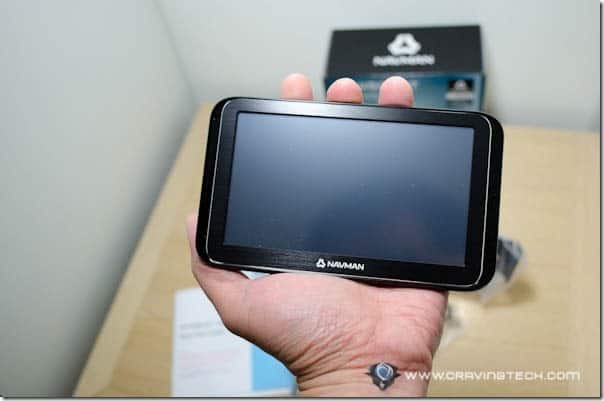 With Navman MY450LMT in your hands, you will have one of the best portable GPS navigation devices of all times. And it comes with lifetime map updates. Free. Forever.
Yeah, you saw it right. Navman MY450LMT comes with the world-first Rapid Map Refresh, a free monthly map update for a lifetime (Australia & New Zealand).
All you have to do is to plug the MY450LMT into your computer. Through the NavDesk software, map updates can be downloaded and installed easily. You can also do a full backup of your favorites, routes history, settings, and all that using the same software.
Thankfully, free map updates is not the only thing that this device is capable at. It's actually the best portable GPS device I've ever used in-car (features-wise).
Navman MY450LMT Review – Packaging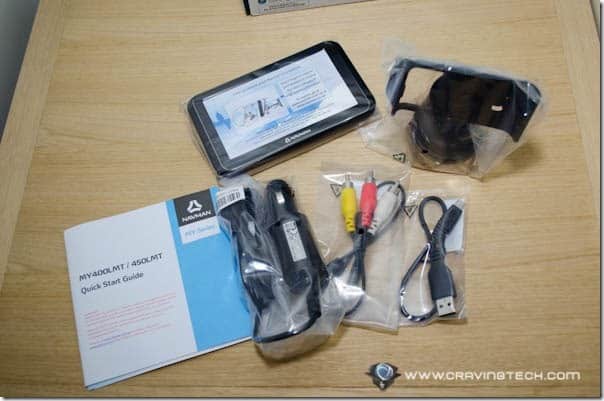 The packaging comes with:
MY450LMT GPS Unit

Vehicle charger

USB cable

AV-In cable (to be connected to the rear camera)

Mounting bracket

Quick Start guides, DVD
Navman MY450LMT Review – Highlighted Features
Thanks to the big, bright 5.0″ LCD Touchscreen and easy-to-use mounting bracket, the unit can sit nicely anywhere on the car's windscreen. Having a bigger screen compared to the Navman MOVE 30 apparently makes a big difference. It is easier to see when to turn or where you are at all times on the 5″ screen. Live information that pops up every now and then while you drive can be looked at in a glance. Interacting on the screen is also simpler, especially if you have a large, fat finger.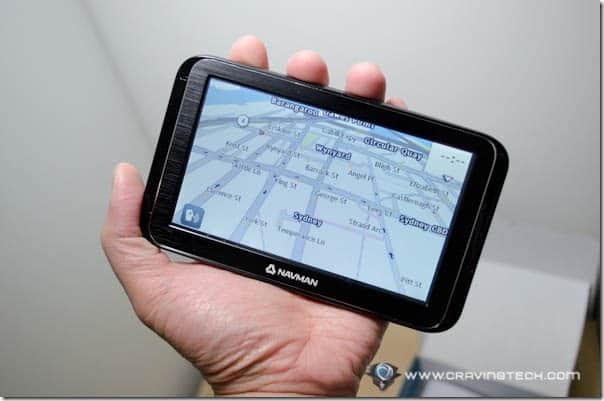 The interface is pretty straight-forward, similar to the Navman MOVE 30 with the addition of a few new menus. Menus are made of big, flat buttons and as you type, suggestions come up automatically for quicker inputs.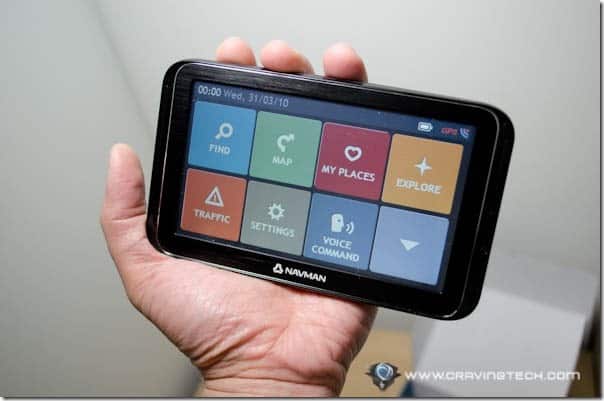 Like all other GPS device, however, you have to do it slowly for the screen to register your touches. You can also use your voice to enter specific commands while you keep your eyes on the road ("Home" is one that I used the most, but there are many others). I could also enter my favorite restaurant names and the unit picked them up nicely without having to enter the actual address.
One thing that amazes me the most is the "Landmark Guidance Plus" feature. No longer a GPS system can only speak street names. Navman MY450LMT (and a few other models) will also speak any landmarks around the turn to make it even easier for you to spot the road you should turn into. In my tests, this helped me tremendously in trying to identify the spoken intersection or junction. It'd say things like "Turn left at the BMW showroom" (also managed to spot the GPS system mentioning "Beaurepairs" and "McDonalds" during my trip last weekend).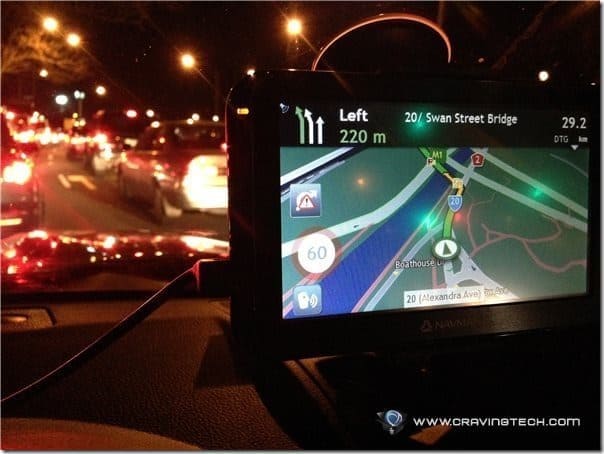 It will also tell you (through voice and on-screen information) which lanes you should be to take the next turn (such as "the two left lanes"), which in my opinion, is really useful to avoid last-minute lane changes. You can also tap the right corner of the screen to see more details about your trip (how much longer it'll take roughly to reach there, etc)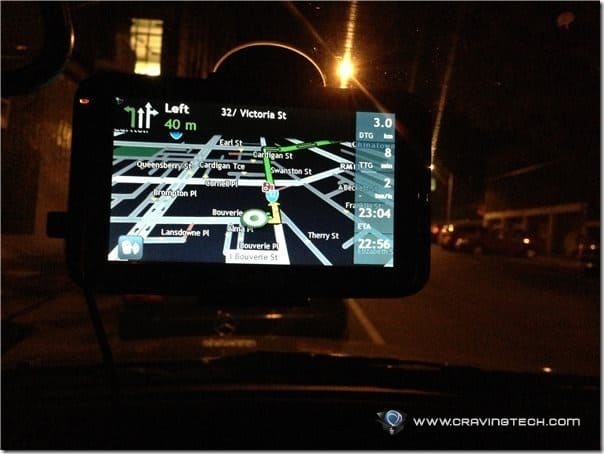 There are just so many other features to tell as well – such as the free Live Traffic Updates (if there is an accident or delay on your route), 3D Junction Views (clearly tell you on-screen when you are supposed to exit the freeway), Bluetooth hands free support, Trip Planner (for multiple destinations), Alerts, easy to search for nearby petrol stations, AV-in (for plugging portable DVD players or reverse camera), and more. Feel free to check the other features out on the official Navman MY450LMT product's features page. Unfortunately I couldn't take some screenshots of these features while driving.
Navman MY450LMT Review – Conclusion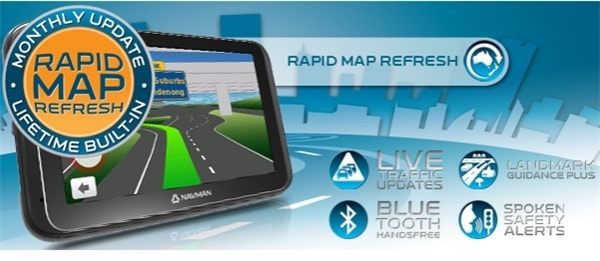 Navman MY450LMT seems to have everything, seriously. Live traffic information and map updates normally don't come free. You have to pay a once-off fee for every map update and subscribe for traffic updates. My450LMT owners get all that for free, for a lifetime.
Every feature that this GPS system has will keep you safe on the road and drive more effectively. All audio alerts and notifications come in handy to keep your eyes on the road and to make sure that you arrive quicker, safe and sound.
The touch screen is not always responsive and the voice command is not always accurate (but I've never been a fan of voice command due to my English accent). However, I cannot find any other things to dislike about.
The Navman MY450LMT has simply become my most favorite GPS system of all time; spoken landmarks, spoken street names, free map updates, live traffic updates, Bluetooth support, rear camera support, 3D junction views, and I can go on and on.
Disclosure: Navman MY450LMT review sample was sponsored for the review. Opinions are 100% mine