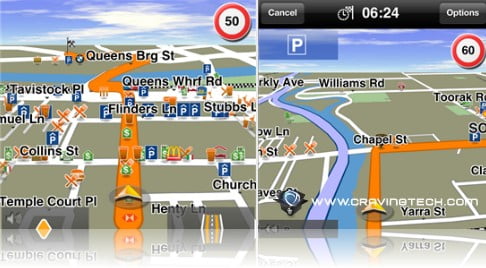 NAVIGON MobileNavigator (check out Craving Tech's review on NAVIGON MobileNavigator for iPhone) is updated to version 1.8 today. I couldn't see the changelog on the app store yet at that time, but thankfully an official press release from NAVIGON cleared up what's new in version 1.8. The main updates are:
Reality Scanner
Truck and Caravan Navigation
Traffic Check
Updated Map
Future Version Benefits
From the official press release, NAVIGON MobileNavigator 1.8 new features are:
Reality Scanner is an industry first augmented reality feature for the iOS platform, providing an instant and effortless way of identifying destinations close-by. Users simply point the iPhone in any direction from where they are and instantly points of interest icons appear directly onto a live camera view, indicating the exact position of the location. Pedestrians won't miss a beat while they are on foot, in a couple of taps destinations such as restaurants, bars, hotels, and more are at their fingertips. Reality Scanner provides this information immediately, providing a quick overview of the immediate surroundings.

Truck and Caravan Navigation turns the NAVIGON app into an ideal companion for truck and RV drivers. Via an In App Purchase, users can now get the new Truck and Caravan navigation features for $79.99. The Truck and Caravan navigation will only suggest routes that are suitable for bigger vehicles. Users can create an individual profile by entering length, height and weight of their vehicle. When calculating a route, the system will automatically leave out roads that are too tight or have bridges that are too low.

Traffic Check is an easy to read, at-a-glance gauge graphic that appears after route calculation and gives drivers a general snapshot of traffic conditions around them. Powered by Suna Traffic, the traffic gauge pop-up informs with a green, yellow, and red meter and disappears within a few seconds. If more detailed traffic coverage and alternate routes are needed for users who are not already using the built-in Traffic Live feature, a direct link to the In-App Purchase is provided within the graphic. By tapping the "i", the metre will flip directly to the apps extra menu where the In App Purchase can be made.

Updated Map by the leading map provider NAVTEQ.

Future Version Benefits NAVIGON is currently working on some major additions for MobileNavigator and only those who have this latest version are eligible to take advantage of the benefits in the next version.
The Reality Scanner is definitely a worthy update (without having to pay extra) as it adds an augmented reality feature to quickly pinpoint a destination point. The new menu is visible on the POI section (at the bottom right of the screen).
When you are on foot, the Reality Scanner is truly a gem. Looking for the nearest cafe/restaurant to get a bottle of water? It cannot be any easier than pointing your iPhone's camera and walking towards that direction. NAVIGON MobileNavitor also tells you the distance to the Point of Interest. It's really cool.
I'm very happy to see that NAVIGON keeps on improving and updating the MobileNavigator app. It has released a few major features for a while now that has certainly made owners of this app very happy with their purchase.