Yes, I have reviewed a few iPhone's navigational apps before (Metroview and Sygic Aura) but there is nothing wrong in having a look at another one, isn't there? The MobileNavigator iPhone app from NAVIGON transforms your iPhone into a fully functional navigational device and gives you more than just the basics.
Compared to Sygic Aura or Metroview, NAVIGON MobileNavigator costs more. Worth the price? Let's have a look.
Note that this review is based on NAVIGON MobileNavigator Australia.
NAVIGON MobileNavigator interface is friendly and looks really nice on the iPhone. Navigational works both in Portrait:
and Landscape mode:
The first thing I like when I open the application is how fast it loads (this was tested on my iPhone 4). In just a few seconds, you can start entering your destination point and off you go.
You can type a point of destination (based on the suburb, street address, and house number as usual), pick a contact's address from your address book, or even search a POI (Point of Interest) from a specific location.
Similar to any other navigation software, you input the suburb, street address, and street number in the application. There is an auto prediction feature (intelligent address entry) so most of the time you'll only need to input the first few letters and you'll be able to select the suggested results with your finger. The instant results are quick to display and the input has a quick response time.
I also found that if the map couldn't find an exact address point, you couldn't just type the street number in. For example, I was trying to travel to 230 McIntyre Road at Sunshine but the app wouldn't let me enter the street number (230) because the address does not actually exist. The suburb should have been at "Sunshine North" instead of Sunshine. This is a good approach by the developers at NAVIGON. If you can't input the street number, then most likely you have an invalid address and should double check it again.
I got lost once when I used Metroview once because of this same problem (a friend gave me an address under the wrong suburb). Since Metroview allows me to enter any street number, I wasted 10 minutes circling around, finding a restaurant that didn't exist. This shouldn't happen if I had NAVIGON MobileNavigator at that time.
The Text to Speech works really well in NAVIGON MobileNavigator. I've tested the app for a couple of weeks (+ a 4-hour-journey last Saturday) and I haven't heard bad pronunciation street names yet. NAVIGON MobileNavigator is also the only navigational app I've ever reviewed which has the TTS enabled in Walking/Pedestrian mode. Unfortunately, you can only pick one male voice for the TTS and one female voice for the non-TTS. It's not really an issue though for me. It's good to have more options, but it's not crucial especially when the voice was being done well.
There are dynamic assistants such as a speed assistant, active lane assistant, and the reality view. Area speed limits were accurate when I tested the app apart from an occasion where there was a road work allowing an 80 km/hour speed limit where as NAVIGON MobileNavigator still had it at 100 km/hour. Of course, it's almost impossible to track temporary events like this unless you have a map update or a live traffic report (more on this later). The active lane assistant auto-appears to notify you when you need to change lane to turn (or to go straight) which is really helpful especially around the CBD area.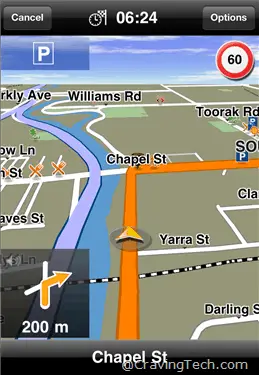 The reality view gives a realistic display of motorway interchanges and exits such as these: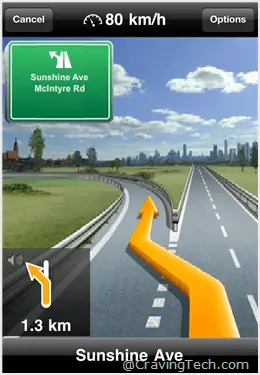 It's displayed in full screen and looks like a static image having the dynamic street information embedded on it. It's cool and easier to see when you are cruising in high speed.
NAVIGON MobileNavigator also works while the iPhone is playing a music in the background. Might get quite annoying though if your route is not a straight one. You can also receive calls while navigating and the app will automatically switch back to itself after you finish with the call.
You can safely turn your iPhone's display off (by pressing the power button on the iPhone) and NAVIGON MobileNavigator will still maintain your GPS location and tell you when to turn.
The Point of Interests are quite up to date but not 100% complete. My country's embassy is not there, for example, and also a few of my favorite restaurants in the CBD. You can search a POI based on the categories (user's input) or for nearby POIs. I'd like to be able to search a POI by name though rather than having to find the right categories before I can search for one.
Nevertheless, it's not hard to select a category for places like restaurants or a petrol station. We were trying to find someplace to eat in a non-familiar area last Saturday and NAVIGON MobileNavigator saved our time that day. Besides, there is also a Google local search integrated in the application so you can search a POI there by name and to go to that location directly from the app.
NAVIGON MobileNavigator will display up to 3 routes for you to pick:
NAVIGON MobileNavigator displays each route in different colors along with the distance and estimated time taken so you can peek to find the best route for you. The app will automatically recommend one, marked by "My Route". According to the press release, the My Route feature automatically learns your driving behavior such as the roads you pick at certain times during the day, and so on. It wasn't easy to test this feature so I'll leave it at that.
You can also add a series of routes and even save them on the app as any names:
This works great if you are going to travel to several different places at once in a day.
There are more premium features which are not included with the default app such as the Traffic Live and 3D Panoramic view. The Traffic Live should make a better addition because the app will take traffic into considerations when mapping the perfect route for you. Unfortunately, I haven't purchased the premium features yet so I can't tell my experience with them.

There are also many other minor features such as the night mode, 2D/3D selection, and a few others that you can read yourself over at the application page.
NAVIGON MobileNavigator for iPhone Review – Conclusion

I was wondering at first why NAVIGON MobileNavigator has a heftier price tag compared to the other navigational applications that I've reviewed. After using it for some time, I realized that the NAVIGON MobileNavigator is a very well-polished navigational application and the price is well deserved. Apart from the usual features you find on any other navigational applications (TTS, 3D/2D, speed limit, etc), NAVIGON MobileNavigator excels further by giving alternate routes and learning your driving behavior (My Route feature). There are also other unique features such as the Google local search integration, dynamic lane assistant, highways exit & entrance assistant, iPod control, Social network integration, and many more. The premium features such as the Live Traffic also plays an important role for the application in creating the perfect route for you, adding a much higher value to the application.
If you are looking for the best navigational application on the iPhone and money is not your concern, I'd definitely recommend grabbing NAVIGON MobileNavigator from the iTunes store. It definitely has many features that others don't have.
NAVIGON Australia – Garmin Wuerzburg GmbH
NAVIGON MobileNavigator Pros:
+ Lots of up-to-date POIs
+ Integrated Google Local Search
+ Intelligent address entry makes adding a route quick and easy
+ Active Lane assistant feature
+ My Route which learns your driving behavior (untested)
+ TTS even in Pedestrian/Walking mode
+ Has an iPod control
+ Works even when the display is turned off
+ Loads pretty quickly
+ Excellent TTS (pronunciations, accuracy, and it even tells you that your destination is on the left  or right side)
+ Displays the weather and surrounding POIs in your destination, even before you go there
+ Direct Help: display your exact GPS position for emergency situations and quick access to emergency POIs
+ Possible add-ons in the future
NAVIGON MobileNavigator Cons:
– Quite pricey compared to the other GPS apps
– Need to pay more to get the extra features
– Need a few presses to display the current route details
– Performance suffers a bit when you try zooming in and out of the map
– A bit hard to get a GPS fix when you are stationary + inside a building
Note: Promo code provided for the review