Metroview for iPhone is a turn by turn navigation iPhone app made by an Australian developer team and specifically made for the Australians. Why is this important? Because for example, the TTS (Text To Speech) engine is wonderfully better with Australian accents. Gone were the days where "Williamstown Road" was read as "Willams-toon Road" on another GPS app on my iPhone.
MetroView is also attractive because of its price. It's probably the cheapest GPS app on the iPhone that I'm aware of. It may not be the prettiest GPS app but it focuses on usability and only the crucial things that you need from a GPS app.
In MetroView, you can input the street address first (or even the house number first), then the suburb if you wish. Many GPS apps require you to enter the Suburb before you can do everything else.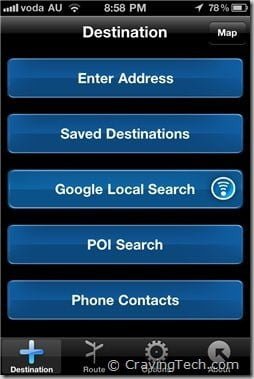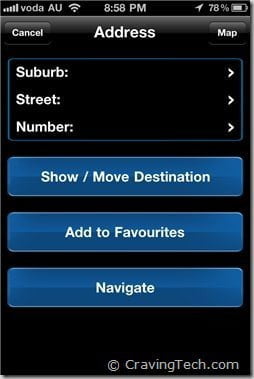 The look and feel of the map looks quite basic and not as pretty as other GPS apps that I've reviewed before (which you can see from yourself from the screenshots):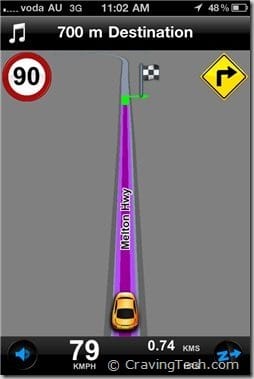 However, considering that less is sometimes better, MetroView actually let you focus on seeing roads rather than being distracted by pretty 3D landmarks or other trivial effects.
Navigation experience was a blast when I tested MetroView on a few travel occasions. MetroView navigated me to my destination well. It saved me once when I had to meet my builder on a quite remote area. The built-in GPS on my sister's car (Toyota Camry) were in conflict with MetroView about a turn after a freeway. My sister chose her car's GPS and it ended up asking us to make a right turn where there was no way to do so. We missed an important exit because of it so we ended up trusting MetroView afterwards.
I find that the turn by turn instructions are done really well too. Visually, you can clearly see which way do you need to turn next on the top right of the screen. Combined with an audible voice that notifies you every few hundred metres before the turn, you'll never miss a turn with MetroView. All street names are pronounced clearly and correctly (a plus for being an Australian made app).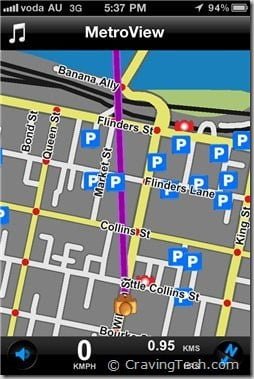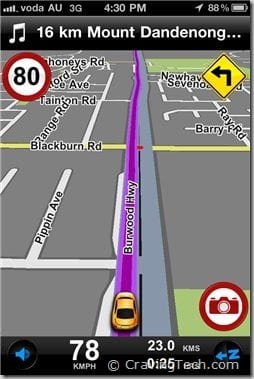 There are a few options that you can change but the settings screen remains simple and easy to understand. You can change it to Walking mode, avoid toll roads, male or female voice, 3D, and a few others. When you turn navigation via toll roads off, I found that MetroView told me of an invalid route when I actually chose to take a toll road on my behalf. So just make sure you turn it back on temporarily when you are on a toll road so MetroView can do a route recalculation. Despite of some people in the forums complaining of the amount it takes to do a route recalculation, my experiences have been great on the iPhone 4.
If you zoom close enough on the map, you can actually see the house numbers on the map, which is really cool. I haven't tested the accuracy of this feature though.
What I love most about MetroView is that it's still working in the background when I turn my iPhone to sleep. On all GPS applications I've reviewed, the phone could not be put to sleep when the GPS app is running. With MetroView, you'll still be told when to turn even when the screen is turned off. When you turn your phone back on, the app still maintains the right position of where you are at the moment. This saves the battery life big time during the travel.
I also love how accurate the speed limit is on the map and that there is an audible sound whenever the speed limit on your route changes. You can also set MetroView to warn when you are speeding

.
MetroView may not look as pretty as the other GPS applications, but it has now become my favorite GPS application that I will use for many months to come!
MetroView GPS Navigation – MetroView Systems
Note: Metroview review license was provided for the review