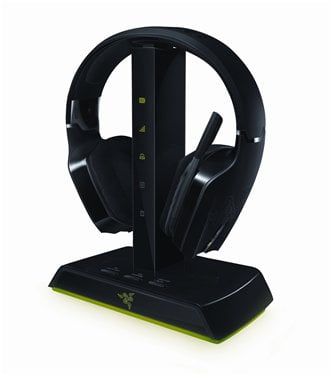 A wireless gaming headset with up to 8 hours battery life and a rechargeable docking station? If that is not good enough reason to get the Chimaera, I don't know how else to persuade you. Check out the official press release below from Razer about the Chimaera.
The wireless gaming headset will be available in April 2011.
RAZER CHIMAERA WIRELESS GAMING HEADSET ROARS TO LIFE IN SURROUND SOUND
Razer Brings Wireless 5.1 Surround Sound to Xbox Gaming
Carlsbad, Calif. – February 22, 2011 – Boom.  That's the sound of gamers being blown away as Razer, the world's leading high-end precision gaming brand unleashes their wireless Razer Chimaera 5.1 Surround Sound and Razer Chimaera Stereo Gaming Headsets for Xbox 360®.  Be it the explosions and gunfire in Halo, the high octane release of nitro in Need for Speed, or grooving beats on DJ Hero, the Razer Chimaera kicks Xbox gaming immersion into overdrive.
"Putting on this headset may cause serious jaw-dropping aural intensity," said Robert "RazerGuy" Krakoff, President Razer USA.  "With the Razer Chimaera 5.1, we're giving every gamer the opportunity to experience surround sound in complete wireless freedom.  We drew from our expertise in PC gaming audio and worked with Dolby® to develop a headset that lets you hear everything with absolute clarity to pinpoint enemy locations, prevent backstabs, and just take your gaming enjoyment further.  I recommend using it with the Razer Onza controller for serious Xbox ownage."
Both 5.1 and Stereo editions of the Razer Chimaera are wireless so you can hear the destruction of your opponents anywhere, be it on the couch or on the way to the fridge to get a refreshment.  With up to 8 hours battery life on the 5.1 edition and 12 on the Stereo edition, as well as extra large circumaural ear cups, your Xbox gaming marathons just got longer, without worry and in maximum comfort.  When it's time to charge, just hang the headset onto the base station that doubles as the audio processing unit, letting you customize the game audio to your absolute satisfaction.
You and three teammates can also locally connect 4 Razer base stations for a crystal clear, lag-free, and dedicated voice channel for laughing together at the opposing team as you crush them mercilessly.
And as the icing on the cake, both editions of the Razer Chimaera are PC compatible, so you can have just as much audio fun on the PC as you will on the Xbox.
About the Razer Chimaera 5.1 Wireless Gaming Headset for Xbox 360
The Razer Chimaera 5.1 gives discerning gamers a tournament-grade surround sound audio solution for the most immersive and competitive Xbox gaming edge.  With massive 50mm speakers in each sound-isolating ear cup, interference-free wireless up to 8 hours, flexible boom mic and a base station with audio processing and local team-communication capabilities, your perfect Xbox gaming experience is now complete.
Price: US $199.99 / EU €199.99
Availability:
Razerzone.com – April 2011
Worldwide – April 2011
Product Features:
5.1 Channel Dolby® surround sound
5.8 GHz interference-free wireless headset (up to 33ft / 10m receiving range)
Docking base station for audio processing, recharging and advanced controls
Connect up to 4 base stations for dedicated lag-free team communications
Adjustable circumaural ear cups for optimal sound isolation and comfort
Independent audio and microphone controls on the ear cups
Flexible microphone boom and detachable Xbox LIVE communication cable
Up to 8 hours rechargeable battery life
Digital optical connection for superior sound quality
PC compatible*
*RCA to 3.5mm cable required and sold separately
For more information about the Razer Chimaera 5.1, please visit
http://www2.razerzone.com/chimaera.