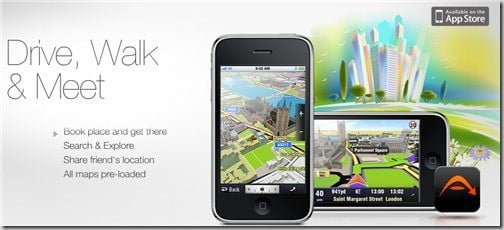 The first thing I dislike about Google Maps is that it doesn't store the maps on your phone. That means while you drive, you have to constantly be connected and let Google Maps fetch the map data. If you do plenty of driving and doesn't have a large data allowance, you may want to find a good GPS application with a preinstalled map instead.
Sygic Aura is a powerful GPS application with lane assistant, speed limit warning, 3D landmarks, and also a TTS (Text to Speech) engine.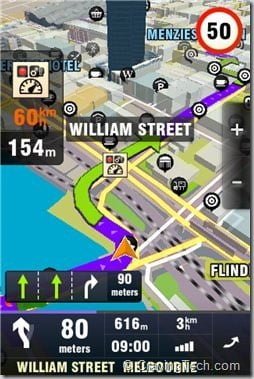 Sygic Aura is around 600 MB download (iTunes store Australia) and it includes both Australia and New Zealand maps. The interface looks professional apart from the noticeable jaggy edges (there might be an update to support iPhone 4 retina display in the future).
Once you start Sygic Aura, it automatically pinpoints your location and reveals it on the map in an instant. To start navigating or accessing other menu, you press the arrow button on the bottom right, and it will reveal a few menus such as "Find", "Community", "Info", and "Settings".
Community
Sygic Aura is not just a simple GPS navigation application, but it's also a social networking app. You can set your online status, send messages to your friends, and see who's online and where they are (friends who own a Sygic Aura and has logged on).
Info
In this section, you will be able to see your current route, live traffic report (accidents, roadwork, etc), weather, and general info about a country, which might be handy if you travel overseas and want to know its currency, phone prefix, and whether you'll drive on the left or right side of the road.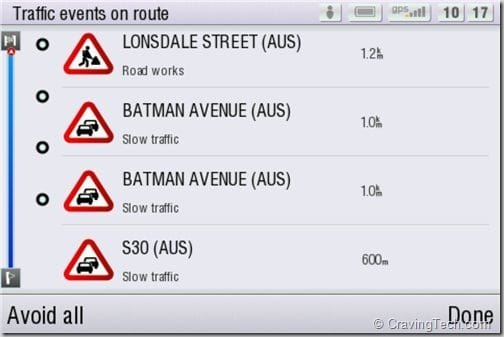 Find
This is probably the place where you will spend your time the most in Sygic Aura. You can manually set a destination address, check out point of interests surround you, access the City Guide (like a yellow pages), go to a contact's address from your address book, access your favourites, and also the history.
After you set your destination, you'll have the option whether to drive, walk, or just want to preview where it is on the map.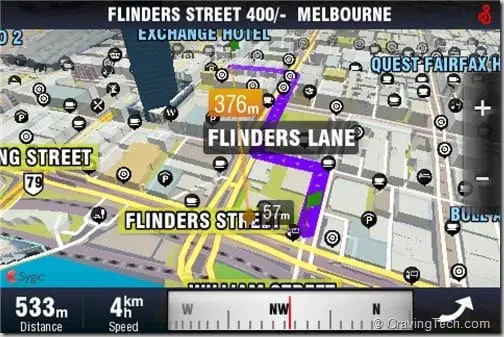 In Walking mode, you'll see a straight line from where you are to the destination so you'll always know where your final destination is at all times. So far, the guidance is pretty good although sometimes it doesn't detect crossable footpath at times; a problem that happens to all GPS software. Sygic Aura displays 3D landmarks nicely on the map, which helps a lot in giving you a sense of comfort that you really are heading in the right direction by recognising the places around you.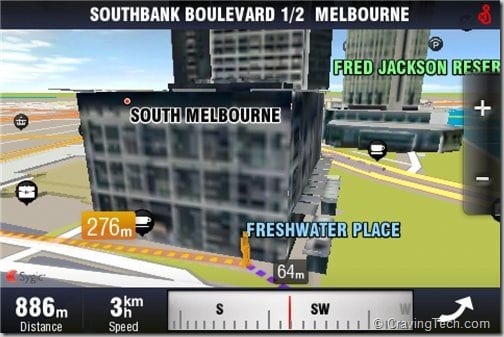 In Driving mode, I especially love the lane assistant and also the text to speech (TTS) engine.
Rather than guessing how far a 100 meter is, you can now easily "turn left at King Street", thanks to the TTS engine. If you missed the previous guidance, you can simply press on the bottom left corner to make Sygic Aura repeats the last instruction.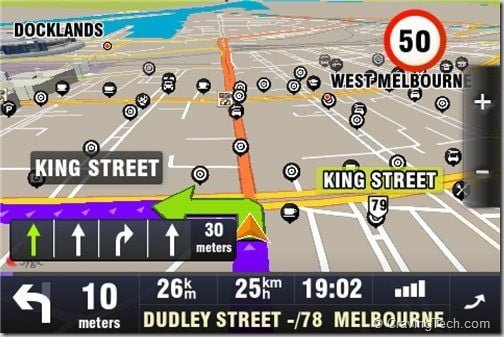 Sygic Aura also displays the number of the shops/buildings on the map to make it easier for you to find out how far further down the road you need to go. This information is not totally accurate but certainly helps you out in the travel.
I also love the My Neighbourhood as I can see all the shops, restaurants, and other point of interests near me. If I ever go interstate, I'd totally love this feature to find out what's exciting around me (or even to find the nearest public toilet!).
In Sygic Aura, you can view the details of the business and even call it straight from Sygic Aura! You can then make a booking and all that. Very handy if you and your friends decide to go a restaurant while already in the car.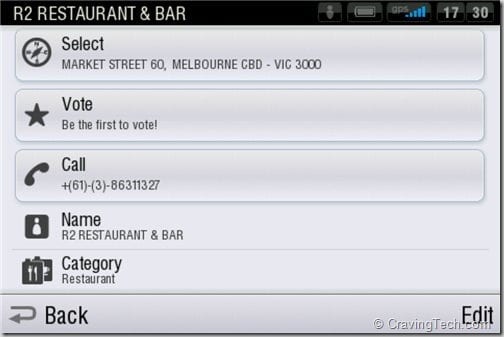 There is also a compass/orientation support so you can swipe on the compass to change your point of view. It tends to go erratic for a while if you ever switch your phone on in standby mode while using the Sygic Aura (while it's trying to pinpoint where you are after you switch the phone to standby mode).
Sygic Aura is quite powerful once you've got the hang of it. It will take a while to learn where things are. For example to change your route, you have to go to a different sub menu. Or there are a few presses before it can actually do what you want it to do. However, this is caused by many features offered by Sygic Aura. I don't really find the social networking side useful unless if all of my friends are using Sygic Aura, which obviously will not happen as everyone has their own GPS application preference.
Apart from the features I mentioned above, there are certainly others like speed limit, traffic/speed camera warning, the ability to easily zoom in/out of the map, and also panning the map to see the whole route set by Sygic Aura.
Sygic Australia & New Zealand: GPS Navigation – Sygic
Note: Promo code provided for the review