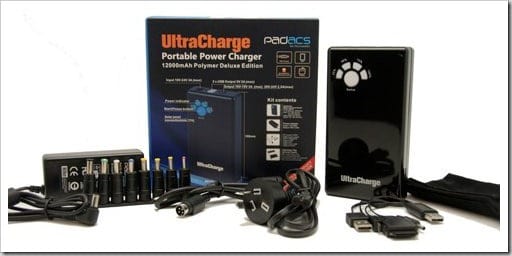 Travelling frequently can be an annoying chore because you need to pack your portable electronics (laptop, iPad/tablet device, phone, and others) along with the cables, bags, and different charges. Or sometimes your device runs out of juice and there is unfortunately no plug to be found outside of your hotel.
Well this time, what you need is to just bring PADACS UltraCharge portable power supply with you.
PADACS UltraCharge is a 12000mAh (milliampere-hour) lithium polymer battery that can charge two mobile devices simultaneously
You don't have to worry about the technical details there. Basically, it's a portable power supply that can charge your devices on the go without the need of having a power socket near you. Of course in practice, you need a power socket to charge the PADACS UltraCharge but it only takes around 4-5 hours to charge PADACS UltraCharge to a full state.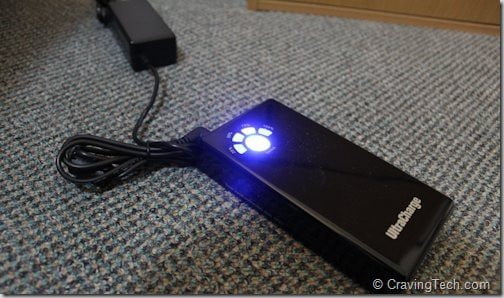 On the main unit, you can turn it on/off using the Switch button and there are also 4 light indicators, showing how much power is left on the unit to charge your devices (25%, 50%, 75% , and 100%).
The packaging contains:
The mobile charger main unit
A power adapter
A DC output cable
A USB output cable with 4 adapters (USB to USB; USB to DC; USB to mini USB; and USB to iPhone/iPad/iPod)
A travel pouch
According to PADACS, the UltraCharge is compatible for charging an Apple iPad, iPhone, iPod, Blackberry, Nintendo DS, PSP, and devices from Nokia, Sony Ericsson, Motorola, Samsung, LG, and HTC. You can also charge your notebook with the included adapters to support ACER, Sony, Toshiba, ASUS, HP, and other notebooks! Unfortunately it's not clear which adapter can be used to which laptop unless if you bring the 4-pages product guide along with you (it tells which adapter for which laptop). So make sure you don't lose it.
The main charger unit has an output 16-24v (automatic voltage), 2 USB slots, an input 16-24v (automatic voltage), and a solar panel connection (min 17v). The weight of the main unit is around 400 grams and can fit in your carry bag comfortably as the size dimension is not too big and thick (similar in dimension like an older laptop power adapter).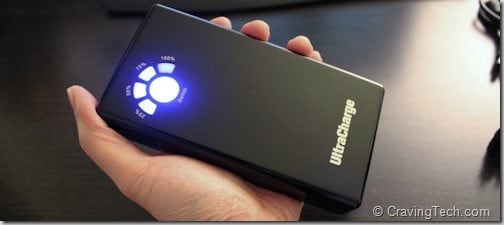 In my experiments, my iPhone 4 battery was increased from 62% to 92% in 30 minutes (so about 1%/minute rate). With my iPad, the battery was increased at a slower rate (due to iPad's larger battery capacity), from 77% to 84% in 30 minutes (about 0.23%/minute).
I've found that the power left on the PADACS UltraCharge can last for days when switched off, which is a good thing. The travel pouch that is included with the packaging is not of a high quality, but enough to carry the main unit along with the cables and adapters with it.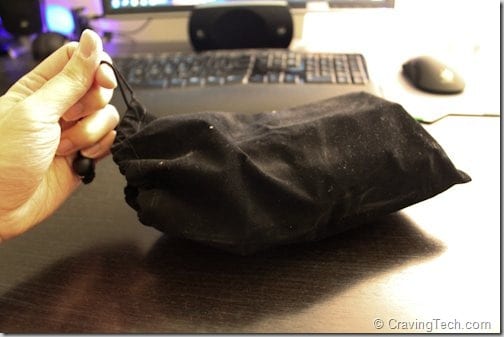 Overall, PADACS UltraCharge is the only portable power supply/charger that you need to carry along with you on your travel. There are a few cables and adapters to carry which can be a bit troublesome, but the benefits outweigh this drawback. PADACS also claim that 98% of devices in the market are supported and honestly I cannot find that 2% unsupported devices. If you are always running out of juice for your devices while you are not inside of your hotel or near a power socket, then PADACS UltraCharge might be the only best buddy you've got!
Note: Sample unit provided for the review