Navman MY670LMT Review – Navman MY670LMT can be considered as Navman's flagship Car GPS device, as it has the most powerful processor powering it and all the premium features that you are going to need (or may need) in your journey.
Compared to the EZY400LMT, for example, the MY670LMT has quite a good jump in terms of performance and also has extra features like the Zomato Restaurant Guide. If you travel a lot and eat out at the same time, it is a must have feature so you can search and find out how good the restaurants are near you while you are out and about.
But the biggest benefit here is definitely the 6″ touchscreen. We all know the term "Bigger is Better" but it is a slight understatement when it comes to a Car GPS Navigational Device. The large screen is not just there as a bonus, but something that's worth to have. In fact, I'm not sure I'd want to go back to other Car GPS devices with smaller screens now after using the MY670LMT.
Thanks to the 6″ screen, it is way easier to see while you drive (and pretty often, just by looking through the corner of your eyes which keeps your eyes on the road more). You'll less likely to miss a turn too.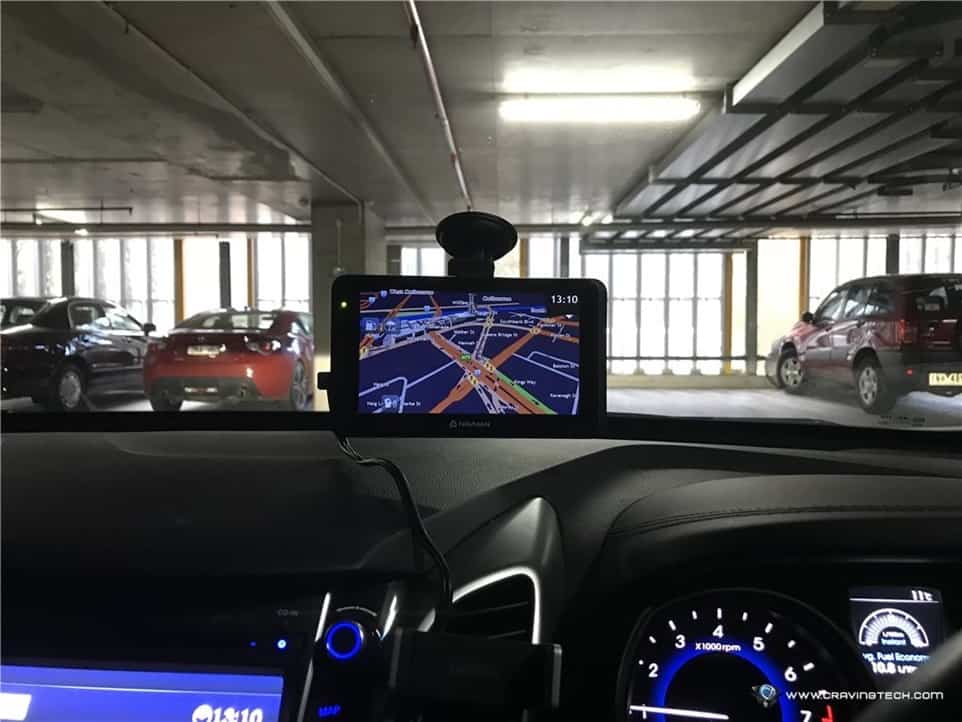 I'm driving a Hyundai i30 Hatchback, but I never think the unit is too big on the windscreen (in case you are wondering whether the large unit will block your view while driving a small car).
Navman MY670LMT also has a different method to mount your unit onto the windscreen mount (just by sliding upwards) – not sure why the change but I cannot comment as well whether the new way is better than the old.
Apart from that, there is no new unique feature on this model, but it comes with the features that I love on the previous Navman devices such as:
Lifetime FREE Maps update (every quarter)
FREE Live Traffic Update: There was once a roadwork event and Navman popped up a better route which saved me 7 minutes of travel time. With a simple button press, the new route instantly replaces the old. And according to Navman Australia & New Zealand Managing Director, Wendy Hammond, the device checks for traffic conditions every few seconds so you'll always get the best route.
3D Junction View with Real Signage: Very handy to show which lanes to take on the freeway and whether you should exit the freeway on the next exit.
Landmark Guidance: To ensure that you turn at the right intersection and not too early.
Smart Find Keyword Search: Just type where you want to go naturally, like "Bunnings" and it'll search and show you the results.
Speed Limit and Lane Guidance: I can always know the speed limit of the area in case I missed the sign (though there are a few of recent speed limit changes here in Melbourne that have not been reflected yet on the map update) and know which lanes I should be in to prepare for the turn ahead.
And many more: check out the Navman MY670LMT features list.
UPDATE: I took it with us to our New Zealand Trip in December 2017. It's always on our car's screen and accompany us to over 2,000 kilometers of driving!
Imagine how much data we had to chew if we were using Google Maps. So far it never took us off course and had been very reliable over a week of stay in New Zealand.
#Navman been guiding us all the way in New Zealand for hundreds and hundreds of kilometres pic.twitter.com/Ifh658reb7

— Michael Aulia ?? (@michaelaulia) December 4, 2017
Navman MY670LMT comes with a two year warranty and RRP of AU$199. It's available now to purchase at the retail stores.
Disclosure: Navman MY670LMT review sample was supplied for reviewing but all opinions are mine and not paid