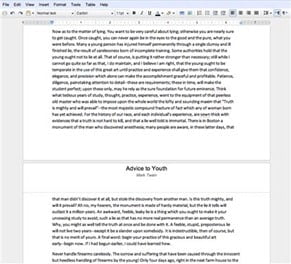 Not too sure how many of you use Google Docs, but just to let you know that Google Docs now supports pages (and you can see it visually on the screen). This way, you can see pages on the document that you write and make sure that they will be printed nicely.
Previously, documents were all displayed continuously with a long scroll bar so there is no way to find out how many pages have you made or how they are going to be printed unless you go for the Print preview button.
The change is rolled automatically to all Google Docs user (I saw it right away when I logged on to my Google Docs account). If you prefer the old way though (without the pagination), there is also an option for it by selecting the "Compact" option from the Document view menu.
Not too sure why you would want to go back to how it was, but if you rarely print your documents, then I guess it's probably easier to read without the pagination.
It's amazing how Google Docs has evolved all these years and I still remember how I hated it and wanted Google Notebook (is that what it was called?) back so badly.
Source: Google Docs blog