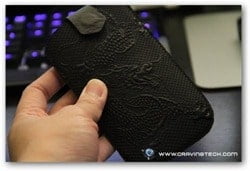 Oberon Design, a company based in California, is determined to make great quality leather cases, designed and made by hand upon order.
I knew about the company when I reviewed the Oberon iPad Case some time ago so I took the offer to review one of their cell phone sleeves, knowing it will be made with the same quality and love.
The Oberon Cell Phone Sleeve is not specifically made to a particular mobile phone type, so it's like a one-size-fits-all kind of sleeve case. According to the Oberon Cell Phone Sleeve detail page, the case can fit a few iPhone models, Droids, Blackberry, and a few others (make sure you check the page out before you make a purchase).
There are a few models that you can choose from: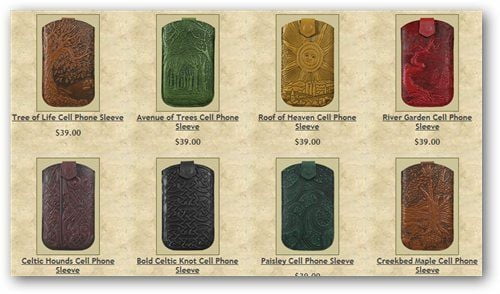 (and a few others)
I picked the Cloud Dragon Cell Phone Sleeve in Black (don't ask me why):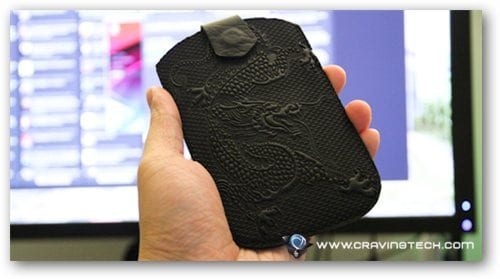 The case overall is quite soft to the touch and leather is definitely of a good quality. The textured pattern is embossed on the leather so it definitely stands out from the rest of the surface. You can definitely feel the quality of the textures on the touch.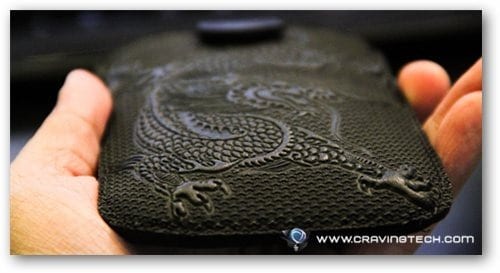 My sister's BlackBerry Bold 9700 fits inside the case but it's really tight and I had it pull it really hard to get it out.
It fits my iPhone 4 quite well though, even while it's inside another slim case:

The magnetic closure makes it easy to secure/unsecure the case and can be positioned in or out of the case:
The attention of detail here is amazing and it's extremely well made. In fact, I was told that every case is made per order so there is no mass production here. Oberon Design's Cell Phone Sleeve is definitely an exotic case of a high quality leather and workmanship.
The only thing that I regret is probably the size of the case. Since the sleeve case is made for many mobile phone sizes, the case itself is not considerably small, especially for an iPhone. If you are happy with having an oversized case for your iPhone then be my guess, though – it's a matter of personal preference I guess. Other mobile device owners might feel better knowing that the case might give a perfect fit for them.
Note: Sample provided for the review
Oberon Cell Phone Sleeve Pros
+ High quality leather, high quality case
+ Exotic
+ Easy to secure/unsecure with the magnetic closure
Oberon Cell Phone Sleeve Cons
– The design patters are the same like their other cases
– Size is not made for a particular device
– Might be too exotic for