Razer Hammerhead True Wireless Earbuds Review – Wireless earbuds are everywhere at the moment and every brand is giving their all.
For example, we've never had a short of review samples coming our way from different brands who made different wireless earbuds like the Edifier TWS5, Jabra Elite Active 65t, PaMu Slide, BlueAnt Pump Air 2, and Apple Powerbeats Pro 2.
So, what does the Razer Hammerhead True Wireless Earbuds offer compared to the other competitors? Better design? Better sound?
I'd say the highlight of the product is the ultra 60ms low latency audio – or, gaming mode. And yes, it does make a difference if you are a true gamer.
Packaging & Unboxing
Design & Features
At a quick glance, Razer Hammerhead True Wireless Earbuds have design similarities to the Apple AirPods but upon a closer look, the heads are actually angled and shaped differently.
It also has a Black theme, which is much nicer than AirPods's all White, plus a Razer logo that is sadly, cannot be lit up like the Hammerhead BT (most likely to save battery life). Overall, I'm quite pleased with the subtle, yet elegant looks.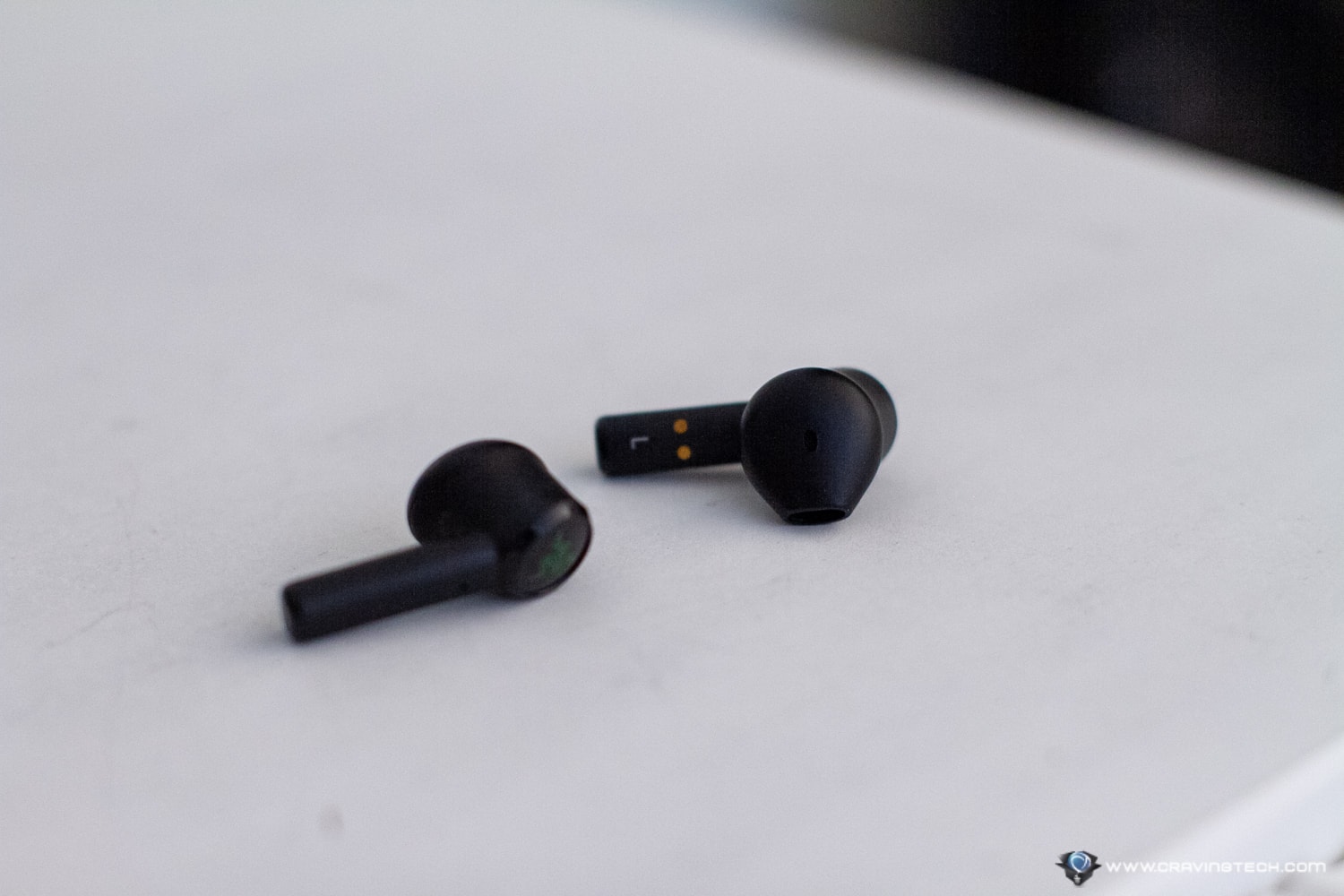 The carrying & charging case is quite small compared to most other wireless earbuds I've reviewed here at Craving Tech. I can easily slip it into my jacket's pocket while it charges the earbuds, or when I'm wearing the earbuds.
The case has a light indicator showing the status of its battery life automatically as soon as you open the case. There is no extra step having to press a button to check.
Charging is done via the included USB-C cable (hooray). The case itself has a built-in 275mAh which is not a lot (but more batteries means heavier case), so you can end up charging the case once or twice a week – depending on your usage. But charging is quick so I have no complaints here. The earbuds have around 3 hours of battery life – which may or may not be fine depending on what you are using them for.
One thing I found funny at first is how you place the earbuds in the case. You place the left ear piece on the right side of the case, and the right ear piece on the left. It felt weird at first but after a while, I realise that it's actually quite natural. You hold the case with your left hand and use your right hand to place the left earbud into the case. You then switched hands.
As for the earbuds themselves, I find that they don't go into the ear canals. They stay in place on the ears though even when I thought they might come off. Since they don't go into the ear canals, they can't provide a good passive noise isolation so you'll pretty much still be able to hear what's happening around you.
They do include silicone tips in the packaging in case you want to have a better seal. I'd suggest to give them a try and see whether you prefer it with or without.
But if you turn the volume up, you'll be able to immerse into what you are doing – playing games, listening to music, or watching movies. I've used the Hammerhead True Wireless Earbuds every day while commuting by train, among other different situations with different results.
Movies watching is awesome, though not as good as wearing full-sized headphones.
Music listening can be a hit and miss depending on what genre you are hearing and at what volume. I find some sounds like electric guitar strums can feel quite trashy in the ears if you crank the volume too high. Accoustic and treble-focused songs are really good though. The bass is punchy, thanks to the custom-tuned 13mm drivers, but will feel better if the earbuds go deep into the ear canals.
Razer Hammerhead True Wireless Earbuds For Gaming
I dedicated this section because Razer Hammerhead True Wireless Earbuds is designed by a gaming company and it also has a special feature for gamers. By tapping one of the earbuds 3 times and hold the last tap, you'll activate Game Mode.
This will trigger the ultra low 60ms latency on the earbuds and Bluetooth connection, which is really good for gaming.
To be honest, I wasn't sure if it made a difference at first. When I watched my favourite Netflix series and played a few games on my phone, I'd never really noticed the lag or latency anyway. So when I turned the mode on, I couldn't really feel the difference.
However! As soon as I tested this to play Overwatch on my ASUS ROG gaming laptop, my mind was blown. Overwatch is a fast-paced, competitive, online, first person shooter game that focuses a lot on sound design. You can tell what's going on in the battlefield by sound alone.
I could totally feel & hear the difference as soon as I turned the Game Mode on. I started to notice there was actually a slight delay in game without the Game Mode. After all, Bluetooth connection is known for having delays and some might notice, some might not.
With Overwatch, I can definitely notice the latency. Even when you shoot as normal, there's a slight half-a-second-ish delay before you can hear the gun firing. With the Game Mode on, this goes away and it feels like playing in a desktop with a wired headset or through a 2.4GHz wireless connection!
With half a second delay, it's enough for you not being able to react faster in fast-paced games like Overwatch. Knowing when the enemies executing their ultimate abilities and being able to react in an instant can be the difference between life and death to your team. Half a second delay is clearly not acceptable in this instant and that's how the Hammerhead True Wireless Earbuds' low latency comes into play.
But if you are just playing non-action, fast-paced games like Hearthstone, you may not be able to appreciate the 60ms low latency feature offered by the Razer Hammerhead True Wireless Earbuds.
Razer Hammerhead True Wireless Earbuds Review Conclusion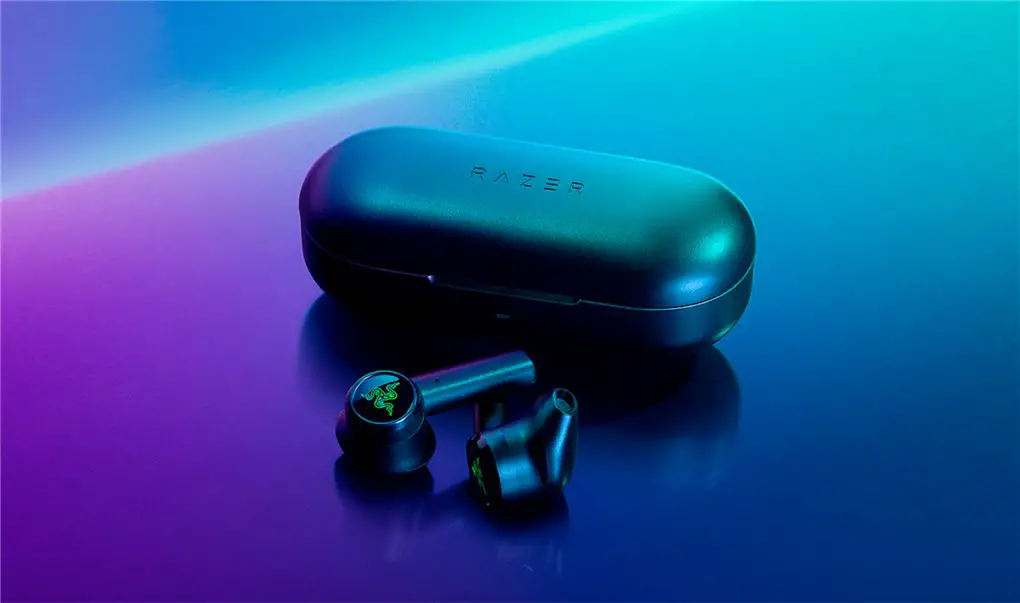 Razer Hammerhead True Wireless Earbuds promises ultra-low latency wireless connection via Bluetooth and it delivers. By activating the Game Mode through its touch controls, you will be pampered with an extremely low, unnoticeable latency when you are playing fast-paced games like Overwatch on a laptop, or other games through your smartphone.
I did test it playing Overwatch with my ASUS ROG gaming laptop and can definitely tell the difference between having the Game Mode on and off. It's like gaming on a 120/144Hz vs 60Hz monitor. You won't know what you are missing until you see (or hear, in this case) it.
The Hammerhead True Wireless Earbuds has a cool looking design (both the earbuds and the case), comfortable to wear (at the expense of not-so-good noise isolation), and good sound quality.
For just music listening purposes though, there are better wireless earbuds out there with better audio quality and clarity, and a better seal in-ear. But you don't get a Razer if you don't game, do you?
Razer Hammerhead True Wireless Earbuds can be purchased at Razer AU website for AU$167.95 and other retailers around Australia.
Disclosure: Razer Hammerhead True Wireless Earbuds review sample was supplied for reviewing but all opinions are mine and not paid
Razer Hammerhead True Wireless Earbuds
Summary
It's the only wireless earbuds without the audio latency/delay. If you game with earbuds, this is the only way to go.