Note: This is a guest post written by Mark Hamilton
ZIP files allow users to compress one or more files together into a single location. It is a compressed file format that saves your storage space and makes it easier for you to transfer multiple files. Just like other file formats, deleting ZIP files is one of the common issues that you may experience. Sometimes, these files get deleted from your Windows 10/11 all of sudden and you might need them back. 
Whenever you found the ZIP files are deleted from your system, don't panic. We will help you to undelete the data and recover the lost data. Here, in this article, we have provided several methods to answer how to recover deleted Zip files on Windows 11/10 system. 
Why Does Windows 11/10 Keep Deleting ZIP Files?
Before you learn about any Windows data recovery software and method, it is important to know the exact cause of it. 
Sometimes, Windows OS encounters low disk space, so it automatically deletes some files to free up more space.
Files downloaded from an untrusted website or any other source can harm your system. For this reason, Windows 10 or Windows 11 deletes them to keep your system protected.
Any outdated application installed on your device can also cause the issue.
Quick Methods to Recover Deleted Zip Files
If you found that you have deleted an archive file on your Windows device, you need to apply some recovery methods to get it back. Given below are some recovery methods that you can try to recover deleted Zip files on Windows 10/11 devices as well as on a Mac system. Along with these recovery methods, we have provided free data recovery software that you can use to undelete Zip files. Let's discuss each recovery method in detail. 
Method 01: Recover Deleted Zip File from the Recycle Bin
Usually, when a file is deleted from a Windows 10/11 device, it is directly moved to the Recycle Bin. Before you use any Windows data recovery software or apply any method, check if your file is present in the Windows Recycle Bin. Go through the following steps to get your archive file back quickly from the Recycle Bin:
[1] Firstly, double-click on the Recycle Bin icon appearing on the desktop to open it.
[2] Search for the file that you want to recover.
[3] Right-click on the selected archive file and choose the Restore option.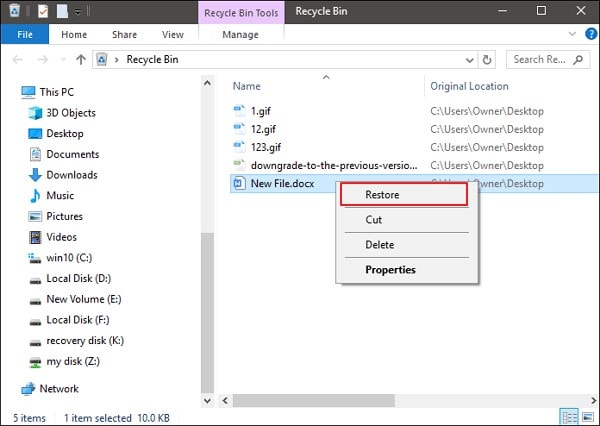 Method 02: Recover Deleted Zip Files Using File History
Windows OS has a built-in backup utility tool, i.e, File History, that you can use to back up files to a local drive or other storage media. It allows you to recover deleted files even from an externally connected drive, such as a USB drive. 
File History only backs up your files located in certain system folders, including Documents, Pictures, Videos, Music, and Desktop folders. Along with this, you can recover OneDrive files available offline on your PC or laptop. Once you turn ON the File History feature on your Windows system, you'll have a complete backup of all the files stored in it. 
Regular Backups can help you when any important file gets accidentally deleted from your system, or if it is corrupted or damaged. Given below are some simple steps that you need to follow in order to restore deleted files from backups:
[1] Search for the File History in the search box located at the bottom-left corner. Then, select "Restore your files from File history" from the list of apps that appear on the screen.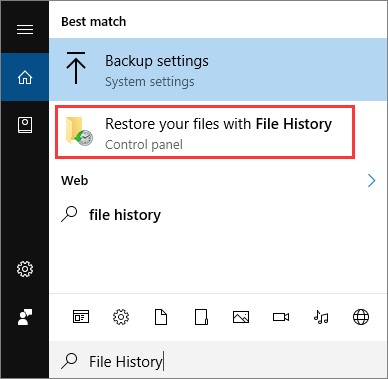 [2] Here, you will get all the backup files and folders in the File History window. If there are multiple backup versions available for your file, you can click the left and right arrows located at the bottom to switch to a different backup version. Select the version of the recoverable file that you want to restore.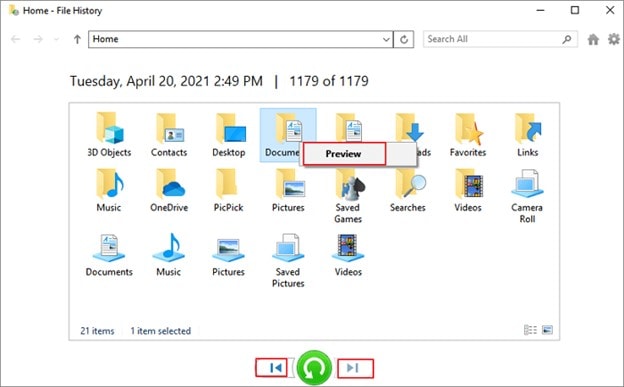 [3] At last, preview the selected file and click the green arrow to restore the files. Click the gear-shaped icon located at the upper right corner and choose the "Restore to" option to save the file to the desired location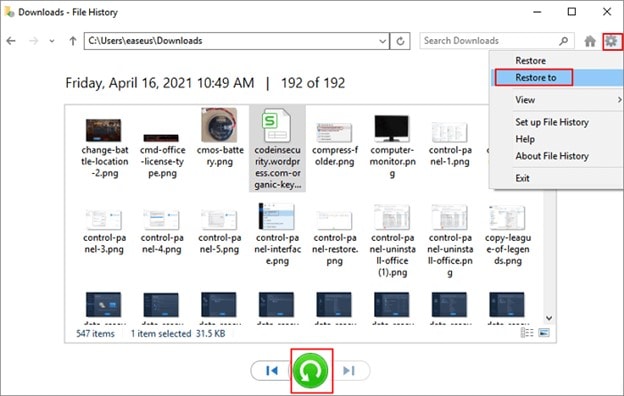 Method 03: Use Data Recovery Software
If you are unable to recover your deleted file and still wondering how to recover deleted Zip files on Windows 11/10, don't be discouraged. There are several free data recovery software available online that you can use to undelete your files. Stellar Data Recovery – Standard is safe and reliable software to recover deleted Zip files in your Windows and Mac device.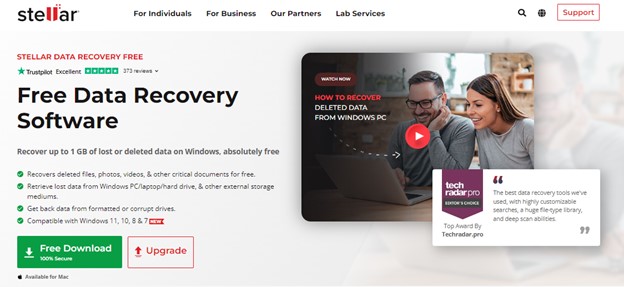 The software can recover files from all storage devices, including HDD, SSD, SD card, and other storage devices. You can recover the deleted files even from emptied Recycle Bin and RAW partitions. The recovery program can help you to recover files from NTFS, FAT16, FAT32, and exFAT formatted partitions.
You can recover your deleted Zip files using Stellar Data Recovery – Standard  software by applying the below-mentioned steps:
[1] Download and install Stellar Data Recovery – Standard software on your device.
[2] Launch the software and select the type of data that you want to recover. Click the 'Next' button.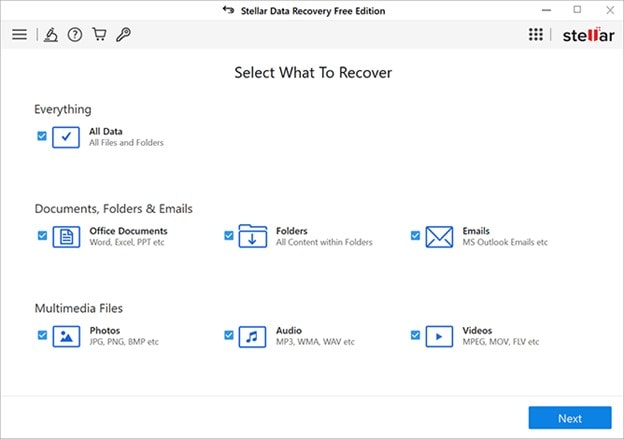 [3] Select the folder location or drive from where you need to recover Zip files. Then, click 'Scan'.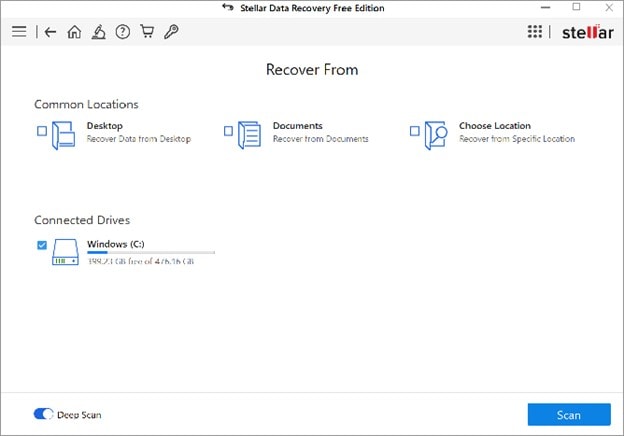 [4] Once the scanning process is completed, preview the recoverable files and click the 'Recover' button to save recovered data.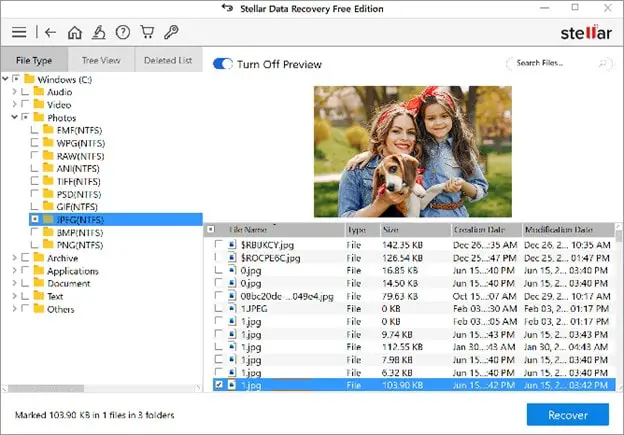 That's it! These are a few simple steps that can help you directly restore deleted ZIP files. In addition, it is quite easy to recover deleted data from formatted or corrupted drives using this software. 
Conclusion
Loss of any important archive file can put you in trouble. Luckily, there are several free data recovery software programs and methods available by which you can recover a deleted zip file. After getting your file back, you can save it on your system. Stellar data recovery software offers a reliable approach to undelete your archive file if you fail to get them from the Recycle Bin and Windows file history. Just go with the mentioned steps, and try to avoid using the device with the lost archive file until you complete its recovery process.