NightWave Sleep Assistant is what it says – "Sleep Assistant". No, it's not a giant robot who tells you stories while you try to close your eyes under the blanket. It's also not a projector that projects jumping sheep above your bed.
NightWave Sleep Assistant pulsates a blue light that glows in and out above you, persuading you to relax by maintaining a specific breathing pattern. It sounds simple but hey, it works in relaxing your mind so you can really get that sleep you need.
NightWave Sleep Assistant is designed for those with sleeping issues such as anxiety or stress.  NightWave Sleep Assistant is developed by Coherence Resources, Inc, based on various studies including a study by Dr. Herbert Benson from Harvard's Medical School about relaxation body response based on conscious breathing.
NightWave Sleep Assistant packaging includes the Sleep Assistant unit, battery, and the instructions.
The NightWave Sleep Assistant is a fairly small device and only has a button to power on/off and also to cycle to different modes:
Mode 1 – Bedroom Flash Light (3 minutes)
Turn the blue lights on continuously, like a Flash light.
Mode 2 – Normal Sleep Mode (7 minutes)
To help you sleep (I always managed to get sleepy before this mode even finished its run)
Mode 3 – Mood Softener – heartbeat (7 minutes)
To relax you up – the pulse simulates a normal heartbeat a 60 beats per minute, according to the manual.
Mode 4 – Longer and Slower Sleep Mode (25 minutes)
Like Mode 2 but slower breathing rate. This mode is probably for the hardcode insomnia out there :)
Mode 5 – Mood light (30 minutes)
A soft light to enhance "romantic moods"?
Now, I never have any trouble sleeping – yeah I'm so blessed. Though if I had to go and do something important the day after, my mind often wandered and thought about lots of stuffs such as "Have I left anything out?", "What else should I bring tomorrow?", and so on. This doesn't happen very often, thankfully. As such, I may not be the best person to test and review this device, but at least I can tell you my experience in using the NightWave Assistant.
The device pulsates a blue light onto the roof above my bed and it seems that the pulse rate is fast at first but then becoming slower, and steadier after a while.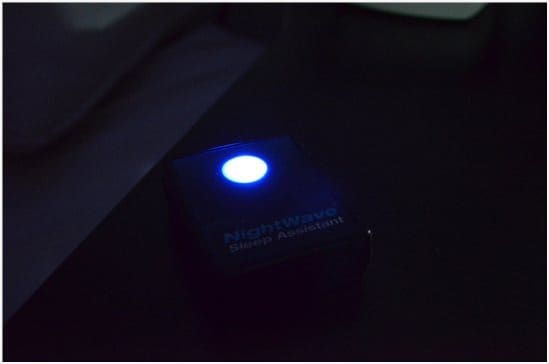 It's quite easy to control my breathing while following the pulse. After a while, my eyes did feel kind of tired and heavy (when blue light fades, it feels like you are being hypnotised to close your eye lid too!). After a few minutes have passed (not even a whole 7-minute session), my eyes normally felt pretty heavy and I decided to just close my eyes and be done with it!
It has a similar feel to getting sleepy while watching TV at night – you are still watching barely then your eyes get heavier and heavier, until you decide to go to bed or just fall asleep on that couch.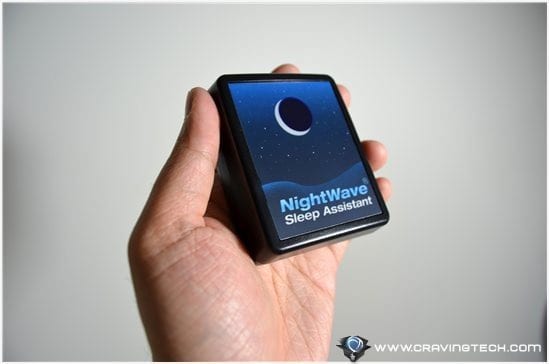 Now of course, you are meant to focus on that blue light pulse and breathe following its pattern. This helps you relax and sets your mind free.
So will it work for you? I'm pretty sure it will, assuming you follow the instructions and don't let your mind wander off. There is also a 30-day money back guarantee in case you find that the NightWave Assistant does not help you at all.
I was planning to lend this to a friend who has trouble sleeping to test it out but unfortunately I only had 2 weeks to review the unit before I have to ship it back. However, feel free to read the other testimonials and reviews on this device.
Hope you can now sleep in peace!
NightWave Sleep Assistant official site | RRP AU $79.95