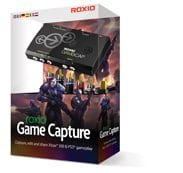 Record XBOX360 and PS3 in-game videos – Remember my post a couple of days ago about recording your game or taking in-game screenshots?
Looking for something fancier? Game Capture from Roxio can do even more: record in-game XBOX360 and/or PS3 to your PC while you play it on your TV and it even includes a video editing software to spice up your homemade videos.
The Roxio Game Capture includes a hardware box in which you need to plug and setup so you can capture all the inputs (video and audio) and record them into a video file. The component includes all the RCA, audio, and USB cables so you are good to set it up from the go.

Roxio Game Capture records the video to your PC in 480p and supports these following formats: AVI, WMV, DivX, and also MP4. You can also take XBOX360 and PS3 in-game screenshots with Roxio Game Capture and the files will be saved in one of these following formats: JPG, PNG, TIFF, BMP, or GIF.
Not just that, you can even edit your videos using the included software, so you can add transitions, commentary, subtitles, background music, effects and more. It makes your videos much more alive and fun, ready to be shared on YouTube to your fellow gamers.
Roxio also has a simpler solution for PC gamers without the need of any hardware with Roxio PC Game Capture. It can also record in-game or take still screenshots.

Roxio PC Game Capture has a suggested retail price of  £39.99 whereas the Roxio Game Capture (for XBOX360 and PS3 gamers) has a suggested retail price of £79.99.
We all have our moments when we play our games and at times we just want to brag our golden moments to others. I myself am more interested to record how-to videos (such as how to kill a boss in certain games like the Kraken in The Witcher 2) and also funny moments to share. Battlefield 3 is a great, fun game. I once tried to shoot a chopper with my unguided RPG and missed. A few seconds after, I was shocked to receive a kill status. It appeared that my stray rocket actually hit someone on the ground even when I wasn't meant to. Laughed when I read him swearing on the chat panel because of this lucky kill.
There are also funny things that you can try with the latest RPG from Bethesda, Skyrim, as you can do anything you want in the game and see the consequences of your own actions. In fact, there are already lots of funny videos uploaded on YouTube (such as covering people's heads with buckets so you can steal their stuffs without being seen).
With these 2 software, capturing your gaming moments can never be easier and from the screenshots, its interface looks pretty sleek and easy to use. So head off to their website and check these software out if you are looking for a premium solution on this one.