Google Pixel Tablet Review – After reviewing the Google Nest Hub (both the original and 2nd generation), I kind of wished Google made an Android tablet. Sure, they had (a long time ago), but the tablet market has been dominated by the iPad for the past few years. The Nest Hubs are great smart displays that can comfortably compete with Amazon's Echo Shows, especially with the support of Google Home (if you use it). So, you're in for a treat.
Google Pixel Tablet is meant to be the best of both worlds – an Android tablet that you can use to consume content AND a smart display when it's not in your hand.
Google Pixel Tablet Review – Unboxing and Packaging Contents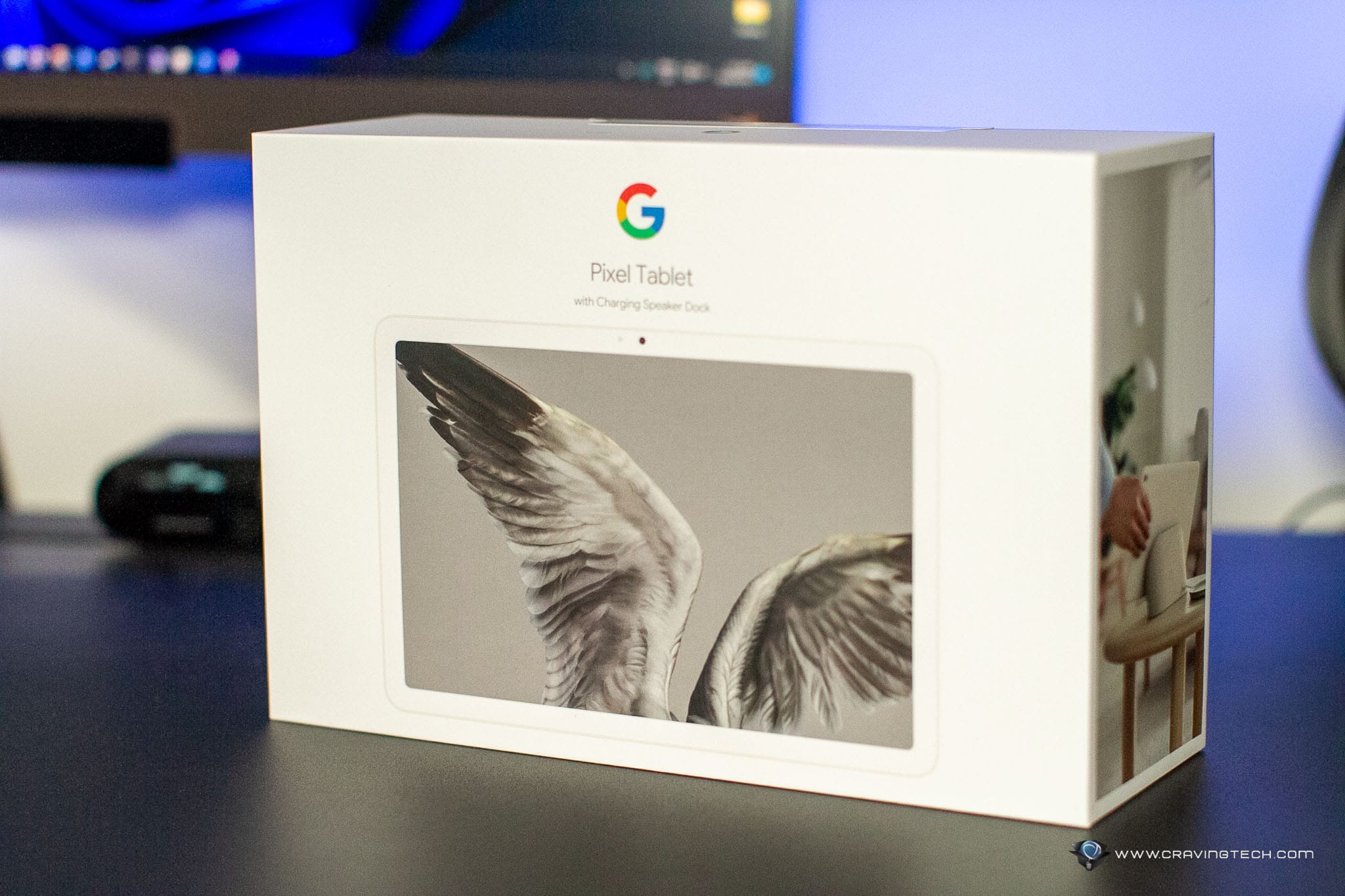 Google Pixel Tablet Review – Design and Features
Okay, first of all, let's talk about the design and spec of the Pixel Tablet.
Google Pixel Tablet as a Tablet
First and foremost, it has a massive 11-inch screen (10.95 inches to be exact) with a resolution of 2560×1600 and 276ppi. It's a large screen for content consumption, and if you enjoy watching movies or YouTube videos before bed, the Pixel Tablet's screen size should satisfy your pre-bed ritual. It weighs 493 grams, which is quite similar to other non-mini tablets in the market.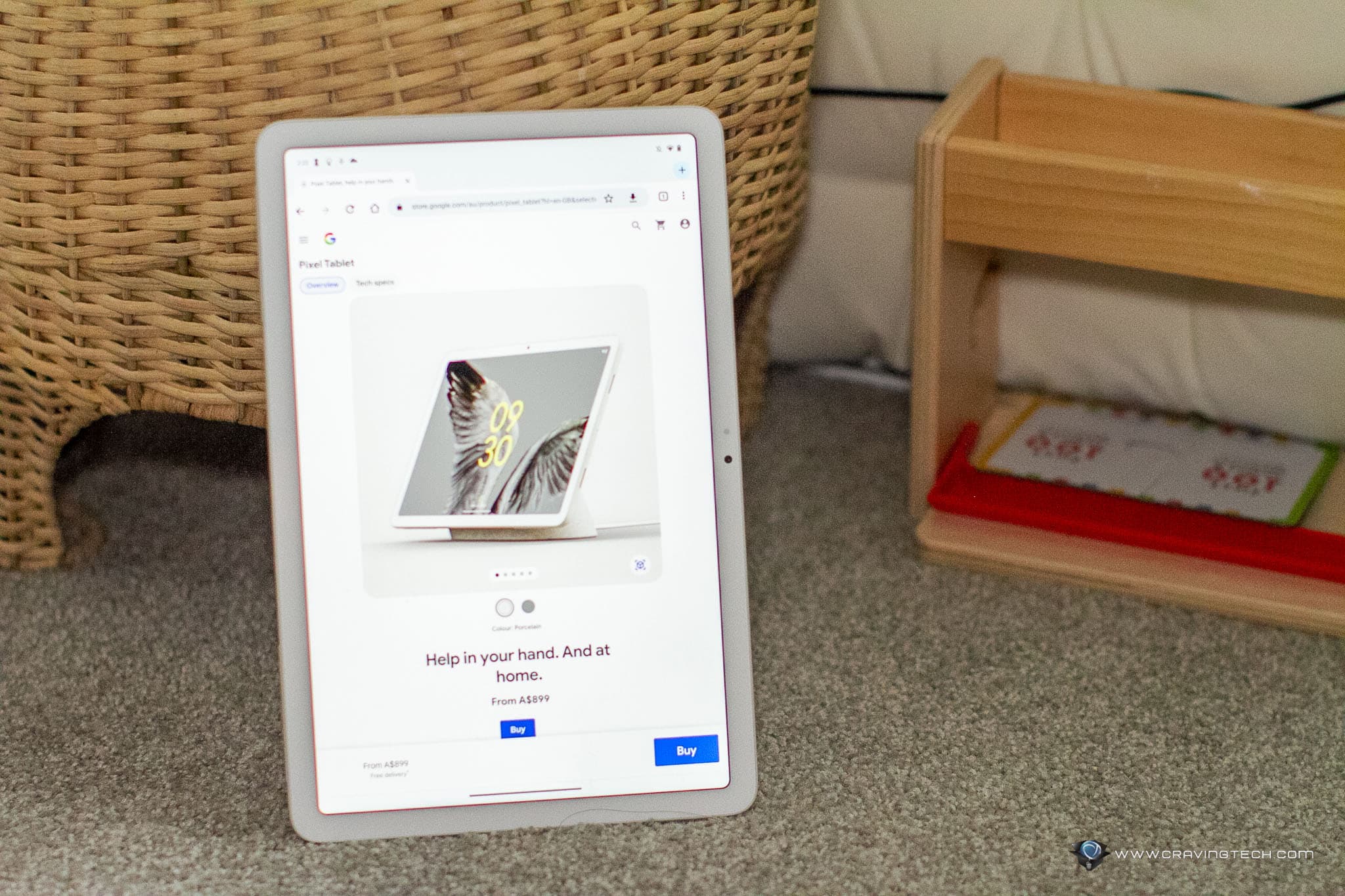 Scrolling and interacting on the Pixel Tablet with two hands is comfortable enough, though you probably won't be able to hold it with just one hand while reading e-books for hours, due to the weight.
Upon first glance, it's clear that the Pixel Tablet is designed to be both a Hub and a Tablet – which means some things have to be designed with landscape orientation in mind first. For example, you can see that the Google logo on the back is printed horizontally, just like the location of the front camera + sensor.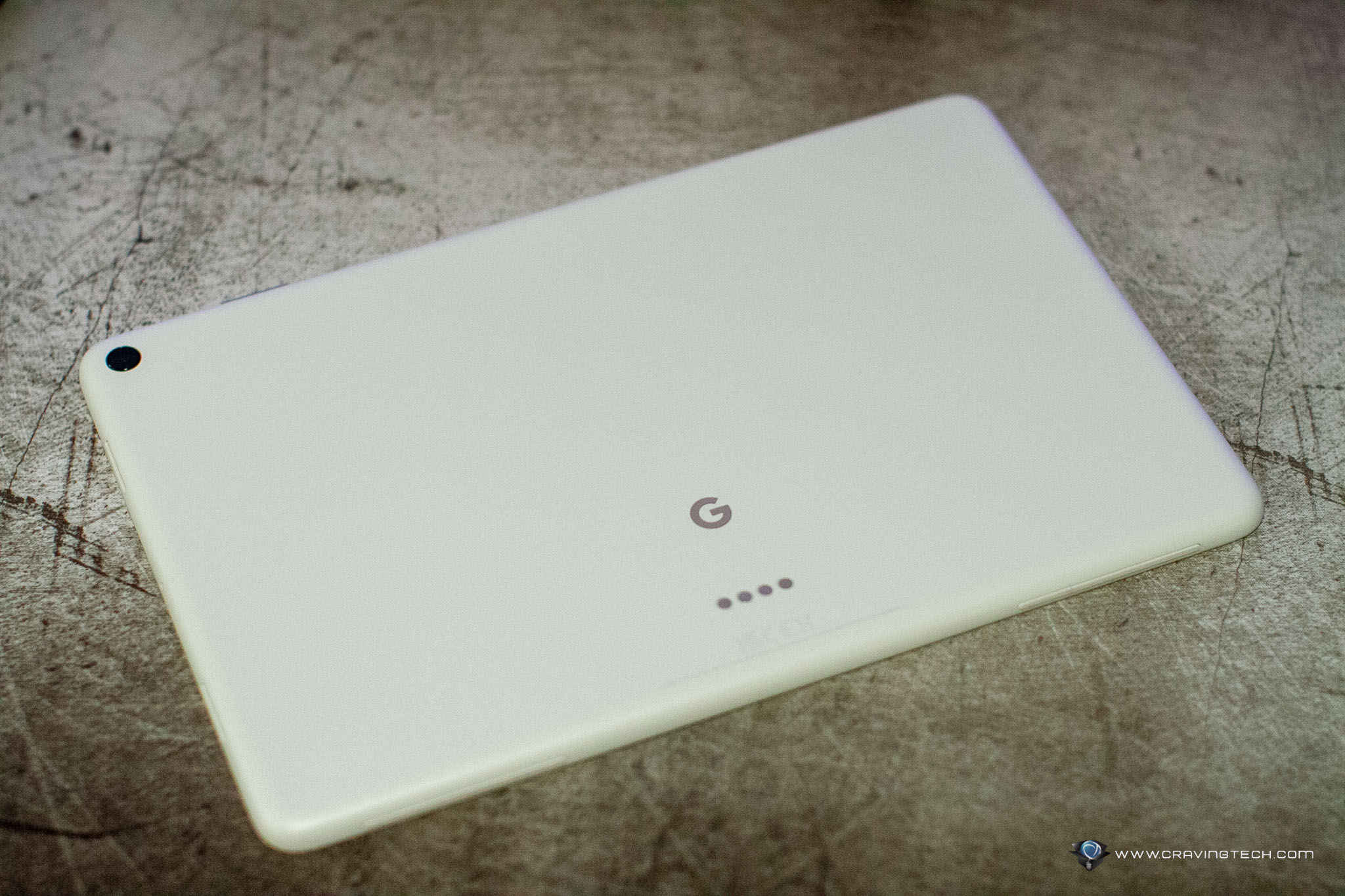 The power and volume buttons are also located on the top right (which are great for Dock mode), but they get shifted to the left when you use the Pixel Tablet in Portrait mode. So, it may take some time to get used to (I was trying to find where the buttons were on my first day or two of using the Pixel Tablet). There is a fingerprint sensor embedded in the power button, so that's a fast and convenient way to unlock the tablet.
The Pixel Tablet is powered by Google's latest processor, the Tensor G2, and the Titan M2 security coprocessor – which also power all the latest Pixel phones like the Google Pixel 7a, 7, and 7 Pro (make sure to check out my reviews on the phones). The experience is pretty good and smooth so far. Opening, closing, and switching between apps is quick, and the typing experience is excellent and feels instantaneous.
I do wish that the display had a better refresh rate, though. It's currently at a 60Hz refresh rate, and coming from using recent smartphones with 90-120Hz refresh rates on their displays means that the Pixel Tablet can feel sluggish to some when scrolling down social media posts. It's also not exactly made for gaming, and while it has decent performance playing games like Hearthstone, it's just not as smooth as using a Pixel Phone or any other high-end smartphone.
So, suffice to say, in terms of a tablet, the Pixel Tablet is somewhere in between mid to high-end in terms of specs and performance.
Google Pixel Tablet as a Smart Home Display (Hub Mode)
One thing I really like about the Pixel Tablet is the inclusion of Hub Mode, which transforms the Pixel Tablet into a Smart Home Display in an instant. Google has also kindly included the charging dock inside the packaging, which also acts as a speaker.
To dock the Pixel Tablet, simply align the tablet's pogo pins with the dock. The tablet will snap (magnetized) itself, and whatever sound is playing on the tablet will be directly transferred to the dock's speakers (four of them), instantly. Take the tablet out (you can even do this with one hand), and the sound will be transferred back to the tablet's speakers. Really nifty.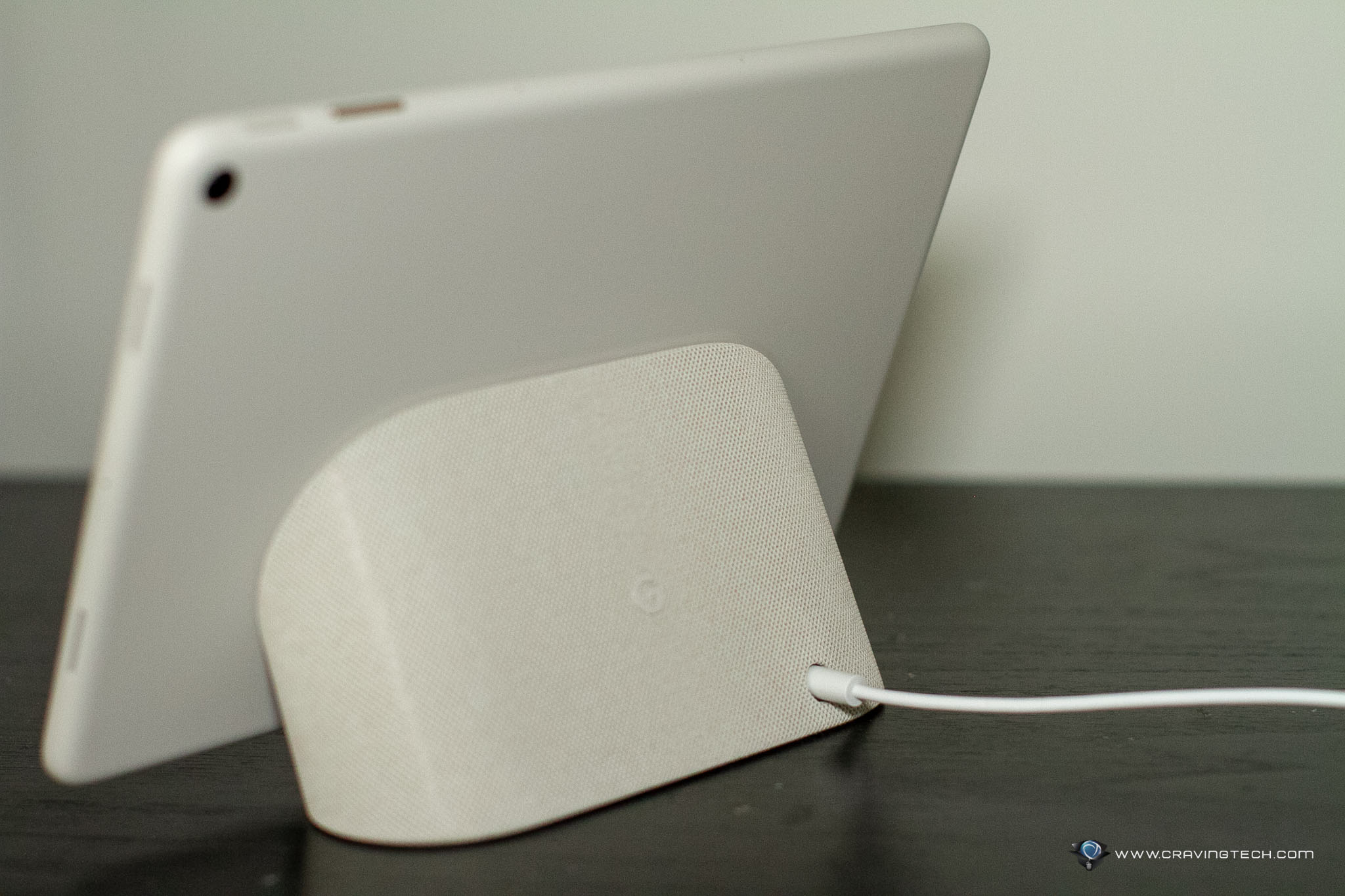 The speakers on the tablet are not something you'll be proud of (you can't hear any bass literally), but they're good enough for casual music listening or movie watching. By docking it, you'll get a much better sound experience, and if you like to listen to music while reading books in bed, or just to wind down for the night, this is great. Note that the dock has no Bluetooth connectivity, so the tablet must be on the dock to be able to utilise its speakers.
You can trigger Google Assistant using your voice to play videos or songs, control your smart home devices, and many more while it's docked. And it does seem like it's able to pick up my voice even from the other side of the room.
If you like, you can also purchase extra Charging Speaker Docks and place them in various rooms around the house. For example, you might wake up in the morning and take the tablet to your kitchen while catching up with the latest news, then dock it in the kitchen to watch some morning shows while you have breakfast.
When you're not using the Pixel Tablet in Hub Mode, you can set it to display your favorite photos or choose a cute screensaver that changes dynamically based on the weather outside. It's my favorite screensaver as the Weather Frog is animated, and you can also check the weather at the same time (which might be handy when you just wake up and need to go outside).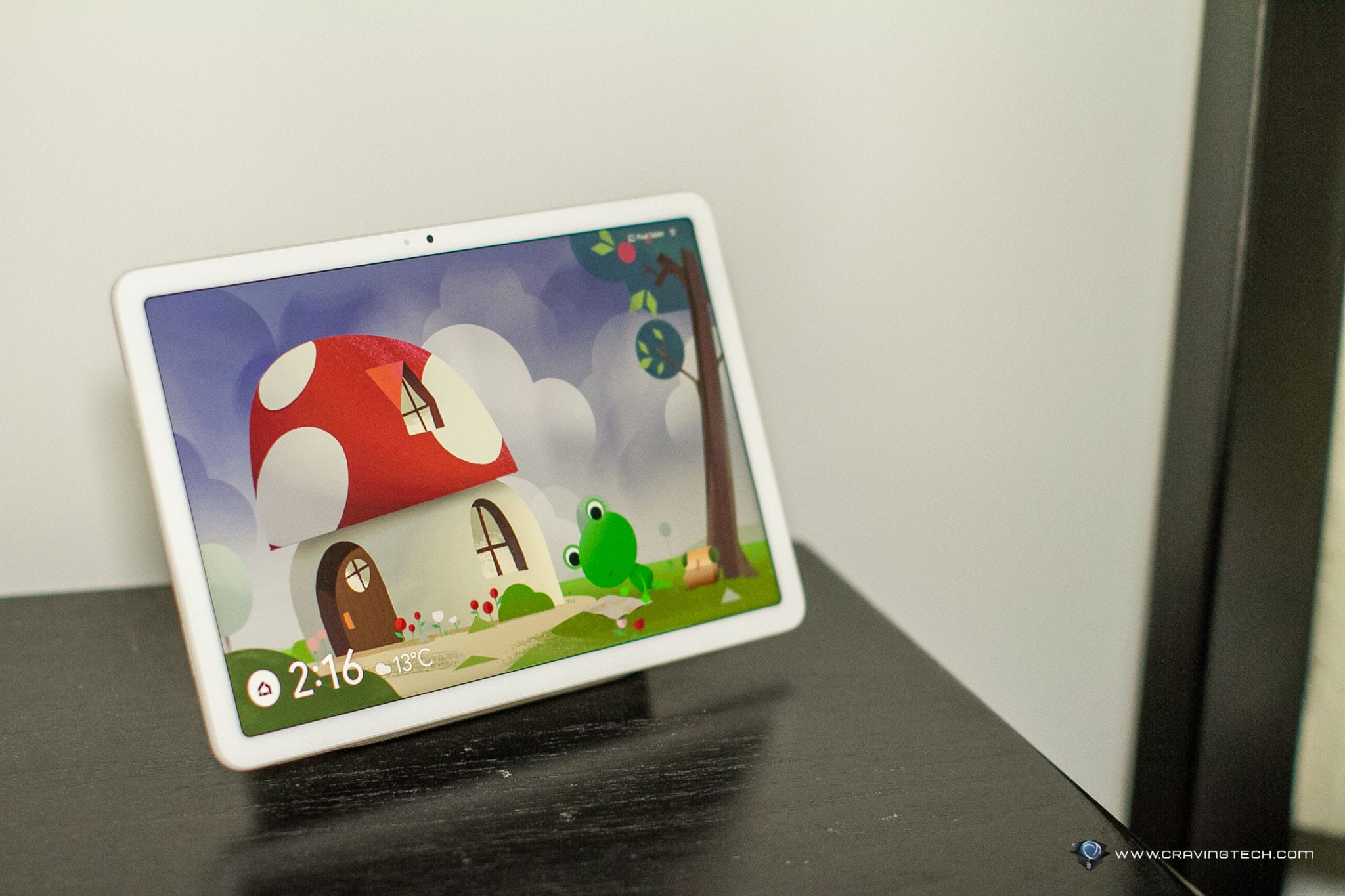 While docked, also note that the tablet is being charged at the same time, so it's always ready to be used in Tablet Mode whenever you like.
There is a lot more to explore and many functionalities to go through with the Google Pixel Tablet, so make sure you check out the others on the official product page.
Google Pixel Tablet Review Conclusion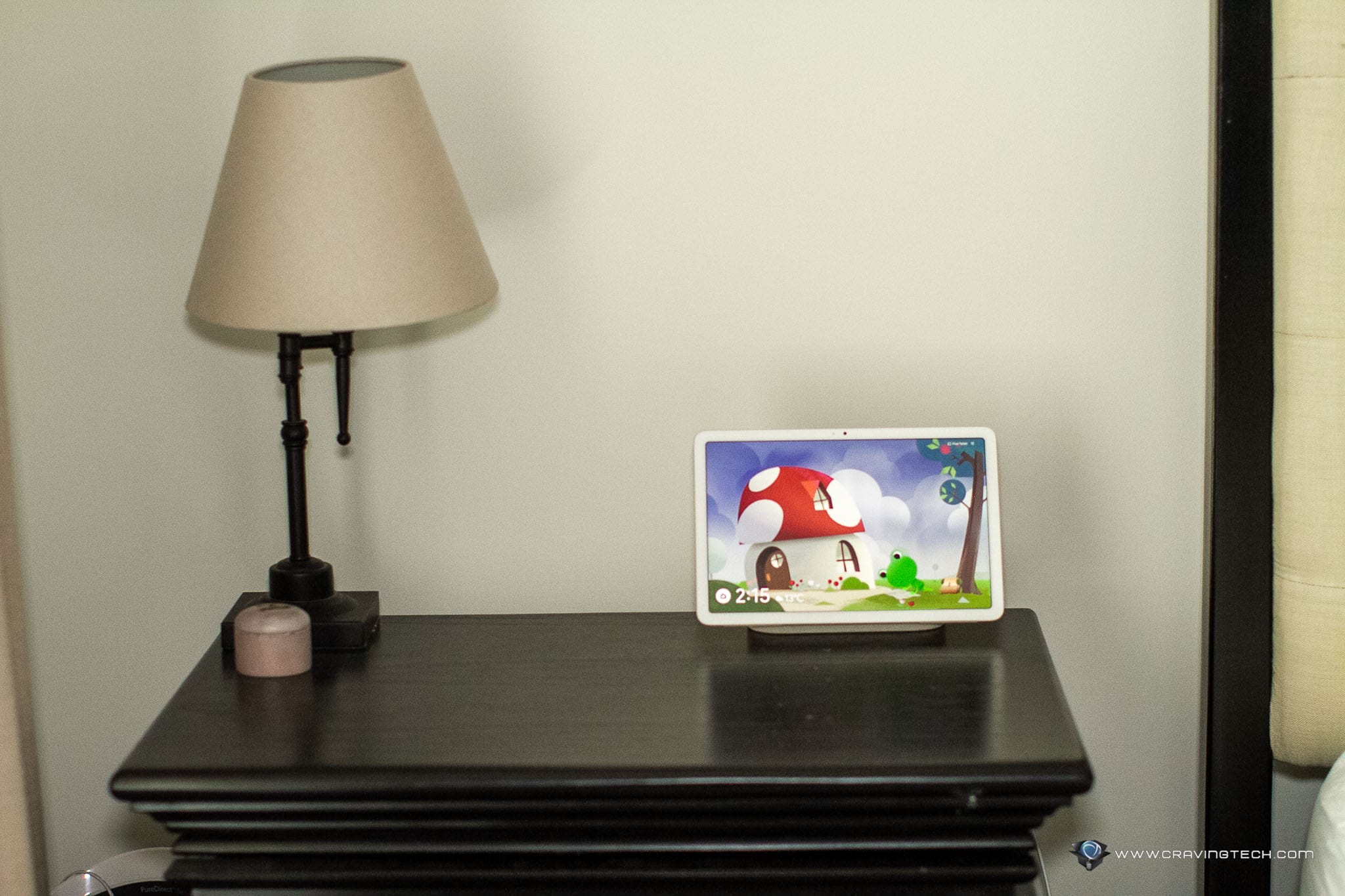 Google Pixel Tablet has a design that makes sense and fully utilises the best of both worlds: a tablet and a smart home display. They are pretty similar conceptually, with one being static and the other more mobile. So, why not combine them into one with a design that works intuitively? That's what Google did when they designed the Google Pixel Tablet. And yes, it works very well.
If you already have an iPad though, the Pixel Tablet isn't meant to be a replacement (due to its performance), unless you are longing to have an Android tablet and all the integration it offers with the other Pixel devices.
The Google Pixel Tablet retails for A$899 (128GB) or A$999 (256GB) and is available at Google Store or Amazon in two colors: Porcelain and Hazel.
Disclosure: Google Pixel Tablet review sample was supplied for reviewing
Google Pixel Tablet Review
Summary
An Android tablet by Google that can transform into a smart home display when not used, while charging it at the same time
Pros
Big, vivid display for content consumption
Included charging dock
Intuitive design, seamless switching from Tablet to Dock mode
Powered by Google's latest, most powerful chips
Built-in Google Chromecast
Built-in fingerprint sensor
Cons
60Hz refresh rate only
Game performance is not the best
Audio is so-so
Some features on Nest Hub/Hub Max actually give better experience
Wi-Fi only