Google Pixel 7 Review – While you are here, make sure to check our Google Pixel 7 Pro review – which I believe is the best Android phone out there at the moment in terms having the complete package. But if you are not looking for the latest and greatest Pixel phone, there is an alternative here and you will not be missing much. Plus you'll save some money that you can use elsewhere.
Google Pixel 7 is priced at A$300 lower than the flagship model but surprisingly, I'd highly recommend people to grab the Pixel 7 instead of the Pixel 7 Pro if they are looking for the best value. Sure, the Pixel 7 is less powerful on paper and has a smaller screen, but it makes the smaller phone easier to grip and surprisingly, I don't find it slower than the Pixel 7 Pro unless you really look at them closely and compare side by side when running heavier apps or games.
Google Pixel 7 Review – Packaging Contents & Unboxing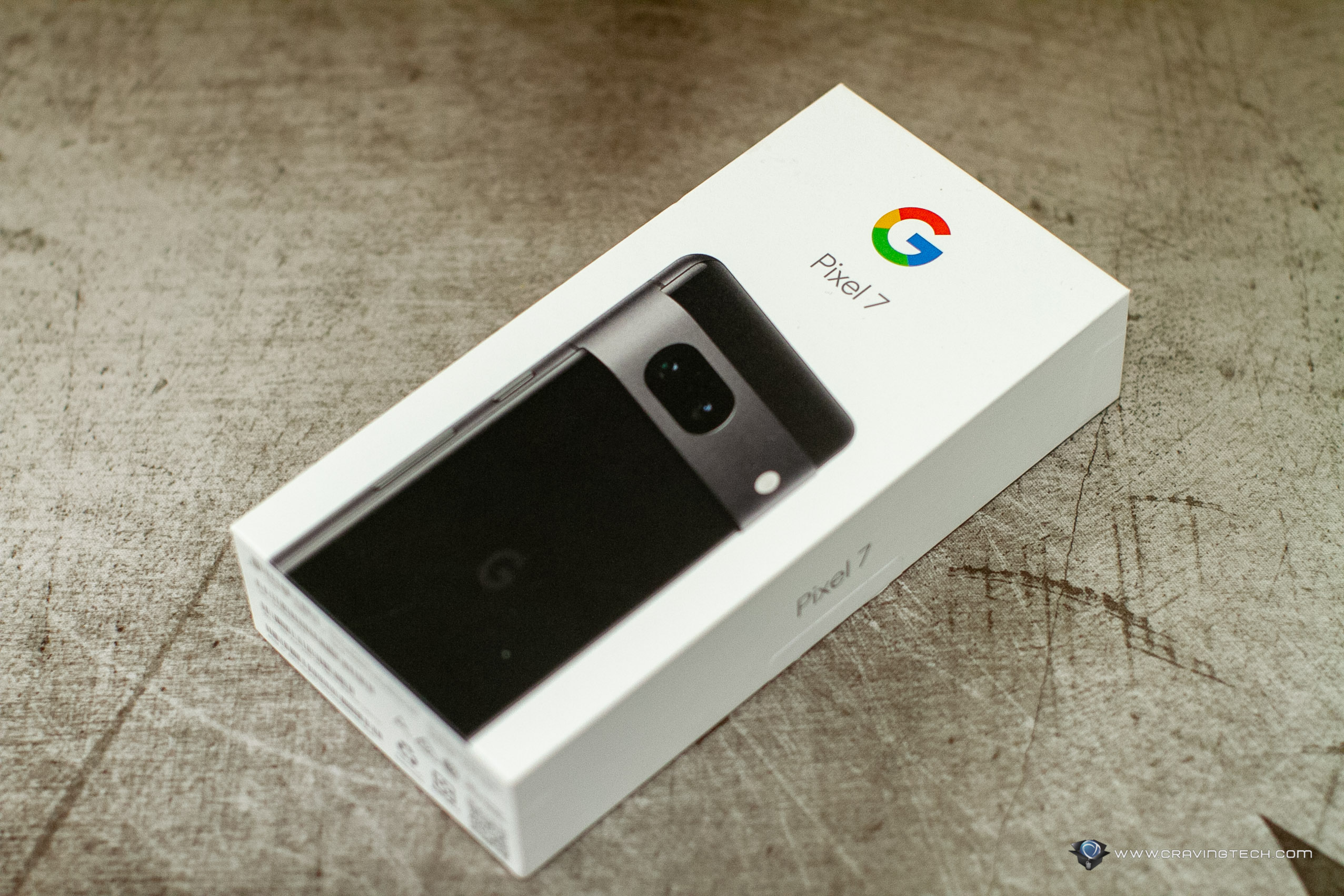 Google Pixel 7 Review – Design and Features
So let's talk specs first. Google Pixel 7 is powered by the same Google Tensor G2 as the Pixel 7 Pro. It only has 8GB of RAM however, compared to the Pixel 7 Pro's 12GB. It also has slightly smaller 6.3-inch OLED, FHD+ resolution with up to 90Hz refresh rate. While it sounds more inferior than the Pixel 7 Pro's QHD+ LTPO with up to 120Hz refresh rate, it does not feel like that in real life. In fact, most people won't probably notice the difference – especially if you are upgrading from an old phone.
In my experience with using the Pixel 7, the phone still feels like a flagship phone in terms of smoothness, performance, and viewing experience. The only difference I feel is the camera system as I really miss being able to Zoom further than just 2x (which is also Digital instead of Optical) and also doing a Macro shot. But if you are just casual photographers and don't really need these, you'll be more than fine with Google Pixel 7.
In fact, I kind of like how Pixel 7 feels on my hand as it has a smaller form factor (I have small hands). The camera bar is also not made of metal like the Pixel 7 Pro and while some may think that it looks less premium, the phone doesn't feel that way overall. The phone weighs less than 200 grams (197 grams) and that feels really light. Unlocking the phone with the finger feels more natural and less awkward.
Thanks to Google Tensor G2, you get all the same goodies as the Pixel 7 Pro, including new features like Clear Calling, Unblur, and more. Feel free to check my Pixel 7 Pro review article to find out more about those features.
Google Pixel 7 Review – Photos taken by Google Pixel 7
Having all the power like Pixel 7 Pro (apart from the missing 48MP telephoto lens) means that Pixel 7 take great photos too. Its rear camera system consists of a 50MP wide camera and 12MP ultrawide camera. It also has Night Mode and I noticed that when taking some night shots of the Melbourne CBD, the phone kicked in its Night Mode a couple of times but that gave me some good night shots as a result.
If you find that you rarely use the Zoom feature on your older phone, you'll still be pleased with what Pixel 7 camera system offers. It can still do a 2x zoom but it's digital, not optical. I still find that the Digital zoom performs admirably though as you can see below.
Here are some photos taken with 1x and 2x (Digital Zoom). If I had a 5x Optical Zoom, I'd be able to take a closer shot of the man fishing at the pier without losing quality. But if you can stay close to your subject (like the Seagull trying to snatch the bread out of my son's hand), you can get a nice shot with the 2x Digital Zoom:
Here are some more photos taken with the Google Pixel 7:
Google Pixel 7 Review Conclusion
Google Pixel 7 is an excellent Android phone that deserves a chance to be considered as Google's latest flagship phone. For those who do not need to have the latest and greatest specs but only care about having a fast performing, excellent Android phone all round, the Pixel 7 is more than enough.
Sure, you'll miss having that Telephoto lens for zooming in your subjects but if you rarely take photos with Optical Zoom and want to save a few hundred dollars, the Pixel 7 is a might phone to have and worth upgrading to.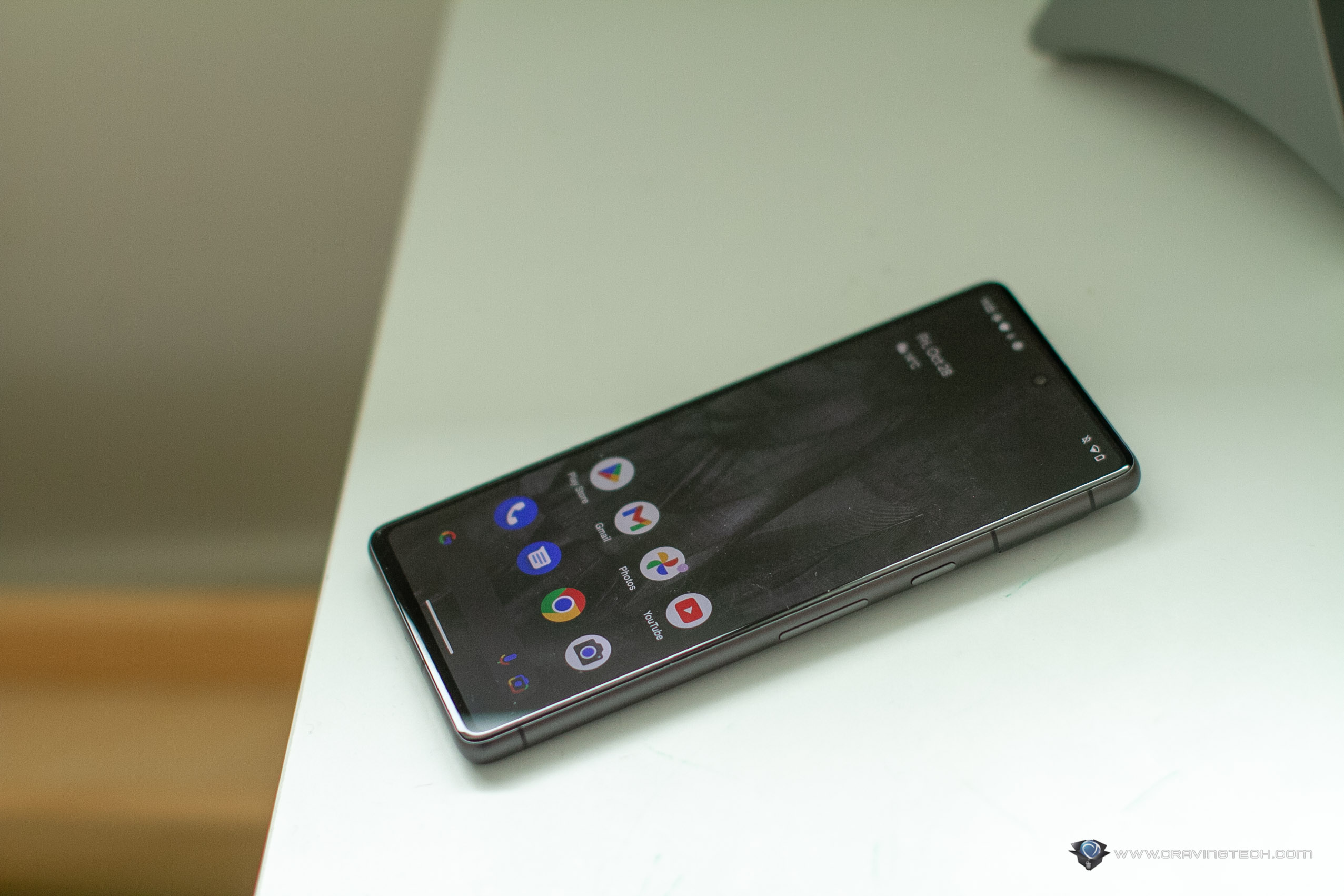 But okay, if you can spare some money and want to get the best Pixel and Android phone in the market, definitely check my Google Pixel 7 Pro review out before making a purchase decision. Google Pixel 7 is available now for A$999 at Google's website and retailers around Australia. Also available at Amazon.
Disclosure: Google Pixel 7 review sample was supplied for reviewing
Google Pixel 7 Review
Summary
You can save a few hundred dollars if you don't need the Zoom/Macro feature and happy with a lower spec Pixel phone
Pros
Easier to use one hand than the Pixel 7 Pro. Pretty lightweight
Smooth performance for daily use
Take great photos with just a tap
Comes with the powerful features that Google's latest chip Tensor G2 offers
Fingerprint and facial unlocking
Cons
No Optical Zoom and Macro shots
90Hz refresh rate