---
Note: This is a guest post written by Jeeva Shanmugam
Gmail is one of the popular cloud-based email servicing platforms offered by Google billions of users use Gmail daily. Gmail has become a professional stage for most business people and is used for client meetings after Microsoft outlook.
Due to its various features and consistent updates, Gmail stands as one of the best email services worldwide. The best part is it can be used for completely free. Although Gmail offers many advantages if privacy is a concern you might want to look into other alternatives.
It's no secret that Google reads users' emails and utilizes the information to display advertisements that may or may not be pertinent to you. That doesn't mean a Google employee is reading your email because this task is done automatically by algorithms.
But instead of using Gmail, you might choose a service that is end-to-end encrypted and prioritizes your privacy. However, based on the features you desire and need, you may also pay for certain alternatives. Many alternatives are also free to use.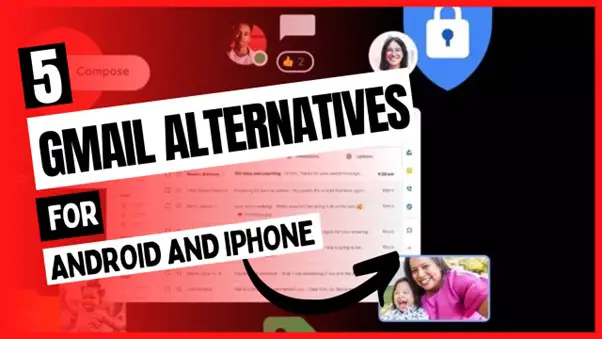 If you are looking for that kind of alternative you have landed on the right blog, in this article I'm going to list the 5 best Gmail alternatives that provide end-to-end encryption service and have no mutual emailing limitations. Let's have a closer look at it.

---
1. Outlook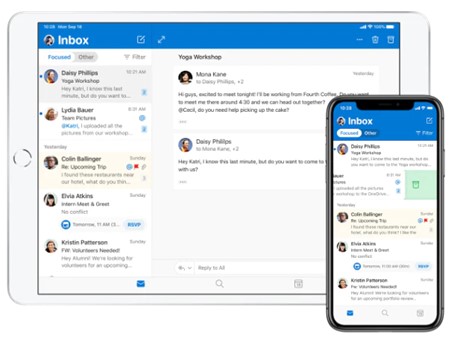 One of the best Gmail alternatives that suit most professional handlers Users may send and receive emails, manage calendars, record contact names, and numbers, and keep track of projects with this program, which is similar to Gmail. Users might not be aware of some of the wonderful things Outlook can do to boost productivity even if they use it frequently.
MS Outlook aids in email management and optimization. It enables you to categorize contacts and emails by company executives and staff. Additionally, you can effectively arrange projects, emails, and contacts to increase user productivity.
Users of Gmail should quickly get used to the user-friendly, contemporary design. Outlook also has a sizable attachment limit of up to 34 MB. OneDrive allows you to transfer files up to 2 GB in size.
Download Outlook for your Android | iOS
2. Zoho Mail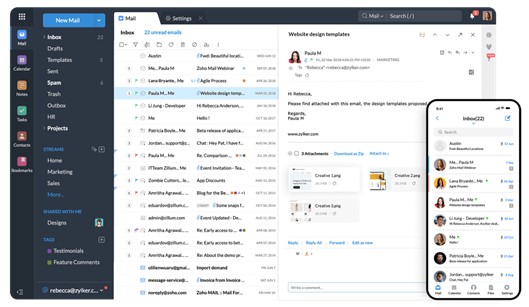 A safe and dependable corporate email solution developed specifically for the company's communication needs is Zoho Mail. It's more than simply an inbox now that collaboration tools have been improved.
One of the top corporate email systems we've found is Zoho Mail. Its collaboration tools are really helpful, and using them is very simple. The paid-for editions are even better than the amazing free version.
Rich in features and free, Zoho's CRM software. A free version of Zoho's premium CRM software with all of its features is available. Yes, rich capabilities for sales and marketing, strong connectors, and safe cloud storage are all offered without cost.
The Free plan for Zoho Mail allows for up to 5 users per business. However, to continue using their service once the sixth person joins or is added, you must buy six paid licenses, i.e., your complete company must switch to a paid plan.
Download Zoho Mail for Android | iOS
---
3. Tutanota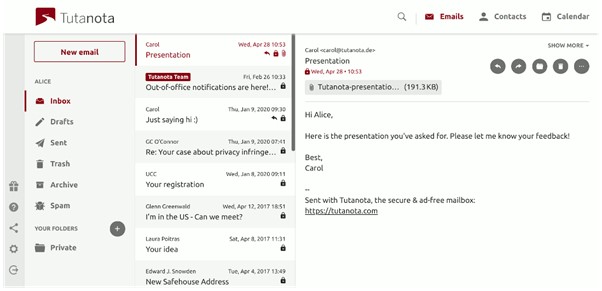 The privacy hero, IP addresses are not logged or users are not tracked by Tutanota. Only the user has access to the encrypted inbox as a whole. Therefore, the company is unable to access any user data. Tutanota is created in this manner: to the greatest extent possible, your privacy.
It is made to be private and simple to use. Enroll right now in an encrypted email. Your emails have never been more secure thanks to end-to-end encryption and two-factor authentication. Nobody can decrypt or read your data thanks to the built-in encryption, which ensures that your mailbox is exclusively yours.
There is no longer any need to continue using Gmail, Yahoo, GMX, Outlook, Fastmail, or other email services that may read your emails and gather your data because Tutanota has been enhanced so greatly.
Tutanota is the greatest option if you're seeking a free email service provider. Despite having less capacity than Gmail, it offers far greater security and privacy.
Download Tutanato for your Android | iOS
---
4. Posteo
To guard against hackers and other unauthorized intrusions, Posteo uses robust AES encryption on all of its email servers. Fundamental server access is encrypted (TLS with Perfect Forward Secrecy [PFS] for IMAP, POP3, webmail, CardDAV, and CalDAV). IP stripping is used by Posteo as well.
Since the program is open-source, anybody can examine its source code. From signup to payment, Posteo may be used entirely anonymously. They will keep this information separate from your account, whether you pay with a card, Paypal, or another digital means. Subject headers, body content, metadata, attachments, contacts, and even your calendar appointments are all kept on servers in Germany and are all encrypted. They employ zero-knowledge encryption, so even if they wanted to, they couldn't decipher your emails. Additionally, the business masks your IP address and doesn't store any records.
The absence of a spam bin and the lack of custom domains may be Posteo's sole shortcomings. Unwanted emails will either be deleted or delivered directly to your mailbox.
Open Posteo on your Browser,
---
5. Protonmail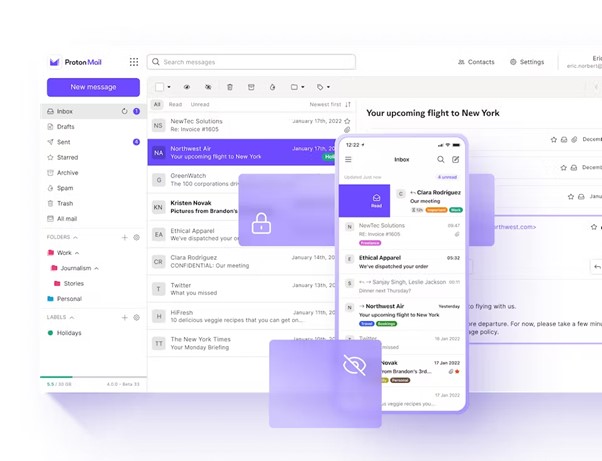 The gold standard in data security is end-to-end encryption. Hackers and Protonmail staff cannot access the content of your communications since all data saved on the service is encrypted.
One of the few firms providing a substitute is Protonmail, and it is perhaps the finest. That is a cause that deserves support. You may also be confident that Protonmail genuinely wants to give everyone who needs it the highest security because a restricted version is offered for free
Both Gmail and Protonmail are top-notch email services in their own right. The considerations are around privacy and flexibility, even though both provide free subscriptions with a comparable UI. Protonmail provides unmatched security and privacy but has very little flexibility.
In conclusion, Gmail users are more likely to have email leaks or hacks than Protonmail users. Even if the email service is safe, your communications lose their privacy and security once they are delivered. If you often email sensitive information, Protonmail could be your best option.
Download Protonmail for your Android | iOS
---
These are the 5 best Gmail alternatives that I have handpicked for you. If this article helps you to conclude, consider sharing it with your friends who search for the best alternatives for Gmail.