Crucial P5 Plus NVMe SSD Review – In awe with the performance of WD_BLACK SN850X? While it comes with a really fast 7,300 MB/s read and 6,600MB/s write speed, you may not really need those speed. You can save around A$60 for a slightly lower spec on paper and still get a really fast drive such as the one here from Crucial.
Crucial P5 Plus comes with 6,600MB/s read and 5,000MB/s write speed (on the 1TB and 2TB models). And while it's not the fastest NVMe SSD drive in the planet compared to the WD_BLACK SN850X, in most cases you won't actually notice the difference in real life. So what you get, is a really fast drive but at a fracture of the cost.
The drive comes with a few storage capacity options: 500GB, 1TB, and 2TB (the review unit I have here is the 1TB model). If you are replacing your operating system drive, 500GB is usually more than enough. However, if this is going to be your gaming drive (or the place where you are editing videos from and to), definitely go for the 1TB or 2TB. Not only they have larger storage capacity, they actually offer 1000MB/s faster write speed. It's a nice bonus on top.
Crucial P5 Plus is engineered by the well-known Micron company with the latest Gen4 NVMe technology. This includes full hardware-based encryption, dynamic write acceleration, and adaptive thermal protection for a better system reliability under heavy load. It also comes with Storage Executive and free Acronis True Image cloning software to make it easy to migrate your whole drive (including your Windows operating system) to the new one.
I tried the software before to migrate my Windows 10 to a newer drive and it was an easy, step-by-step process.
Or you can add the drive to your existing system configuration and use it as a second gaming drive, for content creation, or those demanding applications like Adobe Premiere Pro, AutoCAD, etc. If you have a NAS that supports M.2 storage, you can also just plug this drive in to expand the system.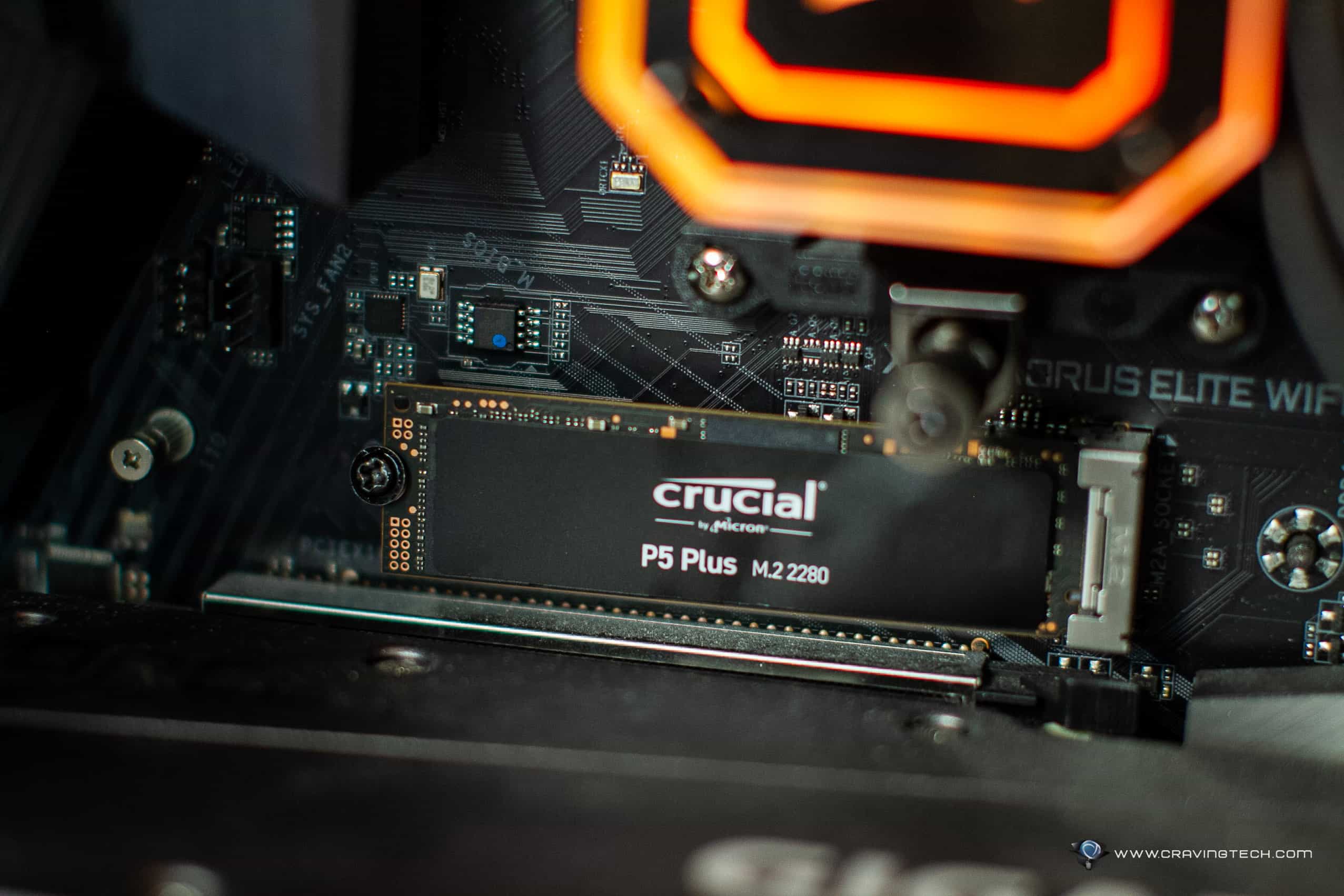 With the small form factor, you can also use the drive to upgrade your laptop's storage solution with a larger capacity and faster performance.
Using CrystalDiskBenchmark, I can definitely get what's being promised by Crucial:
It is a really fast drive and I can feel it when transferring many, large files in and out of the drive during testing. If you are coming from a SATA SSD or worse, a traditional HDD, you'll definitely notice the huge difference in speed (both read and write). When playing open world games that have to load many, big data files, you can also feel this extra boost of speed.
Crucial P5 Plus 1TB Specifications
Reliability (MTTF): 2 million hours
Endurance – Total Bytes Written (TBW): 600TB (TBW)
Operating Temperature: 0 to 70°C
Advanced Features:
Dynamic write acceleration
Redundant array of independent NAND (RAIN)
Multistep data integrity algorithms
Adaptive thermal protection
Integrated power loss immunity
Active garbage collection
TRIM support
NVMe standard selfmonitoring and reporting technology (SMART)
Error correction code (ECC)
NVMe autonomous power state transition (APST) support
Device sleep support
Full-drive encryption capable (TCG OPAL 2.0)
Crucial P5 Plus is available at retailers around Australia for around A$109 (500GB), A$189 (1TB) and A$369 (2TB). The drive comes with a generous, limited 5-year warranty.
Disclosure: Crucial P5 Plus review sample was supplied for reviewing