The original Google Nest Hub (check my review out) was launched about two years ago and was one of the best smart displays available. I also like how compact and modern it looks, plus it works well with most of my smart home devices (smart lights, security cameras, etc).
But Google is facing head to head with Amazon on the smart display department so new updates and innovations are definitely needed to keep them in the game.
And Google's newest Nest Hub (2nd Gen, 2021) definitely has a trick up its sleeve.
Google Nest Hub 2nd Gen Review – Unboxing & Packaging Contents
Google Nest Hub 2nd Gen Review – Design & Features
The new Nest Hub has that compact 7″ touchscreen design that fits well in any room setup, but with the new sleep tracking capability, Google definitely wants you to place it on your bedside table. This is definitely the newest and biggest feature on the new Nest Hub.
The new Nest Hub also has 50% more bass than the original but not something to get excited about. It's all about that new Sleep Sensing feature on the new Nest Hub.
Sure, we are already bombarded with sleep tracking devices on our wrist and while I like them (Withings ScanWatch and Fitbit Versa 3), not many like wearing watches or trackers while they sleep. Thanks to the new Nest Hub's Motion Sense which is powered by Soli low-energy radar technology, it can analyse how you sleep based on your movement and breathing.
And all this, without any camera looking at you at all times (which would be hated by most due to privacy reasons) or having to wear anything extra on your body. Google Nest Hub 2nd Gen's Sleep Sensing can detect when you go to sleep (quite accurately, I'd say) and can even detect sleep disturbances like coughing and snoring.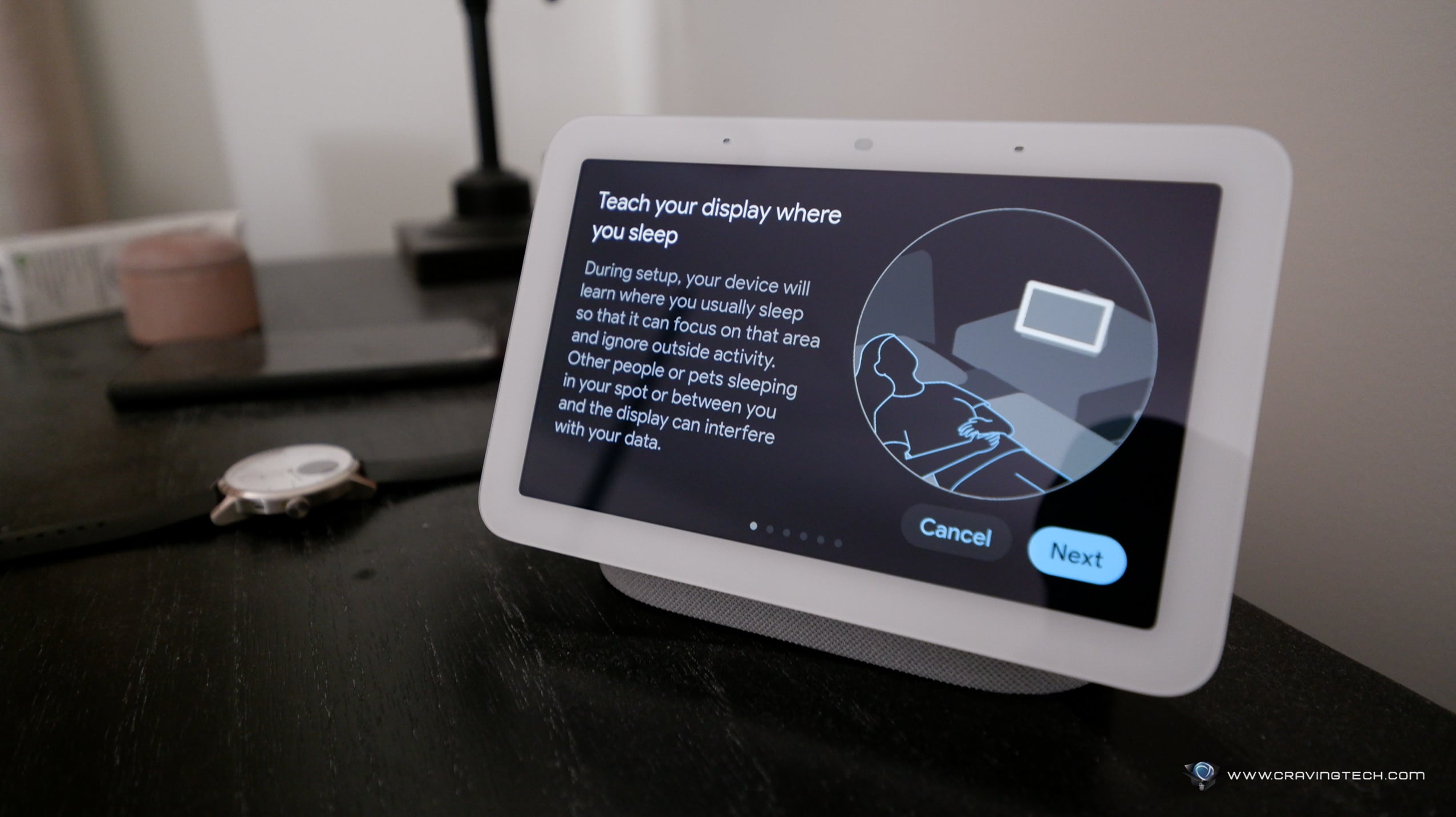 A calibration before this is required that asks you to lie down for a bit while Motion Sense tries to detect you on bed. According to Google, the device should be able to detect you accurately even when you are sleeping with a partner. From what I can tell so far, the device seems to be able to separate me from my wife – but of course it's tricky to detect if she's the one who's coughing or snoring.
Each morning, you can check the quality of your last night's sleep by pressing one of the menu options on the display, or simply by saying "Hey Google, how did I sleep?". You can check all the stats like when you fell asleep, the quality of the sleep, and even how many times and how long you snored.
I have a borderline sleep apnea plus a deviated septum (feel free to Google what that is), so I have a tendency to snore sometimes. And when I tested the Nest Hub 2nd Gen, I also caught a bit of cold with runny nose and coughs. It looks like the Sleep Sensing got the coughs and snores right:
At one point, I was really tired for the day and I knew I normally would snore more during the night. Curious, I checked the Nest Hub and it did confirm what happened that night. I snored 193 minutes in total: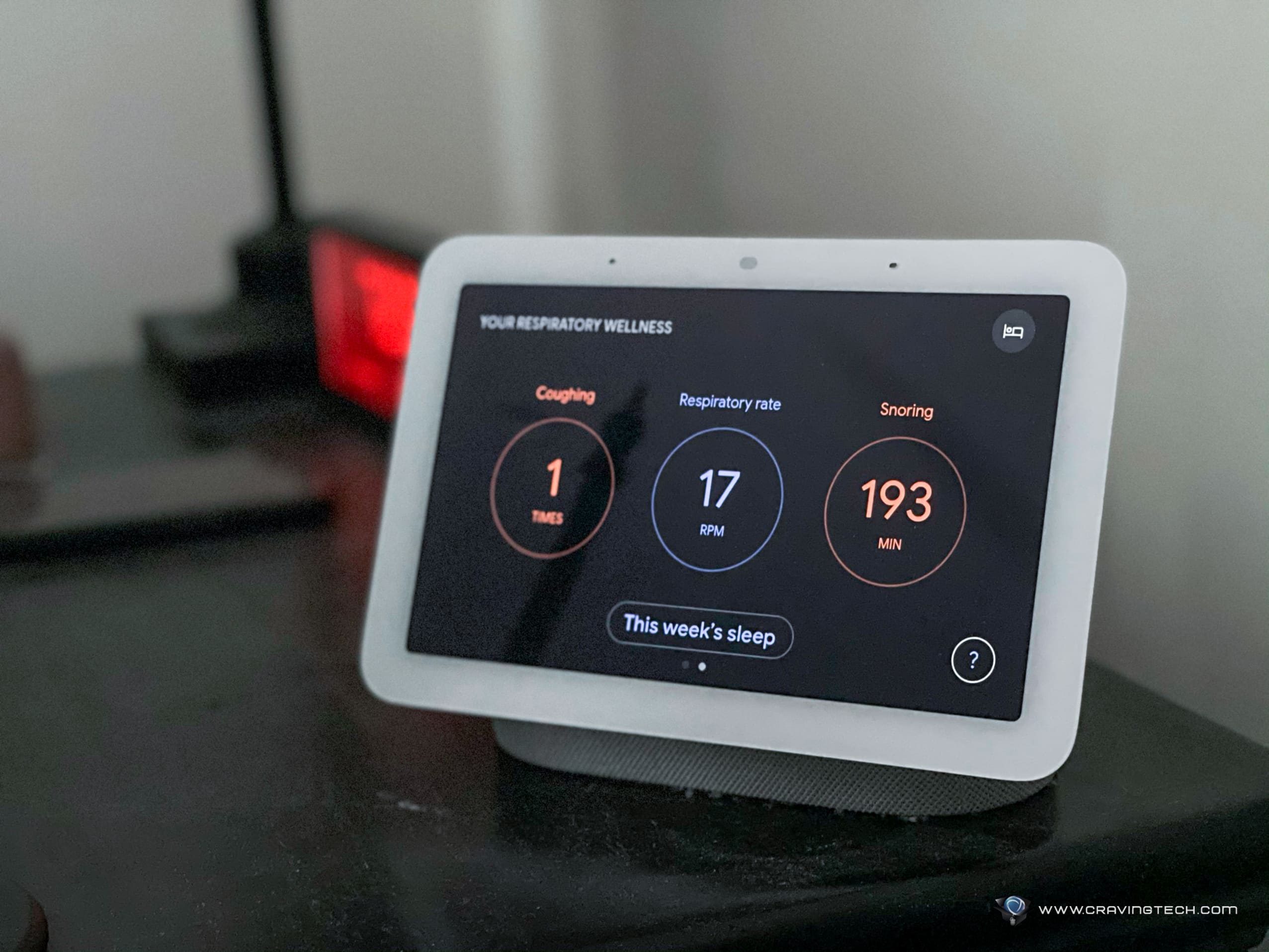 While the new Nest Hub is not designed to analyse any respiratory issues, lots of snoring is a good indicator that something is not right with you (sleep apnea, etc).
So it all sounds great, but there is still uncertainty hanging in the air at the moment. Sleep Sensing is currently available for free until 2022 but it's not sure what will happen after. It is most likely that this will be a paid subscription service but there are no details just yet. If Sleep Sensing is really important for you, just make a mental note that this might be a payable service in the future before you purchase the new Nest Hub to avoid any disappointment.
However, if you don't care much about sleep tracking, know that Sleep Sensing is optional and you can turn it off completely. In case you want to use it, Motion Sense only detects motion (as there is no camera) and all sound data is only processed locally on the device. Plus, you can review or delete your sleep data at any time.
There are other ways where the Nest Hub gets you a better sleep too, such as by giving you an option to play relaxing sounds (like crashing waves, etc) before you sleep, automatically dimming itself while you go to bed, or waking you up with a gentle alarm.
As a smart home display, the Nest Hub can display your photos stored on Google Photos or from the curated library. If you have smart home devices that support Google Assistant, you can also control them with your voice. The Nest Hub itself supports gestures through Quick Gestures and by interacting directly on the touch screen with your fingers (though it doesn't feel as smooth as an iPad).
Google Nest Hub 2nd Gen Review Conclusion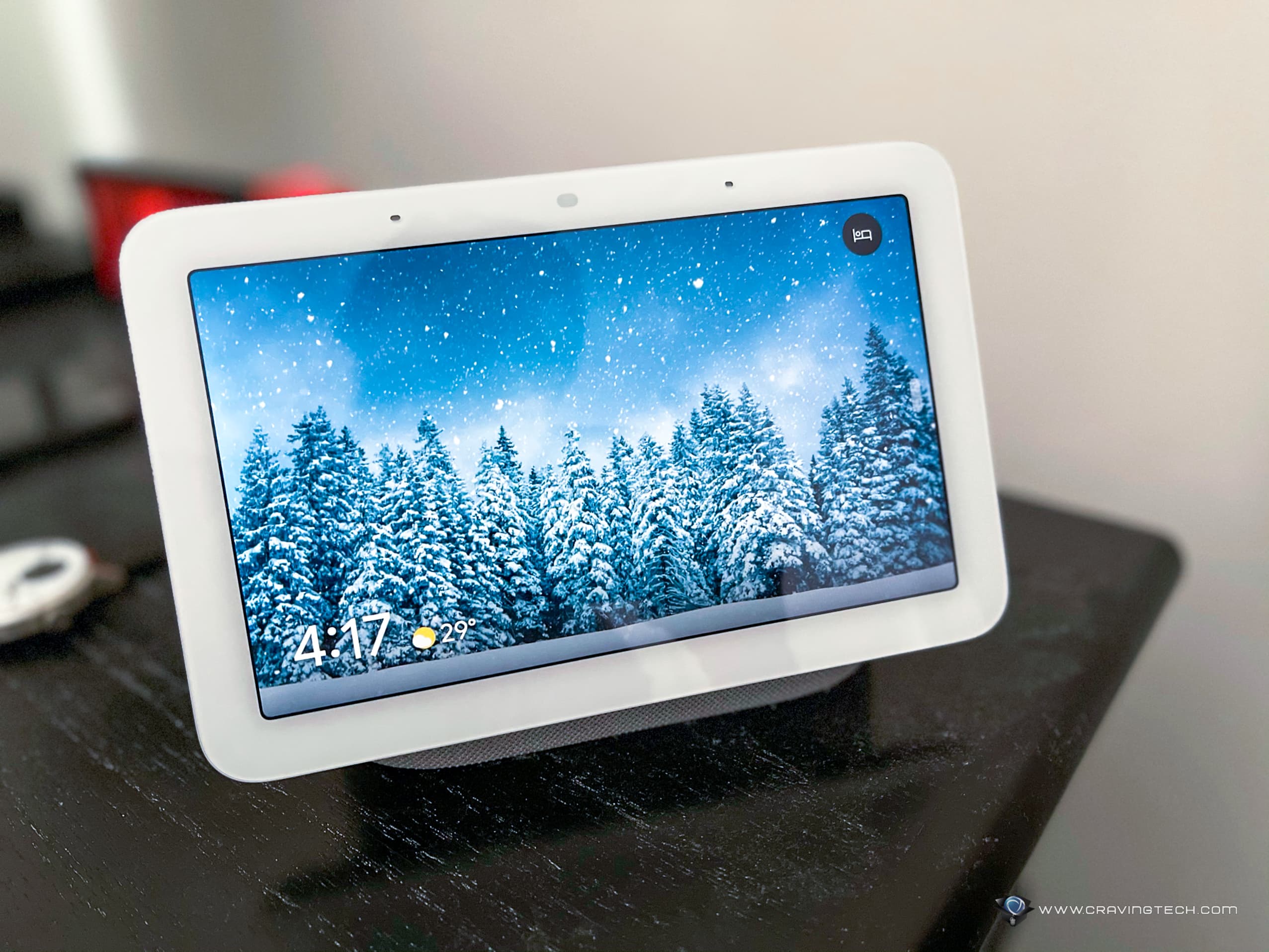 The new Google Nest Hub comes with 50% more bass than the original and a new Sleep Sensing feature that tracks your sleep. Sleep Sensing is a pretty powerful feature if you like looking at your sleeping stats for the night and if you want to improve the quality of your sleep (without wearing wearables).
If you already have the original Nest Hub and not that interested in the new Sleep Sensing feature, there might not be enough reasons to upgrade. While 50% more bass sounds nice, it's probably not worth the extra A$149 unless you want a second Nest Hub in your house.
If you haven't had a Nest Hub before, you'll love the 7″ touchscreen and its core features. You can use it to display your favourite photos with a clock face and control your smart home devices (either with your voice or finger). And of course, many other things such as setting alarm clocks, checking weather forecasts, news, and more.
Google Nest Hub 2nd Gen retails for A$149 and it's available now at Google Store and retailers around Australia.
Google Nest Hub (2nd Generation) Review
Summary
Is second time the charm? Google Nest Hub 2nd Gen comes with advanced sleep tracking using low-energy radar technology
Pros
Compact design
Gorgeous 7″ display
Track and analyse your sleep without using a camera
Responsive to voice
Works with many smart home devices
Supports Thread
Cons
Not enough reason to upgrade (if you don't care about Sleep Sensing)
Can't check your Sleep Sensing stats on the Google Home app
No front camera means you can't do video calls on it