Withings ScanWatch Review – Withings' wearables (watches) have always had that classic watch look that I adore, along with great battery life. Make sure to check my review on their Steel HR Sport and you'll see what I mean.
Their latest ScanWatch is no different but it comes with medical-grade Electrocardiogram, Sleep Apnea detection and up to 30 days of battery life!
Packaging & Unboxing
Design & Features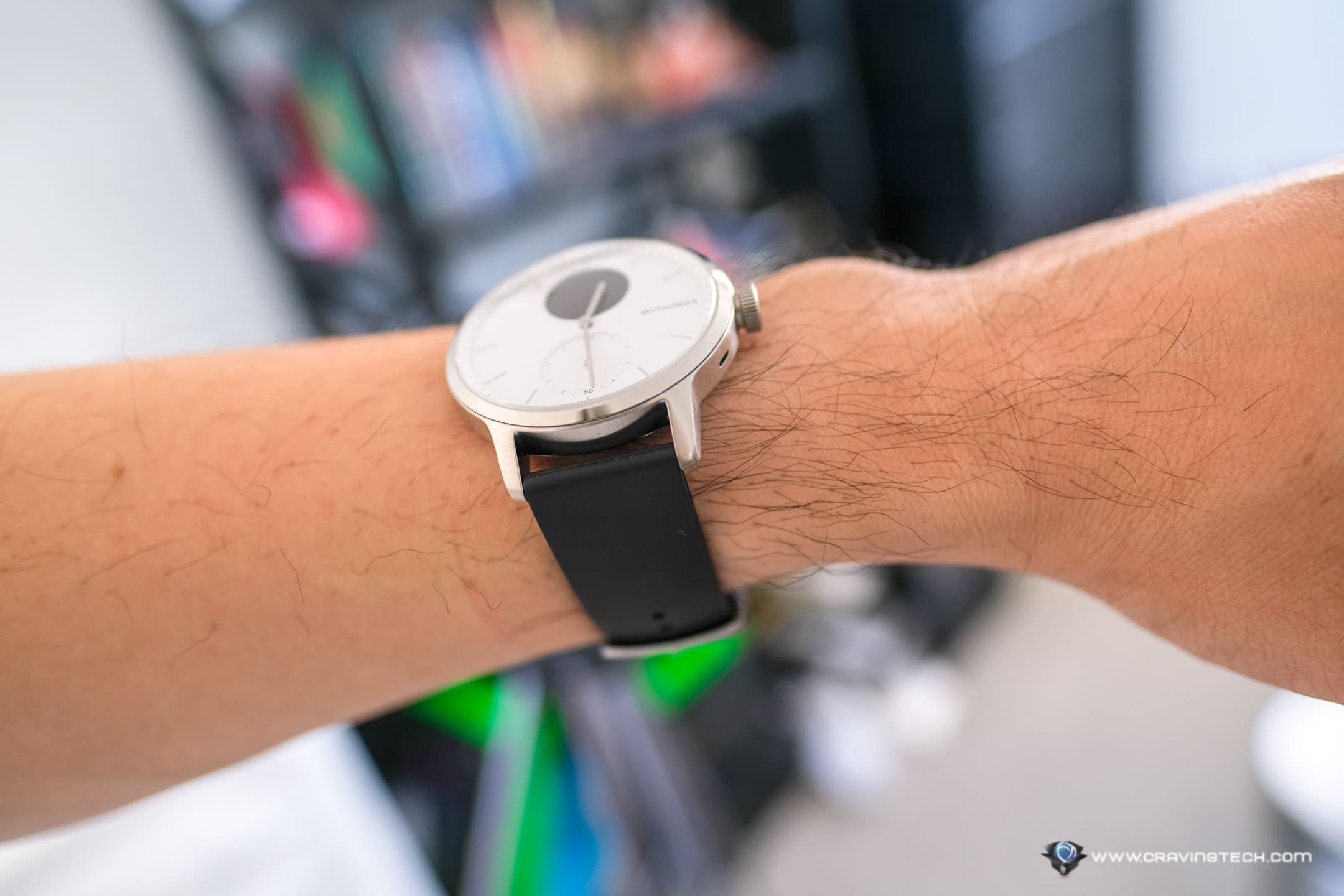 The hybrid smartwatch has a classy, elegant design with stainless steel and premium Sapphire glass for extra durability and resistance. Unlike most smartwatches that well, look like smartwatches, Withings ScanWatch goes for a more subtle look with an analog dial and crown. However, the circular, LED display gives away the smart factor.
The LED display is used for menu interaction and also displaying information to its wearer. Now, compared to a full-screen watch like the Fitbit Versa 3, some may find the display too small. However, you can see the most crucial piece of information clearly on that small, circular LED and other details can be unlocked further from Withings HealthMate app.
So, what makes Withings ScanWatch special? Withings call it "the most advanced health wearable" as it has heart health tracking and respiratory monitoring. ScanWatch uses ECG (Electrocardiogram) and SpO2 sensor with exclusive multi-wavelength technology to record blood oxygen levels from your wrist.
With constant monitoring, the watch can send you alerts when anomalies are detected and hopefully, save lives in the process!
The respiratory scan also monitors oxygen saturation, heart rate, breathing frequency, and movement all night long so you can measure breathing disturbances and whether you have possible sleep apnea. I had a mild sleep apnea that my dentist found out because I was grinding my teeth (which forced my body to gasp for air). Sadly, a dentist pointed me this problem after it was a bit too late and I've lost a lot of my teeth crowns.
After I went to the hospital to do a sleep test to confirm that I had sleep apnea, I now have to sleep with a mouthguard and got some dental recrowning that cost me a lot. My point is, this could have been detected earlier if I had the ScanWatch.
Your sleep apnea might be more severe and if you have been sleeping on your own, you may not realise this but Withings ScanWatch can be set to monitor these breathing disturbances while you sleep. ScanWatch is currently pending certification for medical-grade sleep apnea detection based on breathing disturbances tracking. This constant monitoring option is turned off by default though, to save battery life.
Constant irregular heart rate monitoring, breathing problems monitoring while you sleep, and other vital health monitoring definitely make Withings ScanWatch worth a place on your wrist.
The ScanWatch also track exercises, activities (steps taken, etc), and sleep qualities apart from heart irregularity and breathing disturbances. The automatic activity detection is not always accurate but eh, even Fitbit trackers got wrong sometimes too. If you like to exercise regularly, you can activate the workout mode manually straight from your wrist and choose from over 30 sports available. The watch will then show your workout duration, along with heart rate logging, etc.
You can get app notifications on Withings ScanWatch (and you can customise which apps), create a smart alarm (to wake you when you are not in deep sleep), and crazy-long battery life up to 30 days. Note that if you turn the constant monitoring features on, they will take a hit on battery life.
Withings ScanWatch Review Conclusion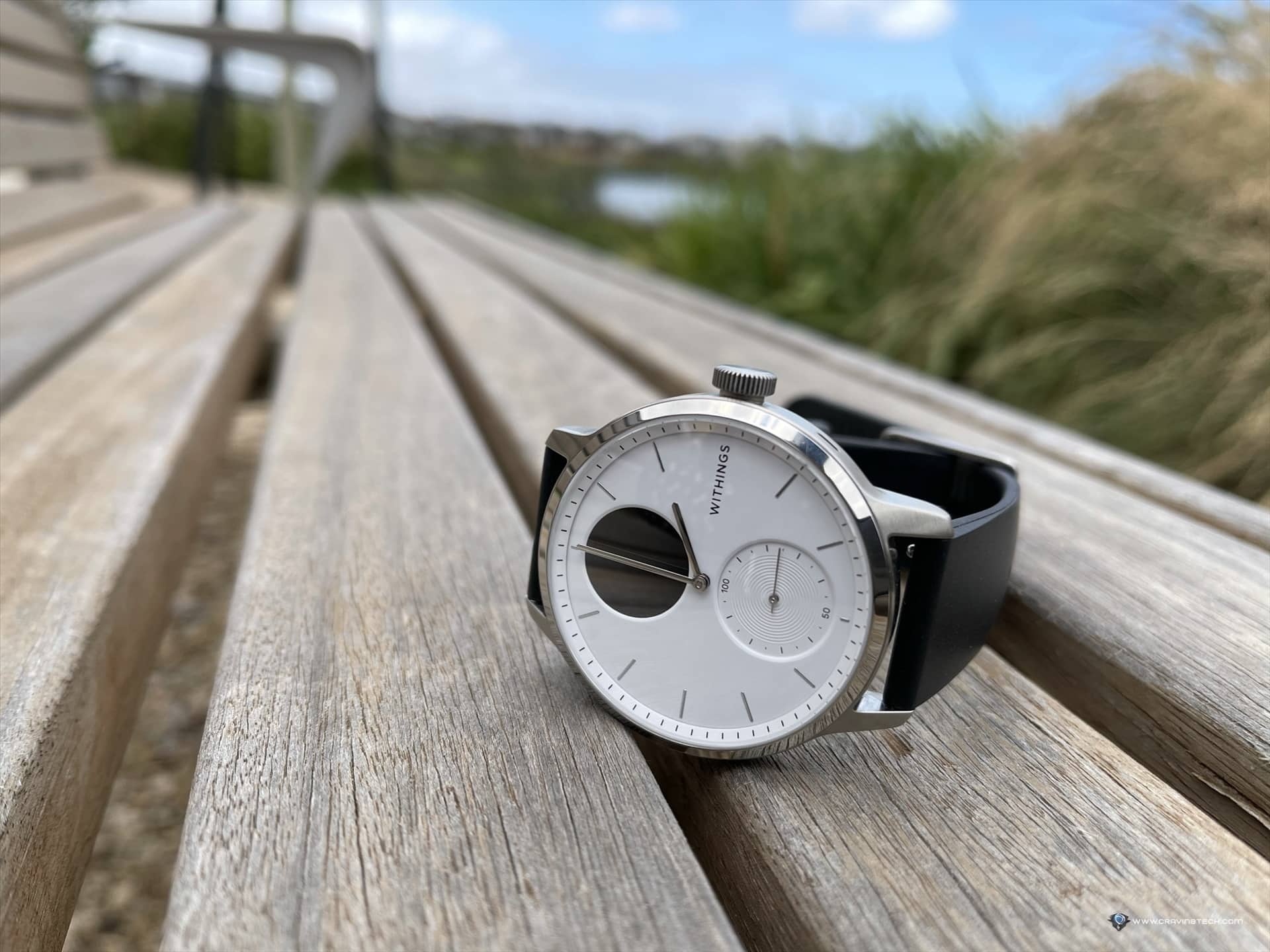 Withings ScanWatch is definitely the most advanced, elegant-looking watch I've ever used and reviewed, and possibly the most life-saving watch you can ever find at the moment.
Not only can it track irregularities of your heart rate, but it can also record medical-grade ECG (Electrodiagram) any time on your wrist to detect atrial fibrillation. While you sleep, the watch continuously scans blood oxygen levels to identify breathing disturbances. It also monitors your daily activities, exercises, and sleeping quality at the same time.
In Australia, the ScanWatch has received TGA approval for medical devices, which is Australia's first clinically validated hybrid smartwatch with ECG capabilities.
Withings ScanWatch is not a full-blown smartwatch like Apple Watch where you can install apps and control your smart home devices, but it is the best hybrid smartwatch where health is more important than being able to make calls on your wrist. Saying this, the ScanWatch can still receive app notifications if you want it to and that is more than enough for me.
Withings ScanWatch is definitely the best gift you can give to an elderly, to someone who wants to be notified early when something goes wrong, to those who are active and like to see more stats and data, or to those who just want an elegant, classic-looking watch with all these extras.
It's available in 38mm (A$499) and 42mm size (A$529), and in Black or White colour. My review unit here is the 42mm White. You can purchase the ScanWatch at retailers around Australia, including JB Hi-Fi and Amazon.
Disclosure: Withing ScanWatch review sample was supplied for reviewing but all opinions are mine
Withings ScanWatch Review
Summary
A hybrid smartwatch with advanced health sensors and features. Also Australia's first clinically validated hybrid smartwatch with ECG capabilities.
Pros
Great looking watch; elegant and classy
ECG, SpO2 sensor, and more to detect health risks 
Clinically tested and validated
Water resistance up to 50 metres deep
Amazing battery life
Lots of data and stats for those who like them
Tracks daily activities and sleep quality
Cons
No onboard GPS
No screen customisation
No advanced smartwatch features like NFC (card payment), apps, etc.