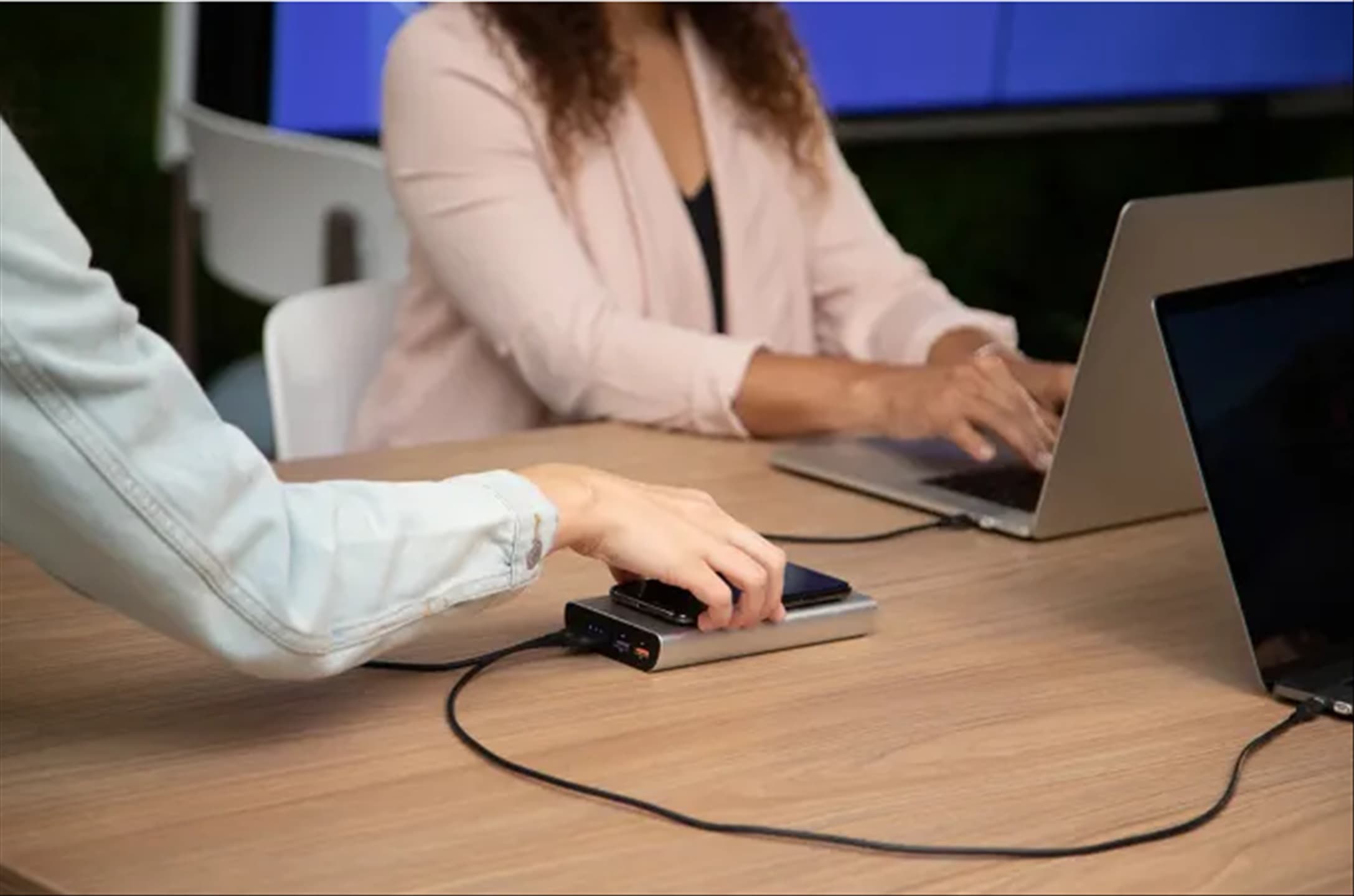 Harbor SUPER Powerbank Review – I've come across many power banks here at Craving Tech but none of them is ever as crazy as this SUPER Powerbank from Harbor. The power bank houses a 26,800mAh battery but that's not what makes this power bank powerful.
For a start, it has a crazy fast 100W PD Input/Output charging AND 65W at the same unit (two separate USB-C ports). However, it also has two 22W & 18W USB-A QC 3.0 ports for charging non-USB-C devices. And if you think that's it, oh no. This power bank also has a 10W wireless charging pad built on top of the unit.
Ready for the final astonishment? How about being able to charge 5 devices at the same time utilising all these? Crazy, right?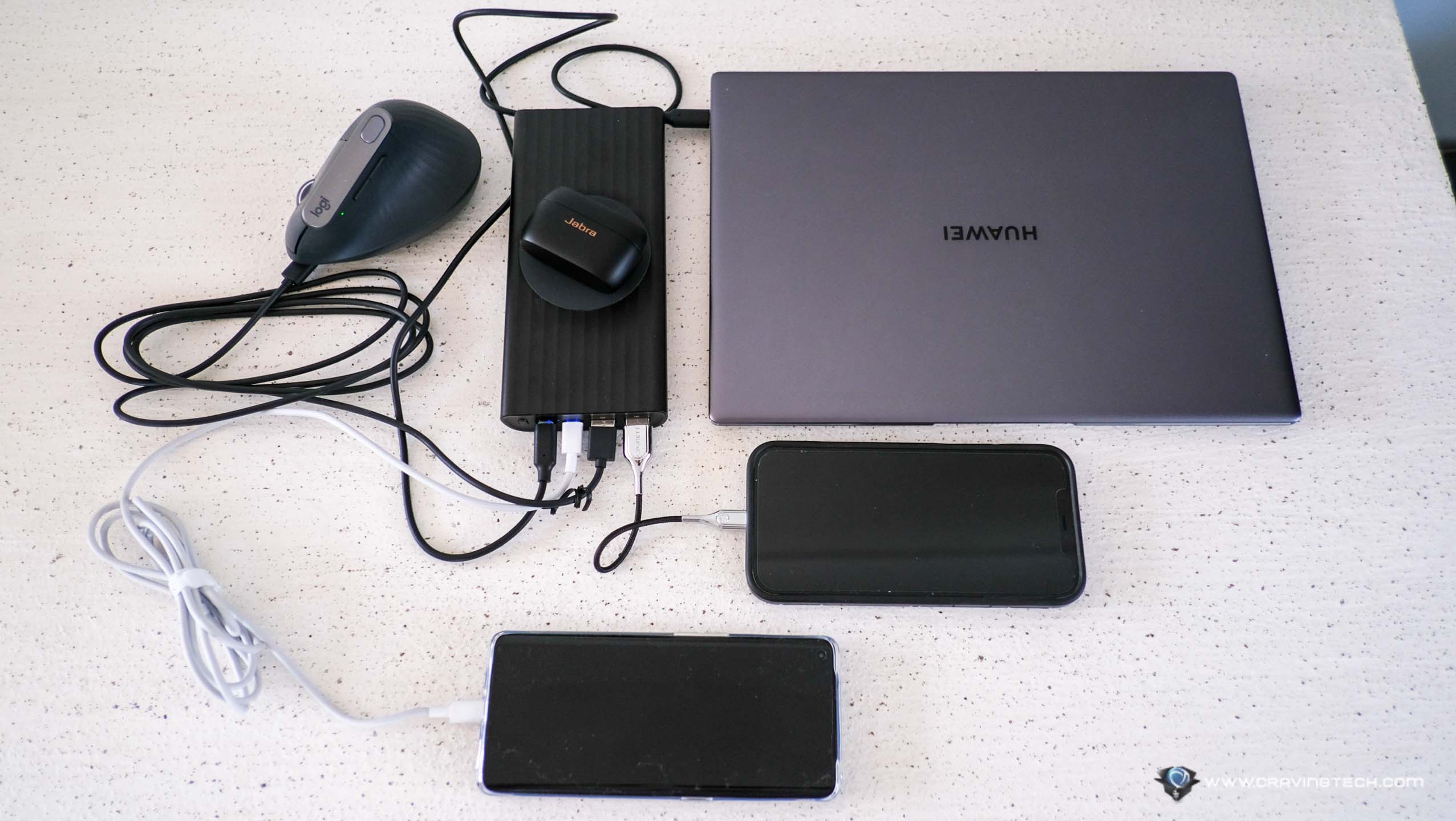 When you plug a USB-C cable to a USB-C laptop like my HUAWEI MateBook X Pro 2020, charging will automatically start. The MateBook X can utilise the 65W charging port perfectly and if you have a 16″ MacBook Pro for example, you can utilise the SUPER's 100W charging port. Unfortunately it can't charge my 230W gaming laptop from GIGABYTE but hey, no power banks can manage that so far yet.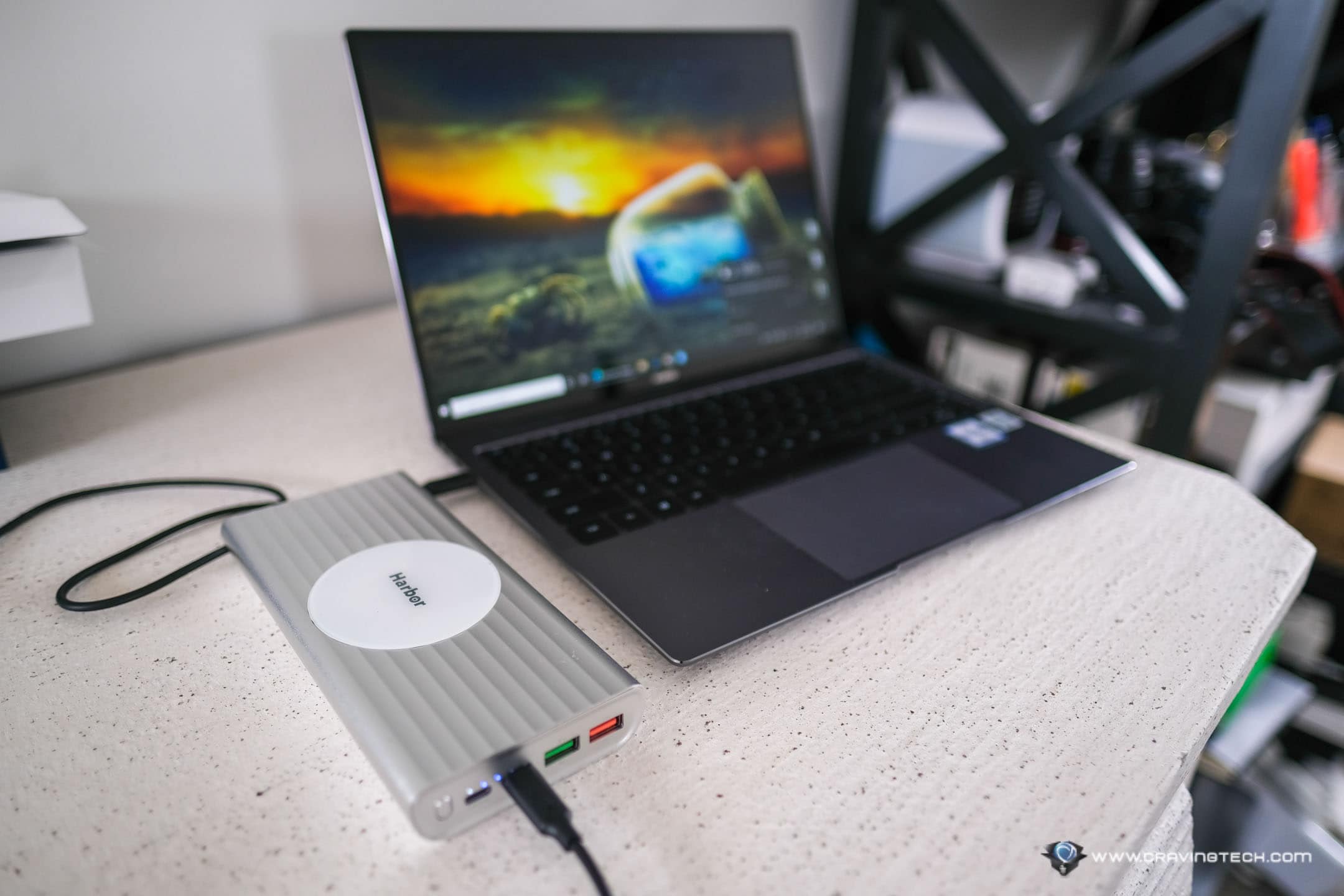 With the USB-A ports, you can charge your other USB-A devices like older smartphones, headphones, peripherals, etc. Note that you get a 22W & 18W charging output available which means you'll get a fast charge on most, if not all devices out there.
Harbor SUPER also has a 10W wireless charging pad on top of the unit. This can be activated by pressing and holding the button. With wireless charging support, you can use the power bank to charge Qi-supported earphones like the Jabra Elite 85t, Huawei FreeBuds Pro, or OPPO Enco W51.
It means that all you can ditch all the power adapters at home when traveling and just carry this power bank. Sure, it's not the lightest power bank around. At 580 grams, it is not that heavy considering what you get out of it, but it is no exactly lightweight.
All these power might scare some but note that the cell batteries inside the Harbor SUPER are actually high-quality Panasonic batteries used in Tesla electric vehicles. Owning a Tesla Model X, I know exactly how safe and awesome the batteries' durability and lifecycles are.
Harbor SUPER has been rigorously tested for safety and reliability. Plus, it's made of aircraft grade aluminium material.
You can grab Harbor SUPER at Indiegogo with an option to grab a super fast 100W GaN charger to quickly charge the Harbor SUPER. It has two USB-C ports and both can be used to charge two devices (at 45W max each if you are using both ports simulatenously).
You can pick between two models: Harbor Super (26,800mAh) or Harbor Super Lite (20,800mAh). For more details about the project and to grab one yourself with an early bird price, check out their Indiegogo page.
If you wish Tesla makes a bigger, badder power bank, well, this is it.
Disclosure: Harbor SUPER review sample was supplied for reviewing but all opinions are mine
Harbor SUPER Review
Summary
A badass powerbank that can charge multiple devices at the same time, multiple times, and powered by Tesla batteries
Pros
Large capacity power bank
Large output to power modern laptops
Built-in wireless charging pad
Multiple USB output types
Can be charged very fast 
Durable material
Cons
Not the lightest/slimmest power bank