BLUETTI AC60 Portable Power Station – Portable power, anywhere? Sign me up for this one. If you are the type who likes to go camping, hiking, strolling on the beach, or going out in the wilderness where there is no electricity, a portable power station like this BLUETTI AC60 is definitely for you.
However, even if you don't plan to go outside and adventure, you'll still love being able to use your appliances when there is no power socket nearby or even to save some electricity cost at night (when your solar panels become useless).
BLUETTI AC60 Review – Unboxing and Packaging Contents
BLUETTI AC60 Review – Design and Features
BLUETTI AC60 weighs around 9kg so while it's not exactly lightweight, it's still manageable to be carried around with just one hand. Thankfully, there is a handle on top to make it easier to carry.
Spec-wise, the BLUETTI AC60 has 403Wh battery capacity and is able to output 600W of power. However, you can also boost it (they call it Power Lifting technology) to deliver 1,200W of power. This is very useful to power high-wattage resistive appliances like hair dryers, heaters, or BBQ grills. I tested this with my Vornado VMH350 Heater that has Low Heat mode in 750W of power and the BLUETTI AC60 can handle that just fine. The battery is draining pretty fast, though. The heater has a High Heat mode but it's at 1,500W so the BLUETTI AC60 safely shuts down when it detects this power overload.
There is a formula if you want to determine how long it can run a specific device based on its wattage (you can read it in the FAQ section). Running a 100W blender light, for example, it should be able to run it for 3 hours straight on the AC60.
BLUETTI AC60 has 7 power outputs in total:
2 × 230V/2.6A AC Output
1x USB-C Port (100W Max, so you can charge your USB-C modern laptops like my HUAWEI MateBook X Pro with it)
2x USB-A Port (5V/3A)
1x DC Outlet (12V/10A)
1x Wireless Charging pad on top of the unit (15W Max)
So it's pretty amazing to know all the things you can charge with the AC60: smartphones, tablets, power tools, appliances, and so on. And if you think that the USB ports are not enough to charge all your family members' smartphones, there is an extra convenient wireless charging pad on top that fast charges at 15W.
It's getting warmer here in Melbourne and it's usually the time to turn my Close Comfort COOL FOCUS portable air conditioner on. It only uses 300W of power so you can technically run it through the BLUETTI AC60. With a rough calculation however, it can only run for about an hour – which might be enough to cool a very small room or tent when you are camping. But alternatively, you can get something like this Evapolar evaSMART or evaCHILL (with just 7.5W power consumption).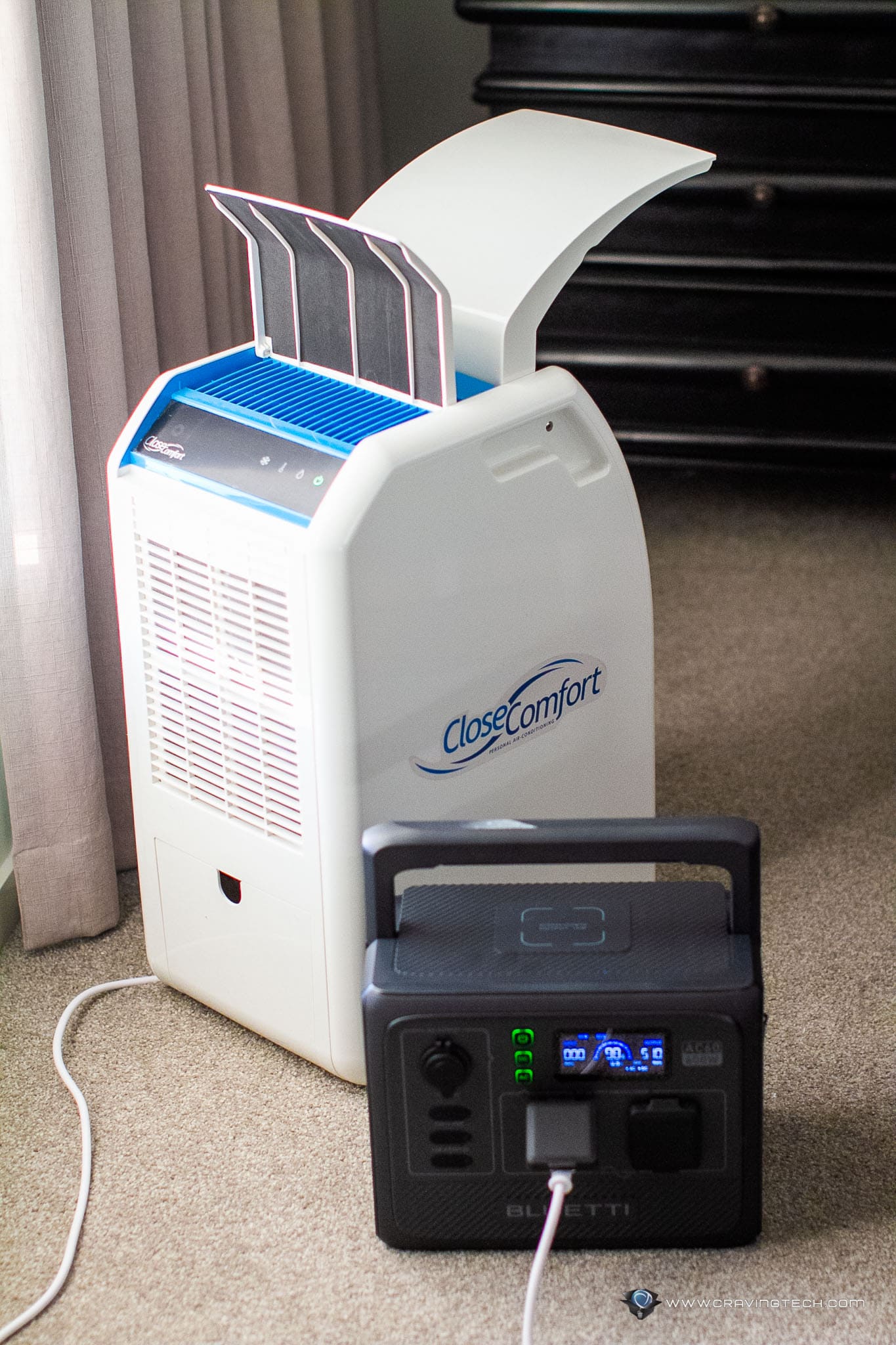 To charge the AC60, there are also a few options such as through an AC input (plugging the power cable to the wall socket), Car Input (from the Cigarette Lighter Port – which is handy while you are travelling far from a wall socket), and even from Solar (solar panels are not included but I'll be reviewing their PV200 soon). Through the AC input, it supports 600W Max through Turbo Charging which can fully charge the power station in just one hour.
However, if you are not in a hurry, it's best to just use the Standard charging mode – which is the default. There is also Silent charging mode with quieter, low power operation which is better for longer battery life. This can be selected through the BLUETTI app.
You can also use the BLUETTI AC60 as a UPS (Uninterruptible Power Supply). As a UPS, the switching time is under 20ms but make sure to test this first to see if it suits your needs – especially if continuous operation of the appliance is crucial. But I can see this is going to be very useful for a lot of cases like powering fish pond water filters when the main power grid is out, etc.
Compared to the BLUETTI EB70/EB70S (check my review out), there are some pros and cons. Here are some notable comparisons between the BLUETTI AC60 and EB70/EB70s (the review unit I had was the EB70):
EB70 has more battery capacity than the AC60 (716Wh vs 403Wh)
However, AC60 has more battery life cycles (3,000+ vs 2,500+ life cycles)
Charging time is much quicker on the AC60, however, thanks to the Turbo technology (1-1.5 hours vs 4-4.5 hours)
EB70 has higher surge power to power higher-wattage appliances (1,400W vs 1,200W)
AC60 is lighter (9.1kg vs 9.7kg)
EB70 has more outputs than the AC60 (it has an extra USB-C 100W port and 2 x 12V/10A (DC5521) DC outlet.
AC60 is a portable modular model, so it's expandable by grabbing the BLUETTI B80 Expansion Battery.
AC60 supports intelligent control through a mobile app.
In a sense, if you don't require a portable power station to be able to run up to 1,400W appliances, the BLUETTI AC60 is a more interesting option. It's a little bit cheaper, weighs less, has better battery life cycles, expandable, and can be charged quicker compared to the EB70. It is likely using BLUETTI's newer technology.
The BLUETTI AC60 is also IP65-rated Dustproof & Water-resistant. You can see that the ports are well-protected and sealed when not in use.
BLUETTI AC60 Review Conclusion
In summary, the BLUETTI AC60 offers a remarkable balance of portability, versatility, and raw power. Whether you're an adventurer who thrives in the great outdoors or someone who simply wants a reliable backup power source for home use, this portable power station delivers on multiple fronts. With its 403Wh battery capacity and the option to boost output to a hefty 1,200W, it can cater to a range of power requirements. The multiple output ports and wireless charging pad make it a one-stop charging solution for virtually all of your devices, from smartphones and laptops to heavier appliances.
It is, in essence, a well-rounded portable power solution fitted with innovative features, making it a valuable addition to your gear, whether you're camping out or simply preparing for unforeseen circumstances.
So if you're in the market for a portable power station that doesn't cut corners, the BLUETTI AC60 is definitely worth your consideration. With its robust performance, smart features, and competitive edge in terms of battery longevity and charging speed, it stands as a strong contender in the realm of portable power solutions
The BLUETTI AC60 retails for US$699 but is currently on sale for US$599. Find out more about the BLUETTI AC60 on the official product page. I'll also be reviewing the BLUETTI PV200 Solar Panel (200W) to be used with this device, so stay tuned for that at Craving Tech.
Disclosure: BLUETTI AC60 review sample was supplied for reviewing
BLUETTI AC60 Review
Summary
A well-rounded portable power solution fitted with innovative features, making it a valuable addition to your gear, whether you're camping out or simply preparing for unforeseen circumstances.
Pros
Versatile usage with many power output options
Support up to 1,200W high-wattage appliances
Has a handle for easy transport
IP65-rated
UPS capability
Can be charged very quickly when necessary
Expandable with BLUETTI B80 Expansion Battery
Cons
Limited battery capacity to run high-wattage appliances in longer periods (such as a small air conditioning unit through the night, for example). But you can extend it with BLUETTI B80 expansion battery units.